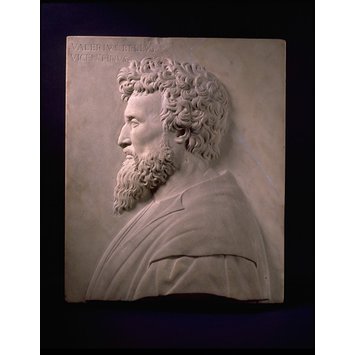 Belli, Valerio, born 1468 - died 1546
Valerio Belli
Object:
Place of origin:
Date:
Artist/Maker:

Belli, Valerio, born 1468 - died 1546 (maker)

Materials and Techniques:
Museum number:
Gallery location:

Medieval & Renaissance, Room 62, case WN
The name of the sculptor of this portrait of Valerio Belli is not known. It is just possible that it is a self-portrait, but this is unlikely as Belli is not known to have produced marble sculptures.
Belli (around 1468-1546) was a famous engraver of hardstones and gems, in particular rock crystal. He worked at the papal court in Rome under two successive popes and also in Vicenza, his native city. Among his masterpieces is a casket made for Pope Clement VII in 1537 and composed of 24 scenes from the life of Christ engraved on rock-crystal plaques.
The art of engraving gemstones, much admired since the early days of the Roman Empire, was revived in Europe during the Renaissance. Enthusiasts prized and collected cameos (in which the image stands proud of the surface) and intaglios (in which the image is hollowed out of the surface). These pieces sometimes served as symbols of power and were mounted in jewelled settings, and sometimes as small objects for private devotion or enjoyment.
Physical description
Relief in marble depicting Valerio Belli in profile facing left. He has a full pointed beard and curling hair, and wears a cloak over his robe. The portrait terminates at the base beneath the shoulder. Broken diagonally across the upper right corner and repaired.
Place of Origin
Vicenza (town) (made)
Date
ca. 1530-1540 (carved)
Artist/maker
Belli, Valerio, born 1468 - died 1546 (maker)
Materials and Techniques
Marble
Marks and inscriptions
VALERIVS BELLVS / VINCENTINVS
Inscribed in the upper left corner.
Dimensions
Height: 54.1 cm, Width: 45 cm, Depth: 10 cm
Object history note
Purchased in London from Mrs. Noel in 1932. Previously in the possession of Charles Robert Cockerell.
Historical context note
This is may be the same relief as one recorded in the Gualdo collection at Vicenza in
two manuscript descriptions of the collection from 1644 and 1650, later published by B.Morsolin. A marble relief of Belli is later reported in the Museum Trevisanum at Venice and although they discount the Michaelangelo attribution in the two earliest documents, Maclagan and Longhurst consider it possible that the relief could have found its way to Venice at the dispersal of the Gualdo collection.
Pope-Hennessy believed that the present bust definitely related to a number of profile portraits of Belli, which appear to derive from a drawing of uncertain authorship, in the Koenigs collection of the Boymans Museum, Rotterdam, which was formerly in the possession of Vasari and formed the basis of a woodcut in the second edition of his Lives of the Artists. The drawing has been variously ascribed to Michaelangelo, Luini and an unidentified Florentine artist. A medallic portrait of Belli is also connected with the drawing, though the collar, is differently rendered and the treatment of the hair less free.
The present relief is considered by Pope-Hennessy to be of Florentine, rather than North Italian style and it was most probably for this reason that it was ascribed verbally by Popp to Ammanati. Pope-Hennesy notes that the formulation of the dress and of the turned back collar (which do not recur in the drawing or the medal) make this attribution more likely.
Born in Vicenza, in about 1468 Valerio Belli was a gem-engraver, goldsmith and medallist who spent the most important part of his career in Rome, where he worked for Clement VII and his successor Paul III. He spent a short period in Venice, returning from there to Vicenza in 1530 and remained in the latter city for most of the time until his death. In Rome he was a well known in artistic and literary circles, associating, for example, with Michelangelo. No specimens of his work as a goldsmith survive, but he is called 'aurifex' in contemporary documents and may have made the settings for his carved gems.
Belli specialized in cutting gems and crystal and in carving dies for coins and medals. His style followed that of his contemporaries working in the major arts or was governed by his study of ancient coins and gems. His best-known works are those made for his papal patrons, many consisting of or incorporating carvings in rock crystal or semiprecious stones. The most splendid of these is a silver-gilt casket adorned with 24 carvings in crystal showing scenes from the Passion (1532; Florence), for which, according to Vasari, he received the large sum of 2000 gold scudi. Some of Belli's engraved crystals, such as those in the Museo Civico d'Arte e Storia, Vicenza, have been separated from the works that they once adorned. Bronze plaquettes after Belli's works are sometimes found (e.g. V&A and Washington, DC, N.G.A.), produced by taking plaster or sulphur casts. Plaquettes or casts of this kind can be helpful in suggesting the form of lost works, as may be the case with the missing engraved crystals from a rock crystal Crucifix (V&A no. 755-1864), which was one of his last commissions from Clement VII.
Descriptive line
Marble relief depicting Valerio Belli, Italy (Vicenza), ca. 1530-1540
Bibliographic References (Citation, Note/Abstract, NAL no)
Pope-Hennessy, J. assisted by Lightbrown, R.Catalogue of Italian Sculpture in the Victoria and Albert Museum (HMSO, 1964) pp 488-489 Cat. 517
Gasparotto, D. Valerio Belli Vicentino (Centro Internazionale di Studi di Architettura Andrea Palladio,Vicenza 2000) pp 271-273 Cat. 3
Maclagan and Longhurst. Catalogue of Italian Sculpture in the Victoria and Albert Museum (London Board of Education, London, 1932) p.134.
Morsolin, B. Nuovo Archivio Veneto, VIII (Venezia : A spese della R. Deputazione, 1891-192) pp.219,382,437
Gardner von Teuffel, C. 'Raphael's Portrait of Valeris Belli: some new evidence.' Burlington Magazine. CXXIX. October. 1987. pp.663-6.
Puppi, Lionello. ed. Girolamo Gualdo Jr, 1650. Giardino di Chà Gualdo. Florence. `972. p.47.
Burns, Howard, et al., Andrea Palladio 1508-1580: the Portico and the Farmyard, London: Arts Council of Great Britain, 1975.

Labels and date
VALERIO BELLI (about 1468-1546). Marble. ITALIAN (VICENZA); about 1530-40. Inscribed VALERIVS BELLVS/VICENTINVS. A.4-1932. Valerio Belli was a famous engraver of dies, gems and crystal. He worked at the papal court in Rome where his patrons included the Medici Popes Leo X (1513-22) and Clement VII (1523-34). Belli also worked in Vicenza where he was born and died, and amongst his friends there was the antiquarian and art patron, Girolamo Gualdo. This portrait is possibly identical with a relief recorded in the Gualdo collection in Vicenza in inventories of 1644 and 1650 (as by Michelangleo). It is related to a number of profile portraits of Belli in different media. The relief may be a self-portrait, although Belli is not known to have made marble reliefs. []
Production Note
The relief is dated by Maclagan and Longhurst to about 1520, however Pope-Hennessy considers it to be later in date - towards the end of Belli's life or even after his death in 1546.
Categories
Sculpture
Collection
Sculpture Collection