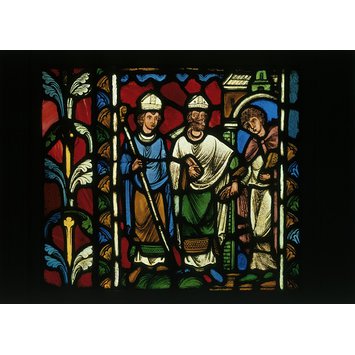 St Nicholas being Chosen as Bishop of Myra
Object:
Place of origin:
Date:
Artist/Maker:
Materials and Techniques:
Credit Line:

Given by J. Pierpont Morgan, Jr

Museum number:
Gallery location:

Medieval & Renaissance, Room 8, The William and Eileen Ruddock Gallery, case WS EXP
This panel comes from a window dedicated to scenes from the Life of St Nicholas. Two other scenes from the cycle are now in the Musée national du Moyen Age in Paris. One shows the saint secretly delivering gold to an impoverished merchant as a dowry for his three daughters. The other depicts the posthumous episode of the Jew who placed a statue of St Nicholas in his home to protect his goods from thieves. The V&A panel shows the story of the selection of the saint as Bishop of Myra, as recounted in the Golden Legend (a medieval collection of stories about saints).
Like much other medieval stained glass, this window has been displayed in a number of locations during its history. It may have originally been produced for the Romanesque Cathedral of Troyes, which was destroyed by fire in 1188, but it is also possible that it could have been from another building nearby - the collegiate church of Saint-Etienne. By the nineteenth century the window had been installed in the Lady Chapel of Troyes Cathedral, which had only been built in the thirteenth century. The window is likely to have been removed from the Cathedral during renovations(1849-1866) when much of the glass was dispersed.
Physical description
A figure is seen coming out from an archway to the right led by the hand by one of two mitred figures in the centre. On each side there is a narrow border of green, blue and brown leaves, incomplete on the right. On the left a broad outer border of climbing foliage against ? of flashed ruby glass.
Place of Origin
Champagne (made)
Date
ca. 1170-1180 (made)
Artist/maker
Nicholas (Saint)
Materials and Techniques
Stained glass
Dimensions
Height: 43 cm, Width: 49.8 cm
Object history note
(1188) Romanesque cathedral at Troyes destroyed in a fire.
(1208) Bishop Hervé begins the rebuilding. By the time of his death in 1223 the choir was completed except for aisles and chapels.
(1849-1866) Renovations in the cathedral. Much of the glass was dispersed and those that survived were subsequently dispersed.
It has been considered that these panels (C.105-108-1919) were made for the Romanesque Cathedral at Troyes; they survived the fire and were re-used in the new Cathedral, with additions of borders to make them fit the new window openings. It has been believed that they were put in the Lady Chapel sometime after 1223.
Formerly believed to have come from Troyes Cathedral. This assumption was based on three 19th century descriptions (see Arnaud, Guilhermy and Fichot) describing the panel in the cathedral.
More recent opinion (see Little, Pastan) conjectures that the panel was originally in the Collegiate Church of Saint-Etienne in Troyes. This is based on the size of the panel and a reconstruction of the entire narrative window from the surviving panels of the cycle. The proposed reconstruction and the measurements (albeit from very little surviving evidence) would fit the narrow axial lancet chapel windows at Saint-Etienne).
The panels had been on loan from J. Pierpont Morgan Sr. from 24 January 1910.
Historical context note
(Little, Gesta, 1981) has identified what he feels to be four series of narrative glass originally from Troyes Cathedral. Two of these series relate to panels in the V&A. This information is taken from the descriptions recorded in the 19th century by Arnaud, Guilhermy and Fichot:
1) St Nicholas series:
- one panel in the V&A (C.106-1919) and one in the Musée de Cluny
- have borders added in 13th century to fit the new apertures
- were reused in the ambulatory chapels
- however, it is possible that the St Nicholas series may have come from another church in Troyes.
This panel comes from a window depicting scenes from the Life of Saint Nicholas. Two other panels from this window are in the Musée National du Moyen Age in Paris. One of these panels shows St Nicholas secretly giving gold to an impoverished merchant to cover the dowries of his three daughters. The other panel depicts the posthumous episode of the Jew who placed a statue of St Nicholas in his home to protect his goods from thieves. All the 12th century glass at Troyes which survived the renovation work of 1849 and 1866 was subsequently dispersed.
The story of the Life of Saint Nicholas is best known from the mid 13th century Golden legend, compiled by Jacobus da Voragine. Although this text post-dates this panel, the Golden Legend was a compilation of popular stories of the lives of the saints, told and re-told for centuries.
Numerous copies of the Golden Legend survive from the Middle Ages, thus showing its enormous popular appeal.
The border panel of foliage on the left side of the panel is not original but does date from the 13th century. It indicates that the panel was re-used in another, larger, window.
Descriptive line
Clear and coloured glass with painted details depicting a scene from the Life of St Nicholas. From Troyes, France, 12th and 13th centuries.
Bibliographic References (Citation, Note/Abstract, NAL no)
Williamson, Paul. Medieval and Renaissance Stained Glass in the Victoria and Albert Museum. London, 2003. ISBN 1851774041
A. F. Arnaud, Voyage archaeologique et pitteresque dans le department l'Aube, 1837
F. de Guilhermy, Paris Bib. Nat., ms. Nouv.acq. 61111, fols., 117-119
Bernard Rackham, Guide to the Collections of Stained Glass, V&A, London, 1936
Louis Grodecki, '?', Bulletin de la Societé nationale des Antiquaires de France, 1954/5, p.127
Jean Lafond, Les Vitraux de la Cathédrale de Saint-Pierre de Troyes, Paris, 1957
Louis Grodecki, Le Vitrail francais, Paris, Musée des Arts Decoratifs, 1958
Louis Grodecki, 'Problemes de la peinture en Champagne pendant la seconde moitié du douxieme siecle', Acts of the Twentieth International Congress of the History of Art, vol. I, 1963, pp.129-141
J. Squilbeck, 'La Tentation du Christ au désert et le Belliger Insignia', Bulletin des Musées Royaux d'Art et d'Histoire, 38/9, Brussels, 1966-7, p.129
C. Fichot, Statistique monumentale de Départment de l'Aube, Troyes, 1894, III, pp.33-43
Object Information File, C&G office files
The Year 1200: a Symposium, Metropolitan Museum of Art, New York, 1975
Charles T. Little, 'Membra Disjecta: More Early Stained Glass from Troyes Cathedral', Gesta, XX/I (1981), pp.119-127
Louis Grodecki, 'Nouvelles découvertes sur les vitraux de la cathédrale de Troyes', in Institution und Kunstwissenschaft; Festschrift fur Hanns Swarzpuski, Berlin, 1973, pp.191-201
P. Clemen, 'Gotische Monumentel malereien der Rheinlande', vol.II, pt. I (Cologne, St Maria Lyskichen)
E.C. Pastan, 'Fit for a Count: the twoelfth-century stained glass panels from Troyes', Speculum, 64 (1989), pp.338-72
Production Note
Possibly originally from the axial chapel windows of Saint-Etienne in Troyes.
Materials
Stained glass
Subjects depicted
Bishop; Foliage; Saint
Categories
Stained Glass; Christianity
Collection
Ceramics Collection