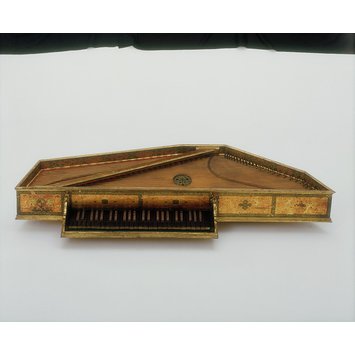 The Queen Elizabeth Virginal
Object:
Place of origin:

Venice (made)
Oxford (restored)

Date:

1594 (made)
1961 (restored)

Artist/Maker:

Baffo, Giovanni Antonio (maker)
Douglas, Andrew (restorer)

Materials and Techniques:

Cypress case, soundboard and jacks; decorated with parchment, gilding, painting and inlay

Credit Line:

Purchased from Revd Nigel W. Gresley, Milbourne St Andrew, Blandford, Dorset

Museum number:
Gallery location:

British Galleries, Room 57, case 9
Object Type
A spinet is a small harpsichord with oblique strings. When placed in a box, without legs, it is known as a virginal. The decoration of this instrument, popularly known as 'Queen Elizabeth's virginals' closely resembles a spinet made in 1571 by Benedictus Florianus of Venice (now in the Museum of Musical Instruments in Leipzig). It is lacquered and decorated with Islamic motifs, like other pieces of furniture made in Venice at the time. But the moulding is far closer to that used by Giovanni Baffo, also of Venice. The date 1594 was discovered on the jack-rail of the instrument.

People
The spinet almost certainly belonged to Elizabeth I. It bears the royal coat of arms and the falcon holding a sceptre, the private emblem of her mother, Anne Boleyn. Elizabeth is reported to have played 'excellently well...when she was solitary, to shun melancholy'.

Time
During Elizabeth's reign (1558-1603), some of England's greatest composers flourished, including Thomas Tallis and William Byrd. At the time, the best spinets came from Italy, particularly Venice. Spinets were considered more ladylike than lutes, as the player had less risk of developing rounded shoulders.

Place
The spinet was almost certainly imported from Venice but it cannot be associated with any specific royal palace. Having left the Royal Household soon after the death of Elizabeth, it resurfaced in 1798 at Fisherwick Park, Staffordshire.
Physical description
Virginal, Painted cypress wood case and soundboard, parchment rosette, ebony and bone certosina keys.
Place of Origin
Venice (made)
Oxford (restored)
Date
1594 (made)
1961 (restored)
Artist/maker
Baffo, Giovanni Antonio (maker)
Douglas, Andrew (restorer)
Materials and Techniques
Cypress case, soundboard and jacks; decorated with parchment, gilding, painting and inlay
Marks and inscriptions
1594
This inscription is scratched on a blue paint layer abvoe the far righth end of the jackrail. It was descovered in 2002 by Nanke Schellmann, V&A Furniture Conservation.
Dimensions
Length: 190 cm, Width: 40.4 cm, Depth: 19 cm
Descriptive line
The Queen Elizabeth Virginal, painted cypress wood case and soundboard, ebony and bone certosina keys, by Giovanni Baffo?, Venice, Italy, 1594.
Bibliographic References (Citation, Note/Abstract, NAL no)
Wilk, Christopher, ed. . Western Furniture 1350 to the Present Day. London: Victoria and Albert Museum, 1996. 230p., ill. ISBN 085667463X.
Baker, Malcolm, and Brenda Richardson (eds.), A Grand Design: The Art of the Victoria and Albert Museum, London: V&A Publications, 1999.
Ralph Denzil Wraight: The Stringing of Itaian keyboard instruments, c. 1500 - 1650. Part Two, Catalogue of Instruments (Unpublished PhD thesis submitted to Belfast University, September 1996.
Howard Schott: Catalogue of Musical Instruments in the Victoria and Albert Museum - Part I: Keyboard instruments. (London, 1998), pp. 29-31.
Nanke Schellmann: "The Queen Elizabeth's Virginal, Scribbles, Scratches and Sgraffoto", , Autumn 2002, No. 42, pp. 9-11.
Victoria & Albert Museum: Fifty Masterpieces of Woodwork (London, 1955), no. 22.
Queen Elizabeth's Virginal
The end of the sixteenth century was the golden age of English music, which owed much to the patronage of the Royal House of Tudor. It is related that Henry VIII 'exercised himself dailie in plaieing at the recorders, Flute, virginals, setting of songes in making of ballades'. His daughter Elizabeth was no less accomplished. Her skill on the virginals is recorded in the account of her interview with Sir James Melville, who states that 'placing himself by the tapestry that hung before the door, entered within the chamber, and stood a pretty space hearing her play excellently well'.
Possibly this instrument was the one on which the Queen played in the hearing of the Ambassador. It has been long known as 'Queen Elizabeth's Virginal' in accordance with the general English custom at this time of calling keyboard instruments virginals, but is more accurately described as a spinet. The shape, the style of decoration, and the presence of an outer case proclaim it an Italian instrument dating from about 1570, though the possibility that it was actually decorated in England by an immigrant craftsman is not to be excluded. Amid the elaborate decoration, the Royal Arms and the crowned falcon (the device of Boleyn) confirm its association with the Queen.
The history of the instrument can be traced from the end of the eighteenth century.
It was bought by the Museum in 1887
Italian; about 1570.
H. 8 ½ in., L. 65 in., D. 23 in.
Music Recording
LP26902 Queen Elizabeth Virginal (19 – 1887) played on both sides by Margaret Hodsdon, V & A, 13. 11. 61.
Front (10FRM 108031)
1. The Queen's New Year Gift - 1' 09".
Anthony Holborne.
2. Branle Hobroken - 37"
3. Alman Prince - 37"
4. Like as the Lark in Merlin's Foot - 1' 01"
Dublin Virginal Book.
5. My Lady Carey's Dompe - 51".
6. Nancie - 2'10"
7. Pavan: Lachrymae - 2' 10".
Back (10 FRM 108032)
1. Galliard: Lachrymae - 2' 15"
2. First Part Galliard in Dance Time - 37".
Thomas Morley.
3. Lord Willobie's Welcome Home - 2'14"
4. The Carman's Whistle - 2' 32"
William Byrd
5. La Bounette - 1'00
6. I smile to see how you devise - 50"
7. When Griping Grief - 52"
GABRIELE ROSSI ROGNONI, The Virginals of Benedetto Floriani (Venice, fl1568–1572) and a Proposal for a New Attribution, in The Galpin Society Journal LXVIII (2015), pp. 5-20, 178-183
p.7 Notes that the instrument was once attributed to Floriani on the basis of its decoration resembling that of the 1571 instrument in Leipzig, but that it has been re-attributed (with qualification) to Johannes Antonius Baffo by Denzil Wraight on the basis of its mouldings. [Ralph Denzil Wraight, 'The stringing of Italian Keyboard Instruments c.1500–c.1650', PhD Dissertation, Queen's
University of Belfast (Ann Arbor: UMI, 1997), vol.2, p.50 (W299)]
PATEY, Carole and Moira Hulse: Musical Instruments at the Victoria and Albert Museum. (London, HMSO, 1978), p. 4-5

Labels and date
British Galleries:
The painter decorated this spinet with the Queen's devices, including the falcon, the sceptre and the royal coat of arms. Elizabeth inherited the sceptre symbol from her mother, Anne Boleyn (about 1501-1536). Several contemporaries recorded that she was an excellent keyboard player and it is possible that she played on this very instrument. The painting illustrated shows Elizabeth dancing with Robert Dudley, 1st Earl of Leicester (about 1532-1588). [27/03/2003]
Production Note
The instrument bears a similarity to a virginal by Benedictus Flrianus in Leipzig, dated 1571. However, the researches by Denzil Wraight, and comparisons of mouldings on Baffo instruments point to an attribution by Giovanni Baffo.
Subjects depicted
Certosina; Sceptre; Moresques; Coat of arms; Rosette; Falcon
Categories
Musical instruments; Furniture; Woodwork; Royalty
Collection
Furniture and Woodwork Collection