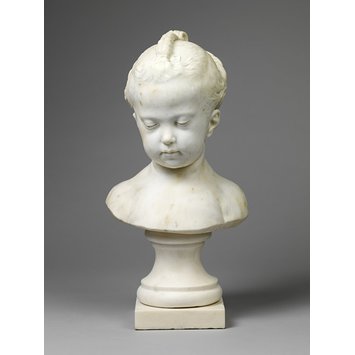 Saly, Jacques-François-Joseph, born 1717 - died 1776
A young girl
Object:
Place of origin:
Date:
Artist/Maker:

Saly, Jacques-François-Joseph, born 1717 - died 1776 (after)

Materials and Techniques:
Museum number:
Gallery location:

Europe 1600-1815, Room 4, case WS
A portrait of a young girl in marble by the French Sculptor Jacques Saly is mentioned (by French Sculptor/Historian Stanislas Lami) as being exhibited at the Salon in Paris in 1750. The art collector and connoisseur Mariette mentions (in 1753) a pretty head of a young girl, in marble, being sculpted by Saly in Rome. Various versions of this bust survive, and a number of writers have discussed them. These include another marble version, thought to be the original (in a private collection), and other versions in terracotta, bronze and faience.
The V&A bust is thought to be an early (second half of 18th century) copy of the original model. It is quite likely to be by Saly himself, but it is not signed.
There has been some debate about the identity of the sitter. She has been thought in the past to be Alexandrine d'Etoilles (daughter of Mme de Pompadour) and - subsequently - the daughter of Jean-Francois de Troy, Director of the French Academy in Rome when Saly had studied there in the 1740s. Both theories have now been discounted, so her identity remains unknown.
Francois Boucher (1703-1770) reproduced Saly's bust in a panel entitled 'The Arts and Sciences: Painting and Sculpture'; part of series he painted for Madame de Pompadour in 1750-52 (possibly for the Chateau de Crecy). This, along with other panels, are on display in the Frick Collection, New York. Saly's bust has enduring appeal and has been frequently copied, including in the nineteenth century.
Jacques François Joseph Saly, more usually known as Jacques Saly (1717-1776), was born in France and initially trained under the sculptor Guillaume Coustou. He won a place at the French Academy in Rome where he studied 1740-48. After a few years back in Paris he left for Copenhagen, arriving in 1753, as he had been recommended to create an equestrian statue of King Frederick V of Denmark to be placed in the centre of the courtyard of Amalienborg Palace. This project occupied him for many years and was finally completed in 1768. The Royal Danish Academy of Art was established in 1754 and Saly was made its Director.
Physical description
Head and undraped shoulders of a little girl, looking downwards, with hair drawn back in three braids, knotted on the crown, with hair drawn up from the nape of the neck.
Place of Origin
France (made)
Date
ca. 1770-90 (made)
Artist/maker
Saly, Jacques-François-Joseph, born 1717 - died 1776 (after)
Materials and Techniques
Marble
Dimensions
Height: 50.2 cm Bust and socle, Width: 25.3 cm, Height: 34.3 cm Bust only, Height: 15.9 cm Socle, :, Depth: 21.1 cm, Weight: 21 kg measured for Europe 1600-1800
Object history note
Saly exhibited a marble bust of a young girl at the Salon in 1750. The connoisseur Pierre-Jean Mariette (in 1753) mentions a pretty head of a young girl, in marble, being sculpted by Saly in Rome. The V&A bust is unsigned. It is agreed that it dates from the second half of the eighteenth century but its status is not entirely clear. It may be an early copy of a model by Saly.
There has been some debate about the identity of the sitter. She was once thought to be Alexandrine d'Etiolles (daughter of Mme de Pompadour) but this has since been discounted. Michael Levey (in 1965) put forward the theory that she is in fact the daughter of Jean-Francois de Troy, Director of the French Academy in Rome when Saly had studied there in the 1740s. However, recent research has revealed that she cannot be de Troy's daughter who died very young; this bust was depicted by various artists in 1750s/60s including Boucher, and they would not have reproduced the bust of a dead child.
There are a large number of versions of this bust. In particular are:
- signed terracotta in the Ny Carlsberg Glytotek, Copenhagen
- signed terracotta in The Louvre
- signed plaster in the Rijksmuseum
- unsigned plaster in the Schwerin Museum
- marble formerly in the David-Weill collection (this is perhaps the original), now in a private collection
- bronze in the NGA, Washington (Widener Coll)
- bronze (copy in reduction) in Deutches Museum, Berlin
The bust became popularly known - and still is - as 'La Boudeuse' (Bouder = to sulk, or pout, in French)
Bought for 25 10s. in 1863.

Descriptive line
Bust, marble, a young girl, after a model by Jacques Saly, France, ca. 1770-90
Bibliographic References (Citation, Note/Abstract, NAL no)
Inventory of Art Objects Acquired in the Year 1863. In: Inventory of the Objects in the Art Division of the Museum at South Kensington, Arranged According to the Dates of their Acquisition. Vol I. London: Printed by George E. Eyre and William Spottiswoode for H.M.S.O., 1868, p. 5
Hodgkinson, Terence. 'French eighteenth-century portrait sculptures in the Victoria and Albert Museum', in: V&A Museum Yearbook, 3, 1972, p.100, illus.
Levey, M. Painting and Sculpture in France 1700-1789, New Haven, 1993, p. 125
Black, B. Vassé's 'Bambinelli': The Child portraits of an 18th century French sculptor, London, 1994, fig. 18 and pp. 46-47

Labels and date
A Young Girl
About 1770–90
Many versions were made of this portrait of a girl. Her pose and her downcast eyes reflect traditional values of obedience and deference in children. However, this was an age of changing attitudes to childhood. The philosopher Jean Jacques Rousseau's hugely influential novel Emile (1762) presented the early years of a child as an 'age of nature', one in which children are governed by their emotions.
France (Paris)
After Jacques Saly
Marble
The Encyclopédie, Vol. 5, 1755:
'Children, because of their close relationship to those who beget, feed and educate them, have certain indispensable obligations towards their father and mother, such as deference, obedience, honour and respect. In the first phase of childhood their judgement is imperfect, and they lack discernment.' [09/12/2015]
This bust is probably a portrait of the young daughter of François de Troy, who had been the Director of the French Academy in Rome when Saly had studied there in the 1740s. Saly exhibited a marble bust of a young girl at the Salon in 1750, almost certainly a version of this one. Other versions survive in marble, terracotta, bronze and faience; this bust is likely to be an early copy of what was clearly an appealing subject. [Oct 1995]
A YOUNG GIRL
French; about 1770-90
Marble
After a model by Jacques Saly (1717-76)
This is probably a portrait of the young daughter of Jean François de Troy, who had been Director of the French Academy at Rome when Saly studied there in the 1740s. Saly exhibited a marble bust of a young girl at the Salon in 1750, almost certainly a version of this one. Other versions survive in marble, terracotta, bronze and faience; this bust is likely to be an early copy of what was clearly an appealing subject.
[1993 - 2011]
A YOUNG GIRL
French; about 1770-90
Marble
After a model by Jacques Saly (1717-76)
This is probably a portrait of the young daughter of Jean François de Troy, who had been Director of the French Academy at Rome when Saly studied there in the 1740s. Saly exhibited a marble bust of a young girl at the Salon in 1750, almost certainly a version of this one. Other versions survive in marble, terracotta, bronze and faience; this bust is likely to be an early copy of what was clearly an appealing subject.
[1993 - 2011]
Materials
Marble
Techniques
Carved
Categories
Portraits; Sculpture
Collection
Sculpture Collection