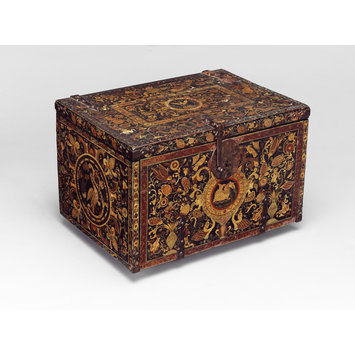 Cabinet
Place of origin:

Colombia (Vice-royalty of Peru (Colombia), made)

Date:
Artist/Maker:
Materials and Techniques:

Wood decorated in <i>barniz de Pasto</i> lacquer, with iron mounts

Credit Line:

Given by Dr. Robert MacLeod Coupe and Heather Coupe in memory of their brother, Philip MacLeod Coupe

Museum number:
Gallery location:
Physical description
Table cabinet with hinged lid and hinged fall-front, on two 'sled' supports with cork pads. With an exterior lock hasp screwed to the lid, fastening on a lockplate screwed to the fall-front. The interior, from the top, consists of a top tier accessed by raising the lid, a fixed tray with one large square compartment (with a painted fleur-de-lis), and 3 small square compartments to the right, with three false drawers fronts; two tiers of drawers accessed by opening the fall-front: two drawers above one large drawer (which is faced with three apparent drawer fronts).

Decorated on all external faces (except the underside) and 'drawer' fronts with a scheme in red, yellow, white, green and brown on a black ground of flowers and foliage with birds and animals, with borders of S scrolls and scrolling tendrils. Each show face (excluding the drawers) has a central roundel with a badge and peripheral Latin inscription (see below). The foliage is characterised by formal scrolls and acanthus leaf of various designs, with birds of various types, lions, fishy monsters, hunting dogs (with fowl), grotesque figures, horses, squirrels(?), deer…
Latin inscriptions
FRONT (EXTERNAL) with Hippocampus (sea horse), partially obscured by lockplate:
UNDIQUE CIRCU[M]DANT ME MISERUM P[RO]CELLAE
Translation: Storms surround wretched me on all sides.
FALL FRONT (INSIDE): EGESTAS NOBILITATIS PONDUS
Translation: The burden of nobility is want/poverty
RIGHT SIDE EXTERNAL: COGITANTIVILES CVNTOM
Translation:
Possibly COGITANTI VILESCUNT OMNIA
To the thinking man, all things become vile (worthless)
LEFT SIDE (EXTERNAL); A crane [originally standing on a skull], which holds a rock in its claws to wake it if it drops off
VIGILATE [missing text, probably '…EDO RATE' , based on a very similar emblem on another box]
Translation: Watch [and pray]

BACK PANEL: a pelican with four small birds, the roundel flanked by two lions.
OIA [OMNIA] VINCIT AMOR ET NOS SEQUAMUR AMOREM
Translation: Love conquers all and we follow love
TOP (LIFTING LID EXTERIOR): phoenix with wings outstretched on a flaming mound. EX ME IPSO RENASCOR
Translation: I am born again from myself
TOP (LIFTING LID INTERIOR): EGASTAS

Construction
The carcase is dovetailed (the sides visibly dovetailing to the case back). The bottom appears to be fixed to the case back and sides with small wooden pins. The upper and lower dust boards sit in grooves in the sides. The lower dust board is not full-depth. A vertical partition is housed in grooves in the upper and lower dust boards, and is also nailed (using 2 types of nails) from the underside (and may be nailed at the top). At the front of each dust board, rectangular fills are visible at the front of the grooves where the dust boards join the sides. The height of the top compartment has been achieved by adding strips of wood to the top edge of the case, the strips mitred at the back corners. The interior compartments sit in grooves, filled at the top edges.
The drawers are through dovetailed construction at each corner. The bottoms are nailed up on all four sides (apparently with hand-made metal pins), with cut nails at each corner, probably added to help hold the drawers together. The false drawer front at the front of the case probably sits in grooves in the sides and also appears to have nails securing it in place. The mouldings are applied and glued. Each drawer front has a turned bone knob.
Mounts
Around each corner of the lid, and the bottom corners of both sides are right-angled corner mounts of cut iron, fixed by two types of screws, round and flat-headed. With an oval lockplate with internal mechanism. Key missing.
The lid appears (from visible splits) to be made of several planks running laterally, with three strips along the sides and front that mitre at the front corners. These strips create a 1cm lip that fits onto a rebate cut into the top edges of the case sides and the hinged fall front, and probably add stability to the lid. On the fall front are splits to the substrate suggesting that it is made up from several planks running laterally.
Surfaces
FTIR (fourier transform infrared spectroscopy) sampling (2015) at three points gave 95% probability of the presence of mopa mopa. (Brenda Kenneghan, V&A Science Section). Microscopic examination indicates that a ground layer sits below decorative layers of resin cut into decorative shapes. The interiors of the drawers are coated in a resinous substance (likely to be mopa mopa), apparently applied as strips of overlapping film.

Condition and modifications:
Structure: Replaced strips of wood along the front edge of the cabinet bottom (c8mm) and the back edge of the lid. The sleds and cork pads 20th century additions, in place of turned wood feet (missing other than remnants of the turned tenons).
Mounts: The mounts, screws and lock are modern, probably 20th century, on the basis of their industrial eveness (though they have been hand cut), mechanically-drilled holes and very pure iron content (analysed August 2017 by Lucia Burgio, V&A Science Section, Conservation dept.)

Surface:
Repainting on the front edge of the dust board and vertical drawer divider, drawer mouldings and underside of lid, covered by a natural resin varnish which was applied over all exterior and interior decorated surfaces, and which had deteriorated. Small losses, revealing the wood, and losses of entire pieces of film (eg the skull under the crane). Some small areas of overpainting applied on top of the varnish. The presence of pigment yellow 83 (synthesised 1958) provides a terminus post quem for the substantial overpainting identified at acquisition. The discoloured varnish on the exterior (and some interior) surfaces was removed 2018
Place of Origin
Colombia (Vice-royalty of Peru (Colombia), made)
Date
1625-1675 (made)
Artist/maker
Unknown (maker)
Materials and Techniques
Wood decorated in barniz de Pasto lacquer, with iron mounts
Dimensions
Height: 23.2 cm, Width: 37.7 cm, :, Depth: 27 cm
Object history note
Given by Dr Robert MacLeod Coupe and Heather Coupe in memory of their brother, Philip MacLeod Coupe (RF 2014/493)
During 2017 the cabinet forms the focus of a research and conservation project generously supported by Jorge Welsh Works of Art, London – Lisbon.
The table cabinet follows a basic European type found in the 16th and 17th centuries, but the decoration and barniz de pasto technique distinguishes it both in style and technique from Netherlandish or Spanish work. European influence is seen in the basic form and some of the iconography including emblems (image and text, the sources not yet identified). The decorative style is not typically European, but a hybrid of European designs, Asian-influenced decorative motifs (which generally arrived during the 17th century through Manila (the Philippines), on textiles in particular, and Latin American motifs (such as certain plants and creatures).
The identification of mopa mopa indicates the use of barniz de Pasto technique (generally considered to be a form of lacquer although it has affinities with inlay). This indicates an origin in the Viceroyalty of Peru where production centred on the cities of Pasto in SW Columbia and Quito in Ecuador. See Mitchell A. Codding in The Arts in Latin America, 1492-1820, organized by Joseph J. Rishel with Suzanne Stratton-Pruitt. (Philadelphia, 2006) pp.106-9. There is not yet an established clear chronology for the dating for barniz de pasto objects, as very few pieces are closely dateable. The typically 17th century form of the cabinet (rare) and the use of renaissance emblems certainly suggests a 17th century sensibility. It has been suggested that the presence of elaborate style ornament with very line lines of detail, as seen on the lion manes, for example indicates an early dating (before 1675).

Historical context note
Barniz de Pasto
Barniz de Pasto (Pasto varnish) is usually categorised as a lacquer-like technique, on the basis that it's a plant extract applied in layers to wood, is durable and waterproof and admired for its lustre. However, it is quite different to East Asian lacquers that employed a resin obtained from the lacquer tree (Rhus verniciflua). In some respects the technique may also be considered as a form of inlay. The technique developed particularly in the Royal Audiencia of Quito (an administrative subdivision of the Viceroyalty of Peru), encompassing the Andean region from the city of Pasto in south-western Colombia to Quito, Ecuador, and beyond in to the highlands of Peru. It appears to have originated in pre-Columbian cultures and from at least the 16th century was used to decorate kero (qero/quero) cups, Incan drinking vessels made from wood, traditionally used in Andean feasts. The principal medium is mopa mopa, a translucent green natural phenolic resin. This is obtained from the chick-pea sized leaf buds of the mopa mopa tree (Elaeagia pastoensis Mora), native to the tropical rain forests of the mountains of southwest Colombia near Mocoa, the capital of the department of Putamayo, but an alternative source may be a related plant Elaeagia utilis. Mopa mopa beads have been discovered the ancestral tombs of Pasto Indians that date back over 1000 years and Spanish reports mention indigeneous artisans in Mocoa and Timaná (1582) who were producing brightly coloured varnish. The Franciscan chronicler Pedro Simón, writing in about 1526, confirmed that the inhabitants of Timaná, Mocoa, Quito and other parts of Peru, producted tobacco boxes and staffs decorated with a resin of various colours obtained from the leaf buds of a tree in the region (Codding, 2015, p76). During the colonial period the indigenous peoples of the Sibundoy Valley of Colombia supplied the resin-covered leaf buds, pressed into blocks, to the lacquer artisans who processed and coloured the resin for application on a variety of decorative wooden objects. The most recent account is Newman (2015).
The mopa mopa tradition centred in Pasto and to a lesser extent Quito, was characterised by European forms and motifs exhibiting a pronounced Asian influence. It was carried out by barnizadores, the indigenous or mestizo lacquer artists of these cities. Both cities were closely aligned throughout most of the colonial period since Pasto fell under the jurisdiction of the diocese and Audiencia of Quito, rather than the Audiencia of Nueva Granada centred on Bogotá. Sixteenth century chroniclers of New Granada (modern day Colombia) describe trade goods coming from the city of Pasto, through Quito, and into Inka centers in Peru. It is generally considered that the technique was applied to goods intended for export back to Spain. The earliest reference to the production of lacquer objects in Pasto dates from around 1676 when the Colombian Bishop Lucas Fernándes de Piedrahita noted that it had already enjoyed considerable fame in Europe. There is reference to the production of mopa mopa lacquer in Quito as early as 1625 but extant objects and other documents seem to limit the activity of barnizadores to the 18th century, perhaps following the founding of workshops by Pasto barnizadores in the late 17th-century. 18th century travellers to Pasto extolled the virtues of the prized lacquer, claiming that it rivalled the best Asian lacquers in the beauty, shine, and durability of its colours. The German naturalist Alexander von Humboldt (1801) reported that local traditions credited the founding of the industry in Pasto to Catalina Petronila de Mora, of Timaná, at the beginning of the 17th century. It was said that she held encomiendas or 'grants to individuals in reward for their services to the Crown that allowed the encomenderos to exact tribute and labor from specific inidigenous populations, in exchange for protecting and instructing them in the Catholic faith. Other lacquer artisans told Humboldt that Catalina Petronila de Mora had learned the art from her Indian laborers and then perfected it in Pasto. (Codding, p.78) He observed that there were 80 barnizadores in 1801 including several with 4 or 5 labourers, who used 600-800lbs of mopa mopa annually in the manufacture of lacquerwares valued at 10,000-15,000 pesos. He also identified the colorants used: indigo dissolved in water for blue; pure indigo for black; annatto for red; diluted blue mixed with the powdered root of Escobedia scabrifolia (a saffron-like colorant) for green; Escobedia scabrifolia over silver leaf for gold; lead oxide for white.
From the first half of the 17th century Barniz de Pasto was used on a wide variety of Colonial, secular and religious wooden objects including drop front writing cabinets, portable writing desks, chests, domed coffers, book stands, picture frames, trays, bowls, plates, nesting beakers, and cups. Examples exist in the Hispanic Society of America, New York, the Museo del America (Madrid) and Denver Art Museum. The designs on what are thought to be the earliest 17th-century examples incorporate floral, foliate, and hunting motifs that include both realistic and mythological beasts, all of which clearly derive from 16th-century European sources, such as prints, drawings and illuminated manuscripts. Codding (2015, p.79) suggests that the European designs, and indeed the idea of using barniz de Pasto to create Spanish style lacquerwares, were probably supplied by Catholic missionaries. They exhibit an eclectic mix of motifs drawn from European, American and Asian antecedents, including the squirrel and grapevine motif common to 16th- century Chinese and Japanese decorative painting (sometime reinterpreted as a monkey and grapevine) as well as 17th-century lacquers from the Ryukyu Islands (Okinawa); peonies and carnations from Chinese porcelains and textiles; tropical flora and fauna of the tropics; the double-headed Habsburg eagle; and images from European heraldry, mythology and still-life paintings. It has been argued that the imports of Asian (particularly Japanese) lacquerwares traded on galleons through Manila to Acapulco from about 1570, stimulated the production of Latin American lacquerware for the Spanish market (see Codding, 2015), pp.75-6.
The exact process of creating matt barniz de Pasto in the 17th century is not certain, but the following describes the likely steps. The transformation of raw mopa mopa into a decorative lacquer was largely a manual process, beginning with the removal of impurities such as leaves, bark, or other organic matter. Small amounts of the gummy resin were then chewed and/or boiled in water to make it sufficiently elastic to stretch into thin sheets, which also facilitated the removal of additional impurities. This process was repeated numerous times in order to achieve the most transparent lacquer. Once the desired level of purity was achieved, organic and mineral colorants were added through kneading or chewing. After being boiled in water again, two artisans would stretch the highly elastic mopa mopa into extremely thin sheets by pulling it opposing directions with their hands and teeth. The varied shapes needed for the decorative designs then were cut from the centre of the sheet and applied to the heaten wooden surface. Air bubbles were dealt with by pricking and pressing. An untinted (greenish) layer would be laid down first as a ground, then the ground colour from which shapes would be knife-cut, and coloured inserts laid in. A clear sheet might be laid over the top as a protective layer. Once cooled the bond was permanent. The resulting lacquer provided an exceptionally durable and waterproof surface impervious to most organic solvents. Additional details were incised in the lacquer, or minute threads of black or white barniz were used to outline figures, add fine details or create cross-hatching for shading effects. A related technique in use by at least c1684, known as the 'barniz brilliante', involves layers of translucent film being applied over silver (and possibly gold) foil, gives a bright, more metallic effect, as seen for example in the Hispanic Society of America box (LS2000) commissioned for a Bishop (created 1683, d.1685) by his brother.
Bibliography
Dennis Carr with contributions by Gauvin Alexander Bailey, Timothy Brook, Mitchell Codding, Karina H. Corrigan, Donna Pierce. Made in the Americas: the New World discovers Asia (Museum of Fine Arts, Boston, 2015)
Mitchell Codding, 'The lacquer Arts of Latin America', in Made in the Americas - The New World Discovers Asia (Museum of Fine Arts, Boston, 2015), pp. 75-82
The Arts in Latin America, 1492-1820 / organized by Joseph J. Rishel with Suzanne Stratton-Pruitt. (Philadelphia, 2006) pp. 106-9, including the essay by Jorge F. Rivas P Observations on the Origin, Development, and Manufacture of Latin American Furniture, p.479
López Pérez, María del Pilar. Quito, entre lo prehispánico y lo colonial. El arte del barniz de Pasto. En: Arte quiteño más allá de Quito. Quito. FONSAL. 2010.
Richard Newman, Emily Kaplan, and Michele Derrick, Mopa Mopa: Scientific analysis and history of an unusual South American Resin used by the Inka and artisans in Pasto, Colombia. Journal of the American Institute for Conservation 2015, Vol. 54 No. 3, 123-148
Marjorie Trusted, The Arts of Spain – Iberia and Latin America 1450-1700 (London and New York, 2007) p167, illustrating a portable writing desk (pl. 135 'New Granada (Colombia) Barniz de Pasto (Vegetable resin on wood), c1685, The Hispanic Society of America) which was made for export to Spain

Descriptive line
Barniz de Pasto lacquer. Vice-royalty of Peru (Colombia), c1650
Bibliographic References (Citation, Note/Abstract, NAL no)
Nick Humphrey, 'Box of Mysteries' in V&A Magazine, no. 43, summer 2017, pp.20-1
Lucia Burgio, Dana Melchar, Stanislav Strekopytov, David A. Peggie, Marta Melchiorre Di Crescenzo, Brenda Keneghan, Jens Najorka, Tomasz Goral, Amin Garbout, Brett L. Clark
"Identification, characterisation and mapping of calomel as 'mercury white', a previously undocumented pigment from South America, and its use on a barniz de Pasto cabinet at the Victoria and Albert Museum"
in Microchemical Journal, Volume 143, December 2018, Pages 220-227
https://www.sciencedirect.com/science/article/pii/S0026265X18307471, consulted 29/10/2018
Techniques
Barniz de Pasto
Categories
Furniture
Collection
Furniture and Woodwork Collection