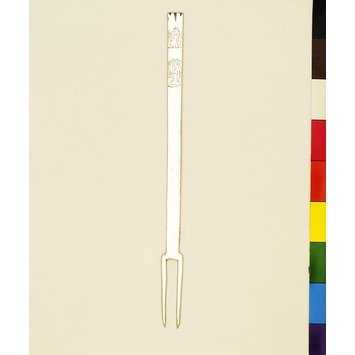 Crosse, Richard, born 1600
Fork
Place of origin:
Date:
Artist/Maker:

Crosse, Richard, born 1600 (maker)

Materials and Techniques:
Museum number:
Gallery location:

Silver, Room 65, The Whiteley Galleries, case 9, shelf 1
This is the earliest-known hallmarked silver fork made in an English workshop. On the back of the handle are mark of the maker (London spoon-maker Richard Crosse), and three marks to show the quality of the silver was approved by the London assay office in 1632-3.
Forks were originally used at table to serve sticky sweets, such as preserved ginger, or to secure meat as it was carved. Food was brought to the mouth using a spoon, the point of a knife, or the fingers. The use of forks for this purpose was still a novelty in seventeenth-century England, where writers tended to consider the practice an affectation imported from Italy.
Physical description
Silver, two-pronged, the flat handle slightly tapered with a square notched end. The handle engraved with the crests of John Manners, Earl of Rutland and his wife Frances Montagu. The condition of the fork was described as 'slightly bent and dented' when it entered the V&A.
Place of Origin
London (made)
Date
1632-1633 (made)
Artist/maker
Crosse, Richard, born 1600 (maker)
Materials and Techniques
Silver
Marks and inscriptions
Maker's mark 'RC' in a shield-shaped punch; lion passant assay mark; date-letter 'p' for the year 1632-3; leopard's head crowned for London assay office.
Marks stamped at base of stem, just above tines, on back of fork.
For the maker's mark, see Jackson (1989), p. 116 and accompanying photograph; for the assay mark, date letter and London town mark, see Jackson (1989), p.51.
The crest of Frances Montagu of Boughton, wife of John Manners, Earl of Rutland, engraved on the front of the fork, at the end of the handle. The Montagu crest comprises a griffin's head and wings, with three lozenges on the collar.
The crest of John Manners (later eighth Earl of Rutland), below that of his wife, comprising a peacock in pride, differenced with a crescent. The crescent on the peacock's breast indicates Sir John was the second son of the first Earl of Rutland.
Dimensions
Weight: 39.7 g, Length: 17.5 cm, Width: 1.2 cm
Object history note
The two crests engraved on the handle of this fork show it was made for John Manners and his wife Frances Montagu. John (1604–1679) was the eldest son of George Manners (d. 1623), of Nether Haddon, Derbyshire. John studied at Queens' College, Cambridge from where he graduated as Master of Arts in 1621, and entered the Inner Temple in November of that year. He succeeded to his father's estate in Haddon, Leicestershire, in 1623 and in 1628 married Frances (bap. 1613, d. 1671), the daughter of Edward Montagu, Baron Montagu of Boughton, and Frances, daughter of Thomas Cotton of Conington, Huntingdonshire. The death of his cousin George, seventh Earl of Rutland, in March 1641 brought him the title of eighth Earl. He was a moderate, if unenthusiastic politician. He was made lord lieutenant of Derbyshire by parliamentary ordinance in March 1642, and later in his life served as lord lieutenant of Leicestershire for a decade (1667-1677). He seems to have undertaken little foreign travel, with the exception of a three year period following his graduation in 1621, when he obtained a licence to travel abroad for three years. It may have been during this period of travel that he became acquainted with Continental fashions for forks, which were still considered a novelty in England in the mid-seventeenth century.
The fork's maker, Richard Crosse, was apprenticed to London spoonmaker Robert Jygges in 1625. He registered different versions of his mark and seems to have specialised in the production of flatware (see Jackson: 1989, p. 116 and Kent: 1981, p. 44).
The Museum acquired the fork from Walter H. Willson, 28 King St, St James's, London SW1. (A body of subscribers made a contribution of £57 4s to the purchase price of £100.) Willson, who had displayed the fork in his shop to assist the Museum's efforts in fundraising for its purchase, also made a number of silver copies in the 1930s. For examples of these copies that have appeared recently on the market, see Metalwork Section object file.
Historical significance: This is the earliest English hallmarked silver fork known to survive. It would originally have been part of a set. A note dated 27 August 1924 in the Metalwork Section register, by the former Keeper of the Department H. P. Mitchell, records that 'Lord Granby to-day showed me a silver spoon, with handle of the same form similarly notched, engraved with the same two crests (but put on sideways), and with the same hall-mark and maker's mark, which has been found lately under a floor at Haddon Hall. The bowl is of the usual elliptical shape of a "puritan" spoon.'
Descriptive line
Silver, English (London), 1632-3; mark of Richard Crosse
Bibliographic References (Citation, Note/Abstract, NAL no)
Pickford, Ian, ed. Jackson's Silver & Gold Marks of England, Scotland & Ireland, 3rd edn (rev.) of Jackson, Charles, English Goldsmiths and their Marks. Suffolk: Antique Collectors' Club, 1989.
Kent, Timothy Arthur. London silver spoonmakers 1500 to 1697. London: The Silver Society, 1981.
Jan Broadway, 'Manners, John, eighth earl of Rutland (1604–1679)', Oxford Dictionary of National Biography, Oxford University Press, 2004; online edn, Jan 2008 [http://www.oxforddnb.com/view/article/17956, accessed 28 Jan 2011]
Clayton, Michael. The Collector's Dictionary of the Silver and Gold of Great Britain and North America. 2nd edn, revised. Suffolk: Antique Collectors' Club, 1985. ISBN 090746257 X.
Clifford, Helen. Knives, Forks and Spoons, 1600-1830. In: Glanville, Philippa and Hilary Young, eds, Elegant Eating: Four hundred years of dining in style. London: V&A Publications, 2002, pp. 54-57. ISBN: 1851773371.
Moore, Simon. Cutlery for the Table: A history of British table and pocket cutlery. Sheffield: The Hallamshire Press, 1999. ISBN: 1874718563
Mitchell, David M. 'By your leave my masters': British Taste in Table Linen in the Fifteenth and Sixteenth Centuries. In: Textile History, 20.1 (1989), pp. 49-77.
Bimbenet-Privat, Michèle. La naissance du couvert moderne. Cuillères et fourchettes parisiennes du XVIIe siècle. L'Estampille / L'Objet d'Art, vol. 366, February 2002. pp. 58-67.

Labels and date
53. Fork
London, 1632-3
Mark of Richard Crosse
Engraved with the crests of John Manners, Earl of Rutland and his wife Frances Montagu.
This is the earliest known hallmarked English table fork and imitates French silver forks of the 1620s. Forks for eating meat were unknown in england until the early 17th century, to the surprise of Italian and French visitors, although 'Sucket' forks for sticky desserts had been in use since the Medieval period.
M.358-1923 [2002]
Cutlery
Fork
Silver, engraved with crests of John Manners, Earl of Rutland and his wife Frances Montagu.
Mark of Richard Crosse.
LONDON; hallmark 1632-3
Spoon
Silver.
Mark of Stephen Venables.
LONDON; hallmark 1656-7
Forks for eating meat were unknown in England until the early 17th century, to the surprise of Italian and French visitors. Sucket forks for sticky desserts had long been in use. Both men and women carried personal sets of knives and the host simply provided spoons. In 1652 Peter Heylin commented that forks were 'by some of our spruce gallants taken up of late'.
M.358-1923, 1984-1898 []
AN EARLY ENGLISH FORK.
The silver fork shown in the accompanying illustrations, the earliest hall-marked English table-fork known, bears the London marks for 1632-3 with that of an unknown maker RC. The extreme simplicity of its design suggests that it was rather an experimental implement, which is not surprising considering its date, for English writers of the early years of the seventeenth century describe with much curiosity the fashion of using a fork to eat with as a fashion then newly introduced from Italy. Thomas Coryate, an English traveller, in his book Crudities published in 1611, records that he had observed the Italians using a little fork at meals for helping themselves out of the dish -- "neither doe I think that any other nation of Christendome doth use it, but only Italy", and he proceeds to relate how he was ridiculed "for using a forke at feeding" on his return to this country.
A writer of the middle of the same century (Peter Heylin, in his Cosmography published in 1652) says "The use of silver forks with us, by some of our spruce gallants taken up of late, came from China into Italy and thence into England", thus giving forks an origin from Chinese chop-sticks. Seeing that forks are mentioned in English wills and inventories (sometimes as sucket-forks for eating preserves) from the fourteenth century onwards, and that an Anglo-Saxon silver fork of the ninth century was dug up with a spoon in Wiltshire, such an oriental origin seems rather far-fetched. But until the latter part of the seventeenth century forks did not come into general use for eating at meals, and the present example, dating from the reign of Charles I, forms a landmark in the history of the subject.
The history of this fork is recorded by the two heraldic crests engraved on it by a contemporary hand. They are those of Manners below (a peacock in pride, differenced with a crescent), and Montagu of Boughton above (a griffin's head and wings, with three lozenges on the collar) -- for John Manners (afterwards eighth Earl of Rutland) who in 1628 married Frances, daughter of Edward Lord Montagu of Boughton. He was the eldest grandson of Sir John Manners and Dorothy Vernon, whose romantic elopement is related to visitors to Haddon Hall. The crescent on the peacock's breast indicates Sir John's descent as second son from the first Earl of Rutland.
Many friends of the Museum have contributed to this very interesting piece of old English silver, and its acquisition has been rendered possible by the kind co-operation of Mr. Walter H. Willson of King Street, St. James's, who has made a heavy sacrifice for the benefit of the national collection, holding the fork at the disposal of the Museum at the price given by him, in order to allow time to collect subscriptions towards its purchase. To him and to all those who have contributed, the thanks of the Museum are tendered, and they are asked to accept this acknowledgment of their help, with the illustrations of the object attached.
Cecil H. Smith, Victoria and Albert Museum, 20th November, 1923. [20 November, 1923]
Treasures of the Royal Courts: Tudors, Stuarts and the Russian Tsars label text:
Fork and two knives
Fork 1632–3; knives dated 1607
This is the earliest surviving fork with English silver hallmarks. Forks were new to England, brought from Europe by returning travellers. The knives are from a set with carved handles of English monarchs from William the Conqueror to James I.
London
Fork: by Richard Crosse; silver
Knives: blades probably made by Arnold Smyth; steel blades, etched and damascened with gold, carved ivory handles set with semi-precious stones and pastes
Fork: Inscribed with the crest of Frances Montagu, wife of John Manners, Earl of Rutland, of Haddon Hall, Derbyshire; marked for Richard Crosse
Knives: Marked with a dagger for the London Cutlers' Company and a crowned diamond, probably for Arnold Smyth; inscribed 'henry viii' (463-1869) and 'elizabeth' (465-1869)
V&A M.358-1923; 463, 465-1869
[]
Materials
Silver
Categories
Metalwork; Silver; Eating; Tableware & cutlery
Collection
Metalwork Collection