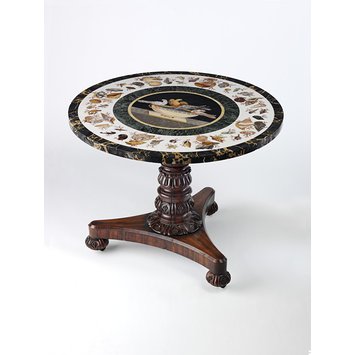 Table
Place of origin:

Malta (made)
Great Britain (made)

Date:
Artist/Maker:
Materials and Techniques:

Marble top on mahogany stand

Museum number:
Gallery location:

Furniture, Room 133, The Dr Susan Weber Gallery, case BY5, shelf EXP []
Malta had a number of marble workshops from the 17th century on, initially founded by Italian craftsmen. The island has close historical links with Sicily and the Southern Italian peninsula only fifty miles away. The importation of the mosaic marble technique into Malta was owing to the patronage of the Knight Hospitallers of St John, based there from 1530 until 1798, who commissioned elaborate marble tombstones for themselves. Under British rule from 1800, the workshops began making marble table tops in the Italian style for the influx of wealthy British tourists, who had for many years previously shown an interest in buying marble slabs in Italy as souvenirs of the Grand Tour. This table was ordered in 1841 by Sir Watkin Owen Pell, a captain in the Royal Navy, who was on his last tour of duty and purchasing furnishings for his future home in England from around the Mediterranean.
The surface of the table is made using the pietre dure technique, using fine slices of marble cut precisely to shape and fitted together to form a mosaic completely covering the top and sides of a backing stone. It was made by the best-known marble-working firm in 19th-century Malta, J. Darmanin and Sons, who traded from about 1800 to the 1880s, and exhibited at several international exhibitions including the Great Exhibition, London in 1851.
Physical description
Summary description
A circular marble-topped table decorated with pictorial decoration in the pietre dure (hard stones) technique, in coloured marbles and hardstones. The columnar pedestal frame, of turned and carved mahogany, rests on a flat indented triangular plinth supported on three bun feet.
Decorative Scheme
The circular central reserve depicts four doves perching on the rim of a water-filled bowl, against a black background. One dove drinks from the water. This design is a version of an ancient Roman motif known today as 'Pliny's Doves'. The centre is encircled with concentric bands of marble including a wide border of verde antico marble, a band of naturalistic shells and coral set against a white background, and an outer border of gold-flecked black marble.
The pedestal consists of a turned baluster carved with stylised leaves and floret, arising from a plain indented triangular base, supported with three bun feet also carved with florets.
Stucture and materials
The marble top is made using the pietre dure technique, using brightly-coloured marbles and semi-precious stones to create mosaic patterns which completely cover the top and edges of a stone slab. The decorative stones are cut into fine slices using a wire saw, to which an abrasive paste is applied. Paper templates are pasted to the slices of stone, which are then cut to shape. The pieces are then fitted closely together face down on a flat surface, and the backs are coated with molten beeswax and resin, before being glued to the surface of a backing stone.
In this table the shells appear to be inlaid into a circle of white marble, but on close inspection fine joins in the white surface reveal that it too is a thin surface layer.
The marbles used for the shells were carefully chosen so that the striations and shading imitate their natural appearance. Further details were added using engraved lines filled with composition. The pink sprigs of coral behind each shell are also made of coloured composition mixed with ground marble or coral for colour; the colour has run in one area staining the white background.
Place of Origin
Malta (made)
Great Britain (made)
Date
1841 (made)
Artist/maker
Darmanin, J (maker)
Materials and Techniques
Marble top on mahogany stand
Marks and inscriptions
J. DARMANIN & SONS
MARBLE WORKERS
ORNAMENTAL & MOSAIC SLABS
OTHER ORNAMENTAL WORK
STRADA LEVANTE No. 45
MALTA
Printed paper label on underside of table
Marble table inlaid with Sea Shells & real coral made in Malta October 1841 for Sir Watkin Pell R.N. who was in command of HMS Howe.
Hand-written in ink on paper label on underside of table.
Dimensions
Height: 72 cm, Diameter: 91.5 cm of top
Object history note
A hand-written label attached to the underside gives the history of this table which was bought in Malta by Sir Watkin Owen Pell RN (1787-1867) in October 1841, price £18.00. Sir Watkin Pell was in command of the ship HMS Howe. The table was lent to the Museum in 1965 with a view to a bequest by his grand-daughter, Miss Constance Margaret Maude (1872-1967). It was lent by the V&A to Hereford Museum from 1968 until 1996.
Historical significance: The Darmanin family were the most prominent marble-workers in 19th-century Malta. They descended from a line of marble-workers who had worked on mosaic tombstones for the Church of St John, Valletta, during the 18th century. The firm was founded by Giuseppe Darmanin (1779-1863) in about 1800 and probably adopted the the name Giuseppe Darmanin e Figli (translated for their British customers as 'Joseph Darmanin and Sons') in the 1820s when Darmanin's eldest sons were in their teens. Five sons and at least three grandsons continued in business until the 1880s. They supplied marble pavements and monuments to Maltese parish churches in addition to their thriving business making marble tables for British visitors passing through Malta.
Historical context note
Origins of the technique
The Italian term pietre dure (meaning 'hard stones') is used in Italy to describe the decorative or sculptural use of hardstones and marble. It is used more widely to refer more specifically to a type of mosaic which was developed in Florence in the 16th century, sometimes also called 'Florentine mosaic'. The technique, inspired by excavated ancient examples, uses coloured marbles and semi-precious stones to create mosaic patterns completely covering a stone slab. An alternative technique was used in 16th-century Rome where table tops were made from a slab of stone with chiselled recesses, into which pieces of coloured stone were set (an example is museum number 56-1881).
The Florentine technique spread to Naples and Sicily and to centres outside Italy such as Prague and Paris. The importation of the technique into Malta was due to the patronage of the Knight Hospitallers of St John, who ruled Malta from 1530 until 1798. They commissioned mosaic memorial slabs from Italian craftsmen who then established workshops in Malta. The industry continues in Malta to the present day.
Characteristics of Maltese marble tables
Table tops made by the Darmanin firm can be distinguished from Florentine tables by their distinctive repertoire of motifs, often drawing on Maltese history and emblems, and by the boldness and clarity of their designs. This is firmly within the Maltese tradition which was closer to the more abstract design tradition of the marble workshops in Naples and Sicily. An impression of rounded shape is conveyed in work by the Darmanin firm by a careful choice of marbles with natural shading and striation, but motifs appear two-dimensional in comparison with 19th-century Florentine examples, which have a minutely detailed trompe loeil effect. The Darmanin style may have been influenced by the Maltese artist Giuseppe Hyzler, who opened an art school in Valletta in 1823 and who stressed the importance of linearity and clear uncluttered design.
Malta has few natural reserves of marble and needed to import marbles and semi-precious stones from Sicily, the Aegean and the north coast of Africa.
Pliny's Doves
The Darmanin design closely follows the famous example discovered in 1737 in a Roman floor mosaic now in the Capitoline Museum, Rome, from Hadrian's Villa at Tivoli. There are two variants in micro-mosaic in the National Archaeological Museum in Naples, one from Pompeii, the Casa delle colombe a mosaico, the other S. Maria Capua Vetere. The original, a lost ancient Greek mosiac at Pergamon, was described by Pliny the Elder in his Natural History,completed in 77 AD.
The doves are sometimes found in micromosaic on 18th- and 19th-century Italian tables, but the Darmanin firm probably used printed source-books for their range of Roman motifs, which featured in their work over a period at least twenty years. A table they showed at the 1862 International Exhibition, London, had the same motif of a vase and four doves.
Shells
The shells on the table, including a sea horse, could have been drawn from one of the many illustrated guides published in the early 19th century. Some of the shells illustrated are from the Mediterranean and could have been drawn from life. The firm may also hae seen engravings of the earlier pietre dure tables featuring shells made at the Florentine Grand Ducal workshop. However the shells on the Italian tables are far more detailed, and are set against the strings of pearls characteristic of the Florentine workshop.
Descriptive line
Circular Victorian table with inlaid marble top on columnar support.
Bibliographic References (Citation, Note/Abstract, NAL no)
Hay, Kate. Mosaic Marble Tables by J. Darmanin & Sons of Malta. Furniture History. Vol. XLVI (2010), pp.157-188.
Labels and date
Table
1841
J. Darmanin & Sons (active about 1820–about 1886)
Top: Malta
Marble
Stand: probably Great Britain
Turned and carved mahogany
Museum no. W.24-2003
The marble workshops in Malta were founded by Italian craftsmen. Like the cabinet (right), this table top is made using the Florentine pietre dure technique. The shells might appear to be inlaid into the white marble but actually the whole surface was assembled in thin slices like a jigsaw. [01/12/2012]
Materials
Marble
Techniques
Pietre dure
Subjects depicted
Seahorse; Coral; Dove; Shell; Bowl; Water
Categories
Furniture
Collection
Furniture and Woodwork Collection