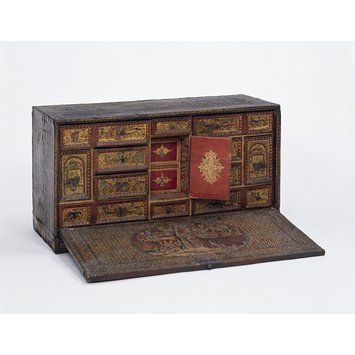 Cabinet
Place of origin:

Venice, Italy (probably, made)

Date:
Artist/Maker:
Materials and Techniques:

Softwood carcase, the leather dyed, painted, tooled and gilded, with paper linings and brass handles

Credit Line:
Museum number:
Gallery location:

Furniture, room 135, case BY5, shelf WALL
Portable cabinets of this type were luxury containers for documents or smaller precious objects. They were simple in construction and their impact depended on the richness of their finely-tooled coloured leather with which they were covered. The presence of a cardinal's hat in the decorative scheme of this one suggests the rank of its first owner.
Physical description
Fall front cabinet covered with decorated leather, containing 12 drawers and 1 cupboard recess which contains a removeable unit of two drawers below a concealed tray, behindwhich are three secret drawers.
Design
The decorative scenes are worked on deep red-dyed leather, using paint, tooling and gilding, and onlay sections of painted leather or vellum, and some onlay, overpainted sections of engraved vellum or paper which are later additions.
External:
On the outside of the fall-front is a large rectangular panel within a stamped border, depicting a landscape scene with Abigail (with four attendants) before Daniel (with 11 soldiers), with distant horsemen (1 Samuel chapter 25, see also below); on the inside of the fall front is an oval scene against a fleur-de-lis ground with arabesque borders, which shows two covered tables set in the open air, with three men eating and drinking at the table on the right, and two men attending at the left, possibly representing Abraham and the three angels (Genesis chapter 18. v.1-19). (Further research into print sources may help identify the subject.)
Both sides of the cabinet bear a large oval within a double border of stamped decoration, which contains a man in armour on a rearing horse in front of a landscape: the left side horseman with a sword and wearing a helmet with a crest in the form of a bird with outstretched wings (possibly derived from the engraving of C. Julius Caesar by Antonio Tempesta (1555?-1630), and the right side horseman in front of a drapery, and with a baton; the cabinet top has a coat of arms (dexter: black eagle on gold, above a dog on a white mould; sinister: black hart on gold, above a red/black quarter), flanked on each side with a mounted horseman. The top of the cabinet depicts a central circular panel between two ovals, set on a gilded scale pattern background, and enclosed by an inner wide border with alternate scrolls and quatrefoil corner motifs, and an outer narrow border with conjoined C-scrolls. The central circular panel shows the same coat of arms as previously described on the front of the cabinet. The two flanking ovals each contain a horseman in a landscape.
The back of the cabinet is covered with nailed sheets of pale brown leather (suede side out) with x26 eight-pointed, black stencilled stars. The inside of the back is painted red.
Internal: drawer fronts with hunting dogs, birds and deer among leaves; two deep, flanking drawers each with the same coat of arms as on the top of the cabinet, surmounted by a cardinal's hat; the central internal cupboard door with David playing the harp. The inside of the cupboard door has been covered with red goatskin leather bearing a central, large tooled and gilded motif, in style Italian c.1700.
Decorative techniques
All the coloured and graphic decoration has been worked in a combination of technques: gold tooling, painting directly to the leather, painted onlays of leather (or vellum), some later onlays of painted, engraved vellum or paper (if the latter presumably cut from engravings and matched to the designs, glued over the original painting). The regular borders, and scale pattern background appear to be gold tooled. The red leather drawers and cupboard front are a mix of paint (mostly black and green, possibly tempera) applied directly to the leather, and onlay sections of brown and green painted leather (and possibly engraved paper, presumably cut from engravings), with gold tooling applied applied after the onlays. (The Berlin cabinet (see below) painting is said to be carried out in tempera.) On the back of the cabinet the stars are stencilled. The inside of the cupboard door is covered with later tooled and gilded, dyed leather.
The technique of gold tooling, also used in bookbinding, was probably in use in Venice by 1470 and may have been introduced from Persia. Typically, a heated metal tool or stamp is impressed into the leather, then a glair (egg-white) is applied. Gold leaf is applied to the almost dry glair, and the heated metal stamp reapplied onto the gold. The glair melts upon the application of heat and sets quickly upon the removal of heat, so that it holds the leaf solidly to the surface. The excess gold is brushed off (and saved for reuse). Sometimes the gold leaf was pressed onto the glair using the heated metal tool. Freehand outlines were 'drawn' by scoring the surface of the leather with a blade (without cutting through it), then using a heated metal stylus to 'scar' over the line.
Structure
The main carcase consists of five softwood planks nailed together (the top nailed to the sides and meeting at a half-mitre(?), and the sides nailed to the bottom. The back is probably nailed onto the top, bottom and sides. Internal vertical dividers and dusboards have been tenoned into the main carcase. The sides extend 5.5cm below the bottom and on both sides at the front a block has been added to which a horizontal batten (softwood with a walnut facing, apparently replaced) has been glued. The fall front is of 'breadboard' construction in softwood with visible splits in the leather where the main board which has shrunk across the grain meets the end battens. It was attached to this batten using nailed pieces of leather which served as hinges, but which have come loose (2009).
The cabinet top and sides, the drawer and cupboard fronts, and the fall front (interior and exterior) are covered with glued red leather of goat or kid. The back is covered with nailed sheets of pale brown leather (suede side out). Running over this at its four edges, glued and nailed are strips of gilded leather 3.5cm wide, apparently 17th century in date, and probably a later addition to conceal losses. On both sides, what appear to be strips of reused, stamped leather bookbindings have been glued along the lower edge (and on the right side, also the upper edge).
Internally the cabinet contains a central cupboard surrounded by 12 drawers of four sizes, all with applied and mitred ogee mouldings on the fronts, and brassy cast handles secured by split fastenings. All four corner drawers have a wide front with two handles and mouldings giving the appearance of two separate drawers, one narrow and one wide. All the drawers ae softwood, apparently glued (the sides glued to the front and back, the bottoms glued up to sides, front and back). Apart from their leather fronts, they are all lined and covered with the same type of red wove paper with a starched finish, presumed to be 19th century. This lining paper extends around the dustboard fronts to a depth of 1.5 to 2cm. Glued to the visible front edges of the dust boards and vertical dividers are strips of tooled and gilded red leather (a design of scrolling leaves and birds), which must have been added at the same time as the 19th century paper. The central door, hung on two metal ring hinges, and held on a sliding metal catch (replaced?) is relined with 18th or 19th century red leather with a stamped and gilded design. It opens to reveal a unit of two drawers with a concealed tray above. The unit can be 'locked' to the right vertical divider by means of a metal catch accessed from the bottom drawer, and once released can be slid forward and out. The pulls on these two drawers appear to be replacements, and the fronts of both drawers appear to have been recovered using new red leather, with original strips and pieces of stamped leather cut out and applied. The interior of the removeable unit is lined with an early (probably original) laid pink paper stamped with a repeat stamped motif of stylised leaf within a lozenge, possibly silvered (now tarnished). The recess in which this unit sits is lined with blue and red marbled paper, of 17th century style but probably 19th century in date. With the unit withdrawn, 3 secret drawers with red cord pulls are revealed, which sit behind the left side drawers[check]. They are lined and covered with the same red paper as the other drawers. One of these has no cord and noticeably thinner front and back but does not appear to be remade.
Repairs and modifications
Additional strips of embossed and gilded leather around the edges of the cabinet back.
Where along the lower softwood edges of the sides and front have deteriorated through common furniture beetle, the stamped leather borders have been 'restored' using a combintation of modern veneer strips, sections of the original leather border and rectangular sections of non-original tooled and gilded leather.
Additional red lining paper to the drawers and dust boards.
Leather lining on the inside of the central cupboard door.
Marbled paper lining the central cupboard.
A patch of leather has been let in around the keyhole, probably where keys had damaged the leather rather than evidence that the lock has been changed(?).
Some faces and most of the hands have been 'restored' small onlay sections of engraved vellum or paper, with overpaint. If paper, the most likely explanation is that they were cut from engravings, ingeniously selecting the appropriate size and pose as closely as possible (not always perfectly).
Place of Origin
Venice, Italy (probably, made)
Date
1580-1600 (made)
Artist/maker
Unknown (production)
Materials and Techniques
Softwood carcase, the leather dyed, painted, tooled and gilded, with paper linings and brass handles
Dimensions
Height: 48.8 cm, Depth: 35.8 cm closed, Width: 93.8 cm
Object history note
Given by Robert Holland, 1 Upper Berkeley St. London; the condition noted as 'dilapitated'. [Registry were unable to trace a nominal file for Robert Holland, Dec. 2010]
Dept. findings lists suggest that the cabinet was displayed in gallery 4 in 1926; it was in store from at least 1962, to 2011.
Identification of the inner fall front scene
The story of Abraham and the three angels usually depicts the angels with wings (and sometimes haloes), and sets the scene in a humble building, neither of which are shown here, with clothes and furnishings of broadly 16th century character. However, three men are shown at table, and the setting appears to be a tent set up in the open air.
Print sources:
Left side horsemen is probably adapted from the engraving of Julius Caesar by Antonio Tempesta (3501; .534 C9 in xxxx);
(Check Crispen van der Passe)
Abigail before David
Abraham and the angels
This cabinet forms part of a larger group of caskets and table cabinets with similar leather decoration, thought to have been made in Venice or the Veneto c.1550-1600. They employ red/brown leather with painting, gold tooling and leather onlays, and depict a similar mix of animals and birds, figure scenes (often within ovals) and coats of arms. Since the technique of tooling the surface of the leather with a heated metal tool does not allow for fine detail, outlines are simplified and the graphic quality slightly naïve. In terms of woodworking techniques the cabinets required little more than basic materials and skills but the decoration required more specialist leather decorating skills, so it is debatable whether the cabinets under discussion were essentially the product of leather decorating workshops or furniture makers who employed leather workers.
Closest in form is a cabinet on contemporary(?) stand (Davanzati Palace Collection, Florence), published in William M. Odom, A History of Italian Furniture (New York, 1918), figs. 124-5 as Venetian mid-16th century. A smaller table cabinet (missing its fall front) also displays a coat of arms with cardinal's hat, (Kunstegewerbemuseum, Berlin Inv. Nr. 1973, 353) was published as no. 31 in Europäischen Lederarbeiten vom 14. bis 19. jahrhundert aus den Sammlungen des Berliner Kunstegewerbemuseums (Berlin 1988). A cabinet depicting the Creation and Fall of Man, with very similar foliage decoration, in The German Ledermuseum (Offenbach), is attributed to Italy c.1630 (illustrated in Reclams Handbuch der Künstlerischen Techniken vol. 3, ed. Gustav Weiß et al. (Philipp Reclam, Stuttgart 1986), plate 7c.
Historical context note
Narrative scenes
The offering of Abigail (I Samuel chapter 25): During his exile in the Judean desert David and his band of outlaws kept themselves victualled by 'strong-arm' methods. One rich but churlish farmer refused to supply them and they threatened to punish him. But his wife Abigail, 'a woman of good understanding, and of a beautiful countenance,' went out to meet David with a peace-offering of food and drink. It was graciously received. Abigail's husband learning about it next day, while recovering from a bout of feasting, had a severe stroke and died soon after. Abigail married David. She is usually depicted kneeling before him. Behind here are hand-maidens, laden asses and attendants bearing baskets of loaves.'
Taken from James Hall, Dictionary of Subjects and Symbols in Art (London 1974)
Abraham and the three angels (Genesis chapter 18. v.1-19):
Three angels visited the aged Abraham while he sat at his tent door in the middle of the day. Realising what they were Abraham fetched water and washed their feet and brought them food. They prophesied that Abraham's aged wife Sarah would conceive a son, and later Isaac was born.
Labels and date
Cabinet
About 1600
Italy (possibly Venice)
Carcase: softwood with stained, painted and gold-tooled goatskin leather
Onlays: painted and engraved vellum or paper
Drawer linings: paper
Handles: brass
Given by Robert Holland
Museum no. 898-1877
Here the pictorial effects are worked on coloured leather using two main techniques. For the gold tooling, a heated metal stylus or decorative stamp was pressed into the surface. Then gold leaf was permanently fused under heat onto the lines using glair (egg-white). The faces and hands were painted separately and glued, as were large areas like the brown tablecloths.
[01/12/2012]
Materials
Leather; Softwood
Techniques
Painting; Gilding
Subjects depicted
Coats of arms; Stars; David (King); Musician; Hunters; Equestrian; Harp; Cardinal's hat; Abigail
Categories
Furniture; Religion
Collection code
FWK