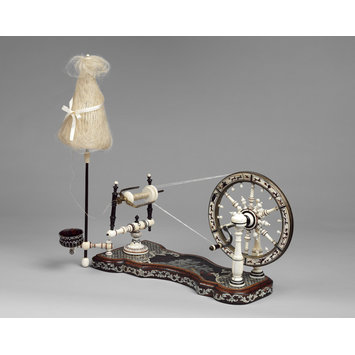 Piffetti, Pietro, born 1700 - died 1777
Spinning wheel
Place of origin:
Date:
Artist/Maker:

Piffetti, Pietro, born 1700 - died 1777 (maker)

Materials and Techniques:

The base is a solid walnut, veneered with five sections of turtleshell backed with what appears to be gold leaf, with an inset engraved mother-of-pearl shaped panel. At each end is trelliswork of ivory and wood veneer, either rosewood or walnut. The sides of the base are veneered with walnut inlaid with ivory, above which is a rounded moulding of cross-banded walnut. Around the edge of the base is a border of box inlaid with fine lines of black composition. The wheel is brass, with inset panels of ivory and turtleshell around the rim, and turned ivory spokes with bands of turtleshell. The handle and axle are steel. The 'maidens', (uprights holding the bobbin) are turned turtleshell, supporting a brass flyer. The ivory bobbin and pulley whorl are replacements (2014). The distaff is rosewood (probably), turned, with an openwork ivory finial. Another distaff, with a silver top (part 5), which was attached to the spinning wheel when it was acquired, was probably a later addition and was removed prior to display in the Europe Galleries 2015.

Credit Line:

Given by the Hon. Mrs Carpenter

Museum number:
Gallery location:

Europe 1600-1815, Room 3, case CA15 []
Small spinning wheels and winders such as this were made in the 18th century to be used in drawing rooms. The fine marquetry decoration was almost certainly made by the Italian cabinetmaker Pietro Piffetti in Turin, although the marquetry decorating the wheel and working elements is probably by a different (perhaps a specialist) maker, and is not of such high quality. Piffetti's elelgant marquetry indicates that this one was as much for show as for use. Needlework was an important element in the education of young ladies and such equipment allowed them to show off their elegant hands to admirers as they practised their skill. The scene on the marquetry base shows the goddess of hunting, Diana, with Cupid and a hound. Diana might be thought to be an odd choice for such a delicate piece, but she was also the goddess of chastity and childbirth, both matters of concern to a good wife.
Physical description
A small spinning wheel or silk winder, made for use on a table or lap. the wheel and working elements of turned ivory and turtleshell, mounted on a flat stand with shaped outline, made of solid walnut veneered in turtleshell, mother-of-pearl, ivory and walnut, and with mouldings of walnut and boxwood. A separate arms holds a water pot of turtleshell and ivory and a distaff of rosewood and ivory.
The scene on the marquetry base shows the goddess of hunting, Diana, with Cupid and a hound. The rim of the wheel is decorated with hunting scenes.
The fine marquetry decoration was almost certainly made by the Italian cabinetmaker Pietro Piffetti in Turin, although the marquetry decorating the wheel is probably by a different (perhaps a specialist) maker, and is not of such high quality.
Place of Origin
Turin (probably, made)
Date
ca. 1740-1750 (made)
Artist/maker
Piffetti, Pietro, born 1700 - died 1777 (maker)
Materials and Techniques
The base is a solid walnut, veneered with five sections of turtleshell backed with what appears to be gold leaf, with an inset engraved mother-of-pearl shaped panel. At each end is trelliswork of ivory and wood veneer, either rosewood or walnut. The sides of the base are veneered with walnut inlaid with ivory, above which is a rounded moulding of cross-banded walnut. Around the edge of the base is a border of box inlaid with fine lines of black composition. The wheel is brass, with inset panels of ivory and turtleshell around the rim, and turned ivory spokes with bands of turtleshell. The handle and axle are steel. The 'maidens', (uprights holding the bobbin) are turned turtleshell, supporting a brass flyer. The ivory bobbin and pulley whorl are replacements (2014). The distaff is rosewood (probably), turned, with an openwork ivory finial. Another distaff, with a silver top (part 5), which was attached to the spinning wheel when it was acquired, was probably a later addition and was removed prior to display in the Europe Galleries 2015.
Dimensions
Length: 39.3 cm of base, not including ivory screw at one end, Width: 18.3 cm of base, Height: 56 cm overall, approximately, Length: 53 cm overall, approximately, Width: 25 cm overall, approximately
Object history note
The wheel was a gift to the Museum but no information about its history was given at the time of donation in 1921. Between 1921 and 1913 the wheel was displayed and photographed with the parts arranged in an impractical way. The spinning wheel was re-assembled in what is probably the original way in preparation for the redisplay of the Europe Galleries (2015). The spindle, part of the original distaff, was reunited with the original distaff top and put back in its original position and a second distaff (probably a later addition) removed. Replacements for the missing bobbin and pulley whirl were fitted, and the spinning wheel was presented in going condition dressed with raw new Belgian flax on the distaff and spun flax wound around the bobbin. New drive bands of plaited flax were fitted to the bobbin and pulley whorl.
Historical context note
This spinning wheel was designed for spinning fine fibres, probably silk, or possibly flax, into thread. The orifice for the fibres is too small for wool. The fibres were attached to the tall distaff and fed by hand into the flyer. The small water pot was used to dip the fingers into, in order to dampen and smooth the fibres as they were spun. The rotation of the flyer twisted the fibres into thread, which then wound onto the bobbin (the original missing). A cord around the flyer whorl (original missing) connected it to the wheel, which was was operated by turning a handle. Small spinning wheels such as this one were used on the lap. The user would feed the fibres into the flyer with her left hand while turning the wheel with her right. The handle is always turned clockwise so that the flax is given an anti-clockwise, or 'S', twist, because flax fibres naturally have an S-twist.
Spinning flax on larger, wooden spinning wheels, for weaving into linen, was an essential rural craft. It was traditionally carried out by women, hence the adjective 'distaff' to refer to the female side of a family. For wealthy women, however, spinning on miniature, beautifully made spinning wheels became a popular pastime. In 1770 the Duchess of Northumberland, when staying in Paris, recorded in her diary that she had accompanied Lady Berkeley to the Boulevards, 'where I believe she had 100 Spinning Wheels brought into the Coach to chuse of.' (Syvia Groves, 'The History of Needlwork Tools'.
Descriptive line
Small spinning wheel or silk winder, the flat stand veneered in turtleshell, inlaid with mother-of-pearl, ivory and walnut or rosewood, edged with boxwood and walnut, the working parts of turned ivory and turtleshell, almost certainly by Pietro Piffetti, Turin, ca. 1740-1750
Bibliographic References (Citation, Note/Abstract, NAL no)
Peter Thornton, Capolavori lignei in formato ridotto, in Arte Illustrata, Anno V, n.47, gennaio 1972, (pp. 9-12, pp.50-7, pp.108-110, trans. by Elena Lante-Rospigliosi
u>
Translated from the Italian: "A curious object which shows an exceptional quality of execution is a small spinning wheel of particular charm (fig. 11). This was evidently a fashionable toy in its day and it was probably displayed on a table in some elegant drawing room or dandled on the knees of some great lady. In fact at various points during the XVIII century it became fashionable as a pleasant pastime, to dedicate oneself to one of the techniques of textile art. They produced embroideries of every type, blanket stitch, they knotted threads of linen to make raised embroideries, they unstitched ancient embroideries, they made lace and did not neglect the art of spinning. It is clear however that with the small spinning wheel under discussion not much work could have been produced. The base of it has a complex pattern of marquetry reminiscent of the work of the famous Pietro Piffetti's technique and other cabinet-makers working in Turin around the middle of the eighteenth-century (fig.12). The lathe-turned elements would have been produced in another shop. The figures on the sides of the wheel, representing hunters with their dogs and prey are very graceful but not as fine quality as the decoration of the base."
Ferraris, Giancarlo. Pietro Piffetti e gli Ebanisti a Torino 1670-1838. Milan: Umberto Allemandi & C. 1992
Jervis, Simon, 'Echoes Over Two Centuries. Two newly acquired Italian tables at the V&A'. Country Life 6 June 1985, pp. 1586-1590.
Elizabeth Miller and Hilary Young, eds., The Arts of Living. Europe 1600-1815. V&A Publishing, 2015. ISBN: 978 1 85177 807 2, illustrated p. 176.

Labels and date
Spinning wheel
1740–50
Pietro Piffetti was cabinet-maker to the King of Sardinia. He specialised in marquetry of tropical woods, turtle shell and mother-of-pearl. Small spinning wheels were luxury objects rather than tools. They were set on a table or the spinner's lap and used by women in fashionable social settings, even at court.
Italy (Turin)
By Pietro Piffetti and a specialist spinning wheel maker
Walnut with boxwood border; marquetry in turtle shell, ivory, mother-of-pearl and rosewood or walnut; working elements of ivory, turtle shell, rosewood, brass and steel, some replacements
Given by the Hon. Mrs Carpenter
[09/12/2015]
SPINNING WHEEL
Wood decorated with marquetry of tortoiseshell, mother-of-pearl and ivory.
Turin; about 1750
The base attributed to Pietro Piffetti
Made as a fashionable toy for the use of a lady of leisure; spinning was then regarded as a pleasant pastime for the well-to-do. This apparatus was not suitable for serious work. The quality of the decoration on the base is higher than that on the supports which were probably made in a turner's workshop. The female figure with bow and arrow represents the goddess Diana accompanied by a putto leading a dog.
Pietro Piffetti (c.1700-177), one of the outstanding Italian cabinetmakers, produced furniture for the Royal Palace in Turin. His work is characterised by opulent use of rare woods and semi-precious materials.
Museum no. W.159-1921 [1993]
Production Note
The scholar Giancarlo Ferraris suggested in June 1992 that, although the base is probably by Piffetti, the elements of the wheel and the uprights were probably made by a specialist turner (note on departmental files)
Materials
Walnut; Ivory; Mother-of-pearl; Turtle shell; Ebony
Techniques
Turning; Joinery; Veneering; Engraving
Subjects depicted
Dog
Categories
Tools & Equipment; Woodwork; Needlework accessories; Marquetry; Needlework accessories
Collection
Furniture and Woodwork Collection