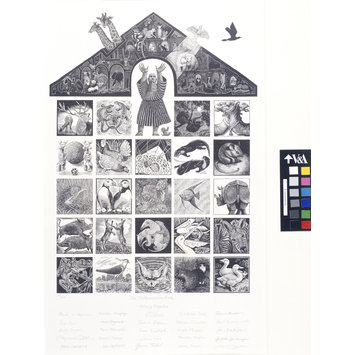 The Millennium Ark
Object:
Place of origin:
Date:
Artist/Maker:

Moiseev, Vitaly (artist)
Tout, Anne (artist)
Hayward, Anne (artist)
English, Andy (artist)
Niekerk, Sarah van, born 1934 (artist)
Brett, Simon (artist)
Skargon, Yvonne (artist)
Davidson, Andrew, born 1958 (artist)
Todd, Jim (artist)
Phips, Howard (artist)
McGregor, Miriam (artist)
Wormell, Chris (artist)
Lindsley, Kathleen, born 1951 (artist)
Stephens, Ian (artist)
Hughes, Pamela (artist)
Pebworth, Pam (artist)
Kershaw, Paul (artist)
Westergard, Jim (artist)
Jones, Cordelia (artist)
Jope, Anne (artist)
Forster, Peter, born 1934 (artist)
Scullard, Sue (artist)
Lawrence, Peter (artist)
Jaidinger, Judy (artist)
Brochway, Harry (artist)
Paynter, Hilary, born 1943 (artist)
Society of Wood Engravers (makers)

Materials and Techniques:
Credit Line:

Purchased through the Julie and Robert Breckman Print Fund

Museum number:
Gallery location:
In wood engraving the drawing of the image to be reproduced is usually made on a block of hard wood such as box. The surface is worked with a burin (a basic tool with which the engraver cuts lines into, and lifts out, slivers from the printing surface). This is then inked with a sticky ink, stiff enough to prevent it from flowing into the hollows. The ink is then transferred to the paper by pressure, often in a printing press. The fine lines cut by the burin are beneath the surface carrying the ink, and the therefore print white.
'The Millennium Ark' represents the work of the still-thriving Society of Wood Engravers, a society established in 1920, and was produced to celebrate the Millennium. This was a unique project, gathering together twenty-six artists to collaborate on a single print. It was printed by one of the wood engravers participating in the project, Paul Kershaw, in two stages.
Physical description
A print consisting of squares with images of a variety of animals, with a triangle on top housing more animals. A male figure on the top centre, with outstretched arms.
Place of Origin
Great Britain (made)
Date
ca. 2000 (made)
Artist/maker
Moiseev, Vitaly (artist)
Tout, Anne (artist)
Hayward, Anne (artist)
English, Andy (artist)
Niekerk, Sarah van, born 1934 (artist)
Brett, Simon (artist)
Skargon, Yvonne (artist)
Davidson, Andrew, born 1958 (artist)
Todd, Jim (artist)
Phips, Howard (artist)
McGregor, Miriam (artist)
Wormell, Chris (artist)
Lindsley, Kathleen, born 1951 (artist)
Stephens, Ian (artist)
Hughes, Pamela (artist)
Pebworth, Pam (artist)
Kershaw, Paul (artist)
Westergard, Jim (artist)
Jones, Cordelia (artist)
Jope, Anne (artist)
Forster, Peter, born 1934 (artist)
Scullard, Sue (artist)
Lawrence, Peter (artist)
Jaidinger, Judy (artist)
Brochway, Harry (artist)
Paynter, Hilary, born 1943 (artist)
Society of Wood Engravers (makers)
Materials and Techniques
Wood engraving
Descriptive line
Wood engraving, 'The Millennium Ark', The Society of Wood Engravers, Britain, about 2000
Production Note
Brett, Simon - Camels
Brockway, Harry - Noah
Davidson, Andrew - Ducks
English, Andy - Bitterns
Forster, Peter - Sponge
Hayward, Anne - Bantams
Hughes, Pamela - Pelicans
Jaidinger, Judy - Zebra
Jones, Cordelia - Slow Loris
Jope, Anne - Spider
Kershaw, Paul - Red Deer
Lawrence, Peter - Tree Frog
Lindsley, Kathy - Otters
Macgregor, Miriam - Lizards
Moiseev, Vitaly - Angel Fish
Paynter, Hilary - The Roof
Pebworth, Pam - Puffins
Phipps, Howard - Hares
Scullard, Sue - Tigers
Skargon, Yvonne - Cats
Stephens, Ian - Peewits
Todd, Jim - Fox
Tout, Anne - Anteaters
Van Niekerk, Sarah - Boar
Westergard, Jim - Rhino
Wormell, Chris - Mouse
Subjects depicted
Animals
Categories
Prints
Collection
Prints, Drawings & Paintings Collection