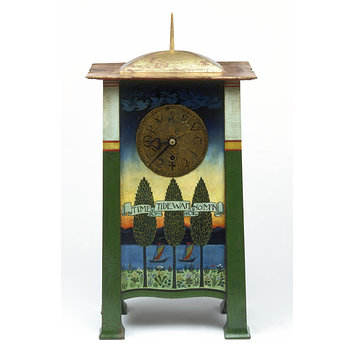 C. F. A. Voysey, born 1857 - died 1941
Clock
Place of origin:

England, Great Britain (designed)
London, England (probably, made)

Date:

1895 (designed)
1896-1901 (made)

Artist/Maker:

C. F. A. Voysey, born 1857 - died 1941 (designer)
Coote, Frederick, born 1894 (probably, maker)
Camerer, Kuss & Co. (maker)

Materials and Techniques:

[Clock] Painted and gilded mahogany
[Pendulum] Brass and steel

Credit Line:

Purchased with the assistance of The Art Fund and the Friends of the V&A

Museum number:
Gallery location:

British Galleries, room 125g, case 6
Object Type
Although this clock has an architectural shape and unusual decoration, it is fitted with a conventional movement. It is decorated with the childlike, flat patterns that its designer, C.F.A. Voysey (1857-1941), used for his textiles and wallpapers. There is another example of the same clock in the Museum of Fine Arts, Richmond, Virginia, USA.
People
C.F.A. Voysey, an architect and designer, was fascinated by clocks and designed many different types, ranging from domestic clocks, like this one, to large examples intended for offices and public buildings. He owned a clock like this which was photographed in his home, The Orchard, Chorley Wood, Hertfordshire, in 1901. An almost identical clock belonged to Mary, Countess of Lovelace (1848-1941), an Arts and Crafts enthusiast. She and her husband commissioned designs from Voysey for a new house at Ockham Park, Surrey, in 1894.
Time
Voysey's original design for this clock, dated 1895, shows conventional roman numerals on the face. In 1896 he exhibited a clock with that type of face at the Arts and Crafts Exhibition Society in London. By 1901 he had exchanged the numerals for the Latin phrase tempus fugit ('time flies'), a characteristically neat reminder of the clock's function.
Physical description
Mahogany case made by F Coote and painted and gilded by CFA Voysey.
Movement made of brass and steel, by Camerer, Cuss and Co.
[Clock] Voysey painted the clock case in oil colours. The design is a stylised landscape. In the foreground a scroll, proclaiming 'TIME AND TIDE WAITS FOR NO MAN', spans three cyprus trees. The trees stand in a meadow strewn with flowers that include bluebells, cyclamen and violets. In the mid-ground, two boats sail on a lake/river against a background of hills and a sunrise or sunset. High in the sky, above the clockface, blue birds fly.
The dial has a diameter of 4 1/2" (11.4cm) and is painted onto the front wooden panel of the case. In lieu of numerals, letters spell out 'Tempus Fugit' (Time Flies), with the 'T' of "Tempus" placed at the 7 o'clock position and the 'F' of "Fugit" placed at the one o'clock position. A cross is placed at the six o'clock position. Dots act as minute marks. The hands are steel. The hour hand terminates in a heart shape whilst the second hand is plain.
The top is completed by a gilt ogee cap which terninates in a spiked finial.
The door at the rear of the case, which gives access to the movement, has a knob in the shape of a stylised flower. This twists in order to raise the latch which then releases the door.
[Pendulum] The brass pendulum is suspended from a brass and steel movement.
The movement is composed of rectangular plates 5 ¼ " x 4 1/8" (133 x 104 mm). It is an 8-day timepiece movement with fusee and chain and anchor escapement.
27T escape wheel, pallets embrace seven teeth.
Place of Origin
England, Great Britain (designed)
London, England (probably, made)
Date
1895 (designed)
1896-1901 (made)
Artist/maker
C. F. A. Voysey, born 1857 - died 1941 (designer)
Coote, Frederick, born 1894 (probably, maker)
Camerer, Kuss & Co. (maker)
Materials and Techniques
[Clock] Painted and gilded mahogany
[Pendulum] Brass and steel
Marks and inscriptions
[Clock] 'TIME AND TIDE WAIT FOR NO MAN'
[Clock] 'TEMPUS FUGIT' Time Flies
[Pendulum] Camerer, Kuss & Co./56 New Oxford Street/ London/
Dimensions
Height: 50.8 cm, Width: 27.1 cm, Depth: 17.2 cm
[Pendulum] Height: 13.3 cm movement case, Width: 10.4 cm movement case, Length: 22.0 cm
Object history note
Designed by C.F.A. Voysey (born in Hessle, near Hull, East Yorkshire, 1857, died in Winchester, Hampshire, 1941); probably made by Frederick Coote in London. Voysey owned a clock of the same design which was in the hall at his own house, The Orchard, Chorleywood, Herts, in 1901. This design for a clock was illustrated in The Cabinet Maker, 1896/7, p. 143, reprinted in Bennett, Daryl, LIberty's Furiture 1875-1915. The Birth of Modern Interior Design. Woodbridge, Antique Collectors' Club, 2012 (ISBN 978-1-85149-689-1), p. 160, fig. 5.9.
John Jesse purchased this clock without a provenance at Portobello Market in 1970. He then placed the object on loan to the Museum in December 1970.
[Clock] Historical significance: The bird motif used in the decoration of this clock appears in other examples of Voysey's work e.g. in a wallpaper, called 'Fairyland', designed for Essex & Company.
[Pendulum] When the clock arrived in the Museum in 1974, the pendulum remained in the care of the owner, John Jesse. Upon the V&A's acquisition of the clock, the pendulum arrived in the Museum on 30/09/1998.
Historical context note
Voysey's original design (RIBA Drawings Collection) dated 1895, shows a clock face with Roman numerals, and a clock with Roman numerals on the face was illustrated in The Studio, vol. vii, 1896, p. 217. A photograph of a display at the Arts and Crafts Exhibition Society exhibition in 1896 (illustrated C.F.A. Voysey by Wendy Hitchmough, Phaidon Press 1997, page 59) shows the clock with the numerals replaced by the letters TEMPUS FUGIT. Voysey owned a clock with this new face, shown in a photograph dated 1901 of the hall at his home, The Orchard.
There are other examples of the Tempus Fugit clock. One is inscribed with the name of Mary, Countess Lovelace, an early and faithful patron of Voysey for whom he designed furniture. John Jesse also owned this clock and it is now in the Virginia Museum of Fine Arts, Richmond, Virginia, USA. Another example of the Tempus Fugit clock is in a private collection in London.
A clock, of the same form with the Tempus Fugit face, stamped with the registration mark No.308824 for 1897, but undecorated and made of ebony, was sold by John Jesse in 2005. The design of the case proved popular and versions with Roman numerals include a plain white one (private collection, London) and one decorated by Robert Anning Bell (Walker Art Gallery, Liverpool) as well as an aluminium version made by W H Tingey (one of these was exhibited at the Arts & Crafts exhibition of 1903, No.394c, and was illustrated in House & Garden, III, 1903, p.211).
[Clock] The form of the case, in particular the ogee cap, follows the design for the entrance gate with clocktower for Perrycroft near Malvern of 1893 or the entrance gate to the stables for the Sturgis House near Guildford.
Descriptive line
Mahogany clock case with painted and gilded decoration, English, 1896. Designed and painted by Charles Annesley Voysey.
Bibliographic References (Citation, Note/Abstract, NAL no)
The Studio, vol. vii, 1896, p.216
A version of the clock with Roman numerals is illustrated in this edition of The Studio. It also features a modelled bird supported by the finial on the top of the clock case.
The Architectural Review, vol. x, July 1901, p. 36
This journal illustrates a version of the clock with a Tempus Fugit dial. The photograph shows the clock on the mantelpiece in the hall of the designer's home, The Orchard, Chorleywood.
Symonds, Joanna, Catalogue of the Drawings Collection of the RIBA: C.F.A. Voysey, [240] fig.108
This is a catalogue entry for the design of the clock case.
Catalogue of the Arts and Crafts Exhibition Society, V, 1896, No. 525
Cabinet Maker & Art Furnisher, XVII, 1896, p.143
illustration of sketch for the clock
Dekorative Kunst, 1, 1897, pp.259 (photograph) & 260 (illustration of elevation)
Brandt, Frederick, Late 19th and early 20th century decorative arts: the Sydney and Frances Lewis Collection in the Virginia Museum of Fine Arts, University of Washington Press, 1985
Karen Livingstone and Linda Parry, eds., International Arts & Crafts (V&A: V&A Publications, 2005), p.21.
Exhibition History
Can Art Save Us? (Millennium Gallery, Sheffield 22/10/2009-30/01/2010)
Life and Art: Arts and Crafts from Morris to Mingei (Aichi Prefectural Museum of Art, Nagoya 12/06/2009-16/08/2009)
Life and Art: Arts and Crafts from Morris to Mingei (Metropolitan Art Museum, Tokyo 24/01/2009-05/04/2009)
Life and Art: Arts and Crafts from Morris to Mingei (The National Museum of Modern Art, Kyoto 13/09/2008-09/11/2008)
International Arts & Crafts (Fine Arts Museums of San Francisco 18/06/2006-18/08/2006)
International Arts & Crafts (Indianapolis Museum of Art 27/09/2005-22/01/2006)
International Arts & Crafts (V&A 17/03/2005-24/07/2005)
Access All Areas (V&A 18/05/2000-24/09/2000)
CFA Voysey 1857-1941 (Brighton Museum and Art Gallery 01/01/1978-31/12/1978)
Labels and date
CLOCK
ENGLISH: 1895-1896
Designed and probably painted by C.F.A. Voysey
Made by Mr Cootes [sic]
Movement by Camerer, Cuss [sic] & Co., London
Painted and gilded wood.
An identical clock can be seen in photographs of Voysey's own dining room in about 1900. A drawing by him dated January 1895 depicts such a clock with a different dial. An identical clock is in the Museum of Fine Arts, Richmond, Virginia. Which, if either of them, was Voysey's own is not known.
Purchased with the assistance of the National Art Collections Fund and the Friends of the V&A.
Museum No. W.5-1998 [1998]
access all areas
Charles Francis Annesley Voysey (1857-1941)
Clock
Body of painted and gilded wood
It would appear that Voysey created this very clock for himself, as the design almost matches the drawing in the possession of the RIBA displayed in this exhibition. Also, a near-identical clock can be seen in photographs of Voysey's own dining room, from about 1900. However, there is another similar clock in the Museum of Fine Art, Richmond, Virginia. The body of this clock would have been painted by Voysey himself. [18/05/2000-24/09/2000]
CLOCK
1896 - 1901
C.F.A. Voysey originally designed this clock with roman numerals but substituted these for a Latin inscription denoting the passing of time. The British countryside fascinated Arts and Crafts designers and its depiction throughout the seasons became a characteristic of this style. At least two versions of the clock are known, one of which was owned by the designer.
Painted and gilded mahogany; movement of brass and steel
Designed by C. F. A. Voysey (born in Hessle, North Humberside, 1857, died in Winchester, Huntingtonshire, 1951); probably made by Frederick Coote in London
Movement stamped by Camerer, Kuss & Co.; inscribed TIME AND TIDE WAIT FOR NO MAN and, on the clock face, TEMPUS FUGIT
Purchased with contributions from the Friends of the V&A and the National Art Collections Fund, an independent charity
Museum no. W.5-1998 [2001]
British Galleries:
C.F.A. Voysey originally designed this clock with roman numerals but replaced them with a Latin inscription meaning 'time flies'. The British countryside fascinated Arts and Crafts designers and its depiction throughout the seasons became a characteristic of this style. At least two versions of the clock are known, one of which was owned by the designer. [27/03/2003]
International Arts & Crafts:
Clock
1895
English; designed by C.F.A. Voysey
Painted and gilded mahogany
V&A:W.5-1998 [17/03/2005]
Materials
Brass; Steel; Mahogany; Gold leaf; Oil colour
Techniques
Painting; Painting (image making); Gilding; Cabinet-making; Clock making
Subjects depicted
Flowers; Landscapes (representations); Time; Sailing ships; Meadows; Stylized birds; Cyprus trees
Categories
Clocks & Watches
Production Type
Unique
Collection code
FWK