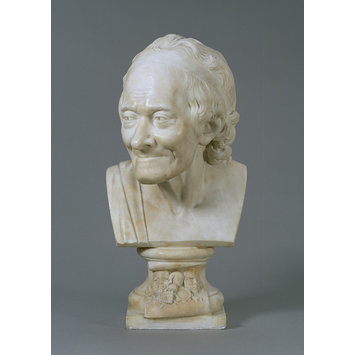 Houdon, Jean-Antoine, born 1741 - died 1828
Voltaire
Object:
Place of origin:
Date:
Artist/Maker:

Houdon, Jean-Antoine, born 1741 - died 1828 (after)

Materials and Techniques:
Credit Line:

Purchased funded by the Bequest of Capt. H. B. Murray and with assistance from Art Fund

Museum number:
Gallery location:

Europe 1600-1815, Room 4, case WW
Voltaire was a highly influential philosopher, champion of tolerance and social justice, dramatist, poet and historian, and a key figure in the French Enlightenment. This bust is a 19th century copy of a much-reproduced and famous image of him. It is derived from 'Voltaire Seated', a full-length statue by Houdon, the leading portrait sculptor in France in the eighteenth century. Houdon's statue was commissioned by Voltaire's niece, Mme Denis, and presented to the Comédie Française (the state theatre in Paris). A second version was made by Houdon for Catherine the Great of Russia.
Voltaire was 83 when he sat for Houdon, shortly after his triumphant return to Paris on 10th February 1778 after several years in self-imposed exile at his country retreat near Geneva, Switzerland. During his lifetime there was already debate about how to depict Voltaire. Some busts are in 'antique' style, virtually bald; others in contemporary dress and a wig. This portrait is a combination of the two 'looks'. It clearly captures Voltaire's great intellect but also humour.
The V&A bust is a very careful copy of Houdon's work, but some aspects more obviously date it to the 19th century: the socle with its rather crowded and confusing iconography, and fanciful, historicising inscriptions on the reverse of the bust. Houdon's original portrait of Voltaire has been very widely reproduced, including in the twentieth century, clearly indicating the enduring influence and popularity of the subject.
Physical description
The subject looks to his half-right. Curls of hair are bound with a riband. Shoulders are truncated; a thin band of drapery is shown on the right shoulder. The base, which is adorned in front with a scroll carved in relief with masks of Comedy and Tragedy, a fool's head and musical instruments, is in one piece of marble with the bust. One corner of the base is chipped.
Place of Origin
France (probably, made)
Date
19th century (made)
Artist/maker
Houdon, Jean-Antoine, born 1741 - died 1828 (after)
Materials and Techniques
Marble, carved
Marks and inscriptions
HOUDON./F. 1781.
Incised on back
au Marquis
de Villette
incised lightly on the back, underneath 'HOUDON/ F.1781'.
Dimensions
Height: 51 cm including base, Width: 26 cm, Depth: 24 cm, Height: 14 cm base, Width: 17 cm Base, Depth: 17 cm Base
Object history note
Voltaire returned to Paris on 10th February 1778 after several years of self-imposed exile at Ferney, his country retreat near Geneva, Switzerland. He was persuaded to sit for Houdon, the greatest portrait sculptor of his day, despite his concerns at how he might be portrayed given his physical deterioration (he was 83). The portraits of Voltaire by Houdon - or produced under his direction at his workshop - were all based on the model Houdon made on this occasion, which was completed on 16th April 1778. This seems to have been the only portrait created of him of which Voltaire himself approved.
The V&A bust is derived from the head of the posthumous marble seated figure of Voltaire by Houdon (dated 1781), which was commissioned by Voltaire's niece, Mme. Denis. She presented this statue to the Comédie Française where Voltaire had been given a rapturous reception on 30th March, his head being crowned with laurels, shortly after he had sat for Houdon. There is a second large marble version of seated Voltaire in the Hermitage, commissioned by Catherine II of Russia. Both differ markedly from Pigalle's controversial depiction of Voltaire as a nude philosopher which had provoked a scandal not long before.
Voltaire died on 30th May 1778, and crowds came to see his likeness in Houdon's studio. Houdon took advantage of the sitter's recent death and fame by producing a number of versions of busts of Voltaire in marble, bronze, terracotta and plaster. In the marble busts, he adapted the model to satisfy different clients. These busts fall broadly into three categories: (1) à l'antique, where Voltaire is virtually bald ('tête nue'), in the classical style Houdon had used for his earlier bust of Diderot. (2) à la Française, where Voltaire wears contemporary clothing and wig; and finally (3) a synthesis of the other models, where Voltaire has a flat wig, tied with a riband, and classical-style drapery, either on one shoulder or both. The V&A bust belongs to this category.
The signature and date on the V&A bust are finely chiselled, although now thought to date from the 19th century, along with the words 'Au Marquis De Vilette' which are lightly and not very well carved on the back of the marble.
Historical significance: Besides Voltaire, Houdon sculpted several leading philosophers of the time, including Diderot (1771) and Rousseau (1778), as part of a series of great men, but his portraits of Voltaire are probably his most penetrating and certainly the most famous. Taken together, these also represent Houdon's keen commercial sense. He took advantage of Voltaire's immense popularity by producing his portrait in many styles and media. Houdon presented a plaster bust of Voltaire to each of the forty members of the French Academy. Across the country there was demand for his busts of Voltaire. They were produced by his studio until his death, being sold effectively 'off the shelf', and have been reproduced ever since.
The V&A bust, capturing Voltaire's great intellect but also humour, was much praised when it was acquired, by Professor Louis Réau, the leading authority on Houdon at the time. Réau was not only convinced of its authenticity as a work by Houdon, but also praised its quality of execution and image. However, it is now thought to date from the 19th century. The V&A does have a splendid bust by Houdon of the Marquis de Miromesnil (1775; Museum no. A.19-1963).
Historical context note
The portrait bust has been highly regarded since antiquity but gained a widespread popularity in 18th century, in which Houdon is acknowledged as the pre-eminent French sculptor. He trained in Paris and Rome, and after his return to Paris in 1769 he began to show his works in the French Salons. They featured in the Salons throughout the 1770s, a decade in which his reputation became firmly established. He travelled to America in 1785 and his portrait of George Washington (1785), like his earlier one of Benjamin Franklin (1778), has become an iconic image.
Voltaire epitomised the spirit of the French Enlightenment. He is probably now thought of primarily as a philosopher and champion of tolerance and social justice, but he was also a dramatist, poet and historian. He had a significant influence on political life in Europe, partly because of his writings, but also because of his close contact with some of the reigning monarchs of the time, and Catherine the Great of Russia in particular.
Descriptive line
Bust, marble, of Voltaire, after Jean-Antoine Houdon, probably French, 19th century
Bibliographic References (Citation, Note/Abstract, NAL no)
Tomasso Brothers Fine Art. Scultura. London: Paul Holberton Publishing, 2008. pp. 134-135. ISBN 9781903470893.
Hodgkinson, T., French Eighteenth Century Sculpture in the Victoria and Albert Museum, in V&A Museum Yearbook, 1972, p.108-9
Poulet, Anne L. et. al. Jean-Antoine Houdon, Sculptor of the Enlightenment, Exhibition Catalogue, 2003, Washington (NGA), Los Angeles (J Paul Getty Museum), Versailles, 2003-4), esp. pp. 152-165
Arnason, H.H., The Sculpture of Houdon , London (Phaidon Press), 1975
Cf. Theodore, B. Voltaire Essays. London, 1962. p. 124.
Cf. Sauerländer, W. Jean-Antoine, Voltaire. Stuttgard, 1963.
Oppenheimer, Francis. Stranger Within. Faber, 1960, p.27.
Réau, L, Houdon, Sa Vie et Son Oeuvre, Paris (De Nobele), 1964
Réau, L, A bust of Voltaire by Houdon in Burlington Magazine, XCI, 552, March 1949, p.63
Stern, Jean, Belle et Bonne Paris, 1938
Robinson, Alicia, 'Houdon and Voltaire: an attribution reconsidered' in Sculpture Journal, vol 21.1 (2012), pp 97-103
Verdi, Richard. Saved!: 100 Years of the National Art Collections Fund, London, Hayward Gallery and the National Gallery, 2003
no. 282
Favier, Jean et al., Voltaire et l'Europe, Paris : Bibliothèque nationale de France, 1994

Labels and date
Voltaire
About 1870–1900
The writer Voltaire was a philosopher, dramatist, and champion of tolerance and social justice. He was one of the key figures of the Enlightenment, the 18th-century intellectual movement that championed reason and scientific observation. The sculptor Houdon made portraits of several of the most important Enlightenment philosophers, including Diderot and Rousseau.
Original 1781
France
After Jean-Antoine Houdon
Marble
Purchased with funds from the Captain H.B. Murray Bequest and with the assistance of the Art Fund
The Encyclopédie, Vol. 12, 1765:
'Philosopher: Other men are determined to act without feeling, without knowing the causes that make them move, without even imagining that there are any. The philosopher, even in his passions, acts only after reflection; he walks in the night but he is preceded by a torch.' []
Materials
Marble
Techniques
Carving
Collection
Sculpture Collection