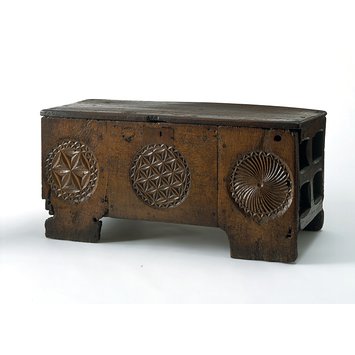 Chest
Place of origin:
Date:
Artist/Maker:
Materials and Techniques:
Museum number:
Gallery location:
Chests were the earliest form of furniture used for storage and could easily be carried from place to place. This one is smaller than most and easily transportable. Chests were used for storing clothes, linen, documents or money and often had locks for security, as in this case. They were used in churches, as well as in houses, to store valuables. This chest is said to have come from a church in Hampshire. The decoration is contained entirely in the chip-carved roundels on the front. Other chests with similar chip-carving have been found, mainly in Surrey and Sussex.
Physical description
Chest of clamped-front type, the front carved with three large roundels incised with geometric patterns. The front and back are composed of a single panel flanked by wedge-shaped stiles.The end panels slope slightly inwards and are faced with a framework of chamfered rails halved together and tenoned into the stiles, with a removeable mid, upper, section (one missing, one replaced). The plain back board (which is split at its bottom edge) is recessed between the rear stiles, where the front is flush with the front stiles. The lid, which is a single, wide board, is fitted with pin hinges (repaired originals), and has rails (one replaced) with curved chamfers fixed on the underside (using large trenails) which fit down into slots. A long hole has been drilled diagaonally through the replaced rail into the stile, presumably for a long peg to secure the lid. The bottom boards (replacements) are aligned side to side and sit in a groove run along the bottom edge of the front, back and side panels. These four panels were riven and are noticeably thicker along their bottom edge, also having been cut back to create a deep 'lip' on their inside face at the bottom edge, into which a deep groove was cut to receive the bottom boards (probably originally aligned front to back). Inside the chest are grooves which originally held a lidded till (now missing). There is a large lockplate in the front.
Along the front edge of the lid are four holes, more or less equally spaced, and now partly plugged. The two central holes possibly held two iron staples that engaged with an internal sliding lock mechanism. The two outer holes are countersunk and appear to be of relatively modern date, possibly having been used with screws to fasten the lid shut.
Relatively fast growth oak was used throughout. The lid if wedge-shaped, having been riven.
Condition and modifications
An infill patch in the front with some geometrical carving (top, centre) where a lock has been removed.
Bottom boards repaired.
Hinges replaced
Right side of lid - lid batten and removeable section of transom replaced
Place of Origin
Great Britain, Uk (made)
Date
1200-1300 (made)
Artist/maker
unknown (production)
Materials and Techniques
Oak, carved
Dimensions
Height: 53 cm, Width: 111 cm, Depth: 49.5 cm
Object history note
Bought for £100 from Arthur Watson, (a dealer) of 13, Saville Row, London W1
RF 26/3246 H.Clifford Smith notes that it had been received 'from a dealer in the West of England', and was 'said to have originally come from a church in Hampshire'
A replica chest, apparently based on W.30-1926, is at the Weald and Downland Museum, Singleton (2016).
Descriptive line
Chest, British 13th century, with roundels of chip-carved decoration
Bibliographic References (Citation, Note/Abstract, NAL no)
Charles H. Hayward, Antique of Fake? (1970), p.232-3
Eric Mercer, The Social History of the Decorative Arts - Furniture 700-1700 (London, 1969), fig.27
Geoffrey Wills, Daniele Baroni and Brunetto Chiarelli: Il Mobile - storia, progettisti, tipi e stile (Milan, 1983), p. 42
WINDISCH-GRAETZ, Franz: Möbel Europa. 1. Romantic-Gotik. (Munich, 1982), fig. 75
G. Bernard Hughes, 'Chests for plate and for blankets' in Country Life, Oct. 8, 1964, pp. 934-7, plate 1
Charles Tracy, English Medieval Furniture and Woodwork (London, 1988), cat. no. 296. 'Chest. The front and back are composed of a single panel flanked by broad wedge-shaped standards or stiles, the two front ones of which being curved below on the inner sides so as to form an arch. The end panels slope slightly inwards and are faced with a framework of chamfered rails halved together and tenoned into the standards. The lid, which is a single board, is fitted with a pin hinge, and has rails with curved chamfers on the underside which fit down into slots. On each standard and in the centre of the front is a roundel incised with geometrical patterns: (1) a simple star within a double zigzag border, (2) seven stars in a single border of zigzags, and (3) a spiral similarly enclosed. Inside the chest are the grooves into which was fixed the framework of a tray or till with lid, and a well or secret receptacle for money underneath, but there is no slot in the lid. The upper part of the centre roundel has been restored, probably in the 18th century, when an enlarged lock plate was inserted. Each of the roundels is the same size. On the side panels they have had to be pushed right to the edge in order to avoid the line of pegs which secure the flanking stile to the central panel (PL. 102). Oak, 13th century 50.6 x 109 x 48.2 cm Mus. No. W.30 - 1926 Said to have come from a church in Hampshire, this chest is of the hutch type (P. Eames, Furniture in England, France and the Netherlands from the Twelfth to the Fifteenth Century, London, 1977, p. 108 & 143-5, and FIG. 17). Apart from the chip-carving there is no decoration, the columns flanking the outer stiles, as at Stoke D'Abernon (FIG. 55), Surrey, Midhurst and Bosharn, Sussex, being absent here. The museum's chest is a member of a small class of 13th-century hutch chests decorated with standardised chip-carved ornament found mainly in Surrey and Sussex (See P.M. Johnston, 'Church Chests of the Twelfth and Thirteenth Centuries in England', Arch.Jnl, LXIV, 1907). Most of these chests have pin-hinged lids and a strengthening framework on the sides. The museum's chest is smaller than most and must, like the example at Stoke D'Abernon, have been designed to be easily transportable. The inflexible manner in which all three roundels are the same size, although there is hardly room for them on the outer stiles, suggests that the carver was using a pre-existing pattern which he could prick onto the surface. Chip-carving, of course, required only routine skills. Johnston suggested that this family of chests was probably made by the same guild at some central location. There are traces of red on the roundels of the Stoke D'Abernon chest (See P.M. Johnston, 'Church Chests of the Twelfth and Thirteenth Centuries in England', Arch.Jnl, LXIV, 1907, p. 273). The application of bright colours to these simple motifs would have been extremely effective. The hole which has been drilled through the right-hand stile at an angle so that it continues through the upper transom of the side paneling may not be an original feature. If it was for a chain, as a precaution against theft, it would have been less than adequate since the diameter is comparatively small (compare the chains attached to iron straps on the back of the Climping chest) (See P.M. Johnston, 'Church Chests of the Twelfth and Thirteenth Centuries in England', Arch.Jnl, LXIV, 1907, FIG. 19)'.
Accessions to the Victoria and Albert Museum, 1926, in Country Life, March 17th, 1928 p.xlii (vol. LXIII)
F. Gordon Roe, 'Susan Meadows'' Desk, a study in love tokens, The Connoisseur, September 1946, pp.31-5
FWK F0519
Labels and date
CHEST
ENGLISH; about 1300.
Oak.
W.30-1926
The front is framed with wide uprights or 'standards' and the lid revolves on pivots or 'pin hinges', a device seldom found after the 13th century. The chip-carved roundels reflect contemporary architecture treatment. This chest is said to have come from a church in Hampshire. Originally such a chest would probably have been intended for domestic use, but many were later deposited in churches, often containing valuables placed there for safe-keeping in times of trouble. [before 2004]
Materials
Oak; Iron
Techniques
Carving
Categories
Furniture
Collection code
FWK