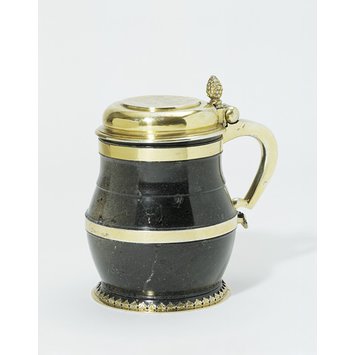 Tankard
Place of origin:

Germany (possibly, made)
Sweden (possibly, made)

Date:
Artist/Maker:
Materials and Techniques:

Serpentine mounted in silver-gilt

Credit Line:

Given by Dr W. L. Hildburgh

Museum number:
Gallery location:

Europe 1600-1815, room 7, case CA19
Hardstones such as serpentine were believed to possess miraculous powers to protect against poison. Serpentine was mined in northern Germany and this tankard may have been made there. The arms on the cover are those of the English diplomat George Fleetwood and his Swedish wife, Brita Gyllenstjerna. Fleetwood served in the army of the Swedish King Gustavus Adolphus during the Thirty Years War (1618-48) and later acted as Sweden's ambassador to England.
Physical description
Baluster shaped body of serpentine held by 2 broad bands of silver around the middle and below the rim, base held in metal foot with strawberry leaf edge, scroll shaped handle terminating in shield, pineapple shaped thumbpiece.
Place of Origin
Germany (possibly, made)
Sweden (possibly, made)
Date
1643 (made)
Artist/maker
unknown (production)
Materials and Techniques
Serpentine mounted in silver-gilt
Marks and inscriptions
The lid is engraved with two coats of arms, with the initials GSF and BGS above the shields and the date 1643 below
Unmarked but dated 1643
Dimensions
Diameter: 11.20 cm maximum, Height: 15.80 cm Base to top of thumb-piece, Length: 16.5 cm Widest point of handle across to side of tankard body, Diameter: 10 cm Across base of tankard
Object history note
RW Lightbown, Catalogue of Scandinavian and Baltic Silver, V&A, 1975, p151:
'On acquisition the tankard was classed as German. Subsequently (1959) it was classed as Swedish when the arms were identified by B. Lagercrants of the Nordisa Museet, Stockholm, as those of George Fleetwood (1603-67) and his wife Brita Gyllenstjerna (1606-53). Fleetwood was the second son of Sir Miles, of Cranford and Aldwinkle, Northants, receiver of the Court of Wards. In 1629 he raised a troop of horse, joined the army of Gustavus Adolphus in Germany and was made a lieutenant-colonel by the King. Returning to England, he raised a regiment of foot which he sent back to Germany in 1630. He was made a Swedish knight on 3 June 1632 and in 1636 was sent on a mission to England. He married Brita Gyllenstjerna in 1640, and by her had 4 sons and 2 daughters. In 1641 he was commandant of Greifswald and Colberg in Pomerania. He returned permanently to Sweden in 1653 and on 1June 1654 was made a baron by Queen Christina. In the following year he was sent to England by Charles X as Envoy Extraordinary to Cromwell on a return mission after Bulstrode Whitelocke's embassy in 1656. He left England in 1660, died in June 1667 and is buried in Nykoping.
There is a lively sketch of Fleetwood in Whitelocke's journal: 'Sir George Fletewood, an English gentlemen visited and performed many civilities and kindnesses to Whitelocke. He came into this country many years past, with some of his countrymen, to serve the King Gustavus Adolphus, from whom he had great favour, and was made a colonel and afterwards governor of a town, and a major-general. He married an heir in this country, by whom he has several children, and a fair estate, and he was now settled here, and well beloved at Court and in the army, and in the country, as if he had been a native of it. He is a gentlemen of a good family and of much honour and integrity, and of particular friendliness to Whitelocke, with whom he was often here, and did very good offices for Whitelocke, and informed him of many material and useful matters: he also had news of the Queen's design to quit the Crown, and was one of the first without-doors that acquainted Whitelocke with that news.'
Tankards with serpentine bodies are rare in Sweden at this date, and it may be that the original attribution to Germany, where they were frequently made, is the correct one.'
Bibliographic References (Citation, Note/Abstract, NAL no)
Lightbown, R. W. Catalogue of Scandinavian and Baltic Silver, London: V&A, 1975
Van Trigt, Jan. From Gothic to Art Deco Cutlery: The J. Hollander Collection. Antwerp: Petraco-Pandora, 2003. 298 p., ill. Catalogue of the exhibition held at the Design Museum, Ghent, July 11 - September 28, 2003. ISBN 90 5325 223 1
See the examples pp.121-122 (catalogue nos 202-205).
Amme, Jochen. Historische Bestecke: Formenwandel von der Alsteinzeit bis zur Moderne. [Historic cutlery: Changes in Form from the Early Stone Age to the mid-20th Century]. Stuttgart: Arnoldsche, 2002. ISBN 3897901676
See p. 118.
J. Siebmacher's grosses Wappenbuch: Die Wappen des Adels in Niederösterreich [Reprinted from Bd.4, Abt.4, T.1-2 of Siebmacher's Wappenbauch. Originally published: Nuremberg, 1909-1918]. Neustadt an der Aisch: Bauer & Raspe, 1983. ISBN 387947026X
Somers-Cocks, Anna. Catalogue of German Silver. Unpublished catalogue of the V&A collections.
Pechstein, Klaus, ed. Deutsche Goldschmeidekunst: vom 15. bis zum 20. Jahurhundert aus dem Germanischen Nationalmuseum. Exhibition Catalogue. Nuremberg: Germanisches Nationalmuseum / Berlin: W. Arenhövel, 1987. ISBN 3922912222
The serpentine, prized for its cost, colour and because it is believed to neutralise poison, is mined in Saxony.
Labels and date
Silver Gallery:
Hardstones such as serpentine were believed to possess miraculous powers to protect against poison. Serpentine was mined in northern Germany. The tankard may have been made there. The arms on the cover are those of the English diplomat, George Fleetwood and his Swedish wife Brita Gyllenstjerna. Fleetwood served in the army of the Swedish King Gustavus Adolphus during the Thirty Years War (1618-48) and later acted as Sweden's ambassador to England. [26/11/2002]
Categories
Drinking; Metalwork
Collection code
MET