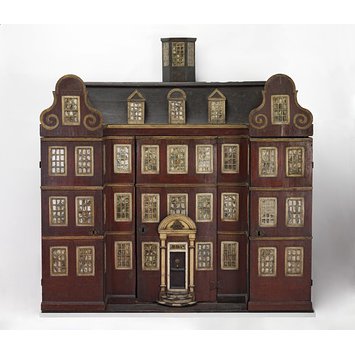 Wardrobe
Place of origin:
Date:
Artist/Maker:
Materials and Techniques:

Oak, with paper and glass

Credit Line:

Given by Mrs Guy Trafford

Museum number:
Gallery location:

Museum of Childhood, Costume, Play and Learn Gallery, case 1
This was an unusual and probably expensive piece of furniture for a lucky child. Resembling a late seventeenth century house from the outside, the doors swing open to reveal shelves, drawers, and pegs for hanging clothes. The windows and the side doors are lined with patterned wallpaper, a fashionable luxury that was first taxed in 1712. Rather than hand-painted Chinese imported paper, the designs here have been printed with blocks and then coloured using a stencil.
On the side of the wardrobe is a large signature and date: Edmund Joy, 1712. This is probably the maker, though nothing is known of this proud craftsman who so confidently signed his work.
About 1890, the wardrobe was bought by Harold Charles Moffatt for his daughter Dorothy. The Moffatts lived near the Welsh border at Goodrich Court, an extraordinary Gothic Revival house filled with medieval armour and antiques. When Dorothy's own children had grown up, she offered the wardrobe to the V&A, explaining, "I have used it as a clothes cupboard, but it is not practical".
Physical description
Child's wardrobe, of oak painted a dark russet with details picked out in cream-coloured paint. The wardrobe is in the form of a house, with a hipped roof front, two Dutch-style gables, a (detachable) glazed hexagonal cupola, and a three-storied facade set with windows and a door. The centre front and wing fronts, all of which open, are lined with hand blocked wallpaper showing stags and figures among trees. Behind the facade is a central space with wooden pegs set in the walls; on the true right are four wooden shelves; on the true left a range of drawers of varying sizes, arranged with three single drawers one on top of each other at the base, two above that, three above those and two at the top. The front outer face of each drawer is painted black with stylized decorative motifs in white and red, and has a drop handle of metal at the centre.
Place of Origin
England (made)
Date
1712 (made)
Artist/maker
Joy, Edmund (maker)
Materials and Techniques
Oak, with paper and glass
Marks and inscriptions
Edmund/ Joy/ 1712
Makers's mark and date; true left side of house; writing; paint
Dimensions
Height: 199.39 cm, Width: 163.16 cm, Depth: 76.20 cm
Object history note
Purchased by the Moffatt family in about 1890, who lived in Goodrich Court, Herefordshire. Dorothy's father Harold Charled Moffatt was a collector and generous patron of churches. He produced a catalogue of Goodrich's furniture in the 1920s, but by that time Dorothy had married Guy Trafford and moved into Hill Court nearby. Given to the V&A in 1930.
Historical context note
"One might guess an origin on the east coast, some Suffolk village which has been encroached on by the sea, lost two hundred years ago, its name quite forgotten…" – Vivien Greene, English Dolls' Houses, 1955
"We may suppose that the craftsman took as his model a house in the neighbourhood recently erected, and was allowed to use up some wallpaper kept over from a scheme of decoration." – Annual Report of the V&A Museum, 1930
The word 'wardrobe' in the 1710s referred not to a piece of furniture, but to a room or building where clothes were kept locked away. Clothes and linen were usually folded and stored flat in chests or 'clothes presses'. Clothes, when hung at all, were hooked onto pegs.
'Ward' is an Old English word meaning 'to keep guard, protect, preserve'. With its lockable doors, blind windows and imposing façade, the Joy Wardrobe would certainly have fulfilled this duty. Only in 1794 do designs for 'wardrobes' begin to appear in furniture catalogues.
This was a special and probably very expensive piece of furniture for a lucky child. The side doors are each lined with a different brightly coloured wallpaper. The best papers, and therefore most expensive, came from China. The paper in the Wardrobe imitates the Chinese imports, with strong outlines, a flat plain background and intertwining flowering trees and birds of exotic appearance. But this is not a hand-painted masterpiece; the outlines were block printed and the colours added afterwards.
Edmund Joy
On the right hand side of this early 18th century wardrobe, in bold letters several inches high, is written "Edmund Joy 1712". This is why this object has been given the name The Joy Wardrobe. Another very similar wardrobe has survived which is signed, in the same hand, "Edmund Joy 1709". The existence of two wardrobes, three years apart, suggests that Edmund Joy was probably the maker. The style of these two miniature houses looks back to the 17th century. The scrolled, hipped roofs suggest Dutch influence and a date around the 1680s, rather than the smart, crisp architecture of Queen Anne's reign (1702 – 1714).
Goodrich Court
"I have in my possession a quaint cupboard – bought about 40 years ago – shaped like a dolls house of the Queen Anne period with dormer windows… I have used it as a clothes cupboard but it is not practical" – Dorothy Trafford, 1929
Goodrich Court, described by Wordsworth as "an impertinent structure", was bought by Dorothy's grandfather, George Moffatt in 1871. An MP and tea-broker in London, George used this formidable country house as a rural retreat.
Goodrich was an extraordinary building, built in about 1830 by Sir Samuel Meyrick. Meyrick had an unrivalled collection of historical armour, developing such expertise that he reorganised the displays at the Tower of London and Windsor Castle. Goodrich came out of his belief that his own collection deserved a castle to show it off. His gothic edifice had battlements, gables, towers and a dry moat. Meyrick filled the house with his armour, medieval furniture, and minstrel bands. When he died, most of his collection was dispersed, but some stayed with the house when the Moffatt family took it over. George Moffatt extended the Gothic-revival pile even further, adding a great hall.
Dorothy's father, Harold Charles Moffatt, inherited Goodrich in 1878 aged just 19. He seems to have moved in permanently, with just a housekeeper and a groom to keep him company. He soon married a girl of the local gentry, Mary Oakley, and had five children within nine years. He added a walled garden of 2.8 acres, which took nine men to maintain it. But he also continued to collect, filling Goodrich once again with finely crafted furniture and art objects, and publishing illustrated catalogues of the house. He was a generous patron of churches, researching and restoring medieval features. So Dorothy (born in 1886) grew up in this treasure trove of a house, in the picturesque Welsh countryside among antiques.
The next large house in the area was Hill Court. Unlike its eccentric neighbour Goodrich, Hill Court had a long and illustrious past, having been built by the Clarke family in 1698. It was a seven bay house, symmetrical, with a hipped roof. Nicholas Pevsner described it in his architectural survey of Britain, noting the "pretty doorways with pediments of the open scrolly type".
In 1900, a bachelor moved into Hill Court, having inherited it from his brother. Guy Rawson Trafford was from a military family of Major Generals. His mother had even gone to the Crimea to be alongside her husband in the war. Dorothy married Guy in 1907, and moved to Hill Court. She was 21 and he was 44.
In 1916, Dorothy's brother Cecil died, and she became the heiress of Goodrich Court. Her father simply signed the property over to her, though he stayed living there, working on his catalogue of its furnishings. The Joy Wardrobe, which was bought when Dorothy was about 3 or 4, was not included in her father's book.
On 1 July 1929, when Dorothy offered it to the Museum, the wardrobe was at Hill Court, the house whose architecture it most resembles. Dorothy and Guy's two daughters were 21 and 18 by this time, and their sons 17 and five. The older ones must have grown out of it, and maybe the youngest, John, wasn't keen on having this slightly spooky wardrobe in his room. The V&A were delighted with the gift, "it is most interesting and unusual", but a year passed without any further news from Dorothy Trafford. Then a letter, on black-bordered paper, arrives. "I am glad to hear you are able to fetch [the wardrobe]. A man (since died) promised to come and make a case for it to send it by rail, and since then my husband died and I have not thought about it again". Eventually the wardrobe made it to London, and V&A director Eric MacLagan was pleased: "the cupboard is a most charming object".
Over the next few years, Dorothy experienced further losses. After Guy's death, her oldest son was killed in a car accident on his way to his Oxford college. When her mother died in 1938, Dorothy moved back to Goodrich briefly, before offering it up during the War to be occupied by an evacuated boys' school from Essex. Afterwards, it was stripped of all valuable fittings, and sold. In 1954, Dorothy Trafford died, and Goodrich Court was demolished, leaving only a nature reserve and the overgrown walled gardens.

Descriptive line
Child's oak wardrobe in the form of a house made in England by Edmund Joy in 1712
Labels and date
This child's wardrobe is in the form of a house, with a hipped roof front, two Dutch-style gables, a detachable glazed hexagonal cupola, and a three-storey façade set with windows and a door. The centre front and wing fronts, all of which open, are lined with handblocked wallpaper showing stags and figures among trees.
The layout of this wardrobe shows pre-19th-century usage. There is no horizontal rail from which to hang clothes. The larger garments such as cloaks and jackets and the skirts of dresses hung on pegs in the central space. The other items lay flat in the drawers and on the shelves.
A similar piece dated 1709 and known as 'Mr Joy's Surprise' indicates that Edmund Joy was the maker and not the owner of this piece. The façades of both houses bear a considerable resemblance to Kew Palace in west London, a building formerly known as 'The Dutch House'.
Noreen Marshall [2004]
Production Note
That Edmund Joy is the maker and not the owner is indicated by the existence of a very similar piece dated 1709 and known as 'Mr Joy's Surprise' (in private ownership). The facades of both houses bear a considerable resemblance to Kew Palace (the building formerly known as 'The Dutch House').
Subjects depicted
Gable-front houses
Categories
Children & Childhood; Furniture
Production Type
Unique
Collection
Museum of Childhood