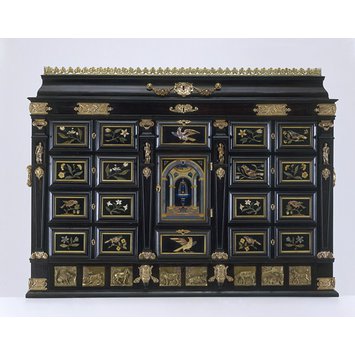 The John Evelyn Cabinet
Object:
Place of origin:

Florence (probably, made)

Date:
Artist/Maker:

Benotti, Domenico (maker)
Fanelli, Francesco (maker)

Materials and Techniques:

Veneered with ebony on a pine carcase, with oak drawer linings; inlaid with panels of Florentine <i>pietre dure</i>; contemporary and later bronze mounts

Credit Line:

Purchased with the aid of the Simpson Fund

Museum number:
Gallery location:

British Galleries, Room 56, The Djanogly Gallery, case 5 []
Object Type
The cabinet was made in Florence. It is veneered in ebony and incorporates 19 pietra dura, or hardstone, plaques supplied by Domenico Benotti. The gilt-bronze mounts and plaques were added in England, in the workshop of Francesco Fanelli, though it is not known for certain when this took place. The gilt-bronze strawberry-leaf crest was probably made and added in about 1830-1840.

Subjects Depicted
The subjects include 'Orpheus Playing to the Beasts' and the figures of Juno, Hercules and Jupiter.

People
The cabinet was owned by John Evelyn, who travelled extensively through France and Italy during the English Civil War of 1643-1645. When in Florence, he ordered the pietra dura plaques directly from Domenico Benotti, who was then considered to be one of the 'Celebrated masters'. On arriving in England, the cabinet was most likely housed in Dover Street, London. Soon after Evelyn's death in 1706 it was moved to his country residence, Wotton House in Wotton, Surrey. In 1813, John Evelyn's diaries were discovered in a 'ebony cabinet', quite possibly this one, in Wotton House.
Physical description
Cabinet of softwood and oak veneered with ebony, with nineteen panels of pietre dure and gilt bronze mounts, set on a five-legged ebonised stand of later construction.
The top section of the cabinet is of ogee outline and contains a drawer with elaborate gilt bronze swags and a mask escutcheon, and is surmounted by a nineteenth century ormolu gallery consisting of a strawberry leaf pattern. A frieze drawer with ten angle mounts rests above a riddle section of the cabinet which is divided vertically into three bays separated by four pilasters. The angle mounts each comprise two half-mounts joined by brazing. Four of the angle mounts have been applied flat to the front, four to the front corners and two half-mounts to the rear corners of the cabinet. The angle mounts are ornamented with cupids and swags although the front corner angle mounts have additional protruding masks. The two rear half-mounts are ornamented with lions. The capitals and bases of the pilasters are of ormolu. Below each capital stands a classical figure in a niche inset above a gilded metal mask. The outer bays contain four stacked drawers. Each drawer has a central escutcheon and is faced with a pair of moulded frames each surrounding a pietre dure panel. Although the sixteen panels of animals and birds are in matching pairs ( 10 flowers, 6 birds or a combination of both) they have been so arranged in pairs on the drawers that only two rows match symetrically. The middle bay has a hinged central door inset with a more elaborate pietre dure panel of a domed perspective of classical arches above a fountain, set in a frame moulding. Above and below the central door there are single pietre dure panels of birds. The outer cream-coloured border of each panel is of a composition.
The middle section of the cabinet at each end is treated as a moulded panel with a gilt bronze swagged side handle in the centre.
The base of the cabinet consists of a long drawer mounted with eight bronze plaques in high relief of animals and represent a boar, two dogs, a horse, a bull, a cow a donkey and a lion. Below the central pilasters are two armorial mounts depicting griffins. There are paired angle mounts below the outer pilasters ornamented with cupids and swags with a central escutcheon on the corners of the cabinet. There are single rear angle mounts ornamented with lions.
The back of the cabinet is undecorated and designed, to be placed against a wall. There is a central cavity in the back of the cabinet through which the central cupboard was fitted.
Stand
The cabinet now rests on a nineteenth century ebonised stand of four twist-turn legs with a central twist-turn support on a tricorn base. There are applied diamond ornaments at the corners of the frieze.
Interior of the cabinet:
The central door is mounted with a bronze plaque (8 x 6 ½") by the celebrated Francesco Fanelli showing Orpheus playing his lyre to an audience of fauna which includes a sheep, a ram, a stag, a dog, a snake, five birds, and a sun and crescent moon above. The plaque is set within an ebony ripple-moulded frame. The central cupboard door encloses an architectural perspective with a black and white checkered floor, nine brass columns and eight mirror panels ( 3 mirror panels are missing). The central cupboard measures: H. 11 1/4", W. 12 ¼", D. 11 9/10"
The Drawers:
The oak-lined drawers of the cabinet have a reinforced front to take the extra weight of the panels and lock. Each drawer is marked inside, at the back, in black. See Sketch of drawers for measurements. Width of the reinforced drawer front 9/10", Width of the remaining front drawer sides (not reinforced ) 1/4".
Secret Drawers:
The cabinet contains 12 secret drawers - originally there were 14 or possibly more. Six of the secret drawers can be found immediately behind the outer pilasters. There are three secret drawers behind each pilaster. These measure Height 6 3/4" Width 1" Depth 13 1/2"
There are an additional six secret drawers in two different sizes behind the upper and lower sections of the two central pilasters. The four secret drawers measure Height 4 1/4" Width 1 3/4" The other two secret drawers measure Height 4 1/4" Width 1 8/10" Depth 11 6/10". Originally there were four of the later type.

Place of Origin
Florence (probably, made)
Date
1644-1646 (made)
Artist/maker
Benotti, Domenico (maker)
Fanelli, Francesco (maker)
Materials and Techniques
Veneered with ebony on a pine carcase, with oak drawer linings; inlaid with panels of Florentine pietre dure; contemporary and later bronze mounts
Object history note
When he was in Florence in October 1644 John Evelyn noted in his diary the virtuosity of Domenico Benotti, a pietre dure specialist. He also recorded purchasing 'nineteen pieces of the same work for a cabinet". This implies that he intended ordering a cabinet, most likely in Florence, while he wintered in Rome. Although it has been suggested that the cabinet was made in Paris - and indeed Evelyn certainly acquired an engraved ebony cabinet from the French capital in 1652- Florence was also a centre of cabinetmaking, particularly of (often) highly elaborate examples veneered in ebony and embellised in pietre dure. These would have been made in the Opificcio delle pietre dure, the grand-ducal factory. The mounts and key escutcheons are thought to date from the mid 1640s; the brass plaques have been attributed to the workshop of Francesco Fanelli, the Florentine Sculptor who worked in England from 1631 until about 1642. It has been suggested that John Evelyn may have acquired the brass panels from Fanelli in Paris between 1646 and 1652 and had the cabinet enlarged there so as to accomodate them. It has also been suggested that the Fanelli plaques were made from old moulds of his by a former assistant by the name of John Bank, who, according to Horace Walpole, was still alive in 1713. The statuettes are somewhat enigmatic: they are styllistically closer to Northern European than Florentine sculpture at the time, and may possibly have been added by John Evelyn at a later date. Although John Evelyn moved from Sayes Court, Deptford, to Wotton in Surrey in 1700, the pietre dure cabinet is not included in his inventory of 1702, but was probably among his 'Beds, Beding, Hangings, Cabinets, Tables ...' in his London House in Dover Street, which he left his wife by a codicil to his will of 1703.
In April 1813 William Upcott, sub-librarian of the London Institution, discovered John Evelyn's diary in "the ebony cabinet in the Billiard Room" (i.e. either this one or a French Ebony cabinet, now in the Geffrye Museum Collections) at Wooton, and after some difficulty managed to persuade one of his descendants to have it reprinted. Following the interest generated by this publication, parts were added to the cabinet, no doubt to make it more romantic and antique. This included the gilt brass mounts, decorated with amorini and swags, the strawberry leaf cresting and the cabinet stand.
Historical significance: The John Evelyn cabinet is important from a historical and aesthetic point of view. Not only could it have housed John Evelyn's diaries, perhaps the greatest record of morals, manners and tastes of the leading personalities in the reign of Charles II; but it is also a very interesting and rarely documented example of the English making purchases of continental furntiure during the Civil War. Indeed the years spent in continental exile by Royalists did much to bring about a radical change in English architecture and decorative arts. What they saw in countries like France, Holland and Italy often made them hanker after continental fashions and styles. Pietre Dure were renowned throughout continental Europe, and were made not only in Florence but also Rome, Paris and Prague. Nicholas Stone the Younger tried but failed to gain access to the granducal factory when he visited Florence in 1638. If one excludes various items (probably) of pietre dure formerly in the collections of King Charles I, Evelyn's purchase of Benotti's plaques is perhaps the earliest recorded by an Englishman. Cabinets were highly prestigeous pieces of furniture: they served to store correspondence and curios that a gentleman might collect for his own enjoyment and education. From the late 16th century, they became widespread throughout Europe. However, few cabinets, with good English provenances that date before the Restoration of the monarchy in 1660 have survived.
The 19th century additions are an interesting example of romantic historicism, with strawberry -leaf cresting and plaques of amorini with swags, trying to evoke the period covered by Evelyn's diary.
Descriptive line
The Evelyn Cabinet
Bibliographic References (Citation, Note/Abstract, NAL no)
Beer, E. S. de. The Diary of John Evelyn. Oxford: Clarendon Press, 1955. 6 Vols. Vol. I, pp. 53 - 54, Vol. II. pp. 191.
Hiscock, W. G. John Evelyn's Florentine Cabinet at Christ Church, Oxford. Connoisseur. August 1962. Vol. CL. pp. 221 - 223.
Boynton, Lindsay. Some documented pieces of English furniture: 1. Furniture owned by John Evelyn. Antiques. April 1971, Vol. XCIX, No.4. pp. 562 - 566.
Radcliffe, Anthony and Peter Thornton. John Evelyn's Cabinet. Connoisseur. April 1978. Vol. CXCVI. pp. 254 - 261.
Wilk, Christopher (ed.). Western Furniture: 1350 to the Present Day. London: V&A Publications and Philip Wilson, 1996. pp. 62-63
Jervis, Simon Swynfen and Dodd, Dudley, Roman Splendour, English Arcadia. London, PhilipWilson/The National Trust, 2015, p. 9, fig. 9

Labels and date
Cabinet
Oak, veneered with ebony, Inlaid marble panels, gilt bronze and brass mounts.
Italian (Florence) and French (Paris); 1644 - 52.
W24-1977
Purchased from the Simpson Bequest.
From the collection of the diarist, connoisseur and writer John Evelyn (1620 - 1706). Royalist in his sympathies, Evelyn spent much of the Civil War and Commonwealth travelling abroad. He purchased the nineteen inlaid marble panels from their maker Domenico Benotti in Florence in 1644, and the cabinet was probably made their to accomodate them, The cabinet was later extended, probably in Paris between 1646 and 1652, to take the gilt bronze reliefs of animals by Francesco Fanelli (active c.1609 - 1665) which include a relief of Orpheus charming the animals on the inner door. [ca.1987]
Production Note
The diarist, John Evelyn (1620-1706), travelled extensively in France and Italy between 1643 and 1652. In Florence he bought hard-stone floral panels made in Italy by Domenico Benotti and had them incorporated into this cabinet, possibly adding later the bronze plaques made by Francesco Fanelli.
Techniques
Cabinet-making; Veneering
Categories
Furniture; Renaissance (French); Furniture
Production Type
Unique
Collection
Furniture and Woodwork Collection