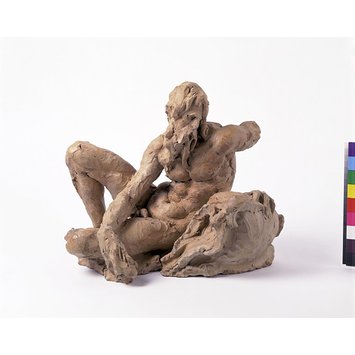 River god
Object:
Place of origin:
Date:
Artist/Maker:
Materials and Techniques:
Museum number:
Gallery location:

Medieval & Renaissance, Room 62, The Foyle Foundation Gallery, case 16
This model was most probably made in connection with an idea for a giant River Nile for Francesco de' Medici's villa at Pratolino.
The extraordinary and unique colossus, constructed primarily of brick, stone and lava, was completed in 1580 and houses a series of small rooms beneath and inside it, including a grotto with a fountain where Francesco entertained guests. This composition is a dramatic re-working of a classical River God, usually shown lying down and supported on one elbow. The sculptor, Giambologna, would have been familiar with the numerous surviving examples from his intensive study of sculpture in Rome between 1550 and 1553, and again in 1572, when he was sent there by Grand Duke Cosimo I de' Medici, along with Vasari, and his fellow sculptor Ammanati.
Physical description
Terracotta figure, a 'sketch-model' of a river god, roughly modelled and half-reclining. Part of the left arm, between the bicep and the wrist, is missing.
Place of Origin
Florence (made)
Date
ca. 1580 (made)
Artist/maker
Giambologna (maker)
Materials and Techniques
Terracotta
Dimensions
Height: 31 cm, Width: 39.4 cm, Depth: 25 cm, Weight: 8.400 kg
Object history note
This clay model or bozzetto, dating to about 1580, is constructed of lumps of clay rapidly pressed together to produce the broad outline of the features, form and musculature. Working primarily with his fingers in fairly wet clay, and with very few indications of tool marks, the sculpture shows Giambologna's mastery of clay modelling and his ability to do so with extreme freedom. The bulging muscles are formed out of merged balls or sausages of clay while details such as the eyes, fingers and mouth have been swiftly cut with a pointed tool.
The results of the thermoluminescence testing suggest a later date than expected which raises the possibility that the sketch was made for a different unidentified scheme. However, this analysis is not accurate enough to allow for a significant reinterpretation, and the association with the Appenine remains compelling. As such, the late dating might indicate that the clay bozzetto was not fired at the time, a possibility further supported by the solid and rather haphazard construction of the model which does not seem to have been carefully prepared for the kiln. The sketch may therefore not have been intended as a permanent record but was instead fired subsequently to preserve it, perhaps for a collector. (see Earth and Fire London: 2001)
Historical significance: The statuette is a dramatic re-working of the Graeco-Roman type of River God, usually shown lying down and supporting itself on one elbow, so as to fill the outside angle of a classical pediment. In this composition, however, Giambologna has transformed the classical theme and endowed the figure with potential movement by pushing him up from the traditional recumbent posture. By repositioning the left arm as though the figure were not at rest and bringing the right arm forward and across the legs, this version appears as if he is about to rise to his feet. In addition, the head is also sharply turned away from the plane of the shoulders and chest, further invigorating the figure by a zigzag of lines running in three dimensions.
Giambologna had in fact already devised an innovative approach to the subject in the three River Gods for the Oceanus Fountain (made for the Pitti Palace Gardens in 1570-5 but removed to the Boboli gardens in 1618), shown seated around the fountain basin holding a traditional overflowing vase in front of them, which was suitably piped to produce a jet a water. The attribute has been retained in this terracotta River God, but the water is simply conjured up by adding a piece of clay to the vessel, which was then freely modeled by hand. The loose handling of the clay in this and the two Appenine bozzetti clearly demonstrates Giambologna's direct and lively modeling style.
Historical context note
This terracotta probably relates to the plan for a colossal statue symbolising the River Nile commissioned by Francesco de' Medici for the garden of his Villa at Pratolino, Tuscany. River gods were a normal component of fountains and gardens, and had appeared on virtually every major example in the mid-sixteenth century such as Montorsoli's Fountain of Orion (1547-53) and Ammanati's wall fountains of Tiber and Arno (1550-5). Giambologna would have been familiar with the numerous surviving examples from his intensive study of sculpture in Rome between 1550-53, and again in 1572, when he was sent there by Cosimo I de' Medici along with Vasari and his fellow sculptor Ammanati. Indeed, the Florentine Medici family's patronage of Giambologna led to a style that was closely associated with the Medici court, and which quickly spread to northern Europe.
This specific model, however, was never actually executed, but in its place Giambologna created the figure of the mountain god, Apennine, for which there is a sketch-model in the Museo Nazionale in Florence. Constructed primarily of brick, stone, and lava, and embellished with dripped stucco to appear organic, Appenine rises above the Medici villa, to a height of 10m, and houses a series of small rooms inside and beneath it. Originally connected with the school of Michelangelo, the model was variously attributed before gaining acceptance as one of three known models connected with the Pratolino project. The others – a terracotta in the Bargello, Florence and a damaged clay model in the Musée Muncipal, "La Chartreuse", Douai – are both extremely free handled representations of the Apennine and were therefore made subsequently.
Descriptive line
Statuette, terracotta, depicting a River God, by Giambologna (Giovanni Bologna), Italy (Florence), ca. 1580
Bibliographic References (Citation, Note/Abstract, NAL no)
Boucher, Bruce, (ed.), Earth and Fire, Italian Sculpture from Donatello to Canova New Haven and London, Yale University Press, 2001
List of Objects in the Art Division, South Kensington, Acquired During the Year 1876, Arranged According to the Dates of Acquisition. London: Printed by George E. Eyre and William Spottiswoode for H.M.S.O., p. 20
Avery, Charles, Giambologna. The Complete Sculpture Oxford: Phaidon, 1987, pp 157-160, 162 ill. ISBN 714880264
Miller, Naomi, Heavenly Caves: Reflections on the Garden Grotto New York: George Braziller, 1982. ISBN 0807609668
Avery, Charles, and Radcliffe, Anthony, ed. Giambologna 1529-1608: Sculptor to the Medici London: Arts Council, 1978, pp. 275, 183 ill. ISBN 0728701804
Penny, Nicholas. Catalogue of European Sculpture in the Ashmolean Museum: 1540 to the Present day. vol. I Italian. Oxford, 1992, p. XXII
Maclagan, Eric and Longhurst, Margaret H. Catalogue of Italian Sculpture. London, 1932, p. 147
Vezzosi, Alessandro, ed. Il Concerto di Statue. Florence, 1986, no. 34, p. 110
Raggio, Olga. Catalogue of Italian Sculpture in the Victoria and Albert Museum. Art Bulletin. 1968, vol. L. pp. 103
Pope-Hennessy, John. Catalogue of Italian Sculpture in the Victoria and Albert Museum. London: HMSO, 1964, cat. no. 495, fig. 493
Borroni Salvadori, Fabia. Le Esposizioni d'Arte a Firenze dal 1674 al 1767. Mitteilungen des Kunsthistorischen Institutes in Florenz. 1974, XVIII. p. 90
Bush, Virginia. Colossal Sculpture of the Cinquecento. Ph. D. dissertation, Columbia University, 1967. Published New York and London, 1976, p. 291, fig. 319
[Catalogue entry] Giambologna, 1529-1608. London, 1978, cat. no. 235
Trusted, Majorie. ed. The Making of Sculpture: the Materials and Techniques of European Sculpture. London: V&A Publications, 2007, p. 38, pl. 55
Wittkower, R. Sculpture: Processes and Principles. London, 1977, p. 152, fig. 3
Avery, Charles. Finger Prints of the Artist: European Terra-cotta from the Arthur M. Sackler Collections. Washington, 1981, p. 21
Gentilini, Giancarlo. Jean Boulogne, detto Giambologna (Douai, 1529 - Firenze, 1608): Pan. In: Ferretti, Massino, ed. Per la Storia della Scultura: Materiali Inediti e Poco Noti. Torino, 1992, pp. 73, 76

Labels and date
It is possible that this model relates to the plan for a colossal sculpture of the River Nile for the graden of the Medici Villa at Pratolino. The idea for the mountain god Appenine replaced this proposal and there is a sketch-model for that figure by the same hand in the Museo Nazionale in Florence. The Appenine was constructed from brick, stone, and lava, and housed small rooms beneath and inside it, including a grotto with a fountain. Another figure related to the scheme is displayed in a case nearby. []
Materials
Terracotta
Categories
Sculpture
Collection
Sculpture Collection