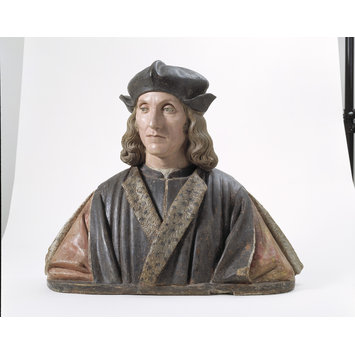 Torrigiano, Pietro, born 1472 - died 1528
King Henry VII
Object:
Place of origin:
Date:
Artist/Maker:

Torrigiano, Pietro, born 1472 - died 1528 (sculptor)

Materials and Techniques:
Museum number:
Gallery location:

British Galleries, Room 58, case 8
Object Type
The portrait bust had been a feature of ancient Roman art and was revived during the 15th century. Initially it was seen as an image of status and power, but an interest in expressing realism and personality soon developed. This bust is a true likeness, based on a death mask and naturalistically painted to produce a strong representation of the dead King.

People
Pietro Torrigiano was a talented sculptor and one of the first artists of the Italian Renaissance to work outside Italy. However, he is probably more famous for having broken Michelangelo's nose during a fight while they trained together as youths. He seems to have arrived in England in 1507, and his first task appears to have been a tomb in Westminster Abbey for Margaret Beaufort, the King's mother.

Materials & Making
The bust combines a face probably cast from a mould taken from the cadaver of Henry VII, with modelled shoulders and chest. The bust was repaired in about 1769 by the English sculptor John Flaxman (1755-1856), then a boy, whose tools were found inside the sculpture. It has also been repainted several times. This over-paint was removed during conservation to reveal fine details in the hair and the ermine trim of the cloak.

Ownership & Use
According to an 18th-century account, the bust was formerly in Whitehall Palace, London. There were also two companion busts, of Henry VIII and an ecclesiastic (probably Bishop John Fisher), which are now in the Metropolitan Museum, New York. All three busts might have been commissioned by Fisher, who was executed in 1535.
Physical description
The life-size naturalistically painted terracotta bust shows the king late in life. The head with its long grey hair falling to the shoulders is turned slightly to the left; the chin raised, the eyes looking slightly downwards. The subject wears a full ermine-lined cloak with narrow collar and the sleeves open at the shoulder; beneath is a tight fitting gold brocade tunic worn over a white shirt, the collar of which shows at the neck; on his head is a flat cap with the brim turned up at the back and sides.
Before 1928 the surface of the bust was covered with grey paint. The present paint surface though restored locally, is in large part original. The bust is broken and repaired across the left arm and shoulder, the neck, right shoulder and right arm. Some areas adjacent to these breaks are made up in plaster. Other areas repaired in plaster include the lower part of the ermine cloak over the left shoulder, the front sections of the turned-up cap, and the tip of the nose.
Place of Origin
London (made)
Date
1509-1511 (made)
Artist/maker
Torrigiano, Pietro, born 1472 - died 1528 (sculptor)
Materials and Techniques
Painted terracotta
Dimensions
Height: 60.6 cm, Width: 69 cm, Depth: 36 cm
Object history note
The earliest reference to the bust is in a letter of 10 Novemer 1779 from Michael Tyson, an antiquary, to the Rev. William Cole (British Museum, Add. MS. 59993, f. 152r-153v) reporting that he had seen in the house of Mr. Wright at Hatfield Peverell Priory, Essex, three busts, of Henry VII, Bishop Fisher and Henry VIII, taken from a room over the Holbein Gate at Whitehall Palace. It has been suggested that an upper room over the Holbein Gate was used as the State Paper Office and may have contained a secret study used by Henry VIII and Edward VI (Grossmann, 'Holbein, Torrigiano and Some Portraits of Dean Colet' in Journal of the Warburg Institute, XIII, 1950, p.223, n.4). According to J. T. Smith's Antiquities of Westminster (London, 1807, pp.22-23) the busts were bought, from an iron dealer in Belton Street, by Mr Wright who had them repaired by the young sculptor John Flaxman. Some sculptors' tools found inside the bust during conservation probably belonged to Flaxman. The three busts remained at Hatfield Peverell Priory until 1928, when they were acquired by Mr Arthur Wilson-Filmer from whose widow, Lady Baillie, the three busts all passed into museum collections (the busts of Henry VIII and Bishop Fisher went to the Metropolitan Museum, New York).
Made in London by Pietro Torrigiani (born in Florence, Italy, 1472, died in Seville, Spain, 1528; active in England about 1507-1522/25)
Possibly commissioned by John Fisher, Bishop of Rochester (born in Beverley, Yorkshire, 1459, executed in London, 1535), together with his own portrait bust and one of Henry VIII
Historical significance: Techincal examination has indicated that the facial features of both this bust and the effigy in Westminster Abbey were probably based upon a death mask of the king. The use of casts to produce portrait busts was common practice in Renaissance Florence, where the desire to produce a close likeness was paramount. They were naturalistically painted, heightening the realism of the portrait, although in many instances the paint was removed by later collectors. This bust provides a rare example of original polychromy.
Descriptive line
King Henry VII (reigned 1485-1509) British (London), 1509-1511, by the Florentine sculptor Pietro Torrigiano.
Bibliographic References (Citation, Note/Abstract, NAL no)
Williamson, Paul ed. European Sculpture at the Victoria and Albert Museum. London: Victoria and Albert Museum, 1996. pp.96-97.
Galvin, C. and P. Lindley. 'Pietro Torrigiano's portrait bust of King Henry VII'. The Burlington Magazine. CXXX (1988), pp.892-902.
Pope-Hennessy, John. Catalogue of Italian Sculpture in the Victoria and Albert Museum. London: Her Majesty's Stationary Office, 1964. pp.399-402.
Goronwy-Roberts, Ann. 'Mask: Torrigiano's Bust of Bishop Fisher reconsidered'. Private publication. 1992.
Chaney, Edward. 'Henry VIII's tombs, 'Plus catholique que le papé?' in Apollo. October 1991. pp.234-238.
Darr, A.P. Pietro Torrigiano and his Sculpture for the Henry VII Chapel, Westminster Abbey. 3 vols. University Microfilms International. London. 1980. II. pp.420-421.
Darr, A.P. 'New Documents for Pietro Torrigiano and other early Cinquecentro Florentine Sculptors active in Italy and England' in Kunst des Cinquecento in der Toskana. Munich. 1992. p.108-138, p.121.
Darr, A.P. 'Verrocchio's Legacy: Observations regarding his influence on Pietro Torrigiani and other Florentine Sculptors' in Verrocchio and Late Quattrocento Italian Sculpture. eds. Bule, S, Darr, A.P and Gioffredi, F.S. Florence. 1992. p.136.
Avery, Charles. Finger prints of the artist. European Terracotta from the Arthur M Sackler collections. Washington. 1981. p.23.
Gentilini, Giancarlo. 'Il beato sorone di Santa Maria della Scale' in Gonzalez-Palacios, Alvar ed. La Scultura Studi in Onore di Andrew Ciechanowiecki. vol. II, Torino, 1996. p. 28, n.64 and p.26, fig. 8.
Geary, Angela. 'Three Dimensional Digital Visualisation: Research in Progress.' V&A Conservation journal. No. 32. July 1999. pp.12-14. fig. 1
Trapp, J.B. and Herbrüggen, Hubertus Schulte, The King's good servant: Sir Thomas More, 1477/8-1535, London, National Portrait Gallery, 1977
no. 28
British Portraits : Winter Exhibition, 1956-57, London : Royal Academy of Arts, 1956
Marks, R & Williamson, P. (Eds.), Gothic. Art for England 1400-1547, London, V&A, 2003

Labels and date
Henry VII
(1457-1509, King from 1485)
By Pietro Torrigiano (1472-1528)
Anglo-Italian; about 1511 to 1515
Torrigiano was the most important Italian artist employed by Henry VII and the first sculptor to work in England in a full Renaissance style. Trained in Florence, he was by 1510 working in the Court of Margaret of Austria in Flanders and probably came to England the following year, bringing with him a knowledge of the sculptural traditions of both Florence and the Burgundian court. His major achievement in this country is the tomb of Henry VII and Elizabeth of York (commissioned 1512, completed 1518) in Westminster Abbey (see photograph). The bust is probably a posthumous portrait based on the death mask which was also used for the King's effigy on the tomb. According to an 18th century account it was formerly in Whitehall Palace together with two companion busts of Henry VIII and an ecclesiastic (probably Bishop Fisher) which are now in the Metropolitan Museum, New York. [July 1994]
British Galleries:
This bust was based on a plaster cast taken from the dead King's face. The cast was also used for his funeral effigy. The bust was meant to show the King as in life and may have been a test of skill for the Florentine sculptor, Pietro Torrigiani. In 1512 he was commissioned to make the tomb of Henry VII and his wife Elizabeth of York in Westminster Abbey. Torrigiani was the most important Italian artist to be employed by their son, Henry VIII. [27/03/2003]
Bust of Henry VII
About 1509-1511
Pietro Torrigiano
1472-1528
In 1509 the Florentine artist Pietro Torrigiano was commissioned to make the tomb of Henry VII and Elizabeth of York. This bust was probably made soon afterwards. Torrigiano seems to have used the king's death mask for the face, but fleshed it out to produce a more convincing likeness.
Painted terracotta
Probably made in Westminster
V&A: A.49-1935
Cat. 7 [2003]
Production Note
The attributon to Torrigiano is based upon the close relationship between this bust and the gilt-bronze effigy of Henry VII by the same artist in Westminster Abbey.
Materials
Terracotta
Techniques
Painted
Subjects depicted
Costume
Categories
Sculpture; British Galleries
Collection
Sculpture Collection