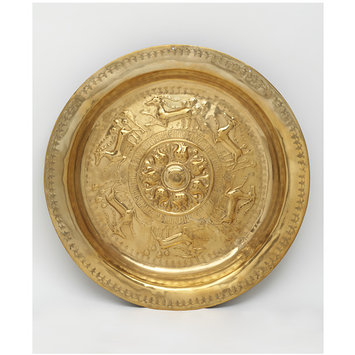 Dish
Place of origin:
Date:
Artist/Maker:
Materials and Techniques:

Brass, repoussé and chased

Credit Line:
Museum number:
Gallery location:

Medieval and Renaissance, room 63, case 7
By the early 16th century, northern European brass dishes had become greater in diameter, the depressions shallower and the flanges of the rims wider than they had been in the 15th century. Pictorial themes continued to be used in decoration but the wider bases afforded scope for an increasing use of abstract decoration. A central motif might be bounded by one or two concentric bands of decoration - either interlaced scroll-like waves or lettering. The inscriptions themselves were usually meaningless and were incorporated into the overall design merely for their decorative value.
Production of such bowls was centred in Nuremberg but not exclusively. Other centres of brass production were Dinant in Flanders and its immediate neighbourhood, from Bouvignes to Aachen. Techniques and styles were copied with equal facility everywhere so it is difficult to assign a place of manufacture within northern Europe to any dish produced during the 16th and 17th centuries. For example, not only did the export of dishes from the Dinant area provide prototypes for others to follow, but the downfall of the town in 1466 to Charles the Bold of Burgundy saw the dispersal of refugee metalworkers.
Those dishes exported to Britain were sometimes used as alms dishes. Elsewhere their function was primarily secular. European paintings of domestic interiors show that they were frequently used in conjunction with lavabos (basins) or ewers, also in brass, for washing hands after a meal. Before the 17th century, when forks became customary, such equipment was essential to any dining table.
The decoration of this dish incorporates a running stag, repeated six times, interspersed with floral devices. In secular art the stag is the attribute of the huntress Diana, who changed the hunter Actaeon into a stag. Known for its speed and sharp senses, which made it difficult to capture, the stag was an attribute of hearing, one of the five senses, and of prudence. Flowers in general are the attribute of spring personified, of smell and of the goddesses Flora and Aurora. They can represent the quickly fading nature of human life and are also sometimes the attribute of hope and of logic, one of the seven liberal arts.
Physical description
Circular, the centre slightly raised within bands of conventional fleur-de-lys alternating with tulip-shaped ornaments and simulated inscription respectively. These are surrounded by another band composed of the device of a running stag with four trees, six times repeated; the whole within a punched border of arched ornament. There is a band of similar decoration on the rim.
Place of Origin
Germany (made)
Date
ca. 1600 (made)
Artist/maker
Unknown (production)
Materials and Techniques
Brass, repoussé and chased
Dimensions
Diameter: 65 cm, Depth: 8 cm, Weight: 5.84 kg
Object history note
Brass dishes such as this example were owned by the wealthy "middling classes" and the aristocracy. Although they were produced in large numbers there is evidence to suggest that they were considered important possessions and were sometimes kept as family heirlooms.The brass dish at Lullingstone Castle for example was bought by Dame Elizabeth Bowes and is mentioned in her will of 1588. Dame Elizabeth was the wife of Sir George Hart of Lullingstone. The brass dish depicts "flying harts" around the rim as a reference to the family name. It has been kept as a family heirloom at Lullingstone Castle ever since.
Historical significance: This dish was most likely made in Nuremberg. Nuremberg was the leading centre for base metal production in Europe. It was at the peak of its production during the 15th and 16th centuries. Unlike other production centres which were governed by guilds, Nuremberg craftsmanship was governed by the Town Council. The council was made up members of the most powerful Nuremberg families who controlled the standard of craftsmanship within the town. The strictest professions were the trades bound by oath. Craftsmen had to take an oath to follow strict rules of production in order to be able to practice their trade. The Basin Beaters, who made brass dishes and bowls, became an oath bound trade in 1471. Rules included a restriction on the number of apprentices and journeymen each master could have and a regulation that apprentices must be citizens of Nuremberg. This helped to protect the town's production and to ensure that no one craftsman became more powerful than the rest.
The organisation of trade in Nuremberg has evidence of early capitalism. Large trading houses took economic control of trades such as the basin beaters trade. Merchants would give money or materials in advance along with a share of the profits on the understanding that craftsmen would only make for his employer. Thus trading houses took control of every aspect of the trade from raw materials, to manufacture and ultimate sale.
Although Nuremberg was the largest production centre, brass dishes were also made in Dinant and the surrounding area from Bouvingnes to Aachen. They may also have been produced in the Netherlands. The dishes kept the same style and decoration regardless of their origin. From these centres, dishes were sold all over Europe including Spain and England.
Historical context note
Brass dishes with embossed designs were used within the home. Deep dishes like this one were probably filled with water to wash ones hands whilst larger shallower plates were most likely used for dining. Although such dishes had a functional purpose, they were primarily used as decorative objects. Contemporary paintings show that they were hung upon the wall or placed upon dressers when not in use. These decorative dishes may have been purchased by wealthy townspeople trying to emulate the European courts, which in the 15th, 16th and 17th centuries displayed decorative domestic objects made from precious metals or exotic materials to show off their wealth and splendour. Brass provided a less expensive alternative to the silver and gold displayed in the courts. As all metal was expensive in this period, brass dishes still conveyed wealth and style to guests. Some dishes are inscribed with an ownership mark which shows that these objects were significant possessions.
Dishes with religious or secular scenes survive in particularly large numbers. Popular secular subjects were a stag and a lady with a hawk whilst religious scenes included the fall of man, the annunciation and The Spies with a cluster of grapes.
Descriptive line
Dish with repeated stag pattern, repoussé and chased, German, 16th century
Bibliographic References (Citation, Note/Abstract, NAL no)
Onno ter Kuile, Koper Und Brons, Rijksmuseum, Amsterdam, 1986, pp.166-179
Comparative examples
Hanns- Ulrich Haedeke, Metalwork, Vivienne Menkes (trans), Weidenfeld and Nicolson, London, 1970, pp. 74-82
Information on the Nuremberg Brass trade
Os Pratos de Nuremberga da Casa-Museu de Guerra Junqueiro, Câmara Municipal do Porto, 1965
Comparative examples
Sigurd Erixon,Gammal Mässing, ICA fölaget AB, Västerås, 1965
Comparative Examples
Production Note
probably Nuremberg
Materials
Brass
Techniques
Chasing; Repoussé
Subjects depicted
Tree; Stag; Fleur-de-lys; Tulip
Categories
Metalwork; Food vessels & Tableware
Collection code
MET