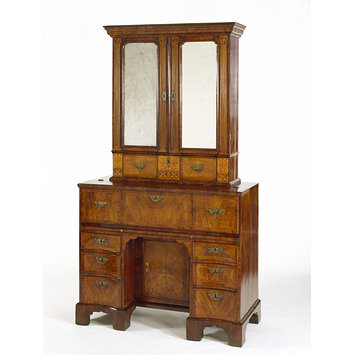 Bureau cabinet
Place of origin:
Date:
Artist/Maker:
Materials and Techniques:

softwood with walnut veneer and marquetry, mirror glass.

Museum number:
Gallery location:

Furniture, Room 135, The Dr Susan Weber Gallery, case BY11, shelf EXP []
This unusual bureau cabinet is reputed to have belonged to the Irish satirical novelist and cleric Jonathan Swift (1667-1745), the author of Gulliver's Travels . While this history is uncertain, we may be confident that the bureau itself is Irish. It is one of a small group of very similar bureau cabinets that were probably all made in Dublin by a cabinet-maker called John Kirkhoffer. His signature, with the date 1732, appears on a closely related example, now in the Art Institute of Chicago. John Kirkhoffer (whose surname appears in various spellings) was one of a family of German protestant immigrants who worked in the Dublin furniture trade in the 18th and early 19th centuries. He was possibly the son of Franz Ludwig Kirkhover, who came to Ireland in 1709 as a refugee from the war-torn Rhineland-Palatinate region.
Physical description
A two-stage bureau cabinet in walnut veneer and marquetry, the narrow upper stage with two folding doors enclosing two wide shelves, and a deep drawer below; the wider lower stage comprising a fitted fall-front desk, a slide immediately beneath the fall-front, and a recessed knee-hole cupboard between two banks of three short drawers, which are raised on bracket feet. The top of the cabinet is finished by a flat moulded cornice on three sides. Replacement brackets connect the upper and lower stages.
The doors in the upper stage are each set with a bevelled mirror between a pair of fluted ionic pilasters - the right-hand mirror is replaced, the left is original. The four 'plinths' to the pilasters are decorated with sub-Berainesque marquetry and flank two simulated drawer-fronts in figured walnut veneer, outlined with cross-banding and stringing. In fact the two 'drawer-fronts' and the inner two marquetry plinths together form the front of a single, wide, deep drawer. The outer two plinths conceal secret compartments. A string-course moulding above the drawer follows the profile of the pilasters and extends around the sides of the upper stage, echoing the bold top cornice. Inside the cupboard, the doors and backboard are veneered with figured walnut (the two doors mirroring each other), and the solid walnut shelves have shaped front edges; the top and sides are of softwood.
In the wider, lower stage, the two banks of drawers are each shaped as a shallow niche. When lowered the fall-flap rests, by its handles, on the slide below. Behind the fall-front the desk is fitted with a small central cupboard flanked by six pigeon-holes and six drawers below. These small drawers are concealed to look like part of the structure.
Below the fall-front, the writing slide is pulled out using two brass knobs. The writing slide is lined with green velvet. The velvet is probably a replacement.
The bureau cabinet is constructed primarily of softwood, veneered as above. The large drawers are of oak with softwood fronts; other fittings are made of solid oak or walnut, or a combination of the two.
Conservation
Four small patches of replacement veneer, on either side of both the upper and lower stages of the bureau, suggest that brackets originally joined its upper and lower stages. The other related bureau cabinets from the series (see Object History) retain these brackets, sometimes with sconces attached. Replacement brackets were added to the V&A's bureau cabinet in 2011. These brackets are oak with a walnut veneer. Their form is based on the brackets attached to the Art Institute of Chicago's Kirkhoffer bureau.
Place of Origin
Dublin (made)
Date
1730-1740 (made)
Artist/maker
Kirkhoffer, John (maker)
Materials and Techniques
softwood with walnut veneer and marquetry, mirror glass.
Marks and inscriptions
Mr McAndrews
in Proper Lane facing
the Sugar House
This inscription is in pencil on the underside of one of the drawers of the upper section. The inscription has traditionally been read as making reference to 'Mr Swift's House', supporting the story that this bureau belonged to Dean Swift. Recent examination of the inscription under infra-red light have shown this reading to be incorrect, making the association with Swift less certain.
The Irish Historic Towns Atlas gives the following reference to Proper Lane:
'Proper or Proppar Lane: Location unknown, possibly same as Beresford Street (q.v.). Proper Lane 1715 (Dublin Intelligence 7.6.1715), 1729 (Faulkner's DJ 3.6.1729), 1731 (Pue's Occurrences 30.3.1731). Proppar Lane 1731; Proper Lane 1733 (Faulkner's DJ 13.3.1731, 1.9.1733), 1736 (Dublin Advertiser 28.10.1736).'
Colm Lennon, Irish Historic Towns Atlas No. 19. Dublin, Part II, 1610 to 1756 (2008, p. 18).
Dimensions
Height: 220.5 cm measured in 2 sections, Width: 124.7 cm, Depth: 58 cm
Object history note
This is one of a small group of very similar bureau cabinets that were probably all made in the same Dublin workshop. The one that most directly resembles the V&A piece is held in the Art Institute of Chicago, and is signed 'John Kirkhoffer facit 1732' ('made by John Kirkhoffer in 1732'). Several people named John Kirkhoffer were known to have been making furniture in Dublin in the early eighteenth century. The one most likely to have made the Chicago bureau cabinet, and by association possibly also made the related V&A one, was the son of a German Palatine named Francis Kirkhoffer. Francis Kirkhoffer had fled the contested Rhineland-Palatinate region in the early 18th-century and settled in Dublin and in counties Limerick and Kerry in 1709. He had a son John, who is recorded as a cabinet-maker leasing Dublin premises in 1736.
The V&A bureau cabinet was purchased from Alfred A. de Pass in 1912. When it entered the collection, it was believed to have belonged to the Irish satirical novelist and cleric Jonathan Swift. De Pass writes: "I have Dean Swift's writing Bureau, illustrated in Macquoids book (at this point the letter is annotated in red ink by V & A: II pl. XV) and also in Chancellor's Book….". (Letter from Alfred A de Pass to the Museum, dated 2 May 1912. Held in the registered file 12/2496, 12/2622). The connection with Dean Swift was based on an inscription found underneath a top drawer, which was believed to read: "Mrs McAndrews…..Mr Swifts House". This inscription was more recently read as 'Mrs McAndrews / In Pro....Lu.. Delany / The Sw.. House', but infra-red photography taken in 2012 reveals that it in-fact reads: 'Mr McAndrews / in Proper Lane facing / the Sugar House'. This makes the connection with Dean Swift uncertain.
Historical context note
Bureau cabinets of this type, known in the 18th century as desk bookcases, became increasingly common in the United Kingdom, Ireland and America from around 1700. In its construction, this type of case furniture was one of the most technically complex objects made by early Georgian cabinet-makers.
Inventories show that bureau cabinets were most often kept in bedrooms or dressing-rooms, rather than libraries or saloons. In the dressing-room, they would be used to house books, writing materials and letters, with the bottom drawers providing storage for clothing. Eighteenth-century bureau cabinets were often embellished with highly-decorative japanned and lacquered surfaces. These kinds of exotic decorative forms tended, in the period, to be associated with women and the rituals of the dressing table.
In contrast to japanned cabinets, the decorative details on this object, in particular the veneered columns of its upper section and the architectural forms seen on its internal upper compartments, are typical of contemporary furniture designed to be used by men. In the Georgian period, the language of classical architecture was publicly associated with the values and good taste of the ideal man.
This bureau cabinet would most likely have been used as a writing desk, with the locakable drawers and secret compartments used to hold private correspondence and valuables. In addition to its functional uses, bureau-cabinets such as this one formed a prominent part of a room's decoration. In the larger scheme of a room, the mirrored doors of its upper section could have stood in for a pier glass or a sconce.
Descriptive line
top section; Irish, 1710-15
base section; Irish, 1710-15, ex coll. Dean Swift ?
Central drawer in upper section
Left hand drawer, left hand side of bureau section
Central drawer, left hand side of bureau section
Right hand drawer, left hand side of bureau section
Left hand drawer, right hand side of bureau section
Central drawer, right hand side of bureau section
Right hand drawer, right hand side of bureau section
Fully removable slide beneath bureau section, which supports drop front
Top drawer in pedestal section, left hand side
Central drawer in pedestal section, left hand side
Bottom drawer in pedestal section, left hand side
Top drawer in pedestal section, right hand side
Central drawer in pedestal section, right hand side
Bottom drawer in pedestal section, right hand side
Left hand concealed drawer in plinth of pilaster in upper section
Right hand concealed drawer in plinth of pilaster in upper section
to Bureau, 6 old
Labels and date
Bureau-cabinet
About 1730–40
Probably designed and made by John Kirkhoffer (active 1730s)
Ireland (probably Dublin)
Carcase: upper section, walnut and softwood; lower section, mainly pine
Veneer: figured walnut and marquetry; the brackets replaced
Drawers: oak with pine fronts
Mirrors (the left original, the right replaced): glass, mercury–tin amalgam
Traditionally said to have been owned by Jonathan Swift (1667–1745)
Museum no. W.32-1912
A bureau held books, writing materials, letters and valuables, some hidden in secret compartments and lockable drawers. It usually stood in the bedroom or dressing room, not the library.
This bureau is said to have belonged to the Irish writer Dean Swift. The Ionic pilasters of the upper storey certainly suggest that the owner was a man rather than a woman. A familiarity with classical architecture was seen as the mark of a gentleman. [01/12/2012]
[]
Production Note
This attribution is made by analogy with a bureau or writing cabinet of closely similar form, now in the Art Institute of Chicago, signed 'John Kirkhoffer/ facit/ 1732. See Desmond Fitzgerald, Knight of Glin and James Peill, 'A newly discovered signature on a piece of Irish furniture', in 'The Magazine Antiques', October 2008, vol. CLXXIV No. 4, pp. 140-145.
Materials
Walnut; Softwood; Brass; Velvet; Material; Oak
Categories
Furniture
Collection
Furniture and Woodwork Collection