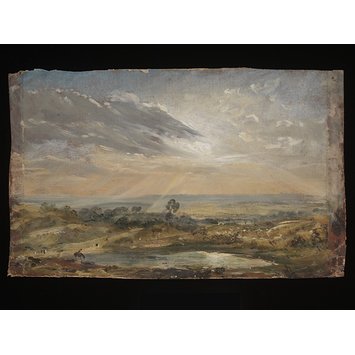 Constable, John RA, born 1776 - died 1837
Branch Hill Pond, Hampstead
Object:
Place of origin:

Great Britain, uk (painted)

Date:
Artist/Maker:

Constable, John RA, born 1776 - died 1837 (artist)

Materials and Techniques:
Credit Line:

Given by Isabel Constable

Museum number:
Gallery location:

Paintings, room 88, case WEST WALL
Branch Hill Pond was one of Constable's favourite subjects. This sketch depicts the view from Jack Straw's Castle, an old coaching inn. In September 1821 Constable wrote: 'We have had noble clouds & effects of light & dark & colour - as is always the case with such seasons as the present'.
Physical description
Landscape with low horizon, painted in direct sunlight.
Place of Origin
Great Britain, uk (painted)
Date
ca. 1821-1822 (painted)
Artist/maker
Constable, John RA, born 1776 - died 1837 (artist)
Materials and Techniques
oil on canvas
Dimensions
Height: 24.5 cm estimate, Width: 39.4 cm estimate, Height: 51 cm Frame, Width: 61.1 cm Frame
Object history note
Given by Isabel Constable, 1888
Historical context note
The chief of Constable's four exhibits in 1821 was 'Landscape: Noon' ('The Hay Wain') (National Gallery No. 1207; for the full-scale sketch see No. 209 [987-1900] in this Catalogue). His third child, Charles Golding Constable, was born on 29 March. He accompanied Archdeacon John Fisher on his visitation of Berkshire in June, took No. 2 Lower Terrace, Hampstead, for his family during the summer and autumn and paid a visit to Fisher at Salisbury in November.
[G Reynolds, 1973, p. 135]
Descriptive line
Oil painting, 'Branch Hill Pond, Hampstead', John Constable, ca. 1821-1822
Bibliographic References (Citation, Note/Abstract, NAL no)
Grey, Anne and John Gage Constable. Impressions of Land, Sea and Sky Canberra: National Gallery of Australia, 2006. ISBN: 0642541566.
Exhibition catalogue.
Catalogue of the Constable Collection, Graham Reynolds, Victoria and Albert Museum, London: HMSO, 1973, pp. 135, 145-147
The following is an extract from the text of the entry:
The canvas has been relined. The artist has enlarged the paintings area of the canvas by the extent ot the turn-over round the original stretcher, that is, about ¾ in. at either side and 1 in. at the bottom.
Holmes, p. 248, dates c. 1827. This sketch is, however, close in style to 'Harrow from Hampstead Heath: sunset' in the Manchester City Art Gallery, 10 x 12 ins. (reproduced in the Gallery's publication English Paintings, 1800-1870, Pl. 7), which is dated August 1821, and to Nos. 247 [337-1888] and 248 [336-1888] of 1822. No. 233 [125-1888] may therefore have been painted in 1821 or 1822.
Comparison with No. 171 [122-1888] and with the Tate Gallery paintings Nos. 1236 and 4237, shows that the scene is probably Branch Hill Pond. The solitary tree in the centre of the sketch is a conspicuous landmark, and appears to be the same as that seen in the other pictures cited.
Note on Nos. 221, 222, 224, 226, 228-232, 234 and 235 [151-1888, 156-1888, 167-1888, 168-1888, 164-1888, 157-1888, 162-1888, 133-1888, 136-1888, 323-1888, 786-1888]
Nose. 222 [156-1888], 226 [168-1888] and 228 [164-1888] are fully dated and inscribed examples of the studies of sky and trees which Constable was making in 1821. Although the year is not given in the inscriptions to Nos. 221 [151-1888] and 224 [167-1888], there can hardly be any doubt that they were made at the same time as the fully dated ones. On grounds or similarity of style, Nos. 229 [157-1888] and 230 [162-1888] can be assigned to the same group. It may be noted that chimneys, or roofs and chimneys occur low down in Nos. 221 [151-1888], 224 [167-1888], 229 [157-1888], and 230 [162-1888], as they do in the fully dated sketch No. 226 [168-1888]. The four sketches in question were therefore almost certainly made in the same parts of Hampstead as Nos. 222 [156-1888], 226 [168-1888] and 228 [164-1888]. The assignment of Nos. 231 [133-1888] and 232 [136-1888] to the same group is more conjectural, and Nos. 234 [323-1888] and 235 [786-1888] are only tentatively placed with them to draw attention to a specific feature of the way in which they were painted.
Constable gives in some detail, in his correspondence with Fisher, the motives which induced him to undertake this series of sky and tree studies. In his letter of 20 September 1821 (Beckett, VI, pp. 73-4) he says (following the reference to 'Trees at Hampstead' quoted in the note to No. 223 [1630-1888]): "I have likewise made many skies and effects- for I wish it could be said of me as Fuselli says of Rembrandt, 'he followed nature in her calmest abodes and could pluck a flower on every hedge- yet he was born to cast a stedfast eye on the bolder phenomena of nature'. We have had noble clouds & effects of light & dark & color- as is always the case in such seasons as the present".
In a letter of 23 October 1821 from Hampstead to Fisher, Constable gives an extended analysis of the place of skies in his paintings: "I have done a good deal of skying- I am determined to conquer all difficulties and that most arduous one among the rest. and now talking of skies—
It is quite amusing and interesting to us to see how admirably you fight their battles you certainly take the best possible ground for getting your friend out of a scrape—'(the examples of the great masters)'—that Landscape painter who does not make his skies a very material part of his composition—neglects to avail himself of one of his greatest aids. Sir Joshua Reynolds speaking of the 'Landscape' of Titian and Salvator & Claude—says 'Even their skies seem to sympathise with the Subject'—I have often been advised to consider my Sky--as a 'White Sheet drawn behind the Objects'—Certainly if the Sky is obtrusive--(as mine are) it is bad—but if they are evaded (as mine are not) it is worse. they must and always shall with me make an effectual part of the composition. it will be difficult to name a class of Landscape—in which the sky is not the 'key note'--the standard of 'Scale'--and the chief 'Organ of Sentiment'--You may conceive then what a 'white sheet' would do for me. impressed as I am with these notions. and they cannot be Erroneous. the sky is the 'source of light' in nature—and governs every thing—Even our common observations on the weather of every day—are suggested by them but it does not occur to us—Their difficulty in painting both as to composition and Execution is very great. because with all their brilliancy and consequence—they ought not to come forward or be hardly thought about in a picture—any more than extreme distances are—
But these remarks do not apply to phenomenon--or what the painters call accidental Effects of Sky--because they always attract particularly.
I hope you will not think I am turned critic instead of painter. I say all this to you though you do not want to be told—that I know very well what I am about. & that my skies have not been neglected though they often failed in execution—and often no doubt from over anxiety about them—which alone will destroy that Easy appearance which nature always has—in all her movements."
(Text corrected from the original letter, given by Lord Clark to the Minories, Colchester, in 1962). The sketches of 1821 in the Museum are as much studies of foliage in motion under sun and wind as analytical paintings of the clouds. The earliest dated pure cloud studies by Constable are of 1822 (see note following No. 251 [339-1888]).
Among other dated sketches of this year are the following, in the gift made by Miss Isabel Constable to the Diploma Gallery of the Royal Academy in 1888; all were exhibited at the Constable Exhibition held in Manchester in 1956 and the numbers quoted in brackets refer to the catalogue of that Exhibition.
'Hampstead Heath, looking West' (10 x 12 ins.) 14 July 1821. (No. 39)
'Study of Clouds and Trees' (9 ½ x 12 ins.) 11 September 1821. (No. 48)
'Hampstead Heath, looking over to Harrow' (9 ½ x 11 ½ ins.) 27 September 1821. (No. 43)
'Cloud Study with Trees below' (10 x 11 ½ ins.) 27 September. (No. 51)
(Although no year appears in the date, this study was doubtless made on the same day as the immediately preceding sketch.)
For a study of the possibly influence of The Climate of London, 1818-1820, by Luke Howard, upon Constable's sky studies, see John Constable's Clouds by Kurt Badt.
The Abstraction of Landscape: From Northern Romanticism to Abstract Impressionism Madrid: Fundación Juan March, 2007. ISBN: 978-84-7075-549-1.
Exhibition catalogue
Ulrich Bischoff, Luc Tuymans & Andreas Dehmer, Constable, Delacroix, Friedrich, Goya: Shock to the senses. Dresden :Staatliche kunstsammlungen ;Sandstein,2013. 9783954980277
Exhibition History
A Shock to the Senses: Constable, Delacroix, Friedrich and Goya (Galerie Neue Meister, Dresden 16 March 2013-14 July 2013)
The Abstraction of Landscape: From Northern Romanticism to Abstract Impressionism (Fundación Juan March, Madrid 05/10/2007-13/01/2008)
Constable. Impressions of Land, Sea and Sky (Museum of New Zealand, Te Papa Tongarewa, Wellington 05/07/2006-08/10/2006)
Constable. Impressions of Land, Sea and Sky (National Gallery of Australia, Canberra 03/03/2006-12/06/2006)
Materials
Canvas; Oil paint
Techniques
Oil painting
Subjects depicted
Landscape; Hampstead
Categories
Paintings
Collection code
PDP