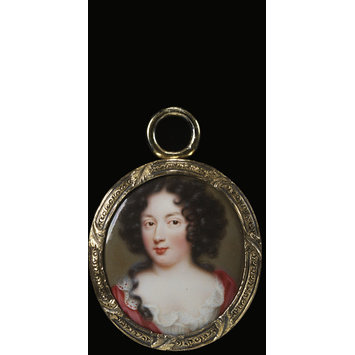 Petitot, Jean Sr, born 1607 - died 1691
Portrait of Hortense Mancini (1646-1699), Duchesse de Mazarin
Object:
Place of origin:

France (probably, painted)

Date:
Artist/Maker:

Petitot, Jean Sr, born 1607 - died 1691 (artist)

Materials and Techniques:
Credit Line:
Museum number:
Gallery location:

Prints & Drawings Study Room, level F, case RMC, shelf 8, box B
This portrait is painted in enamel on metal. The advantage of enamel over traditional miniature painting (watercolour painted on vellum or, from about 1700, on ivory) is that it does not fade when exposed to light. The process of painting with enamels is, however, less free than the miniature technique and is fraught with danger. The first colours to be laid on the metal support have to be those needing the highest temperature when firing. More colour is added and the enamel refired, the process ending with the colours needing the lowest temperature. Such labour meant that it was an expensive option.
This enamel is by Jean Petitot, a goldsmith and jeweller. Petitot and his friend, the enameller Jacques Bordier, together developed the art of painting portraits in enamel using a previously unexplored range of colours and subtlety of tone. Petitot introduced the court of Charles I in England to this novel art in the late 1630s. It is likely that he left England before the execution of his patron, Charles I, in 1649. Thereafter he practised in France, painting many portraits of Louis XIV, his children and those connected with his court.
The enamel shows Hortense Mancini, Duchesse de Mazarin (1646-1699), who was the niece of Cardinal Mazarin of France and had been granted the title 'Duchess of Mazarin' by Louis XIV. She married Armand Charles de La Porte, Duc de Meilleraye, but left him after a dispute and came to London, where she became one of Charles II's many mistresses. Granted a £4,000 yearly pension, she was able to live comfortably in her Chelsea house. This enamel was probably painted in France.
Physical description
Enamel portrait miniature on metal depicting Hortense Mancini (1646-1699), Duchesse de Mazarin. Nearly full-face, bust portrait, the sitter has brown eyes and brown hair, parted in the centre. She wears a white, lace-edged dress, and crimson wrap. Grey background.
Place of Origin
France (probably, painted)
Date
about 1675 (painted)
Artist/maker
Petitot, Jean Sr, born 1607 - died 1691 (artist)
Materials and Techniques
Enamel miniature
Dimensions
Height: 26 mm, Width: 23 mm
Object history note
Bequeathed by John Jones, 1882
Ref : Parkinson, Ronald, Catalogue of British Oil Paintings 1820-1860. Victoria & Albert Museum, HMSO, London, 1990. p.xix-xx
John Jones (1800-1882) was first in business as a tailor and army clothier in London 1825, and opened a branch in Dublin 1840. Often visited Ireland, travelled to Europe and particularly France. He retired in 1850, but retained an interest in his firm. Lived quietly at 95 Piccadilly from 1865 to his death in January 1882. After the Marquess of Hertford and his son Sir Richard Wallace, Jones was the principal collector in Britain of French 18th century fine and decorative arts. Jones bequeathed an important collection of French 18th century furniture and porcelain to the V&A, and among the British watercolours and oil paintings he bequeathed to the V&A are subjects which reflect his interest in France.
See also Catalogue of the Jones Collection. Part III - Paintings and Miniatures, Victoria & Albert Museum, HMSO, 1923.
"...The collection of miniatures, numbering more than 160, is important ... it comprises some good English specimens... but the majority of the miniatures are French, and of the latter more than half are enamels by Petitot or by artists working in his manner... This catalogue of paintings and miniatures in the Jones collection is entirely the work of Mr. Basil S. Long, Assistant Keeper in the Department...".
See also South Kensington Museum Art Handbooks. The Jones Collection. With Portrait and Woodcuts. Published for the Committee of Council on Education by Chapman and Hall, Limited, 11, Henrietta Street. 1884.
Chapter I. Mr. John Jones. pp.1-7.
Historical significance: Jean Petitot (1607-91) is the artist most closely connected with the rise of the enamel portrait miniature as a fashionable, internationally successful art form. He was born in Geneva in modern-day Switzerland, the son of a French Huguenot refugee. He trained as a goldsmith, completing his apprenticeship in 1626, but it is not known where and how he learned the art of enamelling. It has often been stated that he must have met Henry Toutin and his father Jean (who was famous for his enamelled watchcases and lockets) in Paris around 1633, but it is not possible to substantiate this suggestion. What is known is that two years after Toutin painted his portrait of Charles I (probably painted in Paris) Petitot painted three enamel miniatures that are signed and dated, 1638; of Charles I, Henrietta Maria, his queen, and prince Charles, the future Charles II (all in a private collection). These demonstrate that by 1638 Petitot was a skilled enameller and had clearly travelled to England to seek the patronage of the court of the King, though exactly when he arrived is not known. There are about a dozen signed and dated works known from his stay in England, up to 1643, but it is not known when exactly he left England. These enamels are all copies after large-scale oil portraits by artists such as Anthony Van Dyck, and are mostly of Charles, his family and courtiers, and are relatively large in size, about 5 cm high - his later works painted in France were only ever about 2 cm high.
By 1651 Petitot is known to have been in France in 1651 as he was married that year. It is possible that he was introduced to the French court by Henrietta Maria, Charles I's queen, who was the aunt of the French King, Louis XIV (1638-1715). Henrietta Maria had returned to France after the execution of Charles I in 1649. Louis had come to the throne at the age of four in 1643 with his mother, Anne of Austria, as sole regent, ruling with the support of her leading minister Cardinal Mazarin. Although Louis officially came of age in 1651, Mazarin continued effectively in power until his death in 1661, when Louis finally took personal control of government.
Petitot was appointed Court Painter in Enamel to Louis, despite the fact that he was a protestant; a Calvinist. He worked for the court and his courtiers until the Revocation of the Edict of Nantes in 1685, when Protestants were once more persecuted for their faith. Petitot was imprisoned when he refused to renounce his faith. Ill health forced him to reconsider, but having signed his abjuration he escaped to Geneva where he lived until his death in 1691.
As has been discussed in the entry from the V&A Jones Collection catalogue reproduced here, the demand for Petitot's enamels by the court of Louis XIV meant that Petitot required the help of assistants in the production of his enamels, leading to confusion over the attribution of his enamels. The popularity of his work also means that his oeuvre is muddled by copies made in his lifetime or soon after his death, and also by acknowledged copies and even fakes produced in the 19th century. One artist who worked closely with Petitot was Jacques Bordier (1616-84) who like Petitot was born in Geneva and trained as a goldsmith. He is supposed to have met Petitot while they were in London. He married Petitot's sister in 1651, the same year Petitot was married. Bordier's own signed work, of which only three examples are known (signed "JB") indicate his great skill in the art. He seems to have helped Petitot, but not as a mere assistant, and it has been noted that his diplomatic activities meant that he was probably never a dedicated artist in the manner of Petitot.
Petitot's son, also Jean (1653-1702) was an enameller whose work has also been confused with that of his father. He was supposed to have received training in "limning" (miniature painting in watercolour on vellum) from the famous English limner, Samuel Cooper. The engraver and antiquary of the early 18th century, George Vertue, noted "Petitot Sen, Enameller. After his return to France sent over his Son, to have some instruction from Cooper the limner to learn limning - which the Junior Petitot not much liking of the method of his Instructions. Return'd to France without much improvement" (Walpole Society, Volume XX, p.69).
This enamel has long been accepted as a portrait of Hortense Mancini, Duchesse Mazarin. It has also been accepted not only as an original work by Petitot, but as a particularly fine example of the work of the master. Most of Petitot's enamels are copies after oil paintings by artists such as Pierre Mignard (1612-1695) and Charles Beaubrun (1604-1692). So this work is almost certainly after a primary oil painting, rather than from life. On the basis of the hair style of the sitter it is datable to the mid 1670s to 1680s. Hortense Mancini left France for England in 1675 and died there in 1699 having never returned to the continent, and Petitot seemingly never left France until the late 1680s. The question therefore is when this might have been painted.
Hortense Mancini (1646-1699) was one of five beautiful sisters who although born in Rome made their reputations at the court of Louis XIV where their uncle, Cardinal Mazarin effectively ruled until his death in 1661. After the death of their father in 1650 their mother brought the girls to Paris in the hope of gaining from her brother, Cardinal Mazarin, advantageous marriages for them. They and their cousins were apparently known as the "Mazarinettes". Mazarin rejected many suitors for his favourite niece's hand, including the future Charles II of England when he was still an unpromising exile. Before his death, in an effort to secure both his name and his fortune and famous art collection, Hortense was married at the age of 16 to one of the richest men in Europe, Armand-Charles de la Porte, Marquis de la Meilleraie. Her husband was created Duc de Mazarin by Louis XIV in honour of the Cardinal. Only a few days after the marriage the Cardinal died, leaving Hortense the bulk of his wealth and his art collection. After her escape to England in 1675 Hortense memoirs were published, "The Memoires of the Duchesse Mazarin", in which she recounted her unfortunate life at the hands of her husband, and attempted to refute some of the myths that had grown up around her. Her husband's growing jealousy and eccentric behaviour, including the defacement of sculptures and paintings in Mazarin's famous collection for their nudity and supposed obscenity, led to a breakdown of the marriage by 1666. Between 1666 and 1675 the Duchess, while seeking the dissolution of her marriage and sanctuary from her pursuing husband left Paris, travelled to Geneva, Milan, Rome, back to Paris, back to Rome and finally to Savoy, where under the protection of the Duke she lived from May 1672 to the summer 1675, with stability and resources enough to create a semi-royal lifestyle, attended to by poets, philosophers, and artists. But at the death of her protector in 1675 his jealous widow finally expelled her. The Duchess travelled to England via Switzerland, Germany, and Holland, arriving at the court of Charles II, where her young cousin, Mary of Modena, was the new wife of Charles II's younger brother, James, Duke of York, the future James II. Her intention however was probably to embark on an affair with the king, in which she succeeded, thereby securing her place at court and a pension which secured her position financially. Through all the Duchesses adventures, she earned a reputation for her romantic liaisons, promiscuity, her propensity to make her escapes dressed as a man, and even lesbian relationships. The writer Aphra Behn dedicated her "The History of the Nun" to "The Most Illustrious Princess, The Dutchess of Mazarine" adding "how infinitely one of Your own Sex ador'd You, and that, among all the numerous Conquest, Your Grace has made over the Hearts of men, Your Grace had not subdu'd a more intire Slave... how few Objects are there, that can render it so entire a Pleasure, as at once to hear you speak, and to look upon your Beauty?". This has led to suppositions about the relationship between the two women. Charles II ended his relationship with the Duchess because of her affair with another man, but continued her pension, and they remained on good terms until his death. Thereafter she was provided for by James II, and even by William and Mary. The diarist John Evelyn recorded her death in 1699, "...[she] was an extraordinary beauty and wit, but dissolute, and impatient of matrimonial restraint... lived on a pension given her here, and is reported to have hastened her death by intemperate drinking strong spirits. She has written her own story and adventures...".
It is possible that the Duchess was painted during her three year sojourn in Savoy and the painting, whether a large scale oil or a small watercolour or even crayon (pastel), copied in Paris by Petitot. No original prototype is known for this work, but it bears a strong likeness to paintings of the Duchess and indeed of her sisters. Hortense had many admirers and it is not unlikely that one would have wished for such a small intimate and yet durable memento of the beautiful Duchesse Mazarin.
Historical context note
The art of enamelling was not new to the 17th century. Examples of enamelling are found in ancient Egypt and in Europe from the Middle Ages - variations of the cloisonné or champlevé techniques, which both created "cells" in which to hold vitreous enamel either by soldering metal wires to the metal object (cloisonné, French for 'compartment'), or carving "cells" out of the metal surface (champlevé, literally to 'lift out' a 'field').
From the 15th to 17th century Limoges especially was famous for its painted enamelware produced by large family-run workshops. The Limoges enamellers also produced painted enamel plaques - from religious scenes to portraits - by first hammering copper into thin sheets, and then hammering an individual plaque into a slightly convex shape, which was then coated front and back with enamel, a mix of powdered glass and metallic oxides. The back was called a "counter-enamel", and it helped prevent cracking in the furnace by allowing both sides to contract and expand in similar ways. These plaques were then painted broadly using a brush and spatula by adding different enamel colours in layers in sequence according to their melting point. The Limoges workshops produced large portrait plaques, sometimes as much as 45 cm high, and small round portrait medallions of no more than 8 cm high. These portraits were hard and linear in appearance, the enamellers favouring a limited palette of colours to emulate prints or sculptural and architectural features. Conventionally such enamels have been discussed separately from the brightly coloured tonal technique of enamel portrait painting which developed in the early 17th century.
The small enamel portrait which developed in the first third of the 17th century was able to rival the portrait miniature in its colour range and tonal sophistication. Portrait miniatures at this time were painted in watercolour on vellum - fine animal skin - and had developed in the 1520s from the art of the illuminated manuscript; both arts at this time were called "limning". The so-called 'enamel miniature' developed in the workshops of the goldsmiths and watchmakers of France; specifically Paris, Blois and Châteaudun. In terms of technical process these small enamel portrait miniatures were similar to the large plaques produced by the Limoges workshops - small metal ovals (gold or copper) beaten into a convex shape and the enamel painted front and back, the image then painted onto the surface with brushes and fired in sequence according to their melting point. But as shown by the first signed and dated example of the new style of enamel painting - a portrait of Charles I dated 1636 by Henry Toutin (1614-83) - the techniques of painting itself were very different; the brushstokes are visible, rather than the enamel pigment being laid on in open broad layers, the painted surface clearly worked with a close stipple (tiny dots) which build a soft, tonal image deliberately seeking to imitate the soft watercolour technique of the miniature painters (this enamel is in the Mauritshuis, the Hague). Later, enamel miniature painters such as Petitot sought instead to imitate the rich colour and gloss of oil paintings.
Descriptive line
Enamel portrait miniature by Jean Petitot depicting Hortense Mancini (1646-1699), Duchesse de Mazarin. France, ca. 1675.
Bibliographic References (Citation, Note/Abstract, NAL no)
Catalogue of the Jones Collection. Part III - Paintings and Miniatures, London, 1923, cat. no. 634, p.97
Princely treasures. European masterpieces 1600-1800 from the Victoria and Albert Museum, S. Medlam and L. Miller ed., London, 2011, p.32, illlus.

Materials
Enamel
Techniques
Painting
Subjects depicted
Lesbian; Bisexual
Categories
Portraits; Paintings; Gender and Sexuality
Collection
Prints, Drawings & Paintings Collection