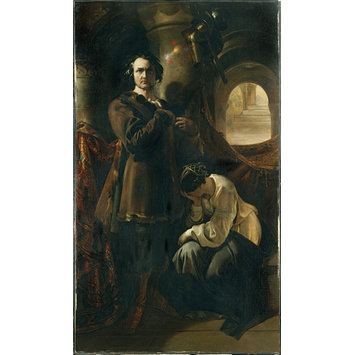 Daniel Maclise, born 1806 - died 1870
Macready as Werner
Object:
Place of origin:

Great Britain, UK (painted)

Date:
Artist/Maker:

Daniel Maclise, born 1806 - died 1870 (artist)

Materials and Techniques:
Credit Line:

Bequeathed by John Forster

Museum number:
Gallery location:

Paintings, room 82, case WEST WALL
The actor William Charles Macready (1793-1873) was famous for his role as the German tragic hero Werner, in the drama of this name by Lord Byron. This portrait was painted and exhibited shortly after the final performance. John Forster, who commissioned it, was a friend of Macready and Maclise.
Place of Origin
Great Britain, UK (painted)
Date
1849-1850 (painted)
Artist/maker
Daniel Maclise, born 1806 - died 1870 (artist)
Materials and Techniques
oil on canvas
Dimensions
Height: 174 cm estimate, Width: 100.3 cm estimate
Object history note
Bequeathed by John Forster, 1876
Descriptive line
Oil painting, 'Macready as Werner', Daniel Maclise, 1849-1850
Bibliographic References (Citation, Note/Abstract, NAL no)
Catalogue of British Oil Paintings 1820-1860, Ronald Parkinson, Victoria and Albert Museum, London: HMSO, 1990, pp. 181-82
The following is the full text entry.
"Born Cork, Eire, 1806 (baptized 2 February) the son of a shoemaker. Studied at Cork School of Art 1822; moved to London 1827, entering RA Schools 1828 and won many prizes. Exhibited 84 works at the RA between 1829 and 1870, 20 at the BI 1832-44, and 21 (mostly watercolours) at the SBA 1830-71. Early subjects included portraits, later predominantly literary and historical. Elected ARA 1835, RA 1840. Visited Paris 1830, 1844, 1850, Brussels 1845, Italy 1855, Germany 1859. Executed vast wall paintings for the Palace of Westminster 1846-65. Friend of John Forster and Dickens. Contributed (as 'Alfred Croquis') caricatures to Erases's Magazine 1830-8; illustrated several books, including Dickens's Christmas books, Moore's Irish Melodies (1845), Bürger's Leonora (1847), Tennyson's Princess (1860). Declined to be proposed PRA 1866; supposedly refused a knighthood. Died Chelsea, London, 25 April 1870; his studio sale was at Christie's 24 June 1870. His portrait by E M Ward 1846 is in the NPG; there are letters to Forster in the National Art Library, and many drawings and watercolours in the V&A collections.
LIT: 'Autobiography' (MS, RA Library: see E Kenealy in Dublin University Magazine XXIX, 1847, pp594-607); Athenaeum 30 April 1870, pp586-7 (obit); Art ]ournal 1870, pp 181-2 (obit); W J O'Driscoll A Memoir of Daniel Maclise RA 1872, p187; J Dafforne Pictures by Daniel Maclise 1871; R L Ormond 'Daniel Maclise' Burlington Magazine 1968, pp685-93; R L Ormond Daniel Maclise Arts Council National Portrait Gallery exhibition catalogue 1972
Macreadv as Werner
F21 Neg 57089
Canvas, 174 X 100.3 cm (68½ X 39½ ins)
Forster Bequest 1876
Painted for John Forster in 1849 and 1850, and exhibited at the RA in 1851. Maclise painted it in exchange for 'Macbeth and the Weird Sisters', which he exhibited at the RA in 1836 and sold to Forster, but it was disliked by the sitter (again Macready) and eventually by the artist himself (see a letter from Maclise to Forster 1 August 1849, Forster MS 44); the present whereabouts of 'Macbeth' are unknown, but there is a drawing in the V&A collections
(F88).
Macready, like Forster, was a close friend of the artist. Two sittings are recorded in Macready's diary for December 1849, and the picture seems to have been finished by March 1850, see Forster MSS 54-9. The painting was exhibited first at Hogarth's print shop in 1850, and then toured England and Scotland, to attract subscriptions for an engraving: 'on the track of Macready to Edinburgh and Glasgow' Forster MS 56). Maclise intended to show it at the RA, and was urged by the artist Thomas Uwins to do so, but the tour delayed its exhibition there until 1851. In a letter to Forster in 1856, Lord Lytton recorded 'Ah, those memories of Lincoln's Inn Fields ... Macready glaring at you across the witch's cauldron ...' (quoted in Lady B Balfour Personal and Literary Letters of Robert First Earl of Lytton 2 vols, 1906); this presumably refers to the present work. See also p295 below.
In the RA catalogue, the title is given as 'Mr Macready, in the Character of Werner', and the following lines appended:
Who would read in this form
The high soul of the son of a long line?
Who, in this garb, the heir of princely lands?
Who, in this sunken, sickly eye, the pride
of rank and ancestry? In this worn cheek
and famine-hollow'd brow, the Lord of halls
which daily feast a thousand vassals?
The quotation is from the opening scene of Werner, a tragedy by Lord Byron in a Gothic-Romantic style, first published in 1822. It was one of Macready's most famous roles, first performed by him at Drury Lane in 1830. William Charles Macready (1793-1873) was the leading tragic actor of his day; for more details of his career, see the catalogue entry on his portrait by George Clint (D7 4). He gave a series of 'farewell' performances at the Haymarket Theatre in the late 1840s, each time acting Werner; his final appearance on the stage was in February 1851. The present picture may have been intended as a commemorative tribute.
The Art Journal critic commented:
It is a full-length portrait, but not of the usual life size; the features are like those of Mr Macready, characterised according to the spirit of the passage. There is but little colour in the work, and nowhere but in the hair is the artist's distinctive sharpness of touch recognisable; it is throughout painted with much force and freedom.
The portrait, which doubtless records Macready's appearance in the role on stage, owes much to Sir Thomas Lawrence's famous painting of 'John Philip Kemble as Hamlet' (1801, Tate Gallery), which introduced a powerful Romanticism to the image of the actor. Although Maclise's picture is a quarter of the size of Lawrence's the imposing image and deep chiaroscuro are similar. Ormond considers that it 'possesses a genuinely heroic grandeur, which raises it above the level of portraiture or illustrative genre to that of history painting'.
EXH: Hogarth's print shop 1850; RA 1851 (644); International Exhibition 1871 (330, lent by Forster): Winter exhibition of old masters, etc., RA 1875 (267, lent by Forster): Charles Dickens V&A 1970 (G69); Daniel Maclise Arts Council, National Portrait Gallery 1972 (85); Royal Opera House Retrospective 1732-1982 RA 1982-3 (158)
ENGR: C W Sharpe 1852, pub I Hogarth
LIT: The Times 3 May 1851, p8; Art Journal 1851, p160; O'Driscoll, pp100, 106; ed W Toynbee Diaries of W C Macready II, 1912, pp441-2; Ormond 1972, p77
Ronald Parkinson."
Vikutoria & Arub?to Bijutsukan-z? : eikoku romanshugi kaigaten = The Romantic tradition in British painting, 1800-1950 : masterpieces from the Victoria and Albert Museum / selected by Mark Evans [Japan : Brain Trust], 2002. 185 p. : ill. (chiefly col.) ; 30 cm.
Exhibition History
The Romantic Tradition in British Painting 1800-1950: Masterpieces from the Victoria and Albert Museum (Prefectural Museum of Art, Hyogo, Kobe, Japan 28/01/2003-06/04/2003)
The Romantic Tradition in British Painting 1800-1950: Masterpieces from the Victoria and Albert Museum (Koriyama City Museum of Art 22/11/2002-27/12/2002)
The Romantic Tradition in British Painting 1800-1950: Masterpieces from the Victoria and Albert Museum (Matsuzakaya Museum, Nagoya, Japan 19/10/2002-11/11/2002)
The Romantic Tradition in British Painting 1800-1950: Masterpieces from the Victoria and Albert Museum (Chiba Prefectural Museum of Art, Japan 24/08/2002-06/10/2002)
Materials
Oil paint; Canvas
Techniques
Oil painting
Subjects depicted
Theatre; Actor; Macready, William Charles
Categories
Portraits; Paintings
Collection code
PDP