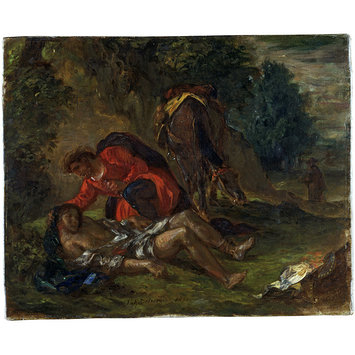 Delacroix, born 1798 - died 1863
The Good Samaritan
Object:
Place of origin:
Date:
Artist/Maker:

Delacroix, born 1798 - died 1863 (artist)

Materials and Techniques:
Credit Line:

Bequeathed by Constantine Alexander Ionides

Museum number:
Gallery location:

Paintings, room 81, case WEST WALL
Delacroix was born near Paris but grown up in The Hague where his father was Ministre Plénipotentiaire. He first trained with Pierre Guérin (1774-1833) and then entered the Ecole des Beaux-Arts in Paris in 1816. He soon specialised in history and religious paintings while recognition from the public started with his debut at the Salon in 1822, which immediately heralded him as a major figure of the French school.
This painting depicts a scene from the Gospels, which tells the story of a Samaritan having compassion for a wounded traveller. This painting is a fine example of Delacroix's religious paintings of the 1850s, which show a rather dark palette, but were undeniably appreciated by the critics.
Physical description
In the foreground, half-naked figure of a man lying on his back; over him stoops another male figure, who is wearing a red garment; behind them in the centre stands a dark-coloured horse. On the right are a heap of clothes, and a path on which are two figures; in the background are trees.
Place of Origin
France (painted)
Date
1852 (painted)
Artist/maker
Delacroix, born 1798 - died 1863 (artist)
Materials and Techniques
oil on canvas
Dimensions
Height: 33.7 cm estimate, Width: 41.9 cm estimate
Object history note
Executed for the art dealer Beugniet; first sold to M. Arosa in Paris, 24 April 1858, for 750 francs; Arosa Sale, Paris, 25 February 1878; bought by M. Brame for 5,000 francs; recorded at the Durand-Ruel exhibition of 1878 as belonging to M. Perrault; from whom purchased on 24 October 1881 as Delacroix 'Le Bon Samaritain' for 7,500 francs by Goupil & Co., Paris (stock book no. 15676); bought from Boussod, Valadon & Cie, via Goupil, by Constantine Alexander Ionides, 21 November 1881 for 9000 francs (ca. £356.5s.); listed in his inventory (private collection) as 'Le Bon Samaritain' in November 1881 at a valuation of £400; bequeathed by Constantine Alexander Ionides to the Museum in 1900.
Historical significance: Delacroix painted two versions of the Good Samaritan, quite different in composition and spirit.
The present version, posterior in date, shows the Samaritan in the process of tending the wounded man while the other version, in the Waterhouse collection datable between 1850-51, depicts the subsequent moment when the Samaritan takes the wounded man on his horse to take him to an inn.
The subject matter is drawn from the Gospels (Luke, 10: 30-34), which tells the story of a traveller who fell among thieves and was wounded. Two men, first a priest and then a Levite, depicted here on the path in the middle distance, although representatives of the highest hierarchy in Palestine, passed by on the other side when they saw him but a certain Samaritan had compassion on him and acted charitably.
This painting was executed for the dealer Beugniet and is a fine example of Delacroix's interest for religious scenes, probably executed in his retreat at Champrosay, where he drew the preparatory study for the first version of the Good Samaritan (Musée du Louvre, Paris). CAI.63 appears however much more classical in composition, closer in style to Luca Giordano's own version of the theme (Musée des Beaux-Arts, Rouen).
Historical context note
The word Romanticism derived from the medieval term 'romance' and was first used by the German poets and critics August Wilhelm and Friedrich Schlegel to label a wider cultural movement beginning with the late 18th and ending towards the mid 19th century. Romanticism started first in Western Europe as a literary and philosophical movement and only gradually involved the other arts, explicitly around 1800. Romantic artists were fascinated by nature they interpreted as a mirror of the mind. They investigated human nature and personality, the folk culture, the national and ethnic origins, the medieval era, the exotic, the remote, the mysterious and the occult. The interest in the exotic and the non-Western, illustrated in France by such a painter as Eugène Delacroix (1798-1863), as well as the medieval revival, witnessed in England by Horace Walpole (1717-1797), are perhaps the most identifiable parts of Romanticism. It is really in the Post-Napoleonic period that this movement gained ascendancy. Its greatest proponents were among others Théodore Géricault (1791-1824) and François-René de Chateaubriant (1768-1848) in France, Joseph Mallord William Turner (1775-1851) in England, Heinrich Heine (1797-1856) and Caspar David Friedrich (1774-1840) in Germany. In the visual arts, it was largely played out by 1850, but in music it persists for another generation.
Descriptive line
Oil painting, 'The Good Samaritan', Eugène Delacroix, France, 1852
Bibliographic References (Citation, Note/Abstract, NAL no)
A. Robaut, L'Oeuvre complet d'Eugène Delacroix, 1885, n. 1191.
Joubin, A. ed., Journal de Eugène Delacroix, 1932, i, pp.448,450.
Monkhouse, Cosmo, Magazine of Art, 1884, p. 38 f.
R. Huyghe, Delacroix, Paris, 1963, p. 492 fig. 369.
C.M. Kauffmann, Catalogue of Foreign Paintings, II. 1800-1900, London: Victoria and Albert Museum, 1973, pp. 26-27, cat. no. 60.
The following is the full text of the entry:
Ferdinand Victor Eugène DELACROIX (1798-1863)
French School
Born near Paris, the son of a high government official, he became a pupil of Guérin in 1815 and received instruction in water-colour painting from Thales Fielding, with whom he lived for a time in Paris. He was influenced by the work of Constable, exhibited at the Salon in 1824 and came to England in 1825. In 1832 he visited Morocco. As the leading exponent of Romantic painting, Delacroix met with much opposition, and it was not until 1857 that he became a member of the Académie des Beaux-Arts. He painted portraits, animals and religious, mythological, allegorical and historical subjects.
60
THE GOOD SAMARITAN (ST LUKE, x, 34)
Signed and dated lower centre Eug. Delacroix. 1852
Canvas
13 ¼ x 16 ½ (33.7 x 41.9)
Ionides Bequest
CAI.63
This is the second of two paintings by Delacroix of the Good Samaritan. The first, a small upright composition of 1850, shows the Samaritan helping the traveller to remount his horse (private collection Paris; Robaut 1885, no. 1168; M. Serullaz, Mémorial de l' Exposition Eugène Delacroix, 1963, no. 414, repr., and with full bibliography).
CAI.63 was painted in the early months of 1852 for the dealer Beugniet (Delacroix Diary, 2 and 8 Feb. 1852). It shows the Samaritan coming upon and tending the wounded traveller who had fallen among thieves. The composition is traditional for this scene and there are many parallels of the 16th and 17th centuries, for example, paintings by Jacopo Bassano (Hampton Court),Ribera (Rouen Museum) and Jan Wijnants (Leningrad, Hermitage, 1958 Catalogue, ii, no. 6758), and several drawings by Rembrandt (W. R. Valentiner, Rembrandt, Handzeichnungen, K. d. K., i, 1925, figs. 373-75).
Condition. Good, apart from small hole in area of tree, upper right. Cleaned in 1957. Prov. Vente A, Paris, 24 Apr. 1858, bought for 750 francs by M. G. Arosa (according to Robaut); sold Arosa Sale, Paris, 25 Feb. 1878, for 5,000 francs to M. Brame; 1878, M. Perrault; Goupil & Co, (label on back); before 1884, Constantine Alexander Ionides; bequeathed to the Museum in 1900.
Exh. Exposition d'Eugène Delacroix, Société Nationale des Beaux-Arts, Paris, 1864, no. 119 (lent by M. Arosa); Exposition rétrospective de tableaux et dessins des maîtres modernes, Durand-Ruel, Paris, 1878, no. 154 (lent by M. Perrault not 'Perreau'); French and Dutch Loan Collection, Edinburgh International Exhibition, 1886, no. 1143 (no. 39 of Mem, Cat.); French and Dutch Romanticists, Dowdeswell Galleries, 1887, no. 99.
Lit. Journal de Eugène Delacroix, ed. A. joubin, i, 1932, pp. 448, 450; Monkhouse, 1884, p. 38 f.; A. Robaut, L'oeuvre complet de Eugene Delacroix, 1885, no. 1191; Sir C. Holmes in Burl. Mag.,v, 1904, p. 531, repr.; Anon. in Athenaeum, July 1904, p. 119; V. & A. Museum, French paintings, 1949, pl, 20; R. Huyghe, Delacroix, 1963, p. 492 & fig. 369.
Sir C. Holmes in The Burlington Magazine v, 1904, p. 531, repr.
Anon. 'Additions to the National Collections' The Athenaeum,23 July 1904, p. 119.
V. & A. Museum, French paintings, London, 1949, pl. 20.
L. Johnson, The paintings of Eugène Delacroix. A Critical Catalogue, Oxford, 1986, vol. III, cat. no. 446, vol. IV, pl. 247.
A. Sérullaz et alii, Delacroix. The Late Work, Philadelphia, 1998, p. 272, fig. 2.
Exhibition History
French and Dutch Romanticists (Dosdewell Galleries 01/01/1889-31/12/1889)
French and Dutch Loan Collection (Edinburgh International Exhibition 01/01/1886-31/12/1886)
Exposition Rétrospective des tableaux et des dessins des maîtres modernes (Galerie Durand-Ruel 01/01/1878-31/12/1878)
Exposition Eugène Delacroix (Société Nationale des Beaux-Arts, Paris 01/01/1864-31/12/1864)
Materials
Oil paint; Canvas; Distemper
Techniques
Oil painting
Subjects depicted
Figures; Landscape; Trees; Horse; Path; Luke (Saint); Samaritan
Categories
Christianity; Paintings
Collection code
PDP