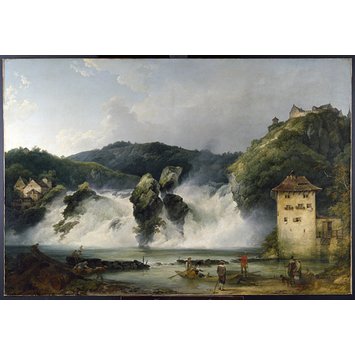 Loutherbourg, Philip James de, born 1740 - died 1812
The Falls of the Rhine at Schaffhausen
Object:
Date:
Artist/Maker:

Loutherbourg, Philip James de, born 1740 - died 1812 (artist)

Materials and Techniques:
Credit Line:

Bequeathed by Joshua Dixon

Museum number:
Gallery location:

Paintings, Room 88, The Edwin and Susan Davies Galleries, case NORTH WALL
De Loutherbourg was born in Strasbourg and settled in London in 1771. This view dates from a visit to Switzerland in 1787 to 1788. It depicts visitors and locals admiring a waterfall, the largest in central Europe, near Zurich. A critic mistook the scene for the River Nile and complained that 'The agitation of the waters…resembles soap-suds'.
Physical description
Re: date of picture. See The Burlington Magazine, Vol CXIV, Number 833, August 1972, "The Date of Loutherbourg's 'Falls of the Rhine at Schaffhausen'" by Jack Henry Kunin.
Date
1788 (painted)
Artist/maker
Loutherbourg, Philip James de, born 1740 - died 1812 (artist)
Materials and Techniques
oil on canvas
Marks and inscriptions
'P I de Loutherbourg'
Signed by the artist
Dimensions
Height: 53 in estimate, Width: 78 in estimate, Weight: 54 kg with frame, Height: 164 cm frame dimensions, Width: 227.5 cm frame dimensions, Depth: 12 cm frame dimensions
Object history note
Bequeathed by Joshua Dixon, 1886
Ref: Parkinson, Ronald, Catalogue of British Oil Paintings 1820-1860, (Victoria & Albert Museum, HMSO, London, 1990), p.xx.
Joshua Dixon (1811-1885), was the son of Abraham Dixon of Whitehaven and brother of George Dixon (who was head of the foreign merchants firm of Rabone Brothers in Birmingham 1883-98). Educated at Leeds Grammar School, and was deputy chairman of the London, Chatham and Dover Railway Company 1869-70. Died Winslade, near Exeter, 7 December 1885. Bequeathed all his collection of drawings, watercolours and oil paintings to the Bethnal Green Museum; they have since been transferred to the V&A. He also collected engravings, Japanese vases and panels, and bronze and marble sculpture.
Historical significance: Philippe Jacques De Loutherbourg (1740-1812) landscape painter and theatrical scene designer, was born in Strasbourg, Alsace. He was the son of a miniaturist and engraver to the court of Darmstadt. He studied at the University of Strasbourg with a view to becoming an engineer, but his interest in drawing led to him undertaking formal artistic training with Carle Van Loo. He also studied engraving and exhibited his first paintings at the Paris Salon in 1763; he was noted by Diderot for his ability to depict space and atmosphere. He was a great success in Paris, but personal unhappiness probably spurred him to leave to go on the grand tour in 1768, visiting southern France, and on to the Rhineland rather than the usual Italian cities, (he is supposed to have visited Switzerland at this time, but see catalogue entry for 1028-1886),. He then travelled on to London in 1771, with a letter of introduction from Jean Monnet, the former manager of the Opéra Comique, and friend of the famous actor David Garrick; Garrick in turn was patron to a number of London painters. At first he stayed with a colleague of Garrick's, and soon after his arrival, de Loutherbourg suggested to Garrick major changes to the scenery arrangements at Drury Lane Theatre. Garrick was impressed and employed de Loutherbourg to take on all such arrangements. Thereafter de Loutherbourg's career was significantly devoted to often pioneering theatrical design, including lighting effects. At the same time he continued to work as an easel painter, and in 1781 he was elected a member of the Royal Academy. Following his election he concentrated to a greater extent on his easel painting, taking tours of the British countryside. During the 1790s, recognising the currency of Britain's naval prowess, he painted a number of paintings which celebrated this aspect of national life. At the turn of the century collections of engravings after his paintings of British scenery were published; The Picturesque Scenery of Great Britain (1801) and The Romantic and Picturesque Scenery of England and Wales (1805). Along with other notable artists he also contributed to Thomas Macklin's Bible (1800) and to Robert Bowyer's History of England (1812), published the year he died.
According to Jack Henry Kunin, 'The Date of Loutherbourg's "Falls of the Rhine at Schaffhausen"' (The Burlington Magazine, Vol. CXIV, no.833, 1972), this painting was incorrectly dated to about 1775 in the catalogues of three important exhibitions of British art; Romantic Art in Britain; Royal Academy of Arts Bicenteneary Exhibition: 1768-1968; La Peintrue Romantique Anglaise et Les Préraphaelites (see References) In this article Kunin addresses evidence for dating the painting instead to 1787-8, and for its exhibition at the Royal Academy in 1788 (no. 227). Kunin explains that in the catalogue for that year, no.227 had no accompanying title, probably because de Loutherbourg submitted his painting late. Kunin cites a newspaper critic who apparently misheard the title, and described it consequently as A view of the Cataract of the Nile. Algernon Graves in turn used to incorrect description to supply the gap in the original catalogue in his list of the work of RA exhibitors. The critic wrote, "This picture, which did not arrive in time to grace the opening of the room, was yesterday added to the exhibition... It is, we understand, a view of the Cataract of the Nile...". According to Kunin this was painted during de Loutherbourg's first documented visit to Switzerland, from June 1787 to January 1788. He went there to join Count Cagliostro with whom he had studied alchemy in London, but the two quarrelled and parted company. After this de Loutherbourg undertook excursions, including to Schaffhausen. He refers in a letter to his painting of a great picture of the falls of the Rhine. It seems likely that this is the picture in the V&A; as Kunin notes it is topographically accurate apart from the element described by the unknown critic in 1788. Although re-dating the work alters its relationship to other Alpine images that are now seen to be earlier, Kunin concludes, "the monumentality of Loutherbourg's representation of the waterfalls assures the painting a place of importance in the development of the sublime landscape in Britain".
De Loutherbourg was in many ways a precursor of the romantic mood in his subject matter, which often represented the dangers of nature and disasters brought about by man's vulnerability in the face of the elements. This picture of the great falls at Schaffhausen, on the Rhine in Germany, is in many ways a response by de Loutherbourg to this taste for the Sublime, for images of the immensity and often overwhelming power of nature. However, he has tempered the violence of the falls by including figures in the foreground who, protected in their little inlet, calmly fish, or genteelly paddle about in the safety of the shallows, dressed in their best clothes.
Descriptive line
Oil painting, The Falls of the Rhine at Schaffhausen', Philip James de Loutherbourg, 1788
Bibliographic References (Citation, Note/Abstract, NAL no)
no.5
Evans, Mark et al. Vikutoria & Arubāto Bijutsukan-zō : eikoku romanshugi kaigaten = The Romantic tradition in British painting, 1800-1950 : masterpieces from the Victoria and Albert Museum. Japan : Brain Trust, 2002
Romantic Art in Britain, exhibition catalogue, The Detroit Institute of Arts and Philadelphia Museum of Art, 1968, pp.11-12, No.59
Royal Academy of Arts Bicentenary Exhibition: 1768-1968, Exhibition catalogue, Royal Academy of Arts, London, 1968-1969, p.90, No.180
La Peintrue Romantique Anglaise et Les Préraphaelites, Exhibition catalogue, Petit Palais, Paris, 1972, No.167.
Jack Henry Kunin, 'The Date of Loutherbourg's "Falls of the Rhine at Schaffhausen"', The Burlington Magazine, Vol. CXIV, no.833, 1972, p.554 and fig.57.

Subjects depicted
River; Waterfall
Categories
Paintings
Collection
Prints, Drawings & Paintings Collection