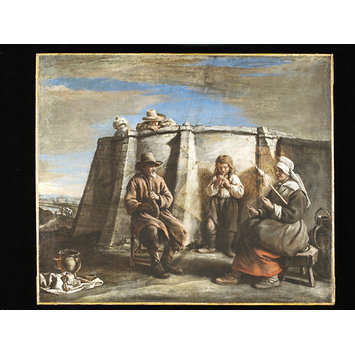 Le Nain, Louis, born 1593 - died 1648
The Flageolet Player
Object:
Place of origin:
Date:
Artist/Maker:

Le Nain, Louis, born 1593 - died 1648 (artist)
Le Nain, Mathieu, born 1602 - died 1677 (Or, artist)

Materials and Techniques:
Credit Line:

Bequeathed by Constantine Alexander Ionides

Museum number:
Gallery location:
Louis Le Nain (ca. 1600-24 May 1648) was born in Laon and was taught there by a foreign artist, possibly Claude Vignon. He moved to Paris before 1629 with his brother Antoine (ca. 1600-26 May 1648) and Mathieu (ca. 1607- 26 April 1677) with whom he had always worked, settling in Saint-Germain-des-Prés. As they worked together, the attribution of their paintings is still problematic. They ran an important studio in Paris and enjoyed a great success as portrait and genres painters.
This painting is a fine example of the Le Nain's production of austere genre paintings. It shows a family of three people in an outdoor space, before a 17th century lime-kiln. This composition focuses on labour and pleasure, the old man holds a jug of wine, the young boy is playing the flageolet while the woman is showed with a spindle. The Le Nain were responsible for the introduction of genre paintings in France during the first half of the 17th century but their individual manners are almost indistinguishable and far from easy to determine. The attribution of the present painting oscillates therefore between Louis and Matthieu.
Physical description
In a landscape, three people before a lime-kiln: a old bearded man holding a jug of wine on the left, a young boy playing the flageolet in the centre and a woman with a spindle on the right, two figures can be seen on left top of the parapet while there is distant city in the left background.
Place of Origin
Paris, France
Date
1640s
Artist/maker
Le Nain, Louis, born 1593 - died 1648 (artist)
Le Nain, Mathieu, born 1602 - died 1677 (Or, artist)
Materials and Techniques
oil on canvas
Dimensions
Height: 50 cm estimate, Width: 55.2 cm estimate, Weight: 13.5 kg with frame, Height: 75.5 cm framed, Width: 86 cm framed
Object history note
Coll. James Whatman, sold Christie's 20 February 1882, lot 55, for £37.16s.; bought C.A. Ionides; bequeathed by Constantine Alexander Ionides, 1900.
Historical context note
Formerly attributed to a follower of Louis Le Nain (Kauffmann, 1973), the authenticity of this painting has been fully asserted on the occasion of technical examinations in 1993 by the restorer Lucia Scalisi. X-ray photographs have revealed two previous compositions below the present painting, the most important being the complete portrait of a young man, and the other the pentiment of windmill in the upper right sky.
The portrait shows a young man with a soft oval face and almond-shaped heavy lidded eyes comparable to the Portrait of a young man in the Belgium Museum of Fine Arts, which could be the work of either Mathieu or Louis.
A comparable portrait of a bearded man, wearing a costume with a ruff datable from the 1620s, was revealed by X-radiography under the London National Gallery's Four figures at a table. P. Rosenberg in his catalogue raisonné (1993) gives the two London portraits as the only surviving portraits by Mathieu Le Nain. This hidden portrait provides thus further evidence in favour of a Le Nain attribution.
The Flageolet Player shows an outdoor scene with three figures placed before an architectural element, most likely a 17th-century lime-kiln. This architectural structure compares to a similar feature in Lime Kiln with Figures by Teniers the Younger, Wellington Museum, Aspley House, WM1583-1948). Moreover this painting shares with the Peasant Interior in The National Gallery of Art, Washington such stylistic characteristic as the use of similar figures, an old bearded man, a woman with a spindle and a young boy as well as an awkwardness of scale.
The task of distinguishing the hand of the three brothers remained however far from easy and unsurprisingly P. Rosenberg did suggest any attribution to a particular brother for the present painting. Because of the similarity with the Washington painting attributed to Louis and the presence of an underneath composition most likely by Mathieu, the present painting may well have been executed by either one or the other brother. An old copy of the present composition was recorded in a private collection in Nice in 1971.
The thematic is typical of the output of the Le Nain, who specialised in genre paintings on large scale in the 17th century. Unlike their Netherlandish and Italian predecessors and contemporaries who specialised in small scale genre pictures representing village fairs and tavern scenes, the Le Nain chose to produce austere compositions in a much larger format, emulating somehow history paintings. By doing so, they were ennobling such subject matter and combining a realistic approach in the depiction of everyday details with a fine understanding of the different characters. Particularly notable are the monumentality of the figures and their calm and serene postures. The cool tonality of the painting enhances the monumental aspect through optical effects.
The representation of the individuals also allows reaching some universality through examples of different ages of man: the child, the woman and the older man should be seen as symbols of the unity of different generations.
These paintings however remained far removed from any pastoral tradition in painting or literature and their meaning and purpose remain uncertain. They may be connected with the particular preoccupation of the pious Catholic movement in Paris and of the clergy of St Sulpice, the parish in which the three brothers lived, and where all were buried.
This painting is therefore a fine example of Le Nain's output of the 1640s but also of the introduction of genre painting in France, of which they were mainly responsible.
'Genre painting' describes scenes of everyday life set in domestic interiors or in the countryside, especially those produced by 17th-century Dutch painters such as Gerard ter Borch, Jan Steen, and Pieter de Hooch. These subjects were not particularly popular with Italian and French artists before the 18th century. Even then, Italian genre painting is mainly restricted to works produced by Northern artists active in Bologna and the Veneto such as Giuseppe Maria Crespi (1665-1747), Giovanni Battista Piazzetta (1682-1754), Pietro Longhi (ca. 1701-1785) and Giacomo Ceruti (1698-1767). In this pre-Enlightment society, issues of social class, the legitimacy of power and the needs of common people were beginning to be discussed in Holland, England and France and the debates were slowly filtering down to Italy. Bolognese intellectual life was particularly active and Crespi, who was corresponding one of the most notable academics, Antonio Muratori (1672-1750), appears to have created a visual response to these debates. The works of the Bamboccianti, mostly Netherlandish painters specialising in low-life paintings, painted in Rome in the mid 17th century, may also have provided a source for Italian genre painters while the commedia dell'arte profoundly inspired Crespi and the development of this new Italian version of genre painting. From Bologna the genre spread to Venice thanks to Venetians artists such as Piazzetta and Longhi. They drew the attention of foreign collectors, most notably Joseph Smith the British Consul in Venice, who amassed an impressive collection of such artworks and of Venetian art in general and contributed to the growing taste for these in England. In France, the genre was mainly introduced in the second quarter of the 17th century by the Le Nain brothers, especially Antoine and Louis, whose works still pose problems of individual identification.
Descriptive line
Oil painting, 'The Flageolet Player', Attributed to Louis or Mathieu Le Nain, Paris, 1640s
Bibliographic References (Citation, Note/Abstract, NAL no)
C.M. Kauffmann, Catalogue of Foreign Paintings, I. Before 1800, London: 1973, pp. 170-71, cat. no. 209.
The following is the full text of the entry:
Louis LE NAIN (1593-1648)
French School
Born at Laon in 1593, Louis was the second of three brothers - the others were Antoine (b. 1588) and Mathieu (b. 1607) - who shared a studio in Paris from about 1630 and painted genre scenes with a realism unusual in French art of the period. All three became members of the Académie Royale in 1648, the year of the death of Louis and Antoine. Mathieu, who also painted religious subjects and aristocratic portraits, survived until 1677.
As their work became more decisively disentangled in the 1920S and '30s, Louis emerged as the greatest of the three, indeed, as one of the outstanding artists of the 17th century. In the 17th century he became known as Le Romain. Whether he actually went to Rome or not, the suggestion that he was influenced by Italian artists, such as Orazio Gentileschi, is convincing. Dutch and Spanish influence has also been detected in his work.
Follower of Louis LE NAIN
209
THE FLAGEOLET PLAYER
Canvas
211 x 191 (55.2 x 50)
Ionides Bequest
CAI.18
Known as Le Nain since it was first recorded in 1815, this painting has proved difficult to place in the oeuvre of any of the three brothers. The tradition that it is by Antoine, supported by Isarlo in 1938, is not convincing, as in many respects it is closer to Louis. Yet in quality it is inferior to the paintings firmly attributed to Louis, as even a brief comparison with CAI.17 can demonstrate. Nor was it entirely convincing to see it grouped with the Metropolitan Museum's Baker's Cart and two related paintings (Lansing, 1928-29) later identified as the work of Jean Michelin (1623-96) (Paul Jamot in Revue de L'Art, lxiii, 1933, pp. 207-18). Unfortunately, apart from Michelin, nothing is known of the work of the Le Nain's imitators and assistants and until more evidence comes to light it seems most accurate to describe this painting as by a follower of Louis Le Nain.
Prov. A painting answering to this description was sold at the Hôtel Bullion, Paris, 16 Jan.1815 (Champfleury, 1862, p. 168). James Whatman, M.P., Collection, bought by Constantine Alexander Ionides at the sale of his pictures, Christie's, 20 Feb. 1882, lot 55; bequeathed to the Museum in 1900.
Lit. Champfleury, Les Frères Le Nain, 1862, p. 168 (Le Nain); F. Rutter in L'Art et les Artistes, v, 1907, repr. p. 9 (Antoine and Louis); Long, Cat. Ionides Coll., 1925, p, 37 (Le Nain); J. M. Lansing, 'A fourth member of the Le Nain Group' in Metropolitan Museum Studies, i, 1928-29, p. 206, fig. 5; C. H. Collins Baker in Apollo, 1928, repr. p. 68 (? Antoine); P. Fierens, Les Le Nain, 1933, p. 31, pl. xxxvi (studio of Louis); G. Isarlov in La Renaissance, 1938, pp. 5, 42, no. 58 (Antoine).
Champfleury, Les Frères Le Nain, 1862, p. 168.
As by Le Nain.
F. Rutter in L'Art et les Artistes, v, 1907, repr. p. 9.
As by Antoine and Louis.
B.S. Long, Catalogue of the Constantine Alexander Ionides collection. Vol. 1, Paintings in oil, tempera and water-colour, together with certain of the drawings, London, 1925, p. 37.
As by Le Nain.
J. M. Lansing, 'A fourth member of the Le Nain Group' in Metropolitan Museum Studies, i, 1928-29, p. 206, fig. 5.
C. H. Collins Baker in Apollo, 1928, repr. p. 68.
As possibly by Antoine,.
P. Fierens, Les Le Nain, 1933, p. 31, pl. xxxvi.
As studio of Louis.
G. Isarlov in La Renaissance, 1938, pp. 5, 42, no. 58.
As by Antoine.
A. Burnstock, N. MacGregor, L. Scalisi and C. Sitwell, 'Three Le Nain paintings re-examined' in The Burlington Magazine, Oct. 1993, pp. 678-687, fig. 25.
P. Rosenberg, Tout l'œuvre peint des Le Nain Paris, 1993, cat. 67.
J.Thuiller, 'Le Nain', Revue du Louvre, No. 29 (1979), p. 159, fig. 6
Materials
Oil paint; Canvas
Techniques
Oil painting
Subjects depicted
Man; Woman; Landscape; Boy; Jug; Genre; Kiln; Spindle; Flageolets
Categories
Paintings; Musical instruments
Collection code
PDP