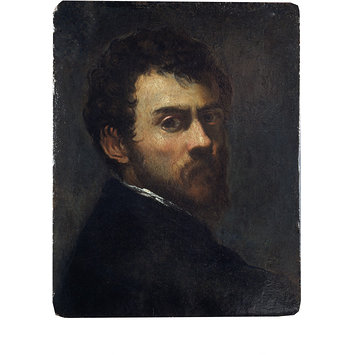 Tintoretto, Jacopo, born 1519 - died 1594
Self-Portrait as a Young Man; Jacopo Tintoretto: self-portrait as a young man.
Object:
Place of origin:
Date:
Artist/Maker:

Tintoretto, Jacopo, born 1519 - died 1594 (artist)

Materials and Techniques:
Credit Line:

Bequeathed by Constantine Alexander Ionides

Museum number:
Gallery location:

Medieval and Renaissance, room 64, case SCREEN 3, shelf WW
This early and forceful self-portrait, by one of the greatest Venetian painters, was done with the aid of a mirror. Portraits of artists became popular with collectors during the Renaissance. Ionides bought this work in the belief that it was by Titian.
Physical description
A bust-length painted portrait of a young man standing perpendicular to the picture plane, head turned over his shoulder to the right
Place of Origin
Venice, Italy (painted)
Date
ca. 1548 (painted)
Artist/maker
Tintoretto, Jacopo, born 1519 - died 1594 (artist)
Materials and Techniques
oil on pine panel
Dimensions
Height: 45.7 cm estimate, Width: 36.8 cm estimate, Depth: 6 cm
Object history note
Provenance: Perhaps in the collections of Alessandro Vittoria (1525-1608) and/or Nicolo Crasso, Venice; Christie's, 20th Jan. 1883, lot 52 as 'Titian, Head of a Man; and a portrait'; bought by Constantine Alexander Ionides for £2.2s.0d.; his inventory (private collection) 20 January 1883 at a valuation of £80; bequeathed by C.A. Ionides in 1900.
It was published by Detlev, Baron von Hadeln, not only as an original work by Tintoretto, but as an early self-portrait, perhaps the one that belonged to the sculptor Alessandro Vittoria. [Burlington Magazine xliv 1924 p.93.]
Historical significance: Jacopo Tintoretto (1519-1594) was the most prolific painter working in Venice in the later 16th century. His father was a cloth-dyer, a common and respectable occupation in Renaissance Venice and Jacopo's adopted nickname 'tintoretto' meaning 'the little dyer' advertised his artisan background. We know little of his artistic training, although early sources report that he was expelled from Titian's workshop after a short period, as a result either of the jealousy or incomprehension of his master. He worked in a quick, abbreviated style and his intentional the lack of conventional finish was seen by some as careless and caused controversy among his contemporaries.
This self-portrait was presumably painted with the aid of a mirror, and is customarily dated around 1546/8 when the artist was 30 years old. There is an autograph, near identical composition of similar dimensions (canvas, 45.7 x 38.1cm), with a Venetian provenance, in the Philadelphia Museum of Art which also appears to have been painted from life. While Tintoretto apparently painted several other self-portraits, the only other identified work is the much later Louvre half-length portrait (ca. 1588, canvas, 63 x 52cm) in which he is represented frontally.
According to the 1608 posthumous inventory of Alessandro Vittoria, the collector posessed a small Tintoretto self-portrait as a young man which may refer to CAI 103 or the Philadelphia portrait. The existence of a Flemish copy suggests that one of these versions may be identified with that recorded in Rubens' collection by 1640. While many artists depict themselves with the tools of their trade, or wearing the finery of gentleman, Tintoretto represents himself with an intense penetrating gaze, perhaps suggestive of peering into a mirror, and omits his hands, the very means by which the work was created.
Historical context note
In order to creat self-portraits in this period, artists used circular convex mirrors as represented in Franco-Flemish illuminated manuscripts of the early fifteenth century. Artists made drawings of themselves as a routine exercise, and their portraits sometimes appear in group compositions, especially in fifteenth century Florence. The two principal centres of mirror-manufacture in Europe were Nuremberg and Venice, and Albrecht Dürer, who lived in the former city and frequented the latter, was arguably the first artist to excel in self-portraiture. Flat mirrors began to become available by the early sixteenth century, but the older type remained more usual. Artists customarily adjusted likenesses to compensate for the distortions which occurred at the periphery of their convex field, while Parmigianino spectacularly exploited this characteristic in his famous self-portrait of 1524, now in Vienna. Renaissance self-portraiture appears symptomatic of the growing aspirations of artists to emphasise the intellectual content of their activity, and enhance their social status. (Joanna Woods-Marsden, Renaissance Self-Portraiture, New Haven & London 1998)
Sketching in oils was increasingly practiced from the early sixteenth century, especially by Northern Italian artists. Tintoretto made few preparatory drawings. According to his 17th century biographer Carlo Ridolfi, Tintoretto painted a self-portrait and a likeness of his brother, presumably for speculative sale, as they were displayed in the Merceria, the principal shopping street in Venice. One of the earliest known collections of artists' portraits, assembled by the Venetian sculptor Alessandro Vittoria (1525?-1608), included a likeness of Tintoretto, Titian, Veronese, Palma Giovane and the celebrated self-portrait of Parmigianino. In 1664, the Florentine Cardinal Leopoldo de' Medici (1617-75) inaugurated the major collection of self-portraits, continued by his successors, now in the Uffizi Gallery in Florence.
Descriptive line
Portrait of a man's head and shoulders, head turned to the right, as if looking in a mirror. Oil on pine panel. Self-portrait by Tintoretto, about 1548.
Bibliographic References (Citation, Note/Abstract, NAL no)
Kauffmann, C.M. Catalogue of Foreign Paintings, I. Before 1800. London: Victoria and Albert Museum, 1973, pp. 271-272, cat. 339.
The following is the full text of the entry:
TINTORETTO (Jacob Robusti) (1518-94)
Venetian School
Born in Venice, he modelled himself on (if he was not taught by) Titian, as well as Michelangelo. He worked with Andrea Schiavone. His most influential paintings were those done for the Scuola di S. Rocco, 1564-88. His workshop was large, and included his sons, Domenico and Marco.
339
SELF-PORTRAIT AS A YOUNG MAN
Pine panel
18 X 14 ½ (45.7 X 36.8)
Ionides Bequest
CAI.103
Although it was exhibited as by Tintoretto in 1894 and 1896, this painting was not mentioned in the monographs on Tintoretto of that time, such as F. P. B. Osmaston, Art and genius of Tintoret, 1915, which listed 'authentic works by Tintoret in public and private collections'. However, in 1924, Detlev, Baron von Hadeln, published it, not only as an original work by Tintoretto, but as an early self-portrait, perhaps the one that belonged to the sculptor Alessandro Vittoria (mentioned in an inventory, made at the time of his death; Predelli, 'Le memorie e carte di Alessandro Vittoria' in Archivio Trentino, xxiii, p. 233). Hadeln argued that 'the position of the head half turned over the shoulder and the fixed expression of the eyes are characteristic of a self-portrait painted with the aid of a mirror.' He supported this view with a comparison with the late self-portrait in the Louvre (Tietze, 1948, frontispiece), which shows the artist in 1588 at the age of seventy. Bercken (1925-26) accepted the authenticity of the painting as a work by Tintoretto but felt that Hadeln had not conclusively proved that it was a self-portrait. Berenson also accepted it as by Tintoretto (1932; 1957), and it appears as 'self-portrait (?)' in Tietze's monograph (1948). In comparing it with the Louvre self-portrait, Tietze concludes: 'the similarity of the conception and model at a distance of four decades seems to me convincing.' A date c. 1548, when Tintoretto was thirty years old, suggested by Hadeln, is accepted by Tietze and Arcangeli (1955).
A closely related version, apparently also autograph, is in the collection of Mr Max Ascoli, New York (formerly Manfrini and Charles Eliot Norton collections; exh. Art in New England, Boston, Museum of Fine Arts, 1939, pl, lxiv; Four centuries of Venetian painting, Toledo, Ohio, 1941, no. 57; Berenson, 1957, p. 178, pl. 1258).
Without further evidence it is impossible to be sure which, if either, of these two versions was the one in Alessandro Vittoria's collection. Carlo Ridolfi (Le meraviglie dell'arte ... , ii, 1648, p. 47) mentions a self-portrait by Tintoretto as a young man then in the collection of Niccolo Crasso in Venice. As Vittoria died in Venice in 1608, this could, but need not, refer to the same painting.
A Flemish copy of c. 1600 inscribed IACOMO TINTORET PINTOR VENECIANO (C. Benedict collection, Paris) provides a further measure of support for the identification of CAI.103 as a self-portrait by Tintoretto.
Condition. Paint surface considerably damaged and restored, especially on the coat; some retouching on face and ear. Cleaned by Sebastian Isepp in 1948.
Prov. Perhaps in the collections of Alessandro Vittoria (1525-1608) and Niccolo Crasso, Venice. Apparently bought by Constantine Alexander Ionides at Christie's, 20 Jan. 1883, lot 52, 'Titian'; bequeathed to the Museum in 1900.
Exh. Venerian art, New Gallery, London, 1894-95, no. 226 (Portrait of a Man by Tintoretto); Winter Exhibition, R. A, 1896, no. 111.
Lit. Athenaeum, 22 February 1896, p. 255; Detlev, Baron von Hadeln, 'A self portraitby Tintoretto' in Burl. Mag., xliv, 1924, p. 93, repr.; Long, Cat. Ionides Coll. , 1925, p. 60, pl, 33; E. von den Bercken, 'Zwei unbekannte Werke aus Tintoretto's früherer Zeit' in Zeitschrift für bildende Kunst, lix, 1925-26, p. 331; H. Tietze, Tintoretto, London, 1948, p. 352, pl. I; F. Arcangeli, 'La "Disputa" del Tintnretto a Milano' in Paragone, vi, 1955, p. 29; B. Berenson, Italian pictures of the Renaissance, Venetian School,i, 1957, p. 174.
A Valuable Assemblage of Ancient and Modern Pictures, sale catalogue, Christies, Manson & Woods, 20 January 1883, no. 52, p. 8.
The catalogue of the sale from which C. A. Ionides bought the painting. It attributes the portrait to Titian as 'Head of a Man'.
Paola Rossi, Tintoretto: I Ritratti, Venice, 1974, cat. 61, pp. 28-29, 93, 97, 118-19, fig. 11
Includes catalogue entries and reproductions of Tintoretto's other known self-portraits (including those in Budapest, Florence, Madrid, and Philadelphia).
Jacopo Tintoretto, Ritratti, exhibition catalogue, Venice, Galleria dell'Accademia and Vienna, Kunsthistorisches Museum, 1994, no. 3, pp. 78-79.
Provides a full bibliography through 1993; discusses the work's parallels with the Philadelphia self-portrait (no. 4, pp. 80-81).
Baron Detlev von Hadeln, 'A Self-Portrait by Tintoretto', The Burlington Magazine, vol. 44, 1924, p.93
Rodolfo Pallucchini, La Giovinezza del Tintoretto, Milan 1950, pp.117-8, 122 ; fig.146
Tom Nichols, Tintoretto: Tradition and Identity, London, 1999, pp.19-24
W.R.Rearick, "Reflections on Tintoretto as a Portraitist", Artibus et Historiae, Vol.16, No.31 (1995), pp.51-68
The following is a citation:
'The "self portrait" (Philadelphia, Museum of Art) is a work of almost alarming intensity, a concentrated focus on minimal essentials lit by the hot spotlight from overhead. His brush moves in a repeated scalloped pattern, emphasizing touseled hair and beard, and livid half-moons set off the enquiring pupils of the dark eyes. His color is black and brown in stark contrast with the cinnamon tinged flesh. In brushwork and thick impasto this selfportrait accords well with the cassone panels (Vienna, Kunsthistorisches Museum) and the Solomon and Sheba (Chenonceaux, Chateau), both datable to about 1542-1543. The latter contains at left a portrait-like head which is probably also a self image. The Philadelkphia Selportrait is a work of striking power, at once firmly in control of the Venetian idiom and decisive in its expression of a passionate individuality.
Generally better known than the Philadelphia canvas, the other version of the Self portrait (London, Victoria and Albert Museum) has until recently passed as Tintoretto's original or at least an autograph work of slightly different date. The London image is, by comparison with the vitality of the original, uninhabitated. A slowly scrumbled impasto remains inert in its dedication to reproducing the shapes and patterns of the original. The only significant departure from the model is the white collar, a conventional touch missing in the elemental original but regarded by the copiest as appropriate to a finished ensemble. Manifestly done after the Philadelphia original, the London picture is not, however, a mere reproduction made at a recent date. Instead, an early document of a little more than half a century after the first version helps to clarify its origin. When in 1630, Jacopo's talented son Domenico made his will, he bequeathed to his sister Ottavia a portrait "...of our father, on panel". He does not specify that it is a selfportrait, but he does describe it as on panel, a support extremely rare among Tintoretto portraits. I would, therefore, suggest that the London picture was executed later, perhaps by Domenico himself, after the Philadelphia original, and that it passed to Ottavia as a family relic rather than an original work of art.'
Tintoretto exhibition catalogue, Falomir, Miguel, ed., Madrid : Museo Nacional del Prado, 2007.
The following is an extract from an entry on Tintoretto's Self-portrait now in Philadelphia by Miguel Falomir (Prado):
'The Philadelphia picture is signed-the only signed juvenile self-portrait to have been preserved-but specialists disagree over Tintoretto's age when he painted it. At one extreme, Rearick dated it towards 1542 on the grounds of its sketchy execution, which he perceived as very similar to that of the so-called cassoni in the Kunsthistorisches Museum in Vienna. Most other specialists however push its date towards 1547, when Jacopo would have been twenty-nine, attributing its informality and lack of finish relative to other portraits he painted at that time to the fact that it is a self-portrait. Although known since 1896, the Philadelphia Self-portrait received critical attention only after 1940. From that time until the end of the twentieth century it was believed to be a signed replica of the Victoria and Albert Museum portrait, which has enjoyed better critical favour. Rearick (1995) was the first to invert the relationship between the two pictures suggesting -rightly, in the view of the present author-that the London portrait, painted on panel, was a copy, probably executed by Domenico Tintoretto, of the Philadelphia one, and that it might be the "portrait of our father on panel" which Domenico bequeathed to his sister Ottavia in his will of 1630. This self-portrait on panel was still in the bottega several decades later, when Antonio Saurer saw it and mentioned it in a letter sent from Venice on I October 1678 to the Marquis del Carpio after a visit to what remained of Tintoretto's workshop: "There is also the portrait on panel of the very same Jacome Tintorero, painted by himself from a mirror. They are asking fifteen doblas."'
A. Venturi, Storia dell'arte italiana. La pittura del Cinquecento vol. IX, part. IV, Milano, 1929, p. 615.
Bernhard Berenson, Italian pictures of the renaissance Oxford : Clarendon Press, 1932, p. 560.
Luigi Coletti, Il Tintoretto, Bergamo : Istituto italiano d'arti grafiche, 1940, p. 9.
Erich von der Bercken, Die Gemälde des Jacopo Tintoretto München, P. Piper, 1942, p. 112 n. 156.
Hans Tietze, Tintoretto: the paintings and drawings London, Phaidon Press, 1948, p. 352.
Bernard Berenson, Pitture italiane del Rinascimento : elenco dei principali artisti e delle loro opere con un indice dei luoghi ; la scuola veneta ; in due volumi London : Phaidon Press, 1958, I, p. 179.
Pierluigi De Vecchi, L'opera completa del Tintoretto. Presentazione di Carlo Bernari Milano, Rizzoli, 1970, p. 91 n. 62a.
V. Sgarbi and G. Morello eds.,Tintoretto Rome: Scuderie del Quirinale, 2012, cat. 23, p. 164-166, illus.
F. Ilchmann, 'Tintoretto, Rome' (review) in The Burlington Magazine, vol. CLIV, No. 1311 (June 2012), pp. 445-446
Exhibition History
Tintoretto (Scuderie del Quirinale, Rome 24 Feb 2012-10 June 2012)
Jacopo Tintoretto, Ritratti (Kunsthistorisches Museum 31/07/1994-30/10/1994)
Jacopo Tintoretto, Ritratti (Venice, Galleria dell'Accademia 01/01/1994-31/12/2003)
Production Note
Acquired by Ionides in 1883 as Titian 'Head of a Man; and a portrait'
Materials
Oil paint; Pine
Techniques
Oil painting
Subjects depicted
Tintoretto, Jacopo Robusti
Categories
Portraits; Paintings
Collection code
PDP