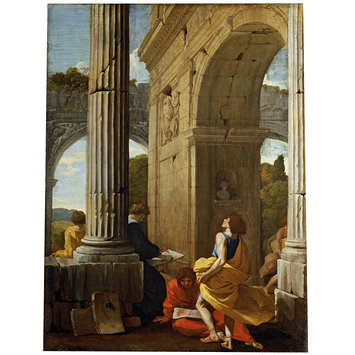 Jean Lemaire, born 1592 - died 1659
Artists Sketching among Antique Ruins
Object:
Place of origin:

Rome, Italy (possibly, painted)

Date:
Artist/Maker:

Jean Lemaire, born 1592 - died 1659 (artist)

Materials and Techniques:
Credit Line:

Bequeathed by Constantine Alexander Ionides

Museum number:
Gallery location:

Paintings, room 81, case EAST WALL
Jean Lemaire called le gros Lemaire (1601- 1659) was born in Danmartin-en-Goële, near Paris, and was first trained by Claude Vignon (1593-1670). He went to Rome around 1624 and met there Nicolas Poussin (1594-1665) and Jacques Stella (1596-1657). He became a close collaborator and friend of Poussin and returned to Paris in 1639. He was then appointed 'Garde du Cabinet de peinture de Sa Majesté et son Chasteau du Louvre et Thuilleries', which was to become the first collection of the future Louvre Museum.
This painting is a fine example of Lemaire's production of landscape paintings, which combines imaginary and realistic architectural features in a picturesque setting. In this painting, five figures dressed all'antica draw antique Roman ruins, some of which have been identified. It illustrates the fascination for the Antique during the 17th century as well as the taste for idyllic landscapes often peopled with mythological figures.
Physical description
Five figures dressed all'antica are sketching among antique ruins, two flutted columns are in the foreground framing a young man seen from the back, an archway on the right hand-side is seen in diagonal while another seen from the front in the background opens onto a wooded landscape.
Place of Origin
Rome, Italy (possibly, painted)
Date
ca. 1630 (painted)
Artist/maker
Jean Lemaire, born 1592 - died 1659 (artist)
Materials and Techniques
oil on canvas
Dimensions
Height: 97.8 cm estimate, Width: 73 cm estimate
Object history note
Peter Norton collection, sold Christie's London 29 January 1869 for £12, lot 914 (as attributed to Nicolas Poussin), bought by Cara for 12.10s. [for C.A.Ionides?]. In the collection of Constantine Alexander Ionides by November 1881, when he valued the painting for £600 (his inventory, private collection). Bequeathed by Constantine Alexander Ionides, 1900.
Ref: Basil S. Long, Catalogue of the Constantine Alexander Ionides collection.Vol. 1, Paintings in oil, tempera and water-colour, together with certain of the drawings, London : Printed under the authority of the Board of Education, 1925.
C. Monkhouse, 'The Constantine Ionides Collection' in Magazine of Art, vii, 1884, pp. 36-44, 208-214.
The collection formed by Constantine Ionides includes works of a wide variety of schools, periods and artists. His collection includes Old Masters, 17th century works, contemporary British works and French 19th century works. Constantine formed friendships with artists of the day, especially Legros, who, having spent 17 years in Britain, became a naturalise British citizen. Constantine proved a stable and generous buyer of Legros work, while Legros, in turn, became an advisor in the matters of art to the attentive Constantine. Under the influence of Legros Constantine developed a keen interest in French 19th century paintings purchasing works by Delacroix, Degas, Millet and Rousseau.
Constantine's plans concerning his collection conformed to a more 'public-welfare' vein of thought than his father or brother. He decided to donate his collection to the Victoria & Albert Museum, instead of privately distributing it or disposing of it in a Sales room.
His will states:
'All my pictures both in oil and water colors and crayon or colored chalks (but subject as to my family portraits to the interest herein before given to my said Wife) and all my etchings drawings and engravings to the South Kensington Museum for the benefit of the nation to be kept there as one separate collection to be called "The Constantine Alexander Ionides Collection" and not distributed over the Museum or lent for exhibition. And I desire that the said Etchings Drawings and Engravings shall be framed and glazed by and at the expense of the authorities of the Museum so that Students there can easily see them.'
The collection bequeathed to the museum in 1901 comprises 1138 pictures, drawing and prints, to which a further 20 items were added on the death of his widow in 1920. The works are listed in the V&A catalogue of the Constantine Alexander Ionides collection.
Historical significance: Formerly attributed to Poussin, Walter Friedländer recognised this painting as an authentic work by Jean Lemaire (written communication, 1934), which was published as such by Andrea Busiri Vici in 1965.
It depicts five artists sketching among antique ruins in the Roman countryside. The composition formula relies on an interesting play of vertical lines and superimposition of plans which provide the picture with a sense of grandeur.
The right hand-side archway presented in diagonal derived partially from the Arch of Portugal, an archway in Rome destroyed in 1662, which recurs in other paintings by Lemaire (see View at dawn with a triumphal arch, Museo di Roma, Rome and View with a triumphal arch and the coliseum, Federico Zeri collection, Mentana).
The low relief shows Septimius Severus and his wife Julia Domna attending a sacrifice and derives from the internal pilaster of the Arch of the Moneychangers erected in honour of the Imperial family by merchants and bankers of the Forum Boarium and later incorporated in the church of San Giorgio.
The figures dressed all'antica may have been drawn in collaboration with Poussin such as in Landscape with the story of Theses and Etra, Musée Condé, Chantilly. The figure seen from the back shows a pentimento compared with the preparatory drawing, formerly attributed to Poussin, (Museum of Fine Arts, Budapest, Inv. 2885) in which the young man stretches his right arm to point out the column.
The sketchbooks leaning against the column in the foreground may allude to the 'museo cartaceo', a compendium of about 7000 drawings, watercolours and prints of antiquities, architecture, fauna and flora commissioned by the Roman collector Cassiano del Pozzo and to which Lemaire most likely contributed (the publication of the catalogue raisonné of this 'museum of paper' is currently in progress).
This painting is a good example of the taste for Arcadian vision of the Italian landscape, often peopled with dressed all'antica and mythological figures. Despite a few elements of realism such as the Roman monuments, this painting is really a 'fantaisie' which combines imaginary and realistic architectural features in a picturesque setting. This trend is particularly well represented by the oeuvre of Claude Lorrain and Nicolas Poussin, of whom Jean Lemaire appears to have been a close friend and collaborator, and would be further developed in the 18th century in such compositions called 'capriccio'.
Historical context note
Although France and England became the new centres of landscape art in the 18th century, the Italian and Dutch traditions retained their authority. However the Arcadian vision of Italy increasingly tended towards a more precise observation of nature. Some of the most exciting developments took place in Venice, in the soft scenes of Francesco Zuccarelli (1702-1788), inspired by Claude Lorrain (1604-1682), and the fresh, spontaneous landscapes of Marco Ricci (1676-1730). Wealthy patrons, often accompanied by artists, on The Grand Tour, created a market for veduta and capriccio paintings, respectively topographical and fantasist landscape paintings. Landscape conventions were further enriched by foreign artists working in Italy, responding both to the beauty of Italian light and scenery celebrated by the Latin poets and vividly captured in the most popular landscapes of Claude Lorrain, Nicolas Poussin (1594-1665) and Gaspard Dughet (1615-1675).
Descriptive line
Oil on canvas, 'Artists sketching among antique ruins', Jean Lemaire, ca. 1630
Bibliographic References (Citation, Note/Abstract, NAL no)
C.M. Kauffmann, Catalogue of Foreign Paintings, I. Before 1800, London, 1973, pp. 227-228, cat. no. 283.
The following is the full text of the entry:
Nicolas POUSSIN (1593/94-1665)
French School
Born in Villers in Normandy, at about the age of 18 he travelled to Paris, where in 1621 he worked with Philippe de Champaigne. He went to Rome in 1623, returning to Paris in 1639 at the invitation of the Secretary of State, to work for the king, but in 1642 left for Rome, where he remained until his death. He stands for the revival of interest in classical painting in France; his style was formed under the influence of Raphael and the Antique.
Follower of Nicolas POUSSIN
283
ARTISTS SKETCHING AMONG RUINS
Canvas
38 ½ x 28 ¾ (97.8 x 73)
lonides Bequest
CAI.22
This painting was in the Norton and lonides collections and in Magne's Oeuvre catalogue (1914) as by Poussin and it was tentatively accepted as such by Long (1925). However, it differs from Poussin both in subject matter and in detail of treatment and it has not been accepted in any reconstruction of Poussin's oeuvre since Magne, though its high quality has ensured for it a respectable place in Poussin's immediate circle. Grautoff (1914) found the subject too realistic for Poussin and suggested a Poussin follower influenced by Caravaggio. L. Hourticq (written communication, 1931) thought the figures were by Poussin and the architecture by his friend and collaborator Jean Lemaire (1597-1659). Walter Friedlaender (oral communication, 1934) also attributed the architecture to Lemaire.
The connection with Lemaire has been elucidated by Sir Anthony Blunt (1959), who compared CAI.22 with a painting of the same subject by Lemaire in the royal collection, Windsor Castle. Although differing in detail, the two paintings are very similar in general terms and some features - such as the crouching figure in the centre - are practically identical. Blunt summed up the comparison in these words: 'The connexion between the two paintings is somewhat puzzling, because the V. & A. canvas is much more vigorous than the work of Lemaire, and yet is too feeble in detail to be an original by Poussin which might have served as the artist's model. It must for the moment be attributed to an unknown but close follower of Poussin imitating his style of the mid-1630s.' According to Magne (1914) there is an engraving after this painting by Louis de Chatillon (1639-1734), but this is not recorded in G. Wildenstein, Les graveurs de Poussin au xviiie siècle, 1957, or elsewhere.
Prov. Peter Norton, Soho Square; sold Christie's, 16 Jan. 1869, lot 914, bought Cara for £12 10s.; Constantine Alexander Ionides; bequeathed to the Museum in 1900.
Lit. Monkhouse, 1884, p. 211; E. Magne, Nicolas Poussin, 1914, p. 215, no. 276; O. Grautoff, Nicolas Poussin, sein Werk und sein Leben, ii, 1914, p. 265; Long, Cat. Ionides Coll., 1925, p. 48, pl. 28; A. Blunt, 'Poussin Studies IX - Additions to the work of Jean Lemaire' in Burl. Mag., ci, 1959, p. 443, fig. 31.
C. Monkhouse, 'The Constantine Ionides Collection' in Magazine of Art, vii, 1884, p. 211.
E. Magne, Nicolas Poussin, 1914, p. 215, no. 276.
O. Grautoff, Nicolas Poussin, sein Werk und sein Leben, ii, 1914, p. 265.
B.S. Long, Catalogue of the Constantine Alexander Ionides collection. Vol. 1, Paintings in oil, tempera and water-colour, together with certain of the drawings, London, 1925, p. 48, pl. 28.
A. Blunt, 'Poussin Studies IX - Additions to the work of Jean Lemaire' in Burlington Magazine, ci, 1959, p. 443, fig. 31.
A. Busiri Vici, 'Opere romane inedite di Jean Lemaire in Palatino, Rome, 1965 p. 165. fig. 15 reprint in B. Jatta ed., Andrea Busiri Vici. Scritti d'arte, Rome, 1990, pp. 201-209.
D. Wild, Nicolas Poussin, vol. II, Zurich, 1980, p. 248.
P. Rosenberg, L-A Prat, Nicolas Poussin 1594-1665. Catalogue raisonné des dessins, Milan, 1994, pp. 111-112, fig. 3.
M. Fagiolo dell'Arco, Jean Lemaire pittore "antiquario", Rome: 1996, p. 166, cat. 13 illus.
Production Note
Formerly attributed to Nicolas Poussin
Materials
Oil paint; Canvas
Techniques
Oil painting
Subjects depicted
Landscape; Column; Artist; Archway; Antique ruins; Sketchbook
Categories
Drawings
Collection code
PDP