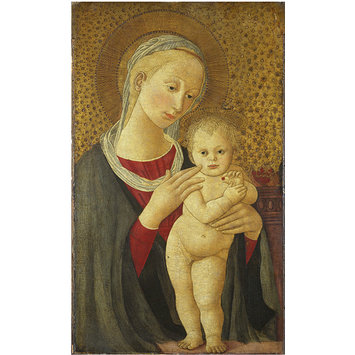 Lippi and Pesellino Imitator
The Virgin and Child
Object:
Place of origin:

Florence, Italy (painted)

Date:
Artist/Maker:

Lippi and Pesellino Imitator (production)

Materials and Techniques:
Credit Line:

Bequeathed by Constantine Alexander Ionides

Museum number:
Gallery location:

Paintings, room 81, case EAST WALL
Pesellino (Francesco di Giovanni, ca. 1422-1457) son of the painter Stefano di Francesco was the grandson of the more famous Florentine painter Pesello who trained him. By the early 1440's he joined Fra Filippo Lippi's workshop and in 1453 he went into partnership with Piero di Lorenzo Prates and Zanobi di Migliore. His reputation grew in the mid-15th century and brought him the commissions of large-scale painting.
Fra Filippo Lippi (ca.1406-1469) was a friar at the Carmelite monastery of S Maria del Carmine in Florence and one of the leading painters in Renaissance Florence in the generation following Masaccio. Vasari, who is almost the only source for Lippi's early career, stated that his style was formed on Masaccio's Brancacci Chapel frescoes in S Maria del Carmine. Botticelli was his pupil.
This painting is a 15th-century copy of a composition attributed to Pesellino, who produced together with the painter Fra Filippo Lippi popular Virgin and Child compositions, most likely intended for the private market as devotional images. In this painting, the Child and the Virgin are associated with the pomegranate, a symbol for the forthcoming resurrection of Christ.
Physical description
On a golden punched background, the Virgin is sustaining the Child standing on a parapet in front of her; he is holding a seed from a pomegranate represented on the top of a pedestal behind him on the right.
Place of Origin
Florence, Italy (painted)
Date
ca. 1450-60 (painted)
Artist/maker
Lippi and Pesellino Imitator (production)
Materials and Techniques
tempera on poplar panel
Dimensions
Height: 67 cm estimate, Width: 40.5 cm estimate
Object history note
Acquired by c. A. Ionides before November 1881, as a painting by Fiorentino; in 1881 Ionides estimated its value at £150 (his inventory, private collection). Bequeathed by Constantine Alexander Ionides, 1900
Historical significance: This painting is one of the many compositions based of the same design deriving from a Madonna and Child attributed to Pesellino (Francesco di Giovanni, ca.1422-1457) formerly in the Aynard collection, Lyon (present whereabouts unknown). Megan Holmes (2004) identified 24 instances showing the exact same composition of the present Virgin and Child's composition, replicated with the aid of cartoons - a pin-prinked drawing used like stencil to replicate designs - and then adapted on different backgrounds designed to accommodate different budgets and tastes. Although the so-called Aynard Madonna is set against a shell-shaped marble niche, other compositions such as the Virgin and Child in The National Gallery of Art, Washington, is displayed against an elaborate rose hedge while the V&A picture and a tondo in the National Gallery, London, the latter including additional figures of the young St John the Baptist and an angel, are set against a tooled gold background.
They V&A Virgin and Child's format appears however slightly different as the Madonna's cloak runs right along the edge while the other paintings are well centred in the middle of the composition. This difference could result from a later reduction of the painting which edges may have been cut off. These compositions, including the V&A one, were most likely acquired as devotional images intended for domestic use and probably represented a middle price range, which accommodated both a taste for the tangible manifestations of the artist's skills and the preference for the conspicuous display of expensive materials.
The Aynard picture is attributed to Pesellino (Berenson) while the Washington picture is given to a follower of Fra Filippo Lippi and Pesellino. Compare to these two pictures, the V&A Virgin's type is absolutely identical with some differences in her garments, although much simpler as well as in the National Gallery picture. The depiction of the halo is bi-dimensional in the V&A picture whereas three-dimensional in the other three. The almost stylised features of the Child and the Virgin's faces indicate they were executed later enough to lose the support of the original painting that would have given indications for the modelling of the flesh.
The present picture was formerly attributed by Kauffmann to the Pseudo-Pier Francesco Fiorentino, a name given by Berenson (1932) to an unknown artist or group of artists whose works are well-crafted imitations of paintings by Pesellino and Filippo Lippi. Federico Zeri more accurately labelled these artists as 'Lippi and Pesellino Imitators', which is the attribution here retained.
The Child's face is indeed very close to Fra Filippo Lippi's facial type in such picture as Madonna and Child in the Denver Art Museum, Denver while the Virgin's face relates to both Filippo Lippi (ca.1406-1469) and Pesellino (Francesco di Giovanni, ca. 1422-1457) (see Madonna and Child, Kereszteny Museum, Ezstergom). Lippi also did many similar compositions representing half-length Virgin and the Child standing in front of her on a parapet (see Madonna and Child, Walters Art Gallery, Baltimore, no. 37.429 and Madonna and Child Museo di Palazzo Medici, Florence). The Child in the National Gallery picture also hold a pomegranate seed.
The pomegranate originally relates to the myth of Proserpine rapt by Hades, God of the Inferno, and was consequently construed in a Christian context as a symbol of resurrection, especially when hold by the Child. Here he is clutching a pomegranate's seed announcing his forthcoming resurrection while the entire fruit lays wide open on a pedestal behind him. Because of the many seeds it encloses, the pomegranate fruit was also a symbol for multiplicity and fertility as well as an allegory of the unity of the Church able to bring many different peoples together.
These replicated designs followed the same scheme as Filippo Lippi's Medici Palace chapel Madonna and Child copies which present variants set against an elaborate roses hedge (Museo Bardini, Florence) or with a tooled gold background (Yale University Art gallery, New Haven. Dated between 1550 and 1580, these paintings all displayed similar halos adorned with gilded rays and black dots on the edges.
Historical context note
Objects and images were used for protection, intercession and as votive offerings since Antiquity. Amulets, rings and talismans were common throughout the Middle Ages and the Renaissance and often had pagan and erotic imagery. Popular images were also produced expressly for the purpose of intercession, protection and instruction. In particular the Virgin, Christ and the saints were depicted, for they were considered to be advocates before God and agents of protection against evil. Christians in the Middle Ages and Renaissance periods expressed and strengthened their faith through public rituals, such as celebration of the Eucharist, and personal devotions conducted in a private chapel, monastic cell, or simply in a secluded part of their home. In Western Europe, a form of spirituality that emphasized the emotional involvement of the faithful emerged by 1300. Believers were encouraged to contemplate events from the life of Christ, the Virgin, or the saints, as if they were present. Images of the Virgin and Child were among the most popular images for private devotion and these were primarily small religious paintings suitable as a focus for private worship, as opposed to larger altarpieces intended for public display. Such images frequently emphasized the tender relationship between the mother and her child.
Descriptive line
Tempera painting, 'Virgin and Child', Lippi and Pesellino Imitator, ca. 1550-60
Bibliographic References (Citation, Note/Abstract, NAL no)
Kauffmann, C.M. Catalogue of Foreign Paintings, I. Before 1800, London: Victoria and Albert Museum, 1973, pp. 220-222 cat. no. 274.
The following is the full text of the entry:
PIER Francesco Fiorentino (active 1474-97)
Florentine School
A priest, trained as an artist in Florence, where he was a follower of Benozzo Gozzoli, he was active mainly in San Gimignano and its vicinity. Two documents attest his activity as a painter in 1474 and there are two signed paintings in S. Agostino at San Gimignano and in the Gallery at Montefortino dated respectively 1494 and 1497.
The large group of Madonnas deriving from Filippino Lippi and Pesellino (of which CAI.99, no. 274, is a good example), attributed by Berenson to Pier Francesco Fiorentino in 1909, differs considerably from his authenticated works; and this attribution - never accepted by many authorities - was subsequently abandoned by Berenson himself (1932).
Lit. Crowe and Cavalcaselle, A history of painting in Italy, iv, ed. R. L. Douglas, 1911, p. 342; G. Poggi in Rivista d'Arte, vi, 1909, p. 65; Thieme-Becker, xxvii, 1933, p. 19 (F. Mason Perkins); G. Soulier in Dedalo, vii, 1926-27, pp. 86-101; B. Berenson, Florentine painters, 1909; ibid., Italian pictures, 1932; ibid. in Dedalo, xii, 1932, pp. 692-97; ibid., Florentine School, 1963, pp. 171-74; N. G. Catalogue, M. Davies, Earlier Italian Schools, 2nd ed., 1961, p. 420.
So-called PIER Francesco Fiorentino
274
VIRGIN AND CHILD
Tempera on panel
26 ½ X 16 (67 X 40.5)
Ionides Bequest
CAI.99
There are many versions of this composition and several related types; the version at Nancy (repr. Dedalo, vii, 1926-27, p. 100) being one of the closest. Variant types are: (1) with a background of rose bushes (e.g. N. G., Washington, Widener collection); (2) with the figure of St John added (e.g. N. G., Edinburgh); and (3) with the addition of St John and an angel (e.g. tondo, N. G., no. 1199).
This painting, originally described as Florentine School, was one of many of its kind to be attributed to Pier Francesco Fiorentino by Berenson in 1909. However, these Madonnas differ considerably in style from Pier Francesco's signed and documented works, and, although Berenson's attribution was widely followed (Soulier, 1926), several authorities refused to accept it (Langton Douglas, F. Mason Perkins) and it was subsequently abandoned by Berenson himself. In his list of 1932 and in an article of the same year Berenson gave the group to another painter whom he designated Pseudo-Pier Francesco Fiorentino. But this attribution to a single artist has not been generally accepted, as more than one hand appears to have been involved (Martin Davies, 1961). Indeed, the large number of extant paintings of this type suggests that there were several artists, perhaps several workshops, producing Madonnas based ultimately on the same few designs. These could have been by Fra Filippo Lippi or Pesellino but there is no known composition from which this type derived. The name Pier Francesco Fiorentino has here been retained because it is still in common use as a generic term for this group.
Condition. Considerably damaged and repainted.
Prov. Acquired by Constantine Alexander Ionides apparently after 1884 but before 1893; bequeathed to the Museum in 1900.
Exh. Early Italian art, New Gallery, 1893-94, no. 102.
Lit. Berenson, op, cit. 1909, p. 169 (Pier Francesco Fiorentino); ibid., 1932, p. 452 (Pseudo-Pier Francesco Fiorentino); Long, Cat. Ionides Coll., 1925, p. 47 (Pier Francesco Fiorentino); van Marle, Development of the Italian Schools of painting, xiii, 1931, p. 443 (workshop of Pier Francesco Fiorentino); M. Davies, op, cit., p. 186 (Florentine School); B. Berenson, Florentine School, 1963, p. 173 (Pseudo Pier Francesco Fiorentino, based on the Aynard collection Pesellino).
Holmes, Megan, 'Copying practices and Marketing Strategies in a Fifteenth-Century Florentine Painter's Workshop', in Stephen J. Campbell and Stephen J. Miller ed., Artistic exchange and Cultural Translation in The Italian Renaissance City, Cambridge, 2004, pp. 38-74
On the replicated design but does not mention the V&A painting.
Berenson, Bernard, Florentine painters,1909, p. 169.
As Pier Francesco Fiorentino.
Berenson, Bernard, Italian pictures, 1932, p. 452.
As Pseudo-Pier Francesco Fiorentino.
B.S. Long, Catalogue of the Constantine Alexander Ionides collection. Vol. 1, Paintings in oil, tempera and water-colour, together with certain of the drawings, London, 1925, p. 47.
As by Pier Francesco Fiorentino.
Marle, Robert van Development of the Italian Schools of painting, xiii, 1931, p. 443.
As workshop of Pier Francesco Fiorentino.
Davies, Martin, Earlier Italian Schools, 2nd ed., 1961, p. 186.
As Florentine School.
Berenson, Bernard, Florentine School, 1963, p. 173.
As Pseudo Pier Francesco Fiorentino, based on the Aynard collection Pesellino.
Materials
Gold leaf; Tempera; Poplar
Techniques
Painting
Subjects depicted
Mary (Virgin Mary); Christianity; Jesus; Pomegranate
Categories
Christianity; Paintings
Collection code
PDP