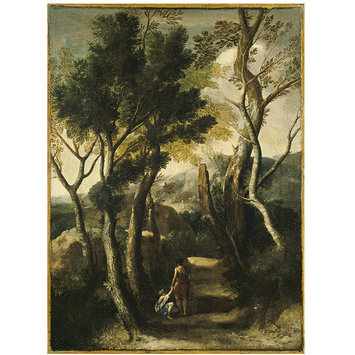 Dughet, Gaspard, born 1615 - died 1675
Italian Landscape
Object:
Place of origin:
Date:
Artist/Maker:

Dughet, Gaspard, born 1615 - died 1675 (attributed to, artist)

Materials and Techniques:
Credit Line:

Bequeathed by Constantine Alexander Ionides

Museum number:
Gallery location:

Paintings, room 81, case EAST WALL
Gaspard Dughet (1615-1675) was born in Rome from a French father and an Italian mother. He first trained there with his brother-in-law, Nicolas Poussin (1594-1665), then made several trips in the peninsula during which he befriended other great painters of his generation such as Pietro da Cortona (1596-1669) and Guglielmo Cortese (1628-1679) but never left Italy. In 1657 Dughet was elected to the Accademia di S Luca and rapidly became one of the most distinguished landscape painters working in Rome in the 17th century, painting decorative frescoes and many easel paintings for such major Roman patrons as Pope Innocent X and the Colonna family.
This painting is a good example of the early production of Gaspard Dughet when he painted in a cool silvery tonality. It depicts a landscape dominated by slender trees, which resembles birches, and a path receding into the distance. Two pastoral figures, dressed all'antica, are seen from the back and delicately modelled by patches of light reflecting on their bodies. Dughet would further developed this classical trend in a manner close to that of Poussin and appears therefore a good example of Poussin's influence on 17th century landscape painters.
Physical description
Two pastoral figures dressed all'antica walking on a path in a woody landscape dominated by slender trees. In the foreground, a town in the mountains.
Place of Origin
Rome, Italy (painted)
Date
ca. 1630-1640 (painted)
Artist/maker
Dughet, Gaspard, born 1615 - died 1675 (attributed to, artist)
Materials and Techniques
oil on canvas
Marks and inscriptions
'Jan 15/69' chalked on the back
Dimensions
Height: 68.5 cm estimate, Width: 50 cm estimate
Object history note
Probably Peter Norton collection, sold Christie's London, 23 January 1869, lot 1721 (G. Poussin: A Woody Landscape with pastoral figures). Bought by Waters for £7.5s. [for Ionides?], coll. C.A.Ionides by Nov 1881 when valued at £150 as by Francisque Millet; bequeathed by C.A. Ionides, 1900
Historical significance: This painting appears to be a good example of Gaspard Dughet's early works in which he developed a style close to Titian as well as Poussin. A. Blunt (1950) gathered these early works under the name of the 'Silver Birch Master', which has been later identified as the young Dughet by J. Shearman. These works are characterised by the presence of a screen of slender trees, which resemble silver birches.
This painting shows in fact a path receding into the distance between silver trees enlivened by touches of ochre. Two figures are seen from the back, one is helping another to stand up, a compositional idea that enhances the sense of movement. M.N. Boisclair suggests that a drawing in the Louvre, formerly Inv. RF 32464, may have served as a preparatory study for the painting. Other works have also been stylistically related to CAI.107: Landscape with a Cowherd The National Gallery, London (NG2619) and aLandscape with a nymph riding a goat pendant of a Landscape with a satyr attributed by Sir Anthony Blunt to the 'Silver Birch Master' all later re-attributed as early works of Gaspard Dughet.
Dughet's career roughly divided into three periods. His first landscapes were 'a little dry' (Pascoli) and dominated by a cool tone; in his second period he developed a more learned style and depicted more classical landscapes in the manner of his master, Nicolas Poussin but his late style became more innovative and more personal.
S.S. Long suggested this painting corresponds to the one entitled A Woody Landscape with pastoral figures attributed to Gaspard Poussin at the Peter Norton sale, Christie's, January 1869 (to which could allude the inscription on the back reading 'Jan 15/69'). It was then probably bought by Ionides who eventually bequeathed it to the museum in 1900. Ionides may responsible for the intermediary re-attribution to F. Millet.
Historical context note
Although France and England became the new centres of landscape art in the 18th century, the Italian and Dutch traditions retained their authority. However the Arcadian vision of Italy increasingly tended towards a more precise observation of nature. Some of the most exciting developments took place in Venice, in the soft scenes of Francesco Zuccarelli (1702-1788), inspired by Claude Lorrain (1604-1682), and the fresh, spontaneous landscapes of Marco Ricci (1676-1730). Wealthy patrons, often accompanied by artists, on The Grand Tour, created a market for veduta and capriccio paintings, respectively topographical and fantasist landscape paintings. Landscape conventions were further enriched by foreign artists working in Italy, responding both to the beauty of Italian light and scenery celebrated by the Latin poets and vividly captured in the most popular landscapes of Claude Lorrain, Nicolas Poussin (1594-1665) and Gaspard Dughet (1615-1675).
Descriptive line
Oil painting, 'Italian Landscape', Gaspard Dughet, ca. 1630-1640
Bibliographic References (Citation, Note/Abstract, NAL no)
Boisclair, Marie-Nicole, Gaspard Dughet: sa vie, son oeuvre (1615-1675), foreword by Jacques Thuillier, Paris, 1986, p. 33, n. 5 p. 170.
Blunt, A., 'Poussin Studies V: The Silver Birch Master', in The Burlington Magazine, xliii, 1950, p. 69
C.M. Kauffmann, Catalogue of Foreign Paintings, I. Before 1800, London: Victoria and Albert Museum, 1973, p. 90, cat. no. 90
The following is the full text of the entry:
"Gaspard DUGHET (1615-75)
French School; worked in Italy.
He adopted the name of Poussin from his brother-in-law Nicolas. For some years from c. 1630 he was a pupil of Nicolas Poussin in Rome and he was also influenced by Claude. He painted landscapes, for the most part in Rome and its vicinity.
Ascribed to Gaspard DUGHET
90
ITALIAN LANDSCAPE
Canvas
27 X 19 3/4 (68.5 X 50)
Ionides Bequest
CAI.107
The close stylistic relationship of this painting to the work of Poussin has long been recognized, but the attributions have varied considerably. Long (1925) catalogued it as 'attributed to Francois Millet'. In 1950 Sir Anthony Blunt devoted an article to a group of paintings based on three works: (1) Landscape with Shepherds,N. G., no. 2619; (2) CAI.107; (3) Landscape with rocky pool,Corsini Gallery. He described the style of these paintings as being similar to Gaspard Dughet, with characteristic foliage and the predominance of a tree with white striped bark like a silver birch. The exact identity of the tree was left in doubt - mountain ash, more common in Northern Italy, was suggested as an alternative - but the unknown painter was dubbed the 'Silver Birch Master'. Meanwhile, for the related picture in the N. G., Martin Davies retained the attribution 'Follower of Nicolas Poussin(?)' (French School,2nd ed., 1957, p. 192). More recently, however, Sir Anthony Blunt (Burl. Mag.,civ, 1962, p. 498) has supported J. Shearman's view that the Silver Birch Master may be identified with the young Gaspard Dughet. Thus the wheel has turned full circle, for it was to Gaspard Dughet that O. Grautoff (Nicolas Poussin,ii, p. 265) attributed the N. G. picture in 1914, and it is probable that CAI.107 may be identified with: 'G. Poussin: A Woody Landscape with pastoral figures' at the Peter Norton sale in January 1869, lot 1721.
Condition.Surface cleaned in 1957.
Prov.Probably sold at the Peter Norton sale, Christie's, Jan. 1869 (same date chalked on the back as CAI.22 (no. 283), which was lot 914 in that sale) plausibly to be identified with lot 1721, bought Waters for £7. 5s.; Constantine Alexander Ionides; bequeathed to the Museum in 1900.
Lit.Long, Cat. Ionides Coll.,1925, p. 40; A. Blunt, 'Poussin Studies V; The Silver Birch Master' in Burl. Mag.,xlii, 1950, p. 69."
C. Wright, old Master paintings in britain: an index of continental Old Master paintings executed before c. 1800 in public collections in the United Kingdom, London-New-York, 1976, p. 164.
L. Salerno, Pittori di paesaggio del Seicento a Roma, Rome: 1977-78, t. III, p. 1017, note 4.
C. Whitfield, 'poussin's Early Landscapes' in The Burlington Magazine, cxxi (1979), p.19.
As Poussin.
A. Blunt, 'The Silver Birch Master, Nicolas Poussin, gaspard Dughet and others', The Burlington Magazine, cxxii (1980), p. 577.
As Dughet.
Exhibition History
x (Royal Academy of Arts 01/01/1890-31/12/1890)
x (New Gallery, London 01/01/1813-31/12/1813)
Production Note
The attributions have considerably varied: considered stylistically close to Poussin, for some time attributed to François Millet, later attributed by Sir Anthony Blunt to 'the Silver Master Birch', who is now identified as a young Gaspard Dughet.
Materials
Oil paint; Canvas
Techniques
Oil painting
Subjects depicted
Landscape; Italy
Categories
Paintings
Collection code
PDP