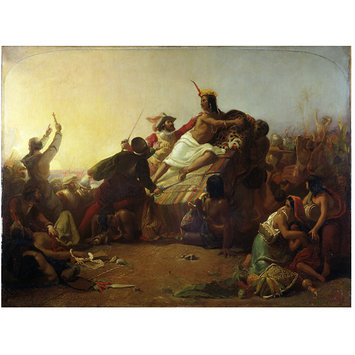 Millais, born 1829 - died 1896
Pizarro Seizing the Inca of Peru
Object:
Place of origin:

Great Britain, UK (probably, painted)

Date:
Artist/Maker:

Millais, born 1829 - died 1896 (artist)

Materials and Techniques:
Credit Line:

Bequeathed by Henry Hodgkinson

Museum number:
Gallery location:

Paintings, room 82, case WEST WALL
The unusual subject of this painting is the capture of the Inca emperor Atahualpa by the Spanish conquistador Francisco Pizarro in 1532. As a model for Pizarro, Millais used an actor who had recently appeared in a play of the same name. Millais was only 16 when he painted this work. It belonged to his half-brother.
Place of Origin
Great Britain, UK (probably, painted)
Date
1846 (painted)
Artist/maker
Millais, born 1829 - died 1896 (artist)
Materials and Techniques
oil on canvas
Marks and inscriptions
'JEM/1846'
Dimensions
Height: 128.3 cm estimate, Width: 171.7 cm estimate
Object history note
Bequeathed by Henry Hodgkinson, 1897
Descriptive line
Oil painting, 'Pizarro Seizing the Inca of Peru', John Everett Millais, 1846
Bibliographic References (Citation, Note/Abstract, NAL no)
Catalogue of British Oil Paintings 1820-1860, Ronald Parkinson, Victoria and Albert Museum, London: HMSO, 1990, pp. 191-93
The following is the full text entry.
"Born Southampton, Hampshire, 8 June 1829, of a wealthy Jersey family. Moved to London, studied briefly at Sass's art school and entered RA Schools 1840, its youngest ever student (he was 11). An infant and juvenile prodigy, he won several prizes in the 1840s. Founder member of the Pre-Raphaelite Brotherhood 1848. Exhibited 180 works, mainly subject pictures of various kinds, at the RA between 1846 and 1896, two at the BI 1847-8, 34 at the Grosvenor Gallery and five at the New Gallery. First popular success was 'A Huguenot... ' (RA 1852), which also marks an early move away from strict Pre-Raphaelite principles. Elected ARA 1853 (he was elected in 1850, but considered too young), RA 1863. In the 1860s began a series of attractive but (to modem taste) sentimental studies of children, popular through engravings, culminating in 'Bubbles' (1886), which became one of the most famous images of the time through its use as an advertisement for soap. In the 1870s achieved further success and wealth painting portraits of the most eminent people of the day. Illustrated numerous publications 1855-64, notably Moxon's edition of Tennyson (1857), three novels by Trollope (1860-4), and The Parables of Our Lord (1864). First artist to be created a baronet 1885; elected PRA 1896. After their marriage was annulled, married John Ruskin's wife Effie 1855. Died Kensington, London, 13 August 1896. His studio sales were at Christie's 1 May 1897, 21 March and 2 July 1898. More than any other 19th-century British artist, from 1850 onwards he has always received mixed critical reactions, ranging up to Ruskin's comment (on 'Peace Concluded' 1856): 'Titian himself could hardly head him now'.
LIT: (selected) W Armstrong 'Sir John Everett Millais, his Life and Works', Art Journal 1885; M H Spielrnann Millais and His works 1898; J G Millais (the artist's son) The Life and Letters of Sir John Everett Millais
2 vols, 1899; A L Baldry Sir John Everett Millais, his Art and Influence 1899; M Bennett Millais PRB-PRA RA exhibition catalogue 1967; G Millais (the artist's great-grandson) Sir John Everett Millais 1979; M Warner The Drawings of John Everett Millais Arts Council exhibition catalogue 1979; M Warner (et al) The Pre-Raphaelites Tate Gallery exhibition catalogue 1984 .
Pizarro Seizing the Inca of Peru
121-1897 Neg 55441
Canvas, 128.3 × 171.7 cm (50 ½ × 67 5/8 ins)
Signed and dated 'JEM [in monogram]/1846' indistinctly in red br
Bequeathed by H Hodgkinson 1897
The artist's first exhibition painting at the RA, in 1846, when he was 16. The composition must have been planned by early in the year; Millais received in payment for a sketch a £5 cheque - his first - dated 28 February 1846, and he drew on the back of the cheque a small sketch of himself at work on a painting which is clearly identifiable as the present picture (J G Millais, I, p34, repr p35). The painting was exhibited in the West Room, with the following appended to the title in the catalogue: 'Pizarro himself advanced towards the emperor, whom he took prisoner; while his soldiers, incited by Vincent de Valverde, massacred all that surrounded the Monarch. Vide Luffman's chronology'. (The source is presumably John Luffman's The Pocket Chronologist, or Authentic register of recent events both foreign and domestic published in 1806.)
The subject - which seems to be rare - is the capture of the Inca emperor Atahualpa by the Spanish conquistador Francisco Pizarro at Cajamarca in 1532. As Warner points out, the priest Vicente de Valverde holds aloft a crucifix against a setting sun, symbolising the triumph of Catholicism and the end of Inca religion and power; Warner also links the group of mother and children on the right with the traditional, and appropriate, subject of the Massacre of the Innocents.
Warner draws attention to H P Briggs's painting 'The First Interview between the Spanish and the Peruvians' (RA 1826, now Tate Gallery), which was on public view in the Vernon collection. Honour points out that the famous History of the Conquest of Peru by W H Prescott was not published until 1847 (although his similar account of Mexico had appeared in 1843). The most likely source, as Warner claims, is Sheridan's play Pizarro (first performed in 1799, and itself an adaptation of von Kotzebue's Die Spanier in Peru). The play was performed at the Princess's Theatre early in 1846. Millais frequently attended that theatre, and knew the leading actor James Wallack (whose son Lester later married Millais's sister Emilv) who appeared in Sheridan's play there as the Indian hero Rolla. Wallack was the model for Pizarro in Millais's painting. J G Millais records that the artist's father sat for the priest Valverde and for other figures, and Hunt notes that Millais borrowed native costume and jewellery that the artist Edward Goodall had brought back from an expedition he had accompanied in South America. Warner also thinks it likely that Millais borrowed costumes and props from the Princess's Theatre, and that he may have looked at original Inca artefacts in the British Museum.
Hunt described a visit to Millais's studio at his parents' house at 83 Gower Street:
With his picture of 'Pizarro' on hand, it was necessary to have a large platform placed at an angle to serve for the palanquin on which the doomed Inca was being carried, so that the model serving for the prince should lie correctly on the upset platform, and the position of Pizarro and the adjutant reaching forward from outside be characteristically posed. Notwithstanding this disturbance of symmetry, all the rest of the room was in prim order.
Hunt also mentions the items Goodall had lent, citing the loan as an example of what was later called 'Millais's luck': 'All of these - feathers, beads, etc., - not in actual use on the platform were arranged about the walls as an extra decoration to the small pieces of armour and the swords, which had probably seen their last active service on the fields of Dunbar or Worcester'. Hunt thought the painting:
'In every respect remarkable for a young painter, looking more like the work of an artist in his prime; indeed, had he been judged by this production alone, its maturity of style might have seemed discouraging to hope of development. Through life a happy characteristic of Millais in all his different modes of work was, that there were no disorderly scrapings and blotches about the surface ... parts were obviously unfinished, and others only in a style of preparation: but all, like his room, was in perfect readiness to be shown to the chance visitor'.
After he had discussed the work with Millais, Hunt records him saying 'You'll see I'll make my next much better!'
The Athenaeum critic did not notice the painting at the RA exhibition, not surprisingly in the light of the Art Union critic's comments:
'We regret that the position of this picture deprives us of the opportunity of inspecting its detail. It is a production of much excellence, and is more worthy of a favourable place than many that are better hung. The Emperor, as well as we can see, is reclining upon a kind of litter, and is thus seized by Pizarro: this is the main point of the work, around which all is confusion, pictured in the melée of Spaniards and Peruvians-
groups of very spirited figures - drawn with accuracy and placed in relation to each other in a manner most efficiently to support the description. The composition is most judiciously managed: the principal figures are relieved against the sky, while the others are variously distributed, but all contributing to the entirety of the whole. The work is abundantly rich in colour'.
The painting is certainly a remarkable work for such a young artist. Although the composition of the figures is perhaps too reminiscent of the life class as well as of the theatre, H P Briggs's work (cited above) is, if anything, more prosaically 'academic', and that painting was his 27th RA exhibit, painted at the age of 35, the year after his election to ARA.
A small version (or, less likely, a preliminary sketch) was owned by John Miller of Liverpool: it was in his sale of Christie's 22 May 1858 (195) and bought (probably bought in) by the dealer Gambart for £52.10s. It was more recently sold for £3,800 at Christie's 5 June 1981 (40, panel, 41.7 × 49.2 cm (16 ÿ × 19 ÿ ins), signed and dated 1846); the collection was of a descendant of John Miller.
PROV: The artist's half-brother Henry Hodgkinson by 1872; bequeathed by him to the museum 1897
EXH: RA 1846 (594); Liverpool Academy 1846 (96); Society of Arts 1847 (where it won a gold medal); International Exhibition 1872 (130, lent by H. Hodgkinson): Millais PRB-PRA Walker Art Gallery, Liverpool, and RA 1967 (4); The European Vision of America National Gallery of Art, Washington, USA and elsewhere 1976 (281); The Pre-Raphaelites Tate Gallery 1984 (1)
LIT: Art Union 1846, p184; J G Millais, I, p18; W H Hunt PreRaphaelitism and the Pre-Raphaelite Brotherhood 1905, I, pp57-9;
H Honour, in The European Vision of America exhibition catalogue, under no281; Warner (et al) 1984, p48
MORGAN, John, RBA (1822-1885)
Born Pentonville, London, 14 May 1822. Apprenticed to a show business 1840, designed frames and furniture for Gillow, Jackson & Graham, and the picture dealer Vokins, Studied at School of Design, Somerset House; pupil of Couture and Delaroche in Paris 1853. Exhibited 64 works at the RA between 1852 and 1886, 26 at the BI 1852-67, 114 at the SBA 1853-86, and 17 elsewhere. Most were genre scenes, especially involving children, in the manner of Thomas Webster. The Illustrated London News (5 January 1867, ppl-2), reproducing 'Whom to Punish?' exhibited to the SBA, was glad to see the artist return to the humorous from the 'simply picturesque'. Elected Member of the SBA 1875. Moved to Guildford, Surrey, 1872, and in 1882 to Hastings, Sussex, where he died 24 September 1885. His studio sale was at Christie's 1 March 1887. (His birth and death dates are usually given, wrongly, as 1823-1886; the present dates are those given by his son, the artist Frederick Morgan, to TSR Boase).
Ronald Parkinson."
Jason Rosenfeld and Alison Smith Millais London: Tate Publishing, 2007. ISBN 978-185437-667-1.
Exhibition catalogue
Exhibition History
Millais (Tate 26/09/2007-13/01/2008)
Materials
Oil paint; Canvas
Techniques
Oil painting
Subjects depicted
Religion; Crucifix; Priest; Mother and children; Pizarro, Francisco; Peru; Atahualpa
Categories
Paintings
Collection code
PDP