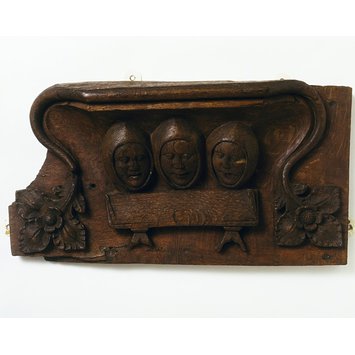 Misericord
Place of origin:
Date:
Artist/Maker:
Materials and Techniques:
Credit Line:
Museum number:
Gallery location:

British Galleries, room 58b, case 1
Object Type
Misericords served as supports for choristers during Mass. Because they remained mostly hidden from view, they were often decorated with secular or irreverent subjects, such carpenters at work, donkeys preaching sermons, or fantastic creatures like 'blemya', men with no heads and faces in their chests. Religious subjects were also sometimes shown, as in the example reputedly from Malmesbury Abbey, Wiltshire, and now in the V&A (museum no. 377-1890), which shows the Assumption of the Virgin.
Subjects Depicted
This misericord depicts three cloaked heads at a table with trefoil trestles, bordered on each side by a floral and foliate pattern. The table may symbolise January, sometimes represented in contemporary prayer books by a man at table. It was not unusual for misericord carvings to represent the twelve months or the four seasons, and a number of examples survive in Worcestershire.
Place
This misericord was removed from Blagdon Church, Somerset, in about 1821. It closely resembles those in St Martin's at nearby Worle. Those are inscribed with the initials of Richard Spring, prior of Woodspring and vicar of Worle (1499-1516).
Time
The misericord is probably contemporary with the set at Worle. The subjects represented are old-fashioned and the table is similar to those dating from the early 1300s. By the early 16th century, bawdy and carnavalesque subjects were being replaced with Renaissance ornament.
Place of Origin
Somerset, England (made)
Date
1500-1520 (made)
Artist/maker
Unknown (production)
Materials and Techniques
Carved oak
Dimensions
Height: 26.7 cm, Width: 48.3 cm, Depth: 11 cm
Object history note
Removed in about 1820 from Blagdon Church, Somerset; inherited by Ernest Baker FSA of Weston-super-Mare, and given to the Museum by his daughter, Mrs E. Davies.
One of eight misericords removed from Blagdon church, Somerset about 1820. They are a mixture of figurative and purely decorative foliage carvings. The shape of the seats and the carving style compares very closely with the misericords at Worle church a few miles away. The treatment of vine leaves and grapes in both sets, and the use of cloaked human heads (see W.4-1948) strongly suggests that both sets of sculpture were by the same rustic carver. These misericords are examples of country craftsmanship at its best enlivened by naivety of inspiration and robustness of character. Since the subjects at Blagdon include feeding the swine, and Adam and Eve at their biblical occupations, it is quite possible that there was a Labours cycle here.
As it happens, the stalls at Worle can be dated precisely to the early years of the sixteenth century. One misericord there bears the letter P and the monogram R.S.P., the P probably standing for prior, and R.S. for Richard Spring, prior of Woodspring and vicar of Worle, 1499-1516. It is useful thus to be able to date the Museum's carvings, despite the appearance on the vine foliage misericord (W.5-1948) of the 'trefoil' leaf which first appeared at the beginning of the fourteenth century. Here is a good example of a country craftsman being stylistically behind the times and a possible instance of the tendency to historicism in the fifteenth century.
Notes from R.P. 47/2619
11 November 1947 letter Mrs E Davies to V & A
offers as a gift "eight 14th cent. miserere seats originally in Blagdon Church, Somerset". They were discarded when the church was repaired in the middle of the last century and then acquired by Mrs Davies' great grandfather, and later in possession of her father, Ernest Baker of Weston-s-mare. She notes the seats were once lent to the V & A.
12 November 1947 Minute paper Thorpe to Edwards
explains that the 8 misercords were removed @ 1820 from Blagdon Church, near Bristol. They date from the 15th century with subjects including Adam & Eve and the Prodigal Son. They were lent to the 1930 Medieval Exhibition at the V & A by Mr Ernest Baker F.S.A. (Mrs Davies father). Cat. No. 721 recorded in Baker's name (N.F. 5875/1925 - contact was Dr F C Eeles - Secretary of the Central Council For the Care of Churches, who once had an office at the Museum).
12 November 1947 letter Edwards to Mrs Davies
accepts her generous offer of the misercords, an "interesting" and "important addition to the collections".
Undated response from Mrs Davies
arranges to ship the misercords along with some oak fragments from Blagdon.
20 December 1947 Edwards note to Ashton
reports that the misercords were shown in the Medieval Exhibition and date from about mid 15th century "although not of outstanding quality" they are "obviously acceptable as a gift". He recommends that the carving fragments sent with the misercords be accepted as a courtesy but notes that they are "worthless".
Undated list of objects submitted on approval for gift
8 misercords mounted on 2 backboards comprising:
Backboard No. 1
Misercord No. 1 3 heads etc. W.4
2 Grapes and leaves W.5
3 Swineherd and swine W.6
4 Floral, leaves etc. W.7
Backboard No. 2
Misercord No. 1 Grotesque figure W.8
2 Adam & Eve W.9
3 Leaves & fruit W.10
4 Two figures, one seated W.11
30 December 1947 letter Ashton to Mrs Davies
acknowledging the misercord gift as "a valuable addition to our collections of medieval woodwork". He also accepts the fragments for inclusion in the reference section.
Bibliographic References (Citation, Note/Abstract, NAL no)
Charles Tracy, English Medieval Furniture and Woodwork (London, The Victoria and Albert Museum, 1988), cat. no. 79
Labels and date
British Galleries:
The Pre-Reformation Church

Medieval churches were richly decorated. They contained, for example, images of saints, elaborate screens, embroidered cloths, gold plate, and vestments for priests, all paid for by generations of parishioners and other users. The wealthy erected elaborate tombs, signs of status and piety. They also endowed altars and paid for priests to say Masses for the dead. This would release the dead from the suffferings of Purgatory and hasten their passage to Heaven. The less wealthy might pay for candles to burn on the altar of a favourite saint.


Misericords were set on the underside of the hinged seats in the choirs of churches. They had no religious function but gave some support to the monks and clergy in the long parts of the services when standing was required. 'Misericord' comes from the Latin for mercy. The decoration was often amusing and sometimes moral. [27/03/2003]
Production Note
Made in Somerset for Blagdon Church, Somerset
Materials
Oak
Techniques
Carved
Categories
Furniture; Religion
Collection code
FWK