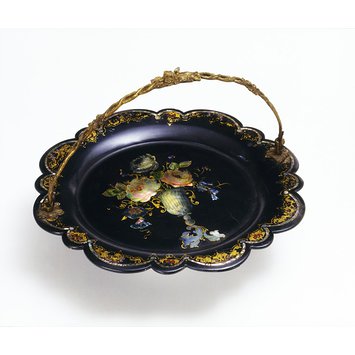 Cake basket
Place of origin:

Birmingham (manufactured)

Date:
Artist/Maker:

Jennens & Bettridge (manufacturer)

Materials and Techniques:

Papier mâché, painted, gilt and inlaid with mother-of-pearl, with gilt-metal handle

Credit Line:

Given by Lt. Col. W. H. Hildebrand

Museum number:
Gallery location:

British Galleries, Room 125b, case 2
Object Type
This cake basket is typical of the range of small decorative and functional objects made of papier mâché that were used at mealtimes. Other examples include baskets for bread, stands for teapots and bottles, and sets of crumb trays with brushes.

People
Jennens & Bettridge, the firm run by Theodore Hyla Jennens and John Bettridge between 1816 and 1864, was famous for the range of papier mâché goods manufactured in its factory at 99 Constitution Hill, Birmingham, West Midlands. They also had premises at 6 Halkin Street West, Belgrave Square, London. The firm produced a range of products including writing boxes, trays, fans, and larger pieces of furniture such as chairs, tables and sofas. The bottom of this cake basket is stamped with the firm's name.

Materials & Making
Papier mâché was made by pasting layers of paper over moulds of the required shape, a job mainly done by women and girls. The object was then oiled and baked at very high temperatures. The shape of this basket would have been finished by a cabinet-maker before it was varnished and dried in a stove. The mother-of-pearl was applied before the painted and gilt decoration, which was followed by a final coat of varnish, further stove drying and polishing.
Place of Origin
Birmingham (manufactured)
Date
ca. 1850 (manufactured)
Artist/maker
Jennens & Bettridge (manufacturer)
Materials and Techniques
Papier mâché, painted, gilt and inlaid with mother-of-pearl, with gilt-metal handle
Marks and inscriptions
Mark :'Jennens and Bettridge. Makers to the Queen'
Dimensions
Height: 14 cm, Width: 25.7 cm
Descriptive line
Papier mâché tray by Jennens & Bettridge, inlaid with mother of pearl. England, ca. 1840-1850.
Bibliographic References (Citation, Note/Abstract, NAL no)
The following excerpt is taken from Jones, Yvonne, Japanned Papier-Mâché and Tinware c. 1740-1940. Woodbridge, Antique Collectors' Club, 2012 (ISBN 978 1 85149 686 0), p.23-27:
'Paper is believed to have been invented in China in the second century AD, and the Chinese art of making papier mâché objects is almost as ancient, but knowledge of paper-making spread only very slowly and it not reach Europe until the 12th century. Paper-mills were established in France in the late 15th century and soon after, French craftsmen began using paper pulp to make architectural ornaments, snuff boxes and other small articles. There were few paper mills in England until the late 17th century, so there was little pulp from which to make comparable articles, the paper imported from France being far too expensive to be pulped for the purpose.
By the 18th century, however, there were two quite distinct branches of paper mâché manufacture in England. One was allied to the making of paper hangings, and the other, to the japanning industry. Both branches took their lead from France and this, together with the name, has not only perpetuated the myth that papier mâché was French in origin, but also overshadowed its ancient eastern history.
Not only was the term papier mâché not recognised in 18th century French dictionaries, but the Journal de l'Agriculture du Commerce (1778) sourced it to England and to the first edition of Dossie's book, The Handmaid to the Arts (1758). Its occurrence, much later in the French edition of the Paris Exhibition catalogue of 1855, may simply have been the result of the translation of texts supplied by English manufacturers. The term is, however, currently used in France today.
It has been suggested that the term derives from problems of communication between English employers and French émigré workers in the 17th century when papier mâché was probably taken to mean 'mashed paper' (or chewed paper)…. The crux was the cachet of a French sounding name and the penchant in some quarters if fashionable society in the late 18th century to look upon anything French as highly sophisticated.
…
Some of the advantages of papier mâché, gleaned from contemporary records, partly explain its attractions and may have been sufficient, at least until the mid-19th century, to outweigh what will be seen as its long and labour intensive production processes. Foremost was its suitability for japanning, which was much in vogue in the 18th century.
...
Furthermore, because it could be moulded into various forms, it required no joinery and was thus incredibly strong. As solid as wood, though less hard than most, it was said to blunt tools sooner, and although heavier in mass, its strength allowed it to be used in thin sections, rendering it perfect for small light objects….By the mid-19th century, it was found that it could be steam-moulded into any curve without fear of splitting. In short, it was considered superior to both wood and metal for being lighter, sounder, and admitting of a more beautiful finish'.
The following excerpt is taken from Jones, Yvonne, Japanned Papier-Mâché and Tinware c. 1740-1940. Woodbridge, Antique Collectors' Club, 2012 (ISBN 978 1 85149 686 0), p. 144.
"The partnership between Aaron Jennens (1788-1868) and John Bettridge (b.1790) is one of the best known in the history of the English papier mâché industry. It first appeared in the Birmingham Rate Book for the years 1810-13 when they occupied premises in Lionel Street, where one of their varnish suppliers, Messrs Thornley and Knight, was also situated.
...
Between 1851 and 1852, when they were described as the largest manufacturers of papier mâché in England, they had an office in New York, possibly in anticipation of the Exhibition of the Industry of All Nations, held there in 1853.
Though there is now a popular tendency for any unmarked yet good examples of Victorian papier mâché to be attributed to Jennens and Bettridge, there is no doubt that their reputation is justly deserved and of long standing; in their day, they were judged to have 'no rivals, or anything approximating to an equality' (Court, W.B., Rise of the Midland Industries 1600-1838, Oxford University Press, 1965, p.235)."

Labels and date
British Galleries:
Decorative cake baskets could be bought in silver or electroplate as well as papier-mâché. They could be handed round by servants or put on the table for guests to help themselves. Mappin Brothers offered silver baskets for as much as £8, whereas electroplate could cost as little as £1 1s (£1.10p). [27/03/2003]
Categories
Food vessels & Tableware
Collection
Furniture and Woodwork Collection