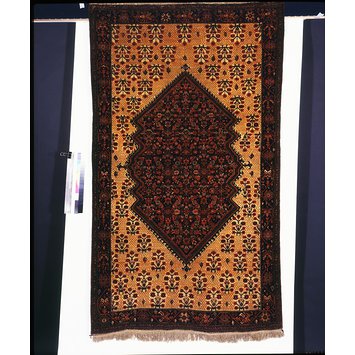 Persian carpet
Place of origin:
Date:
Artist/Maker:
Materials and Techniques:

Hand-knotted woollen pile on cotton warp and weft

Credit Line:

Given by His Majesty Nasir al-Din, Shah of Persia

Museum number:
Gallery location:
Object Type
This highly decorative floor covering is typical of the carpets woven in commercial workshops in Persia for export to Western Europe. Both the design and the colouring were chosen to appeal to western taste.
People
In 1873 this Museum authorised Robert Murdoch Smith (1835-1900) to collect Persian art on its behalf. He was Director of the British-owned Persian Telegraph Department and succeeded in interesting the Shah in the South Kensington Museum. As a consequence the Shah agreed to donate several carpets to expand the Museum's collection of contemporary craft. This carpet is one of those selected by the Shah's Ministers and Murdoch Smith. Murdoch Smith continued to act as the Museum's agent until he returned to his native Scotland in 1887; he later became Director of the Royal Scottish Museum in Edinburgh.
Materials & Making
In a pile fabric, such as this carpet, the foundation consists of two sets of threads, warp and weft, which interlace at right angles. The pile is created by tying a knot of coloured thread around two adjacent warp threads, building up the design row by row while the foundation is being woven by the insertion of weft. It requires only a simple loom and is easily done by hand. In this carpet there are 3,584 knots per square decimetre.
Physical description
Warp: white cotton; Z4S; 32 threads to the inch (128 per dm); depressed.
Weft: white cotton and blue cotton (see main border below); Z4S; 2 shoots after each row of knots; 14 knots per inch (56 per sq. dm).
Pile: wool; 11 colours: dark red, red, light red, orange, yellow, green, dark blue, blue, purple, dark brown, white; asymmetrical knot open to the left and tied around 2 warps; 224 knots per sq. inch (3584 per sq. dm).
Side finish: one cord oversewn with red wool.
End finish: Lower: 1 cm warp-faced plain weave above one row of weft twining in red and blue; loose warp fringe 4.5cm long. Upper: as lower but 2.5cm plain weave.
Design:
Field: white ground with a large, irregular medallion indented along the sides. It has a dark blue ground covered with a small-scale Herati pattern with red diamonds and leaves in two shades of red. The medallion is outlined with blue hooks, one line of which has been omitted from a small section on both sides in the lower third. Also omitted (only on the left) is the inner line of indentations. The rest of the field has a white ground with off-set floral sprays in red and blue. The direction of the sprays is reversed mid-way down the field. These are surrounded by a small diaper pattern of orange diamonds with coloured centres. Small botehs appear occassionally, only three of which are inverted in the upper half.
Main border: dark blue ground with an angular floral meander in yellow and red. This bears alternating stylised octagonal blossoms and palmettes - the latter branch out from the lower left hand corner. Blue weft is used across the lower width of the carpet and then is replaced with white weft used for the field, although the blue continues in the border. This was done for the first 5cm of the border and then the white weft was used throughout, perhaps because the change was time-consuming or perhaps because of the structural weakness.
No inner border.
Outer border: dark red ground with a small floral meander with a significant colour change in the ground colour 20cm from the lower end.
Place of Origin
Kordestan, Iran (made)
Date
1876 (made)
Artist/maker
Unknown (production)
Materials and Techniques
Hand-knotted woollen pile on cotton warp and weft
Dimensions
Length: 190.5 cm, Width: 110.5 cm
Labels and date
British Galleries:
Carpets were made in many parts of Persia (now Iran). Each area produced its own distinctive type. In the 1870s it was generally considered that those of Kurdistan were the finest. Carpets like this one, with flat, stylised patterns of contrasting colours were selected by the Museum to illustrate good design. [27/03/2003]
Categories
Textiles; Floor coverings
Collection code
T&F