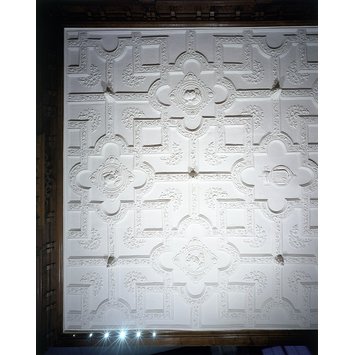 Ceiling
Place of origin:
Date:
Artist/Maker:

Unknown (maker)
Bruyn, Nicolaes de, born 1571 - died 1656

Materials and Techniques:

A base coat of lime plaster was applied to laths nailed across joists to create a ceiling. As it was very slow-setting it was possible to run ribs by hand and apply ornament pressed from wooden moulds while the plaster was still 'green'. The plasterer could use his tools to smooth junctions and any bodges that occurred. The ceiling was finished with a second, finer coat of lime plaster and an application of whitewash.

Museum number:
Gallery location:

British Galleries, Room 58, Bromley-by-Bow Room
Object Type
The ceiling comes from the parlour of a house built in Bromley-by-Bow, to the east of London. It represents the peak of Elizabethan and Jacobean plasterwork and would have originally been white-washed rather than coloured.

Designers & Designing
The ceiling is decorated with ribs that form intersecting squares and quatrefoil (four-lobed) panels. This is a variation on the type of ornament known as 'strapwork' that can also be seen in the panelling of the room (museum no. 248-1894). Circular medallions set into the quatrefoil panels contain busts of three of the Nine Worthies. The coat of arms of James I is set in the central panel. Eight pendants hang like stalactites from points where the ribs intersect.

This decoration is known as the 'enriched-rib' style from the embellishment of fruit, flowers and cherubs that overlays the basic geometrical pattern.

Subjects Depicted
The Nine Worthies (or Heroes) were famous historical and mythological characters. They were chosen for decorative effect rather than any symbolic significance. The three Worthies featured here are Alexander the Great, Hector (from Homer's poem, the Iliad) and the Old Testament figure Joshua. They derive from a popular print series by the Flemish engraver Abraham de Bruyn (1540-1587).

Materials & Making
To make the ceiling, lime plaster was pressed into carved wooden moulds. The separate sections were then joined together and fixed to the ceiling laths. It took a year for the plaster to dry out completely.


Physical description
The plaster ceiling (51-1894) is planned on a pattern of intersecting squares, quatrefoils, and shaped panels, with eight enriched pendants hanging from the point of intersection of the strapwork ribs; the ribs being moulded with a trailing pattern of fruit and flowers. The centres of sixe of the quatrefoils are occupied by circular medallions surmounted by wreaths and winged cherub heads, and containing full-faced bearded busts representing three of the Nine Worthies, inscribed 'IOSUE.DUX', 'HECTOR.TRO', ALEXANDER', each head being repeated twice. The remaining quatrefoil in the centre of the ceiling contains the shield of James I bearing the royal arms, as on the overmantel, but without the supporters, and surmounted with a crown on the side of which are the letters I.R. each of the shaped panels contains a conventional floral pattern of sprigs, sprays and fruit.
Place of Origin
London (made)
Date
1606 (made)
Artist/maker
Unknown (maker)
Bruyn, Nicolaes de, born 1571 - died 1656
Materials and Techniques
A base coat of lime plaster was applied to laths nailed across joists to create a ceiling. As it was very slow-setting it was possible to run ribs by hand and apply ornament pressed from wooden moulds while the plaster was still 'green'. The plasterer could use his tools to smooth junctions and any bodges that occurred. The ceiling was finished with a second, finer coat of lime plaster and an application of whitewash.
Dimensions
Width: 625 cm, Depth: 853.5 cm
Object history note
The original plaster ceiling with enriched geometrical designs and pendants, includes 6 medallions representing 3 of the Nine Worthies (Joshua, Hector and Alexander) and the royal arms of James I. It represents the peak of Elizabethan and Jacobean plasterwork, worked on a relatively small scale, and very popular 1560-1620. Ceilings of this type were white-washed, rather than coloured. Many other houses in and around London would have had similar ceilings, some with identical elements. Wooden moulds may have been reused by teams of itinerant plasterers, though it is also likely that the carvers of wooden moulds were reusing the same print sources. Some ceilings with matching elements survive from or at a number of houses in England and Scotland (Sir Paul Pindar's House, Bishopsgate; Canonbury House; Mapledurham House, Oxfordshire; Bramshill, Hampshire; Craigievar Castle, Aberdeenshire; Merchison Castle, Edinburgh; Glamis Castle, Forfarshire,1620; Balcarres House, Fife;Kellie Castle, Fife (1619), Muchalls, 1624). The Nine Worthies (traditionally 3 pagans, 3 Jews and 3 Christians) were a popular Renaissance iconographical source for emblematic decoration. These heads are taken from engravings of the Nine Worthies by Nicolaes de Bruyn published in Antwerp in 1594.
See Ian Gow, 'The Kellie Millefiori Tapestry Fragment', in Furniture History LI (2015), pp. 63-69 where, on pp. 66-67 he discusses the comparable ceiling at Kellie, which is dated 1619.
Fragments (of wood and plaster) and plaster casts of two other ceilings and a frieze which were rescued from the house before its demolition are also held by the V&A: 1282…-1900 and 1282m-1900, 248a.1to3-1894, 430-1895 (dated stone), FWK.LOST.546:1&2, 248A/4-1894 (Dinner of herbs panel).
Historical context note
The Nine Worthies and the Bromley-by-Bow ceiling.
The Nine Worthies - traditionally three pagans (Hector, Alexander the Great, Julius Caesar), three Jews (Joshua, Judas Maccabeus, King David) and three Christians (King Arthur, Charlemagne, Godfrey de Boulogne [or in England, Guy of Warwick]) - were an extremely popular Renaissance iconographical source. With roots in fourteenth century French romance, the group achieved particular popularity in England and Scotland in the half century between 1575 and 1625 (Wells Cole 1997, pp.298-99). Often drawing upon the widely-disseminated late sixteenth century print series by de Bruyn and Phillips Galle, the Worthies were interpreted sculpturally, on the east front of Montacute House (Someset) in the 1570s, and upon an early seventeenth century conduit, originally erected at the Carfax, Oxford (Wells Cole, 148-49). The three images used on the Bromley-by-Bow ceiling are also taken from de Bruyn's 1597 engravings (Jourdain 1950, 23).
There was also widespread use of selected 'Worthies', deployed to amplify living personalities and their associations. The selection of the three Worthies that adorn the Bromley-by-Bow state room ceiling - Joshua, Hector and Alexander - arguably support an association with James I, who is presumed to have had a connection with the building. Joshua's resonances for a newly-Protestant nation would have been through the Old Testament figure's settlement of the Israelites in the Promised Land, and his leadership in the early period of this new religious and political state. Hector, the Trojan idealised as an honourable military hero, family man and father, may have suggested James' role as individual and national paterfamilias; also, contemporary parallels were drawn between the English 'Trojans', besieged by a Catholic Europe. The connotations of Alexander, who came to rule over many territories other than his own, are clear for a Scottish King newly settled at the head of the English state. James' book of advice to his first son, Henry, Prince of Wales (d.1610), the Basilikon Doron (1599) also alludes to Alexander as an ideal monarch, combining wisdom and military prowess, and imperial success; James saw Henry, if not himself, as aspiring to such a role (Parry 1981, 66).
References:
Margaret Jourdain, English Interior Decoration 1500-1830 (London, 1950)
Graham Parry, The Golden Age Restor'd: the Culture of the Stuart Court 1603-42 (Manchester, 1981).
Anthony Wells Cole, Art and Decoration in Tudor and Stuart England (New Haven/London, 1997)
Dr Claire Gapper, British Renaissance Plasterwork, http://clairegapper.info/the-london-evidence.html (accessed 12/1/2015)
Descriptive line
A plaster ceiling, with raised ribs enclosing geometrical panels, the major panels decorated with roundels cast with heads of the Nine Worthies
Bibliographic References (Citation, Note/Abstract, NAL no)
Anthony Wells-Cole, Art and Decoration in Elizabethan and Jacobean England. The Influence of Continental Prints 1558-1625 (London and New Haven: Yale University Press, 1997), pp. 166-167, where he identifies de Bruyn as the source of the plasterwork.

Labels and date
British Galleries:
A number of other ceilings exist with the same decoration of the Nine Worthies, both in England and Scotland. Some may have been made by the same craftsmen, carrying their expensively-carved moulds from site to site. Others may simply reflect the fact that different carvers of moulds for plasterwork based their designs on the same published prints. [22/11/2001]
Categories
Architectural fittings
Collection
Furniture and Woodwork Collection