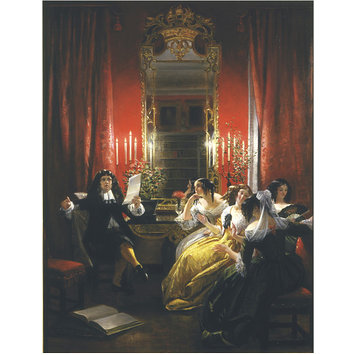 Charles Robert Leslie, born 1794 - died 1859
Les Femmes Savantes
Object:
Place of origin:

London, England (painted)

Date:
Artist/Maker:

Charles Robert Leslie, born 1794 - died 1859 (painter (artist))

Materials and Techniques:

Oil on canvas, with carved wood and composition frame

Credit Line:

Given by John Sheepshanks, 1857

Museum number:
Gallery location:

British Galleries, room 122g, case WN
Object Type
Oil paintings such as this with subjects taken from popular literature steadily replaced commissions for history paintings in the early 19th century. The public and most collectors of modern works started to prefer lighter and sometimes more sentimental themes.
Subjects Depicted
Leslie frequently used themes from humorous literature. Here he is illustrating a scene from a play by Molière, Les Femmes Savantes ('The Learned Ladies'), in which the conceited Trissotin reads a pretentious sonnet of his own composition to his admiring audience of literary ladies, the self-styled 'learned ladies' of the title. When this picture was exhibited at the Royal Academy in London in 1845, it was called A Scene from Molière and several lines from the play were quoted in the catalogue.
People
Although Leslie began his career as a history and portrait painter, he soon turned to literary themes. The collector John Sheepshanks (1787-1863) owned 17 paintings by Leslie with subjects taken from well-known authors such as Shakespeare, Chaucer and Molière.
Physical description
Oil painting depicting Trissotin reading his sonnet.
Place of Origin
London, England (painted)
Date
1845 (made)
Artist/maker
Charles Robert Leslie, born 1794 - died 1859 (painter (artist))
Materials and Techniques
Oil on canvas, with carved wood and composition frame
Dimensions
Height: 99 cm, Width: 76.1 cm, Height: 136 cm framed, Width: 105 cm framed
Object history note
Given by John Sheepshanks, 1857. Painted in London by Charles Robert Leslie RA (born in London, 1794, died there in 1859); frame maker unidentified
Descriptive line
Oil painting by Charles Robert Leslie depicting a scene from a play by Molière, Les Femmes Savantes, namely Trissotin reading his sonnet (Act III, Scene 2). Great Britain, 1845.
Bibliographic References (Citation, Note/Abstract, NAL no)
Catalogue of British Oil Paintings 1820-1860, Ronald Parkinson, Victoria and Albert Museum, London: HMSO, 1990, pp. 166-67
The following is the full text of the entry:
"LESLIE, Charles Robert, RA (1794-1859)
Born London 19 October 1794, eldest son of American parents, with whom he went to Philadelphia 1799. Apprenticed to a publisher 1808, received a few lessons in painting from Thomas Sully. A subscription was raised to enable him to study art in Europe; returned.to London 1811, entered RA Schools and studied with Benjamin West and Washington Allston. Visited Paris 1817 with Allston and Wilkie Collins, met G S Newton, with whom he visited Brussels and Antwerp. Also friend and biographer (published 1843) of John Constable. Exhibited 76 works at the RA between 1813 and 1859, and 11 at the BI 1815-32. Some were portraits, but most were his much admired literary subjects, particularly drawn from Cervantes, Moliere, Shakespeare and Steme. Elected ARA 1821, RA 1826. Several of his works were engraved, and he made six illustrations for Sir WaIter Scott's Waverley novels 1824. Worked for six months as drawing master at West Point Military Academy, New York State, 1833. Professor of Painting at RA 1848-52; his lectures were published as a Handbook for Young Painters (1855). His Life of Reynolds was finished by Tom Taylor and published 1865. Died St John's Wood, London, 5 May 1859. An exhibition at the RA of 30 of his works was held winter 1870. His two sons, George Dunlop and Robert, were also artists. The Athenaeum critic (9 May 1846, p480) wrote that he was 'unrivalled for the certainty of his powers, the wit of his pencil, the deep knowledge of human nature as exhibited in the more ordinary scenes of life'.
LIT: Art JournaI1856, pp73-5 and 105-7, 1859, p187 (obit); C R Leslie Autobiographical Recollections ed T Taylor, 2 vols, 1860; J Dafforne Pictures by C R Leslie nd [1875]; Art ]ournaI1902, pp 144-8; J Constable The Letters of John Constable and C R Leslie 1931; ed R B Beckett John Constable's Correspondence III, Ipswich 1965
Les Femmes Savantes
FA117 Neg 76916
Canvas, 99 X 76.1 cm (39 X 30 ins)
Sheepshanks Gift 1857
Exhibited at the RA in 1845, and, according to Taylor (Leslie 11, p280), painted for John Sheepshanks. The Athenaeum critic simply dismissed the work with the comment 'a repetition, with, at best, very unimportant changes, of his well-remembered piece of humour'; other critics do not seem to note an earlier version of the picture, and none is recorded in Leslie. The title given in the RA catalogue was 'Scene from Molière', with the following lines appended (for some reason, a different quotation appears in the 1907 catalogue):
Trissotin: Sonnet a la Princesse Uranie sur sa Fievre.
Votre prudence est endormie
De traiter magnifiquement,
Et de loger superbement
Votre plus cruelle ennemie.
Belise: Ah! le joli debut!
Annande: Qu'i] a le tour galant!
Philaminte: Lui seul, des vers aises possede le talent.
The lines are from Molière's play Les Femmes Savantes (1673), act 3 scene 3.
Contemporary and later opinions of the painting differed, although the themes of Leslie's humour and chalky 'sketchiness' are common. The Art Union in 1845 thought 'This production is less careful than any we remember by its author ... Compared with what has been exhibited by the artist, this is in manner but a sketch, and the subject is slighted'; the costumes were also adversely noted: 'The male figure is attired according to the manner in which the French dress the character; but the female figures are dressed in what may pass for modem costume, and are decidedly too English in style, to support a scene from Molière as we are accustomed to see the author put upon the French stage'. TheExaminer found it:
Charmingly executed, with the usual exceptionable points in colour . . . How admirably conveyed is the conceited admiration of Trissotin's sonnet; and with what a comical gusto of folly the sonneteer sits among his learned admirers. Let us remember how little like Nature, scenes from plays are generally made: and admire Mr Leslie the more.
By 1857 the 'sketchiness' was still more a matter for comment. The Art Journal, reviewing the Sheepshanks collection, called it
A picture in which is set forth the learning of a life-time. It is a full composition, abounding with even, small forms, which would be insufferably impertinent in unskilful hands; but the appositions are so masterly, and the light so brilliantly and beautifully distributed, that we feel that the artist has been guilty of a misdemeanour in not having finished the work more perfectly.
Ten years later, in a text accompanying an engraving after the work, the Art Journal admired the 'irresistibly humorous' treatment of the subject, but 'the picture shows the artist's accustomed tendency to "chalkiness" more than usual. This, with the peculiar light from the candelabra, renders the subject difficult to engrave effectively'. Taylor had also found the work 'disagreeably chalky in texture', but thought the expressions worthy of Hogarth. The Redgraves, however, opined that 'a truer effect is given of the brilliancy of candlelight by the slightest means, than in the most laboured work of Schalken or Honthorst'. Maas finds the effect 'delightfully brash'.
The background was taken from the White Library at Petworth, where Lord Egremont was one of Leslie's patrons; the existence in a private collection of a watercolour study for the looking-glass and console table is recorded on the Departmental files.
EXH: RA 1845 (149); International Exhibition Dublin 1865 (148a); Bicentenary Exhibition RA 18-9 (175)
ENGR: P Lightfoot, in Art Journal 1867, facing p230, and J Daffome Leslie and Maclise 1871, facing p45
LIT: Athenaeum 10 May 1845, pp466; Art Union 1845, p183; Examiner 1845, p293; Art Journal 1857, p240; Leslie I, pplxiilxiii, II, p280; Art Journal 1867, p230; JDaffome Maclise and Leslie 1871, p51; L'Artiste 1884, (XX), p254; Sand R Redgrave A Century of British Painters 1866, pp310-1; J Maas Victorian Painters 1969, p109, repr in colour p120
Ronald Parkinson"
Labels and date
British Galleries:
This shows a scene from a French play first performed in 1672. The frame was carved with motifs that came into fashion only in 1700. Mixing of historic styles was an accepted part of 19th century French Style. [27/03/2003]
Materials
Oil paint; Canvas
Techniques
Oil painting
Subjects depicted
Poets
Categories
British Galleries; Paintings
Collection code
PDP