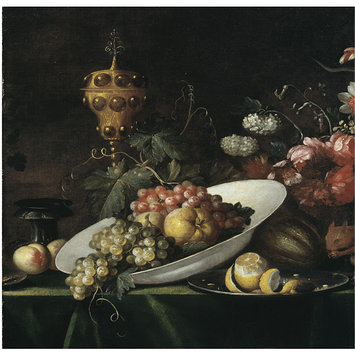 Kalf, Willem, born 1619 - died 1693
Fruit piece, with covered gilt goblet
Object:
Date:
Artist/Maker:

Kalf, Willem, born 1619 - died 1693 (manner of, painter (artist))

Materials and Techniques:
Museum number:
Gallery location:
Willem Kalf (1619-1693) belonged to a prosperous patrician family from Rotterdam. In the 1630s, he went to Paris and spent a long time with the Flemish artists residing in St-Germain-des-Prés. Kalf returned to Rotterdam in 1646 but continued to travel in the Netherlands. In 1653, he was in Amsterdam where he remained until his death.
This work is probably an 18th-century painting in the manner of Willem Kalf. It has almost the same composition as known paintings by the artist such as a Still-life with fruits housed in the Ashmolean Museum, Oxford, and indeed displays from the same point of view an identical inclined plate with fruits and a goblet encrusted with red semi-precious stones behind. The pronk goblet is however slightly different from the many he had depicted as it looks more heavy shaped and less elegant. This corruption of form is typical of later imitation when the object is no longer known from life but only through representations. Moreover, the painting has been cut around the edges on the left and on the right as well as on the top. On both sides, the items are cut offs and only half of the squirrel is left on the right hand side. This work bears the characteristic features of Kalf's output, however the effects of light on the goblet and the porcelain are not as refined and the lemon peel texture for instance is less naturalistic. In many ways, this imitator followed Kalf's technique and palette that belong to the tradition of the Dutch monochromatic still life pictures of the second quarter of the 17th century.
Physical description
A still-life with an inclined porcelain plate laden with grapes and pomegranate, a pewter plate with a melon and a lemon, a bouquet of flowers on the right hand side and a squirrel; peaches are on the left with a candelabra and a pronk goblet behind.
Date
18th century (painted)
Artist/maker
Kalf, Willem, born 1619 - died 1693 (manner of, painter (artist))
Materials and Techniques
Oil on canvas
Dimensions
Height: 74.2 cm estimate, Width: 62 cm estimate
Object history note
Purchased, 1876
Historical significance: This painting belongs to the tradition of Dutch semi-monochromes still-lifes called banketjes or 'little banquet pieces' painted by the Haarlem artists Pieter Claesz. and Willem Claesz. Heda who were the masters of this art in the 1630s and had a great influence on a large numbers of still-life painters in Haarlem and elsewhere. During the course of the 1640s Kalf developed the banketje into a new form of sumptuous and ornate still-lifes, the (pronkstilleven), characterised by a rich accumulation of gold and silver vessels together with a stunning mastery at capturing the effects of light.
This painting is a good example of the popularity Kalf enjoyed at the end of the 17th century and even during the 18th century.
He had many followers and was held as one of the greatest Dutch painters of still-life. He was therefore much imitated. One of his essential characteristics is that he often produced his compositions in series, bearing some minor differences. This painting could indeed be thought at first sight to be a variation within one of his series but some weaknesses in the rendering of the effects of light and an excessive artificiality in the depiction of the different textures betray the hand of an imitator.
Historical context note
Still-life reached the height of its popularity in Western Europe, especially in the Netherlands during the 17th century even though still-life subjects already existed in pre-Classical, Classical and Renaissance art. The term conventionally refers to the type of work in which an arrangement of diverse inanimate objects including fruits and shellfishes, vessels and artefacts are depicted. Dutch painters played a major role in its development, inventing many distinctive variations on the theme over the course of the century. For instance Haarlem painters such as Pieter Claesz. (1597/98-1661) and Willem Claesz. Heda (1593/94-1680/82) specialized in depicting monochrome still-life with neutral tones whereas Willem Kalf concentrated his attention on the representation of luxury goods in a limited however contrasted palette. Scholarly opinions had long been divided over how all of these images should be understood. They manifestly witnessed the prosperous growth of wealthy cities such as Amsterdam and Haarlem but also may be envisaged asmemento mori, or vanitas, i.e. reminding pictures of the human mortality and invitation to a meditation upon the passage of time. By the late 17th century, artists were refining their technique to ever-greater virtuosity, finding markets for their skills throughout Europe. These pieces were still popular in the 18th century, especially the fruit and flowers ones.
Descriptive line
Oil painting, 'Fruit Piece, with Covered Gilt Goblet', manner of Willem Kalf, 18th century
Bibliographic References (Citation, Note/Abstract, NAL no)
Kauffmann, C.M., Catalogue of Foreign Paintings, I. Before 1800, London: Victoria and Albert Museum, 1973, p. 163, cat. no. 200.
The following is the full text of the entry:
Willem KALF (1619-93)
Dutch School
Born at Rotterdam, where he lived until after 1638, Kalf was in Paris from ca. 1640 until 1646. His early work appears to owe much to the still-life paintings of François Ryckhals, a Fleming living in South Holland. On his return to Holland, Kalf lived in Hoorn and, from 1653 until his death in 1693, in Amsterdam. He painted some cottage interiors and game-pieces, but his fame rests on his output of pronk still-life paintings, depicting magnificent goldsmiths' work.
Manner of Willem KALF
200
FRUIT PIECE, WITH COVERED GILT GOBLET
Canvas
29 ¼ x 25 (74.2 x 62)
312-1876
Acquired as 'Flemish?' (1893 Catalogue, p. 190), this painting may be described as being in the manner of Kalf, though L. Grisebach suggests that it is probably 18th century (written communication). It has been cut from a larger canvas: recent cleaning has revealed some flowers and half a squirrel on the right which had been painted over. The half shrimp on the table on the left indicates that it was probably cut down on the left side also.
Prov. Bought in 1876.
Materials
Oil paint; Canvas
Techniques
Oil painting
Subjects depicted
Flowers; Fruit; Squirrel; Still life; Porcelain; Goblets; Pewter
Categories
Paintings
Collection code
PDP