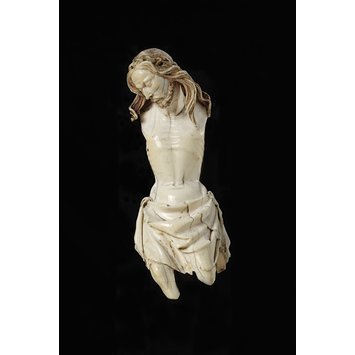 Pisano, Giovanni, born 1240
The Crucified Christ
Object:
Place of origin:

Tuscany, Italy (made)
Italy (made)

Date:

1285-1300 (made)
1285-1300 (made)
19th century (repaired)
19th century (repaired)

Artist/Maker:

Pisano, Giovanni, born 1240 (attributed, Maker, Designer)

Materials and Techniques:

Carved ivory with traces of gilding

Museum number:
Gallery location:

Medieval and Renaissance, room 9, case 2
We know that Giovanni Pisano carved a great ivory Virgin and Child in 1298. The statue is now in the Museo dell'Opera del Duomo in Pisa. We also know that scenes depicting the Passion of Christ belonged to the ensemble of which it formed a part. Although it is unlikely that this crucifix figure was made for this Pisan commission, its style and superb quality strongly suggest that the same sculptor made it. It is also closely comparable to figures on the pulpit that Giovanni Pisano made for Pisa Cathedral. This dates from the years 1302-1310.
This figure was originally partially painted (the loincloth) and gilded (the hair and beard). It is similar to Giovanni Pisano's surviving crucifix figures in polychrome wood. These are now in Siena, Pistoia, Prato, Pisa and Berlin. Small crucifixes such as this were made for side altars and chapels. Medieval inventories also list ivory crucifixes among the possessions of the rich and powerful.
Physical description
Statuette of the Crucified Christ; ivory with traces of gilding.
Place of Origin
Tuscany, Italy (made)
Italy (made)
Date
1285-1300 (made)
1285-1300 (made)
19th century (repaired)
19th century (repaired)
Artist/maker
Pisano, Giovanni, born 1240 (attributed, Maker, Designer)
Materials and Techniques
Carved ivory with traces of gilding
Dimensions
Height: 15.5 cm, Width: 6 cm, Depth: 5 cm, Weight: 0.2 kg
Object history note
The ivory was acquired by the Museum from the collection of John Webb. Webb's collection was particularly rich in medieval ivories. Nothing is known for certain about the early history of this object. Many of Giovanni's other small-scale works were made for churches in the towns in which he produced large scale works (such as Siena, Pisa and Pistoia). It is possible that the V&A ivory was made for an altar in one of the churches in these towns. The early fourteenth century inventories of Pisa cathedral mention an ivory crucifix, but it is impossible to say if this is it.
Historical significance: Giovanni Pisano was one of the most significant sculptors of the late thirteenth and early fourteenth centuries. He continued his father's interest in adapting Northern gothic forms to an Italian context - this carving has a strong tension between naturalistic observation, and idealised forms, which is typical of gothic art. The choice of ivory as a medium was unusual for Italy at this date, and probably reflects the desire to create an object remniscent of the ivory sculpture being produced in Paris. The whiteness of the ivory was highlighted by the very sparing use of colour and gilding on the figure. The crucifixion figures produced by Giovanni in marble, wood and ivory are thought to have been very influential, particularly amongst Sienese artists.
Historical context note
This figure would have come from a crucifix. The crucifix would probably have been a free-standing object, intended for adorning an altar during the ceremony of the mass. The presence of a crucifix on the altar had been usual during the mass since at least the twelfth century, and was discussed by writers such as Pope Innocent III and the liturgist Durandus. Small crucifixes were made for side chapels and altars, and medieval inventories also list ivory crucifixes amongst the possessions of the rich and powerful. One of the somewhat larger wooden crucifixes by Giovanni Pisano is known to have been used in penitential processions at Easter, and it is possible that the V&A's ivory could have been processed in a similar way. Ivory was an unusual artistic media in Italy at this point, and its use may have been a conscious emulation of French works which were coming into Italy during this period.
Descriptive line
The Crucified Christ by Giovanni Pisano, ivory with traces of gilding, Italy, ca. 1300.
Bibliographic References (Citation, Note/Abstract, NAL no)
J. Pope-Hennessy. An ivory by Giovanni Pisano. Victoria and Albert Museum Bulletin. Vol. 1, no. 3, July 1965, pp. 9-16.
M. Seidel. Die Elfenbeinmadonna im Domschatz zu Pisa. Mitteilungen des Kunsthistorischen Institutes in Florenz. XVI, 1972, pp. 1-50
M. Lisner. Holzkrucifixe in Florenz und in der Toskana von der Zeit um 1300 bis zum frühen Cinquecento. Munich, 1970, p.22
M. Seidel. Opus Heburneum: Die Entdeckung einer Elfenbeinskulptur von Giovanni Pisano. Pantheon. XLII, 1984, pp. 219-229
P. Williamson. Gothic Sculpture 1140-1300. London, 1995, pp. 260-262.
Inventory of Art Objects acquired in the Year 1867. Inventory of the Objects in the Art Division of the Museum at South Kensington, arranged According to the Dates of their Acquisition. Vol. 1. London : Printed by George E. Eyre and William Spottiswoode for H.M.S.O., 1868., p. 12.
Longhurst, Margaret H. Catalogue of Carvings in Ivory. London: Published under the Authority of the Board of Education, 1927-1929. Part II. p. 58.
Carli, Enzo. Giovanni Pisano. Pisa: Pacini, 1977. pp. 67-68. pls. 73, 74.
White, John. Art and Architecture in Italy, 1250-1400. Harmondsworth: Penguin, 1966. p. 88.
Gaborit-Chopin, Danielle. Ivories du Moyen Age. Fribourg: Office du Livre, cop., 1978. pp. 160, 211. pls. 250, 251.
Gaborit-Chopin, Danielle. Un christ en bronze doré du Trecento au Musée du Louvre. Revue de l'art. 64, 1984. pp. 57-64.
Williamson, Paul. Avori Italiani e Avori Francesi. In: Pace, Valentino, ed. Il Gotico Europeo in Italia. Napoli: Electa Napoli, 1994. pp. 293-294. fig. 1.
Marques, Luiz C. Un Avorio di Giovanni Pisano. Antichità Viva. 19, 1980, 5. pp. 16-22.
Baldinotti, Andrea and Vezzosi, Massimo. Il "Crocifisso" Eburneo del Victoria and Albert Museum di Londra: Una Proposta per Marco Romano. Prospettiva. 115/116, 2004. pp. 105-109.
Cf. Scultura Dipinta: Maestri di Legname e Pittori a Siena: 1250-1450. Florence, 1987. p. 24.
Williamson, Paul, ed. European Sculpture at the Victoria and Albert Museum. London, 1996. p. 56.
Exhibition History
Precious: Objects and Changing Values (The Millennium Galleries, Sheffield 02/04/2001-24/06/2001)
Images in Ivory: Precious Objects of the Gothic Age. (The Walters Art Gallery 22/06/1997-31/08/1997)
Images in Ivory: Precious Objects of the Gothic Age. (Detroit Institute of Arts 09/03/1997-25/05/1997)
A Grand Design - The Art of the Victoria and Albert Museum (Victoria and Albert Museum 12/10/1999-16/01/2000)
Production Note
When acquired by the Museum, this ivory was described as "French (?), 14th century". It was first recognised as an Italian work by Koechlin in 1924, and the attribution to Giovanni Pisano was made by John Pope-Hennessy in 1965, on the basis of stylistic comparisons with Giovanni's known works in marble and wood. Giovanni was described in an inscription on his pulpit in Pisa as working in stone, wood and gold. However, we can add ivory to this list with certainty, because documentary references survive to an ivory sculptural group from the High Altar of Pisa Cathedral, which he made in 1298, and from which an ivory Virgin and Child now in the Pisa Museo dell'Opera del Duomo is believed to have come.
Although Pope-Hennessy's attribution has remained unquestioned by English speaking scholars, it has occasionally been challenged by Italian and German-speaking art historians, notably Max Seidel and Margrit Lisner. Seidel's initial dismissal of Pope-Hennessy's attribution has been important in that it has encouraged the V&A's work to be sidelined in any discussion of Giovanni's production of crucifixes. Seidel later accepted the work as being by Giovanni.
Pope-Hennessy's attribution is wholly convincing. The V&A ivory falls into a category of crucifix figures associated with Giovanni, and which were produced in wood and ivory. The most well known of these, and by far the closest comparison in terms of composition and style with the V&A ivory, is the wooden crucifix in the treasury of Siena Cathedral, which is unanimously attributed to Giovanni. This piece shares two key characteristics with the V&A ivory - the legs twist in the opposite direction from Christ's head, and his hair falls forward in dramatic flowing curves on both sides of his face. The other wooden crucifixes are in the Museo dell'Opera del Duomo in Pisa, in the Cathedral of Prato, in the Church of Sant'Andrea in Pistoia, and in the cathedral of Massa Marittima. There is also a fragmentary wooden figure in the Staatliche Museum in Berlin. Although clear similarities exist between all of these figures, only the Sienese and V&A figures share the motif of Christ's legs twisting in the opposite direction from his head. The Staatliche Museum figure is the only other wooden figure to have originally had hair hanging in front of Christ's face, in carefully worked tresses in the round.
There are two problems in comparing the wooden figures with the ivory one - firstly, the difference in media; secondly, the important difference in size - the wooden crucifixes are much more substantial than the V&A ivory, the Sienese figure being about three times larger. Fortunately, since Pope-Hennessy made his attribution, Max Seidel has also published another ivory figure, in a private Swiss collection, as an ivory by Giovanni. This figure is only slightly larger than the V&A's. However, the twisting of Christ's body is minimal, and the hair is brushed back over the shoulder.
These comparisons allow us to speculate about the date the V&A ivory was executed. Seidel rightly links the simpler Swiss ivory figure to works by Giovanni's father, Nicola, and attributes it to Giovanni's early years as a master in his own right in the 1270s. The V&A ivory, on the other hand, has often been described as a work of around 1300. This is certainly possible, given the formal similarities which Pope-Hennessy and others have noted between the V&A ivory and figures on his marble pulpits in Pistoia and Pisa, executed between about 1298 and 1310. We also know that he was working ivory in the 1290s from the documented Pisan tabernacle. However, the Sienese crucifix which is most similar to the V&A ivory probably dates to some time after 1285, during Giovanni's period in that city as capomaestro of the cathedral building. There has been a recent tendency to date all of the wooden crucifixes to Giovanni's earlier career. Certainly, the key forms of his crucifixes (slumped figures, strongly twisted heads, tension between naturalism and stylisation) can all be paralleled in works dating somewhat earlier than 1300 - for example, the enamel of the crucifixion by the Sienese artist Guccio di Mannaia on a chalice made between 1288 and 1292 for Pope Nicholas IV. Such Sienese images in other media are often thought to depend on Giovanni's crucifix type. It is therefore quite possible that the V&A ivory dates somewhat earlier than 1300, although probably no earlier than his time in Siena.
Subjects depicted
Jesus Christ; Christianity; Crucifixes; Suffering; Salvation
Categories
Sculpture; Religion; Christianity
Collection code
SCP