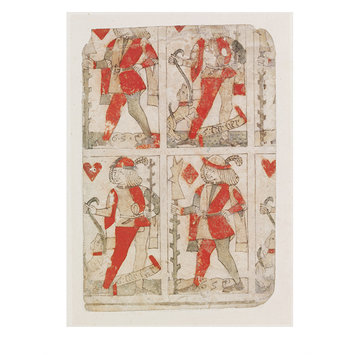 Part of an uncut sheet of playing cards
Object:
Place of origin:

Lyons (probably, printed)

Date:
Artist/Maker:

Savouré, Gilles (woodcutter)

Materials and Techniques:

Woodcut on laid paper with stencil colouring

Credit Line:

Purchased under the bequest of Captain H. B. Murray

Museum number:
Gallery location:

Medieval & Renaissance, Room 64, The Wolfson Gallery, case 4
This playing-card is part of a larger sheet printed also with three images of the Knave of Diamonds and three images of the Knaves of Hearts. It was cheaper for playing-card makers to print several cards on one sheet of paper, colour them through a stencil and then cut the sheet up into individual cards, than to print and colour cards individually. Although over 500 years old, this card is still recognisable as the Knave (or Jack) of Diamonds. This shows how static the basic elements of the design have remained over the centuries.
Physical description
Fragment of an uncut sheet of playing cards showing the Knave of Hearts and Knave of Diamonds repeated alternately. This fragment shows two rows, each with two cards and a fragment of one more. Both Knaves wear fashionable, aristocratic, motley costume, in red, yellow and green. The Knave of Hearts wears leggings and a codpiece, a short doublet with long, square-ended false sleeves over close-fitting sleeves and a hat with a feather. The Knave of Diamonds wears a longer doublet with long, square-ended loose sleeves over close-fitting sleeves and a hat with a feather. The Knave of Diamonds' hat is white with a red rim and that of the Knave of Hearts' is red on one side and green on the other. The Knave of Hearts holds a dog on a leash and carries a staff. The Knave of Diamonds carries a bill (weapon) with a banner on top/protective cover? The top row of images is cut off slightly at the top. Below the bottom row is a line which indicates the edge of the woodblock. The cards are signed.
Place of Origin
Lyons (probably, printed)
Date
1490-1500 (printed)
Artist/maker
Savouré, Gilles (woodcutter)
Materials and Techniques
Woodcut on laid paper with stencil colouring
Marks and inscriptions
G: Cartier
In a scroll at the feet of the Knave of Hearts
G. S. C
Initials between the feet of the Knave of Diamonds
H.H.
Collector's stamp on the reverse of the sheet. This is the stamp of Henry Ralph Mowbray Howard, born 18 June 1883, died 12 August 1950. Howard was a collector of 15th century woodcuts.
P.30
Written in pencil on the back of the sheet
Dimensions
Height: 9.5 cm single card, Width: 5.5 cm single card, Height: 19.4 cm sheet, Width: 13.2 cm sheet
Object history note
Purchased, with funds from the bequest of Captain H.B. Murray (1843-1910), from a sale of the collection of Henry Ralph Mowbray Howard at Sotheby's on the 25th February 1920, lot number 113 (Sotheby's Catalogue of Very Fine and Choice Engravings and Rare Early Woodcuts). Purchased by Messrs P and D Colnaghi & Co. on behalf of the V&A for £15. From the same sale a bookplate of Hilprand Brandenberg (S.II, 2038), woodcut, early German; five 15th century playing cards.
From heading of the sale:-
'German and Other Woodcuts of the XVTH Century'
'All, with the exception of the first, are coloured in the manner usually employed in the embellishment of the separately issued relief-cuts on wood or metal of this early period. In nearly every case the impressions now offered for sale are believed to be the only ones known and as such they are recorded in Schreiber's 'Manuel de l'Amateur de la Gravure sur Bois et sur Metal au XVe Siecle'. The sizes given include the border, when such exists, although in many instances such border is a line of colour added by hand.'
The sheet had been preserved in a 16th century binding to Le Trésor de l'Ame, published in Geneva: L. Cruse, 1494.
Historical context note
To produce a woodcut, the design was cut into the woodblock using a knife. This was usually done along the grain, and if so, could be as large as was necessary for the design. Softwood was used, such as pear, sycamore and cherry. The design was cut in relief, which meant that the lines to be printed were standing up. The block was inked and the image transferred to paper by applying pressure from above, either by hand or a printing press.
Woodcuts had long been used for printing textiles in Europe, particularly in parts of Germany and the Netherlands. D. Bland in A History of Book Illustration (1958, p. 102) suggests that the early woodcutters were more likely to have previously been textile printers. Illustrations from woodcuts are thought to have first been made from around the end of the 14th century for religious indulgences, and in Europe, woodcuts were also used to print playing cards, major centres being Ulm and Augsburg, interestingly, early important centres for early printed books.
One of the main reasons why woodcut illustration became the standard in early printed books, was that type was also cast in relief and the two could be placed together on the forme and although some overlaying of the tympan was required to make the impression better, the same pressure and printing press could be used for both.
The following comes from Grove Dictionary of Art:
The smooth flat surface of a thick piece of prepared wood acts as the printing surface. Usually the artist draws his design on this flat surface, and either he or his assistant cuts away with knives and gouges the areas which are to remain white in the print, leaving the design standing in relief. The surface of the block is then inked with a roller, and a sheet of sturdy paper is placed over the block. By applying vertical pressure, either by hand or by means of a press, the ink is transferred to the paper, giving an impression in reverse. In general a woodblock is more durable than a copper plate, permitting more satisfactory impressions, and thus making it more appropriate for simple popular prints, or such ephemera as playing cards.
Most woods of moderate softness will serve the purpose, but the most frequently used are pear, sycamore, and cherry. The blocks are cut along the length of the tree before being planed down, and the artist is thus obliged to cut through the texture of the wood with very sharp tools. The medium imposes its own restraints upon the artist, and in general it favours a bold, direct approach with a simple and limited syntax of forms and marks. This does not preclude subtlety, however, and from the early prints of Dürer at the end of the 15th century, notably the series of the Apocalypse (1498), until the prints of Gauguin and Munch, artists have been able to articulate fine lines and complex textures from the wood.
The roots of the art are not European. Fabrics printed from wood are found in Middle Eastern work of the 5th century ad, and woodcut technique was advanced in China from the 9th century and probably earlier. However, its regular use in European art does not date until the first decades of the 15th century, when paper manufacture was established on a regular basis, particularly in northern countries such as Germany and Switzerland. Early woodcuts are usually simple devotional subjects, often based on some well-known prototype in sculpture or painting, and frequently boldly coloured by hand, or sometimes through the use of stencils.
Woodcuts immediately proved a valuable ally to movable type, since the woodblock could be matched to the size of the typeface and printed simultaneously. This gave it an immense advantage over the use of copper plates in book illustration, since they had to be printed in a laborious separate process. The woodcut thus enabled many books to be cheaply and boldly illustrated, a famous example in Germany being Wolgemut's illustrations to the Nuremberg Chronicle (1491–4). Single sheets are rarely found in early Italian art, but book illustrations, such as the exquisite courtly designs for the Hypnerotomachia Poliphili (1499), have a linear grace, often complemented by decorative surrounds, that eluded the northern artists.
It was the woodcuts of Dürer that cast off Gothic conventions and trumpeted a new Renaissance confidence and sophistication. It is unlikely that Dürer cut many of the blocks himself (although not improbable that he mastered the craft in some early prints), but he insisted on his craftsmen matching the intricate loops and folds of his drawings in the Life of the Virgin, or the Large Passion (both of 1511). He was also very aware of the collector's market for his work, issuing numerous proofs before the regular editions with text. These woodcuts, even more than his engravings, were widely circulated abroad, influencing artists and craftsmen of every description. A high proportion of great German artists followed in his footsteps in this Golden Age of the woodcut, including Cranach, Altdorfer, Burgkmair, and Baldung; the last two making brilliant innovations in printing in colour or in chiaroscuro woodcuts. These artists did much to claim Germany as the true homeland of the woodcut, recording its forested landscape, its superstitions as well as its faith. Some important woodcuts were also made in the Netherlands by Lucas van Leyden and although Italian production was modest in comparison it could boast such prodigies as Jacobo de'Barbari's Bird's-Eye View of Venice, and numerous large woodcuts after Titian.
Descriptive line
Uncut sheet of playing cards showing the Jack of Diamonds and the Jack of Hearts, by GSC (?Gilles Savouré), probably Lyons; late 15th century.
Bibliographic References (Citation, Note/Abstract, NAL no)
Hamilton, Jean. . London: H.M.S.O., 1988. pp. 9, 60 cat. no. 142 (ill.).
Seguin, J. Le Jeu de Carte. Paris, 1968. p. 57.
D'Allemagne, H-R. Les Cartes a Jouer. Paris, 1906. Vol. 2, p. 622.
Lambert, Susan. Prints: Art and Techniques. London: V&A Publications, 2001. p. 25, no. 23 (ill.).
Victoria and Albert Museum, Department of Engraving, Illustration and Design & Department of Paintings, Accessions 1920, London: HMSO, 1922.

Labels and date
PART OF A SHEET OF PLAYING CARDS
1490-1500
Probably by Gilles Savouré
(active 1489-1513)
Rather than printing and colouring the cards individually, it was cheaper to print several on one sheet of paper, then colour them through a stencil and cut up the sheet. On this sheet you can see the Knave of Hearts and the Knave of Diamonds, dressed as fashionable young men of the day.
Probably France, Lyons
Woodcut on paper with stencil colouring
Lettered GSC for 'Gilles Savouré Cartier [cardmaker]'
Bought under the terms of the Murray Bequest
Museum no. 988-1920 []
Production Note
Lyonnais according to J. Seguin. Le Jeu de Carte. Paris: 1968. p. 57. Also, H-R D'Allemagne. Les Cartes a Jouer. Paris, 1906. Vol. 2. p. 622, lists Gilles Savouré working in Lyons ca.1480 - ca. 1506.
Materials
Woodcut; Ink; Paper; Pigment
Techniques
Wood-cutting
Subjects depicted
Dog; Dog lead; Staff-weapons; Costume; Bills (staff weapons); Dog collar
Categories
Prints; Entertainment & leisure; Games; Playing cards & tarot cards; Images Online; Woodcuts
Collection
Prints, Drawings & Paintings Collection