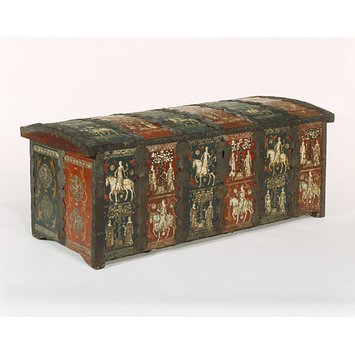 Cassone
Place of origin:

Florence, Italy (possibly, made)
Siena, Italy (probably, made)

Date:
Artist/Maker:
Materials and Techniques:

Poplar carcase, covered with canvas, painted red and blue, decorated with tin leaf and gesso figures and reinforced with iron bands

Museum number:
Gallery location:

Medieval and Renaissance, room 10a, case 1
By about 1300, the cassone, or chest, was the most prestigious form of storage in Italian households. This example was most likely made in Florence or Siena: some red or blue 'damsels' chests' (girls' chests) were ordered in Florence in 1384 by Francesco Datini (1355-1410); and a pair are shown in a painting by the Sienese artist Simone Martini (died 1344). Cassoni were often placed around beds and decorated with popular romantic themes: in this case, love is symbolised by figures at 'the fountain of love' and by ladies on horseback with falcons taking part in 'the hunt of love'. This cassone may be one of the earliest known, because the ladies' sleeves, which are cut off at the elbow, were only fashionable during the 1350s.
Physical description
Poplar cassone, with gesso figures on alternating blue and red grounds and reinforced with flattened iron bands. The figures form three motifs: the lovers' tryst by the fountain of love; a rider (most likely male) with a falcon; and a mounted queen (most likely female with crown?) brandishing a scourge. The feet are triangular wedges are glued to the bottom along the sides. The moulded figures were made of gesso and size and lined with tin foil, covered with yellow lacquer, so as to imitate gold. The sides are decorated with quatrefoils containing heraldic beasts, against a blue and red background vertically divided by one flattened iron band. The back consists of a freely painted dark black trellis pattern on a red ochre back ground with alternating yellow and orange foliate motifs.
The underside is made of one plank, since split, covered with goat hide and the feet are triangular wedges, glued to the bottom along the sides. The joints are concealed by canvass lining on the inside and metal edging on the outside, but it is thought that the sides and the back are linked with dove-tail joints, and the sides with the front with finger-jointing and mitres. The lid is made up of three planks butted together, and it linked to the body of the cassone with four staple hinges and its back edge is lined with a flap of leather. The lid projects over the side and its arched supports joined form underneath serve as handles with which to carry the chest when locked.
Place of Origin
Florence, Italy (possibly, made)
Siena, Italy (probably, made)
Date
1345-1354 (made)
Artist/maker
Unknown (production)
Materials and Techniques
Poplar carcase, covered with canvas, painted red and blue, decorated with tin leaf and gesso figures and reinforced with iron bands
Marks and inscriptions
ME, FE and FT
Dimensions
Height: 54.5 cm, Width: 142 cm, Depth: 58.5 cm, Weight: 33 kg
Object history note
The museum was first offered this object in 1890 by Stefano Bardini (1836 - 1922) for £400, but acquired it four years later for for £338 - 5 - 0 (£338.25). Early museum records make no reference to the provenance of this painted cassone. However, Wilhelm Bode (1845 - 1929), Director General of Prussian Museums, who had many dealings with Bardini, states that a number of similar chests had been stored at the Hospital (formerly convent) of Santa Maria Nuova in Florence, before coming onto the art market at about this time. This cassone could well have come from there as well.
Historical significance: A group of chests similar to the V & A's example are to be found in public collections ranging from the Metropolitan Museum of Art in New York to the Fondazione in Venice. They are a rare example of Italian Domestic furniture of the Middle Ages, which can be dated fairly accurately, owing to the fashions worn by the figures: clothes with sleeves that end and trail at the elbow were very fashionable during the the 1350s but beginning to seem rather out of date by about 1360. Furthermore, the distinctive gesso and size decoration of lovers and hunters follows a process described in Cennino Cennini's Il Libro dell' Arte, written in about 1390 and one of the earliest surviving craftsmens' manuals.
Historical context note
Courtly Medieval romances involving the 'Fountain of Love' and the 'Hunt of Love' were frequently depicted on everyday objects ranging from combs and mirror-cases to marriage chests. A number of similar chests with these themes were being made in Florence and Siena from about 1340 if not earlier. A picture by the famous Sienese Artist, Simone Martini (c. 1284 - 1344), The Miracle of the Blessed Agostino, was painted early in the 14th century and clearly depicts chests reinforced with similar distinctive iron bands. However, as late as 1384 Francesco di Marco Datini (1355 - 1410), better known as 'the Merchant of Prato', ordered a pair of chests from Florence 'painted on a vermillion or azure ground' . They were to be 'handsome and showy' and the better they were the more easily he could sell them. Surviving examples in public collections mostly date from about thirty years earlier, but Datini's order of 1384 and Cennino Cennini's description in Il Libro dell Arte (about 1390) of the gesso and size decoration found on these chests both indicate that they (or similar chests) were still much sought after towards the end of this century.
Descriptive line
Poplar cassone, with gesso figures on alternating blue and red grounds and reinforced with flattened iron bands
Bibliographic References (Citation, Note/Abstract, NAL no)
Wilk, Christopher, ed. . Western Furniture 1350 to the Present Day. London: Victoria and Albert Museum, 1996. 230p., ill. ISBN 085667463X.
Peter Young, Jo Darrah, Jennifer Pilc and James Yorke: "A Sienese Cassone at the Victoira and Albert Museum" The Conservator, Number 15, 1991, pp. 46 - 53.
Wilhelm Bode: Die Italienischen Hausmöbel der Renaissance . (Leipzig, H.Seehman Nachfolger, 1902). p. 6.
Iris Origo. The Merchant of Prato, Francesco di Marco Datini, (London, Jonathan Cape, 1960), p. 40.
F.Zeri, Mauro Natale and Alessandra Mottola: Dipinti toscani e oggett d'arte dalla collezione Vittorio Cini, (Vicenza, Neri Pozzi, 1984), p. 59.
Paul F. Watson: The Garden of Love in Tuscan Art of the Early Renaissance (Cranbury, New Jersey, Associated University Presses, Inc., 1979) passim.
H.Avray Tipping, Italian furniture of the Italian Renaissance as represented at the Victoria and Albert Museum, Country Life March 31st 1917, pp. 3-8
Peter Thornton, Cassoni, Forzieri, Goffani and Cassette: Terminology and its problems, in Apollo vol. CXX (1984), no.272 pp.246-251, fig. 1.
"Forziere(?)...The figures were covered with silver foil prior to painting; the effect must have been brilliant. The silvered straps with punched ornament include various initials. The costumes of the elegant figures are in the fashion of c. 1350."
Paul Schubring, Cassoni; truhen und truhenbilder der italienischen frührenaissance. ein beitrag zur profanmalerei im quattrocento (Leipzig: K.W. Hiersemann, 1915); cat. no. 16
16. 17. London Victoria & Albert Museum, Nr. 1894, 317 (Florence Santa Maria nuova) and Florence, Castello Vincigliata. Plate II
painted Cassone with 12 single frames and ferrules, cask cover arched/ curved
Florence, around 1400
Between the "cut out" ferrules there are 12 little scenes, which depict either a noble women with a falcon, a whip on a horse or the noblewoman and the squire/night sitting at the love fountain, he holds the falcon, she holds a flower. You can see flower and rosette decoration.
The second, close related piece which is in Castello Vincigliata lose to Florence carrying the coat of arms of Capponi - Bonciani or Larioni has the same Scenes with a bit richer decoration, this piece also comes from Santa Maria nuova.
W. v. Bode, "Die italienischen Hausmoebel der Renaissance " p.3 and p. 6 : the decoration seems to be copied from weaving, Bombe wrote an essay about Tovaglie Perugine ( Rassegna d'arte, Mai 1914, p. 110) where you can see patterns with similar scenes. Schciaparelli 1. c. S. 258
Exhibition catalogue 'Florenz!' 22 November 2013 - 9 March 2014, at the Kunst- und Ausstellungshalle der Bundesrepublik Deutschland, Bonn; cat. no. 29 (Theresa Holler)
Labels and date
CHEST (Cassone).
ITALIAN (FLORENTINE); about 1425.
Walnut coated with gesso and painted red and blue with applied moulded figures of gesso-duro. Although this chest is now dirty and abraded, a close examination reveals that it is of extremely fine quality and was originally very brightly coloured. Asimilar example was in the Castello di Vincigliata, Florence.
317-1894 [Pre-2006]
Subjects depicted
Bird; Horse; Dragon; Love; Lovers; Fountain; Initials (abbreviations); Knights; Queens
Categories
Furniture; Containers; Renaissance (Italian)
Production Type
Limited edition
Collection code
FWK