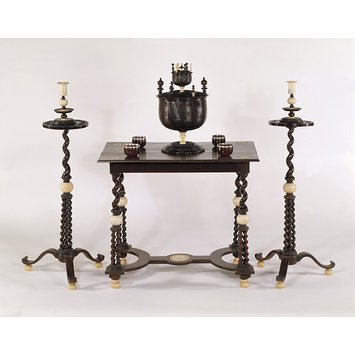 Candlestand
Place of origin:

England, Great Britain (made)

Date:
Artist/Maker:
Materials and Techniques:

Lignum vitae, with ivory decoration

Museum number:
Gallery location:

British Galleries, room 56d, case 12
Object Type
This is a candlestand from a suite of furniture made for serving wassail or spiced ale. Other wassail bowls and cups survive, but only this set has a table and candlestands to match. The bowl and cups could date from the 1640s, but the table and candlestands were made later, in the 1670s, when spirally turned supports were fashionable.
Historical Associations
The set was owned by one family for generations before it was bought by the V&A in 1976. Family tradition claims that Charles I gave it to Sir Charles Cokayne, 1st Viscount Cullen, after the Civil War battle at Naseby in 1645. Although the battle did take place near Cokayne's house, Rushton Hall, Northamptonshire, the style of the furniture suggests that this story could only apply to the bowl and cups.
Materials & Making
The set is made of lignum vitae, a dense wood imported from the West Indies. It was often used for wassail bowls as its high oil content makes it resistant to liquids. It also takes incised decoration well. Both the wood and the ivory, which provides a strong contrast, are decorated with 'rose engine turning', in which delicate circular patterns are incised into the material while it is spun on a lathe.
Physical description
Wassail candlestand, lignum vitae with ivory decoration.
Place of Origin
England, Great Britain (made)
Date
1640-1680 (made)
Artist/maker
Unknown (production)
Materials and Techniques
Lignum vitae, with ivory decoration
Dimensions
Height: 93 cm
Object history note
This unique ceremonial drinking ensemble is said to have been presented to Sir Charles Cokayne, first Viscount Cullen, by Charles I after the battle of Naseby in 1645. (Dating casts doubt on this tradition). Close inspection of the engine-turned rose ornament shows that two separate craftsmen were involved. The candlestands and table were probably added to make up a set with the wassail bowl and candlesticks in about 1670-80.
Purchased from Spink & Son, London.
Descriptive line
Wassail candlestand, lignum vitae with ivory decoration, England, ca. 1640-80
Bibliographic References (Citation, Note/Abstract, NAL no)
Wilk, Christopher, ed. . Western Furniture 1350 to the Present Day. London: Victoria and Albert Museum, 1996. 230p., ill. ISBN 085667463X.
Baker, Malcolm and Richardson, Brenda, eds. A Grand Design : The Art of the Victoria and Albert Museum. London: V&A Publications, 1997. 431 p., ill. ISBN 1851773088.
Preserved in part through its supposed family connections and its associations with English folk life traditions, this exceptional suite of furniture was acquired by the Museum in 1976 as a virtuoso example of woodturning and for its significance for English antiquarianism. It was used to serve wassail, or spiced ale (the word derives from the Middle English waeshaeil, or "be healthy"), a drink traditionally offered at Christmas.
Other wassail bowls survive with dipper cups, but this set is uniquely elaborate in having a matching table, candlestands, and candlesticks. The entire set is lavishly enriched with "rose engine turning" (in which decoration is incised into the surface of the material while it is spun on a lathe), making this the most important known seventeenth-century example of turning.
The set was passed down as a treasured possession through generations of the Cokayne family, who knew it as "King Charles' Wassail Table"; family tradition maintained that it was given to Sir Charles Cokayne, the first Viscount Cullen (1602-1661), by Charles I after the battle of Naseby in 1645, during the English Civil War. Cokayne's seat, Rushton Hall, Northamptonshire, was close to the site of the battle. Stylistic assessment, however, casts doubt on the family legend, as the table and candlestands probably date not from the 1640s but from the 1670s, when their spiral-twisted supports and delicate silhouettes would have been newly fashionable. The wassail bowl itself could date from the 1640s, and it is possible that the rest of the set was added later. The high quality of this luxury furniture is certainly worthy of royal connections; and it may indeed have been acquired by the second viscount's wife Elizabeth, who was a noted beauty at the court of Charles II and was lady of the bedchamber to Queen Catherine of Braganza.
During the nineteenth century, antiquarian interest in early English furniture and interiors resulted in the publication of this set both in the background of a view of the great hall at Rushton (in J. P. Neale's Views of Seats of Noblemen and Gentlemen [1826]) and in Henry Shaw's Specimens of Ancient Furniture (1836), ranking it among the most important sets of early furniture in the country. This interest in early furniture continued later in the century, when the Museum's acquisitions of English furniture were chiefly of sixteenth- and seventeenth-century pieces. While interest later moved on to the eighteenth century, furniture historians kept in mind the items illustrated by Shaw, and in 1927 H. Clifford Smith, later the Museum's keeper of furniture and woodwork, published an article in Connoisseur establishing the current whereabouts of the Rushton Hall suite. About the same time wassail bowls began to attract the attention of collectors of treen (small wooden objects), ultimately resulting in a detailed description of the Rushton Hall furniture in Edward Pinto's 1969 Treen and Other Wooden Bygones.
By 1976, when the set was purchased, its acquisition was a dramatic restatement of the Furniture and Woodwork Department's interest in British art and traditions, at a time when emphasis was placed on acquiring important pieces of Continental furniture.
Lit. Neale, 1826, vol. III; Shaw, 1836, plate XXII; Clifford Smith, 1927; Pinto, 1969, p. 52; Wainwright, 1973; Thornton and Jervis, 1976; Wilk, 1996, p. 56
CATHERINE S. HAY
Exhibition History
A Grand Design - The Art of the Victoria and Albert Museum (Victoria and Albert Museum 12/10/1999-16/01/2000)
Labels and date
British Galleries:
Wassail or spiced ale was served at Christmas and on feast days. This elaborate set for serving wassail shows the fine spiral-turning that was a distinctive element of Restoration style. The strongly contrasted luxury materials from which it is made, lignum vitae and ivory, would have been imported. [27/03/2003]
Categories
Household objects; Furniture; Woodwork; British Galleries; Lighting; Christmas
Collection code
FWK