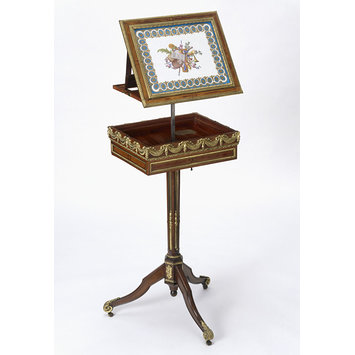 Combined music-stand and writing-table
Place of origin:
Date:
Artist/Maker:

Carlin, Martin (maker)
Pafrat, Jean-Jacques (cabinet-maker)

Materials and Techniques:

Veneered in tulipwood, purpleheart, mahogany, sycamore and boxwood, on a carcase of oak; set with soft-paste porcelain plaque (Sèvres) and with gilt-bronze mounts

Credit Line:
Museum number:
Gallery location:

Europe 1600-1815, Room 1, case CA1
This refined table, with its finely decorated porcelain plaque inset in the top and delicate gilt-metal mounts, provided a showcase for new materials and mechanisms and embodies the taste for novelty and multi-purpose furniture in late eighteenth-century France. The top of this reading, writing and music stand is hinged and can be angled to provide a slope, and the drawer hides a writing surface. Novel and modish pieces like this also presented an opportunity for their owners to show their sophistication, by using the object to display the elegance with which they adjusted the mechanisms and their mastery of the different activities for which it was intended.
The main market for porcelain-mounted furniture was among rich and fashionable women, who would have used such pieces in their salons or dressing rooms. This table was probably supplied by one of the well-known mid-eighteenth-century Paris marchands merciers (dealers in luxury goods), Simon-Philippe Poirier or Dominique Daguerre. They had a virtual monopoly on the purchase of Sèvres porcelain plaques at that time, and controlled the production of furniture of this kind. A label on this table records that it was given by Marie Antoinette, Queen of France, to Eleanor Eden in 1786, when Mrs Eden was in Paris with her husband, who was there for important trade negotiations. This may well be true but no other evidence of this gift has been uncovered.
Physical description
A small mechanical table supported on a hexagonal shaft above three splayed legs, the top with one drawer and a central steel rod with racking which allows the whole drawer section to be raised, to top of the table set with a Sèvres porcelain plaque painted in enamels with a trophy of musical instruments adn pastoral equipment within a decorative frame, the top hinged along the front edge so that it can be raised on an easel structure to act as a reading or music stand. The table is veneered in purpleheart, tulipwood and other woods, on a carcase of oak, the easel section of mahogany, the whole mounted with gilt-bronze mounts, including framing mounts and a continuous swagged mount along the sides of the table section.
The drawer is released by pressing a button under the left-hand edge of the table top. The front, sides and interior of the drawer are lined with tulipwood. It is lined with blue silk edged with narrow metal-thread braid, the lining stretched over card. The drawer is fitted on the right with gilt-bronze inkwell, pounce pot and sponge trough, and with a sliding panel covered with blue velvet for writing.
The plaque on the top of the table is painted with the words and musical score of a song:
'La lumière la plus pure brille à mes regards naissans
la beauté de la nature saisit et frappe mes sens
mais toi seule m'intéresse et la lumière sans toi
sans toi ma chère maîtresse n'aurait aucun prix pour moi'
Place of Origin
Paris (made)
Date
ca. 1777-1785 (made)
Artist/maker
Carlin, Martin (maker)
Pafrat, Jean-Jacques (cabinet-maker)
Materials and Techniques
Veneered in tulipwood, purpleheart, mahogany, sycamore and boxwood, on a carcase of oak; set with soft-paste porcelain plaque (Sèvres) and with gilt-bronze mounts
Marks and inscriptions
'M CARLIN JME'
Makers's mark for Martin Carlin, stamped once at each end of the underside of the frame of the box top
'Sèvres China Table / the gift of / Queen Marie Antoinette / to my mother - afterwards / Lady Auckland / in 1786 / Emily Eden / 1852'
Paper label, hand-written in ink; inside the compartment of the top.
Loan from Eden Esq. 13th June 1862
Fragment of label from the South Kensington Special Loan Exhibition of 1862. with ink inscription
'J PAFRAT'
Makers's mark for Jean-Jacques Pafrat, stamped once under each end of the front rail of the box top
X
Chisel marks on the back of the drapery mounts on the front and left side of the table.
XIII
Marked on back of the framing mounts to back of table
IIIII
Marked on back of the framing mounts to left side of table
III
Marked on back of the framing mounts to front of table
IIII
Marked on back of the framing mounts to right side of table
Crossed L's containing letter Z
Painted in blue on back of porcelain plaque. Sèvres date letter for 1777, above the painter's mark
B
Painted in blue on reverse of Sèvres plaque: the painter's mark attributed to Jean-Pierre Boulanger (active 1754-85 as gilder and painter of patterns).
Front
Pencil inscription under front of plaque
Crossed L's
216
Crossed L's printed in red on paper label on reverse of porcelain plaque, with the number written in ink below the L's. This is a price ticket, indicating the the plaque cost 216 livres
[illegible]
Remanant of printed label on reverse of porcelain plaque
Dimensions
Height: 78 cm, Width: 41 cm, Depth: 34 cm
Object history note
One of two tables in the collection of the V&A (the other being 1058-1882) which were reputedly given by Queen Marie Antoinette of France to Eleanor Eden in 1786 while she was accompanying her husband, William Eden, to Paris for the important trade negotiations which led to the Eden treaty. The table bears a manuscript inscription recording the gift, and while such evidence should be treated with care, the special attention Marie-Antoinette paid to Eleanor Eden, as noted in William Eden's correspondence, supports this provenance (A. Dawson, p.295, see References).
Sold at auction 16-18 July 1814. Presumably bought by Emily Eden, whose name is on the label underneath the table, and remaining in her collection until after 1852. Probably bought by John Jones from teh Eden family between 1862 and 1869 and bequeathed by him to the Museum on his death in 1882.
The Museum also holds a 19th-century han-coloured photograph of the stand (Museum No. 73-1961)
Historical context note
The practice in Paris of decorating furniture with porcelain plaques was developed chiefly by the marchand mercier (merchant in luxury goods) Simon-Philippe Poirier from the late 1750s, and later by his partner Dominique Daguerre (active 1772-1796). They had a virtual monopoly on the purchase of these plaques and controlled the production of such furniture (C. Sargentson, see References). The encyclopaedist Denis Diderot described the marchands merciers as "marchand(s) de tout et faiseur(s) de rien" (dealers in everything and makers of nothing), but their creative influence should not be under-estimated . They took a leading role in importing, adapting and commissioning innovative luxury goods. For such a piece as this, it is probable that Poirier or Daguerre would have bought the porcelain plaque and commissioned the production of the table. The main market for furniture set with porcelain plaques was amongst rich and fashionable women. Given the costs of designing and producing such furniture, it is not surprising to find that forms were repeated over a small number of pieces with minor variations of detail or material. A table at Waddesdon Manor, Buckinghamshire, differs only in the the decoration of its porcelain plaque, while one in the Wrightsman Collection (Metropolitan Museum, New York) is mounted with Japanese lacquer. The plaques of this, and of the V&A's other porcelain-mounted table (1058-1882), bear original Sèvres price tickets of 216 and 150 livres respectively. Price depended on size and decoration; trophies tended to be more expensive than flowers, while painted figures were the most expensive. The price of 216 livres indicates a fairly expensive plaque; the painting is extremely fine.
Descriptive line
Combined Music Stand and Writing Table, Paris, ca 1777-1785. Veneered; gilt-bronze mounts, Sèvres porcelain plaque.
Bibliographic References (Citation, Note/Abstract, NAL no)
Wilk, C. (ed.). Western Furniture 1350 to the Present Day. London: Philip Wilson Publishers Limited, 1996, pp. 130-131
Dawson, A. The Eden Service: Another Diplomatic Gift. Apollo , vol. CXI no. 218 (April 1980), p. 295
Sargentson, C. Merchants and Luxury Markets: the Marchands Merciers in Eighteenth Century Paris. London/Malibu: Victoria & Albert Museum/ J. Paul Getty Museum, 1996.
Elizabeth Miller and Hilary Young, eds., The Arts of Living. Europe 1600-1815. V&A Publishing, 2015. ISBN: 978 1 85177 807 2, illustrated p. 160.

Labels and date
Music stand and writing table
About 1777–85
The top of this mechanical table could be raised and angled for use as a music stand or left flat for writing. Such sophisticated multipurpose pieces of furniture were admired for their complex mechanisms as well as their design. The finely painted porcelain plaque and the fashionable Neoclassical gilded metal mounts contributed to the high cost of such furniture.
France (Paris)
By Martin Carlin and possibly repaired by Jean-Jacques Pafrat
Oak veneered with purpleheart, tulipwood, mahogany, sycamore and boxwood; gilded copper alloy mounts; Sèvres porcelain plaque
Bequeathed by John Jones
[09/12/2015]
[Label text by Peter Thornton]
Reading stand with writing drawer
French (Paris); about 1785
Stamped 'M. Carlin' and 'J. Pafrat', as well as 'J.M.E'
Veneered with tulipwood, sycamore and other woods; set with a Sèvres porcelain plaque painted by Jean-Jacques Pierre and bearing the date-letter 'Z' for 1777. Since a trophy of musical instruments is depicted on the plaque, this may be a music stand.
This table bears a label stating that is was presented in 1786 by Marie-Antoinette to Eleanor Eden, later Lady Auckland, who accompanied her husband to Paris in that year when he was negotiating a commercial treaty with the French. Martin Carlin died in 1785 but the table was certainly made by him. Jean-Jacques Pafrat only became a master cabinet-maker in September of that year; the presence of his stamp suggests that he completed the piece. It was probably commissioned by, and subsequently purchased from, the dealer Daguerre, whose fashionable shop at the sign of the 'Couronne d'Or' in the Rue Saint-Honoré.
Jones Collection
Museum No. 1057-1882 [1980]
Production Note
The table is likely to have been made by Martin Carlin and was finished by Jean-Jacques Pafrat.
Materials
Tulipwood; Sycamore; Oak; Gilt bronze; Soft-paste porcelain; Purpleheart; Mahogany; Boxwood
Techniques
Cabinet-making; Veneering; Casting; Chasing; Gilding
Subjects depicted
Pastoral; Bows (weapons); Staff (shepherdess's); Musical instruments; Music; Flowers (plants); Book; Quiver
Categories
Furniture; Porcelain; Royalty
Collection
Furniture and Woodwork Collection