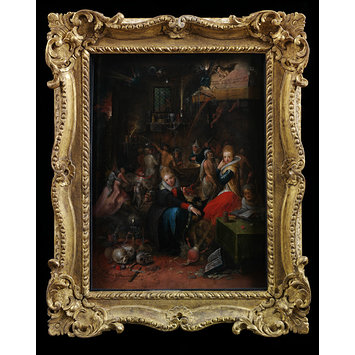 Witches' Sabbath
Object:
Place of origin:

Antwerp, Belgium (painted)

Date:
Artist/Maker:

Francken, Frans (II), born 1581 - died 1642 (painter (artist))

Materials and Techniques:
Credit Line:

Bequeathed by Rev. Alexander Dyce

Museum number:
Gallery location:
Frans Francken the Younger (1581-1642) was the most famous of a family of artists. He was likely trained by his father Frans Francken the Elder and perhaps also in Paris by his uncle Hieronymus I. In 1605, he was a member of the Antwerp Guild of St Luke. He rapidly had a large studio that produced many replicas of his extensive output. He was the inventor of the 'monkey kitchen' compositions, a genre that was subsequently widely disseminated by David Teniers (1610-1690) and was renowned for his innovative imagination.
This painting is a typical example of Frans Francken's representation of witchcrafts that he produced in series. The iconography recalls the traditional conception of the witches oscillating between beauty and horror, sensuality and lust. The witches' Sabbath takes place at night alluding to the illicit character of their activity and the whole scene gives the impression of chaos, a concept of suffering but also of regeneration alluding to the magical power of the witches.
Physical description
A domestic interior with many characters including little monsters or demons practicing magical rituals with books, a cauldron and two elegantly dressed ladies in the foreground, at the feet of whom are displayed skulls within a circle with knives and a candle.
Place of Origin
Antwerp, Belgium (painted)
Date
1606 (painted)
Artist/maker
Francken, Frans (II), born 1581 - died 1642 (painter (artist))
Materials and Techniques
oil on oak panel
Marks and inscriptions
'DI FF IN 1606'
Dimensions
Height: 63 cm from base of frame to top of frame, Width: 50 cm Across edge of frame, depth: 5.5 cm front to back of frame
Object history note
Bequeathed by Rev. Alexander Dyce, 1869
South Kensington Museum Art Handbooks. The Dyce and Forster Collections. With Engravings and Facsimiles. Published for the Committee of Council on Education by Chapman and Hall, Limited, 193, Piccadilly, London. 1880. Chapter I. Biographical Sketch of Mr. Dyce. pp.1-12, including 'Portrait of Mr. Dyce' illustrated opposite p.1.
Science and Art Department of the Committee of Council on Education, South Kensington Museum.A Catalogue of the Paintings, Miniatures, Drawings... Bequeathed by The Reverend Alexander Dyce. London, 1874. A 'Note' on page v comments, 'This catalogue refers to the Art portion of the Collection bequeathed to the South Kensington Museum by the Reverend Alexander Dyce, the well-known Shakespearian scholar, who died May 15, 1869'. The Catalogue. Paintings, Miniatures, &c. by Samuel Redgrave notes of the 'Oil Paintings', 'The strength of Mr. Dyce's valuable bequest to Department of Science and Art does not lie in [this] portion ... which is in its nature of a very miscellaneous character. The collection was made apparently as objects offered themselves, and without any special design.' Dyce's main interest was in literary subjects, and this is reflected in many of the paintings he bequeathed to the V&A.
Historical significance: This painting is an interesting example of the representation of witchcraft during the early 17th century. This kind of imagery was fairly rare but not unknown. Albeit chiefly illustrated in manuscripts, other leading artists of the Northern Renaissance such as Albrecht Durer (1471-1528), Hans Baldung Grien (ca.1484-1545), Lucas Cranach (1472-1553) or Jacques de Gheyn II (ca.1532-1582) used to execute a few works illustrating witches or witchcraft. Frans Francken the Younger executed few paintings on the subject matter such as two Witchcraft in the Kunsthistorisches Museum (Inv. No. 1070 and 1074), and a Witches' Sabbath in the Bayerische Staatgemäldesammlungen, Munich (Inv. No. 1987). He also made a series of drawings on the same subject such as the Homage to the Devil, Albertina, Vienna.
Following the iconographic tradition, the present painting is structured upon a series of duality: beauty and ugliness, light and darkness, reality and surreal… The beauty of the two young women in the foreground and the ugliness of the figures nearby may allude to the dual origin of the witches, cast upon the Antique prototype figure of Medusa who exemplifies beauty transformed into horror. And yet these beautiful figures are fully dressed whereas the ugly ones are paradoxically completely naked in the background. The many winged creatures may recall the medieval conception of witches who were intended as flying nocturnal figure for their nocturnal practice and their ability to see in the dark (literally and figuratively). These little winged monsters, reminiscent of Hieronymus Bosch (ca. 1450-1516), also evoke the presence of evil as tradition has it that the witches sought the infinite by eventually coupling with Lucifer-Satan, the purpose of which was the acquisition of knowledge.
The witches were attributed with a series of power: they were said to be able to awake the dead, invoke sudden changes in climate season and time, turn the living to stone, cause stone to live and prepare potent love potions. In this workshop, we can thus distinguished different well-known types of magic: incantations read by the old witch at the table on the right hand-side corner, suffumigations, i.e. fumes or vapours generated by burning herbs, incense, etc, rituals involving skulls and symbols, preparation of potions in the cauldron… The meaning of the burning house glimpsed through the doorway on the far left hand-side remains quite enigmatic and can be construed as a symbol of the danger embodied by the witches exercising their art on the edges of Hell.
Frans Francken the Younger's iconographic representation of witchcraft gave the impression that he knew more about it than the popular culture allowed although the reason for this remains unclear. This subject matter however provided the artist's extremely innovative imagery with new motives to develop.
Historical context note
Although witchcraft imagery cannot properly be considered as a genre painting, i.e. pictures involving low class society, that usually depict scenes of everyday life set in domestic interiors or in the countryside, including battle scenes and merry company pictures, it shares some common characteristics with this category. Iconographic representations of witchcraft have their roots in the Antiquity, where figures of great witches such as Medusa, Medea, Circe, Lamia and Hecate can be found. Over the centuries, the conception of the witches evolved and was influenced by the Christian thought that sees in woman in general a figure of sin and temptation. This conception was strong in the Middle Ages but towards the beginning of the Renaissance, the concept of ideal beauty transformed the perception of the witch that became a sensual and youthful woman as we can see in some drawings by Filippo Lippi or in Dosso Dossi's painting of Circe and her lovers, National Gallery, Washington. This is also how she is normally represented during the Northern Renaissance more specifically in Albrecht Durer's engravings, in those of his pupil Hans Baldung Grien and in Lucas Cranach's work.
Descriptive line
Oil painting, 'Witches' Sabbath', Frans Francken (II), Antwerp, 1606
Bibliographic References (Citation, Note/Abstract, NAL no)
C.M. Kauffmann, Catalogue of Foreign Paintings, I. Before 1800, London: Victoria and Albert Museum, 1973, p. 115-16, cat. no. 128.
The following is the full text of the entry:
Frans FRANCKEN II (1581-1642)
Flemish School
Born at Antwerp in 1581, the son of Frans Francken I, he is the best known of a large family of painters active in Antwerp in the late 16th and 17th centuries. He became a master in 1605 and dean of the Guild of St Luke in 1615. As well as having a large output of his own, he frequently painted figures into the landscapes of other painters, for example Pieter Neeffs. He was the father of Frans Francken III (1607-67), who worked in his style.
128
WITCH'S SABBATH
Signed on tablecloth lower right: DI FF IN 1606
Oak panel
18 ¾ x 14 (46.6 x 35.2)
Dyce Bequest
D.3 now Dyce.3
This picture was originally attributed to Pieter Brueghel the younger (Dyce Collection catalogue, 1874, p. 2; 1893 Catalogue, p. 176), although the signature, to judge from an official photograph of 1923, was always clearly visible. It may be expanded to read De jonge Frans Francken invenit, a form which the artist used before the death of his father in 1616. This is one of his earliest dated works.
Similar scenes, but somewhat differently composed, appear in paintings in the museums at Vienna (1607?) and Bern, and in a drawing in the Albertina Collection at Vienna. Identical versions occurred at the following sales:
(1) Lepke, Berlin, 17 Nov. 1910, lot 66, catalogue pl. xix, panel 16 1/8 x 11 in.;
(2) Grosskopf sale, Bangel, Frankfurt, 5-6 May 1925, lot 32, catalogue pl.ii; signed, and dated 1606, copper, 16 3/8 x 11 5/8 in.
Condition. Good, cleaned in 1960.
Prov. The Rev. Alexander Dyce; bequeathed to the Museum in 1869.
Richard van Dülmen, Hexenwelten : Magie und Imagination vom 16.-20. Jahrhundert, Frankfurt, 1987.
Reproduced on the cover.
Ursula Härting, Frans Francken II, Freren, 1989, pl. 6, p. 46 - cat. 405, p. 360.
Exhibition History
Witches and Wicked Bodies (Scottish National Gallery of Modern Art 27 July 2012-3 Nov 2012)
Materials
Oil paint; Oak
Techniques
Oil painting
Subjects depicted
Fire; Monsters; Skulls; Witches; Cauldron; Witchcraft
Categories
Paintings; Gender and Sexuality
Collection code
PDP