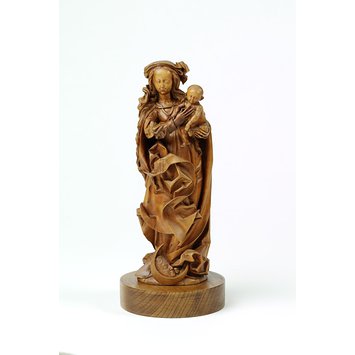 Virgin and Child
Object:
Place of origin:
Date:
Artist/Maker:
Materials and Techniques:

Carved boxwood, glazed, with traces of gilding

Museum number:
Gallery location:

Medieval & Renaissance, Room 64, The Wolfson Gallery, case 18
Its small size, the richness of its forms and the virtuoso carving all suggest that this figure was made for a collector. The Virgin Mary stands with the infant Christ in her arms. Beneath her feet is a crescent moon. The pose may refer to a passage from the Bible: 'In heaven, a great portent appeared; a woman that wore the sun for her mantle, with the moon under her feet, and a crown of twelve stars about her head'(Apocalypse 12: 1-2).
The work of the German sculptor who made the figure, Veit Stoss, received critical acclaim across Europe. The Italian critic Vasari described his work as 'a miracle in wood'.
Physical description
The standing Virgin holds the bald and naked Child with both her arms at her left shoulder. The Virgin wears a high belted gown under a cloak which billows across her body in deep angular folds. Her curly hair falls over her shoulder and her back and is covered at the top of the head by a veil which falls on her right shoulder. At the Virgin's feet appears the crescent moon.
The Virgin's right arm below the elbow, and the left arm of the child are later replacements in a dark glazed boxwood. These restorations were in place by 1850, when the group was published in the Illustrated London News (13 April 1850, p. 252). The original position of the Virgin's hand would not have differed greatly: two fingermarks on the chest of the Infant indicate the former position of her fingers, and these show that the present hand is slightly too big. A small wedge has been inserted in the fold of her mantle. A section of the little finger oof the Virgin's right hand, the ends of two locks of her hair, two toes of the child's right foot, and the thumb of his left hand are missing. Two holes (diam. about 0.1 cm ) on top of her head have been filled, one central hole and several others in the base remain unfilled. There are a number of vertical cracks. Traces of gilding have survived, at the hem, on the veil, on the edge of the mantle, and inside the crescent moon.
Place of Origin
Cracow (made)
Date
ca. 1495 (made)
Artist/maker
Stoss, Veit (maker)
Materials and Techniques
Carved boxwood, glazed, with traces of gilding
Dimensions
Height: 20.3 cm, Diameter: 9.9 cm, Weight: 0.42 kg
Object history note
Provenance: Hollingworth Magniac collection, Colesworth, Bedfordshire by 1850 (Exh. cat. London, 1850, no.201). In the possession of George Field, London, in 1862 (Exh.cat. London, 1863, p. 578, no. 6742). Bought from the George Field collection (Christie's, London, 12 June 1893, lot 31) for £88 4s.
Historical significance: When the figure was first published in 1850 it was ascribed to Martin Schöngauer [sic.] (Exh. London 1850, no. 201). This attribution was slightly altered to "in the style of Martin Schöngauer" when it entered the Museum in 1893. Voss's ascription to Veit Stoss (1908, pp. 528-29) has never been subsequently doubted, and the suggested date of about 1520 was accepted until Rasmussen (1976, pp. 109) proposed a date of about 1500-1510. This was widely adopted, only Beck (in Exh. Frankfurt 1982, pp. 198-200, no. 123) preferring a later date of about 1520, and more recently Albrecht (1997, p. 236) categorically rejected a date around 1500, and proposed a date between 1513-16, because of the figure's supposedly close relationship to the group of Raphael and Tobias, completed in 1516, in the Germanisches Nationalmuseum in Nuremberg (Exh. Nuremberg 1983, pp. 142-9, no. 8). However the arguments presented by Rasmussen (1976, p. 109; p.114, note 8), Schädler (1982, p. 92, fig. 93-94), and Kahsnitz (Exh. Nuremberg/New York 1986, p. 242, no. 90), the latter seeing a close link between the present work and the Man of Sorrows, dated 1499, in the church of St Sebaldus in Nuremberg (Exh. Nuremberg/New York 1886, no. 89), are still more convincing.
The small dimensions and the virtuosity of the carving imply that the figure was made for a collector. Rasmussen (1976, p. 108) viewed it as a masterpiece of late Gothic sculpture. A statuette of the Mourning Virgin by Stoss in pearwood (h. 31.4cm), is preserved in the Cleveland Museum of Art (Exh. Nuremberg/New York 1986, pp. 243-245, no. 91), and although damaged, it is of a similarly high quality. The survival of both works, and other figures recorded in Stoss's studio after his death, such as "ain geschnitzt Adam und Eva, auch ein alt weib, ain kindleins tannz " (Lossnitzer 1912, p. LXXIV), which are generally assumed to be pieces of small-scale sculpture, because in the same context "ain groß Cricifix" is mentioned (Rasmussen 1976, p.108), indicate that Stoss was supplying a range of works for the newly emerging connoisseur-collector's market. It has been recently suggested that the present figure was probably made by Stoss while he was in Cracow between 1477 and 1496 when he was employed by the Polish court and the German commercial colony.
Descriptive line
Statuette, the Virgin and Child carved and glazed boxwood with traces of gilding, Veit Stoss, Nuremberg (Germany), 1490-1500
Bibliographic References (Citation, Note/Abstract, NAL no)
Williamson, Paul, ed. European Sculpture at the Victoria and Albert Museum. London: Victoria and Albert Museum, 1996. 191p., ill. ISBN 1851771883.
Exhibition London 1850, no. 201. Exhibition London 1863, p. 578, no. 6742. Voss 1908, pp. 528-9. Lossnitzer 1912, p.128, pl. 45. Daun 1916, pp.139-46, pl.44. Baillie-Grohmann 1919, p.135. Lutze 1937, pp.188-189. Müller 1938, p. 134. Stafski 1936-39, p. 132, fig. 7 Fischel 1944, p. 130, fig. 124. Dettloff 1961, vol. I, pp. 161-62; vol. II, ill. 239. Müller 1966, p. 183. Baxandall 1967, no. 1, ill.1-3. Lutze 1968, pp. 51,67, ill. 59, 64. Salvini 1969, p. 360, fig. 359. Baxandall 1974, no. 13, ill. Rasmussen 1976, pp. 108-114, ill. 1-2. Baxandall 1980, pp. 271-2, pls. 43-5. Kepinski 1981, p. 73, ills.129-30. Beck in Exh. Frankfurt 1982, no 123, ill. Schädler 1982, pp.92-4, fig. 93. Rasmussen in Exh. Nuremberg 1983, p. 148, ill. 26. Schädler in Exh.Nuremberg 1983, pp. 36-37. Skubiszewski 1985, no. 21. Kahsnitz in Exh. Nuremberg/New York 1986, pp. 241-3, no. 90, fig. 90. Fuchs 1987, pp. 92-3, fig. 53. Söding 1992, pp.66-8. European Sculpture 1996, p. 106. Albrecht 1997, pp. 223-39. Guillot-de Suduiraut in Exh. Paris 1998, p. 68, fig. 61.
Jopek, Norbert German Sculpture
Williamson, Paul and Motture, Peta. Medieval and Renaissance Treasures from the V & A London, 2007, no. 8.
Bartrum, Giulia, Albrecht Dürer and his Legacy: The Graphic Work of a Renaissance Artist, London: British Museum, 2003.
Kahsnitz, Rainer (ed.), Gothic and Renaissance Art in Nuremberg 1300-1550, New York: Metropolitan Museum of Art, 2013.

Materials
Boxwood
Subjects depicted
Moon
Categories
Access to Images; Images Online; Sculpture
Collection
Sculpture Collection