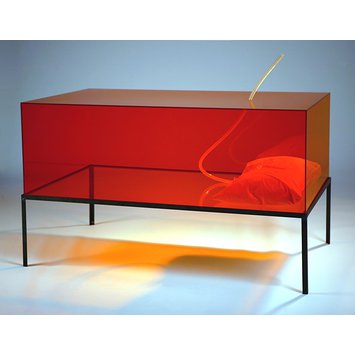 Faraday chair
Object:
Place of origin:
Date:
Artist/Maker:
Materials and Techniques:

Welded steel frame, acrylic, silicon, cotton pillow

Credit Line:
Museum number:
Gallery location:

Image in copyright
The Faraday Chair is the work of Dunne & Raby, British designers at the forefront of a Conceptual Design movement where ideas are more important than function. The object is named after Michael Faraday (1791-1867), an early pioneer of electrical research who identified magnetic forces. Dunne & Raby's interest is in the possible effect magnetic fields and electrical currents, emitted by everyday appliances, may have upon people. The Faraday Chair is a proposal for a space one can retreat to, to be protected from these emissions.
Conventional chairs offer us degrees of physical comfort, but the designers are proposing that the Faraday Chair might offer us psychological comfort by providing sanctuary. The tank is only large enough to allow the user to lie in a foetal position, which encourages us to see it as womblike and protecting. But it is also tomblike and restrictive, like a sarcophagus.It has positive and negative connotations of imprisonment as well as shelter, which are different ways of regarding security, and its association with the executioner's electric chair cannot be overlooked. Therefore it is deliberately an ambiguous object, open to different interpretations; and because it would not actually block the passage of electrical waves, it remains a prototype. As such it is closer to conceptual art than it is to craft or industrial design, but the questions it raises about the purpose and function of furniture are pertinent.
Physical description
Oblong transparent orange acrylic box close fit to a clear acrylic base suspended in a steel frame with legs at the corners. Piercing at the top of the box near one end is a free-hanging silicon tube attached to a mouthpiece at the lower end. A cotton pillow lies loose within the box.
Place of Origin
Great Britain, UK (made)
Date
1995 (made)
Artist/maker
Dunne & Raby (designers)
Materials and Techniques
Welded steel frame, acrylic, silicon, cotton pillow
Dimensions
Height: 71.8 cm, Width: 125 cm, Depth: 72 cm
[Faraday Chair, frame] Height: 32 cm, Width: 125 cm, Depth: 72 cm
[Faraday Chair, cover] Height: 41 cm, Width: 123.2 cm, Depth: 70.7 cm
Object history note
Fellows in Computer Related Design at the Royal College of Art, London. Dunne is also a tutor on Ron Arad's Design Products course, and Raby is a tutor on Nigel Coates's Architecture and Interiors course, both at the RCA. They founded the design practice Dunne & Raby in 1994 and are known principally for their experimental products that question the relationship with people and their environment, in particular the intangible, digital world.
The Faraday chair is named after Michael Faraday (1791-1867) an early pioneer of electrical research and was one of a number of objects produced by Dunne & Raby for the Hertzian Tales project between 1995 and 1998. Hertzian space is defined by Dunne & Raby as the invisible electronic environment; it has an 'electroclimate' defined by wavelength, frequency and field strength and generated by the electronic devices with which we cohabit. At the heart of Dunne & Raby's research is a question about the effects such invisible forces may have on individuals - an anxiety shared by many people in modern society. They describe the purpose of the Faraday chair thus:
The Faraday chair provides shelter from the electromagnetic fields invading our homes. It is a utilitarian shelter of minimum dimensions and comfort, it might even be a retreat, a new place to dream away from the constant bombardment by radiation of telecommunications. Like all chairs it is an echo of the human body and communicates a new image of technoman. Not a cyborg fusing with technology, nor a master of technology, but one of vulnerability and uncertainty about the long term effects of the technological space we have so enthusiastically constructed.
[Dunne & Raby, Transarchitectures 03 exhibition catalogue, 1998]
Historical significance: The Faraday chair is a significant early work encapsulating the design process of Dunne & Raby. Described as a chair, in fact it is a translucent tank, supported on legs, inside which a person can lie. The name alludes to Michael Faraday (1791-1867) an early pioneer of electrical research. Works such as his Relation of Electric and Magnetic Forces (1838) relate directly to Dunne & Raby's research into products addressing the electrical and magnetic fields existing in modern life. As with most Dunne & Raby works, the Faraday chair is presented as a prototype, in that it is a conceptual proposal for a product or piece of furniture that could answer a particular need. It is not a prototype for production so much as an expression of an idea. The idea, in this instance, is that the Faraday chair provides the user with a private, sealed enclosure which cannot be penetrated by magnetic- or radio-waves produced by modern appliances such as televisions and mobile telephones, or generated by electrical grids.
The form of the Faraday chair is significant in two respects; first for its commentary on the nature and purpose of furniture, and secondly because of its relationship to contemporary fine art and design practice. In 1995 the artist Cornelia Parker collaborated with the actor Tilda Swinton on a work entitled The Maybe at the Serpentine Gallery. This comprised of Swinton asleep in a glass vitrine in the gallery. Formally, and in date, The Maybe and the Faraday chair are the same. Yet the purpose of each is somewhat different, in that the viewers' voyeuristic gaze was encouraged in Parker's piece, yet discouraged in Dunne & Raby's chair. Nevertheless it is significant that two important works should appear to look so similar at the same time in different practices.
In fashion, graphics and other media a prevailing theme in 1990s design has been survivalism - a pre-occupation also of some artists of the period (see Andrew Bolton's, The Supermodern Wardrobe, to be published in 2002, artists such as Lucy Orta, and fashion designers such as Vexed Generation). Dunne & Raby's work makes a considerable contribution to this theme, which centres on strategies that enable individuals to survive in what is perceived as an increasingly hostile world. The Faraday chair is a significant object in this debate.
During 2000-2001 Dunne & Raby continued to explore the themes expressed by the Faraday Chair in the Placebo project for the V&A. This project comprised a group of eight objects each of which contained an electronic component which responded in different ways to the presence of a strong electro-magnetic field. People were invited to live with these objects for a period of time and their physical and emotional responses recorded.
Historical context note
The Faraday chair does not look like a conventional chair - it is a large 'tank' large enough to accommodate an adult lying horizontally. Nevertheless, there are key characteristics of the 'chair' that it shares. It is slightly raised from the ground, it envelops - making it similar to 18th Century porter chairs - and crucially, extends the notion of comfort usually associated with chairs. Neither soft or springy, but, in protecting the human mind from the hertzian world, it offers deeper psychological comfort.
The Faraday chair is more about meaning than function, its use more symbolic than practical, and in this sense it is more akin to a ceremonial bed or throne. In both a throne and the Faraday chair the user is symbolically and physically separated from the beholder while specifically on view to them. The function of the chair as an artificial microcosm - a cocoon dividing the user from the world - is apparent in both instances.
Descriptive line
Faraday chair, designed by Dunne & Raby, 1995; comprising of an oblong transparent orange acrylic box close fit to a clear acrylic base suspended in a steel frame with legs at the corners. Piercing at the top of the box near one end is a free-hanging silicon tube attached to a mouthpiece at the lower end. A cotton pillow lies loose within the box.
Bibliographic References (Citation, Note/Abstract, NAL no)
Dunne, Anthony. Hertzian Tales: electronic products, aesthetic experience and critical design. London : RCA, 1999. 117p., ill. ISBN 1874175276.
Exhibition History
SAFE: Design Takes on Risk (Museum of Modern Art 16/10/2005-02/01/2006)
Global Tools spin off (KlausEngelhorn22, Vienna 12/07/2001-31/08/2001)
Labels and date
Room 103-6, Twentieth Century Study Gallery label:
FARADAY CHAIR
Designed by Dunne & Raby, 1995
(Anthony Dunne, British, born 1964: Fiona Raby, British, born 1963)
Acrylic, metal, silicon
Dunne & Raby design experimental products that question our relationship with the modern world. The Faraday Chair is named after Michael Faraday (1791-1867), an early pioneer of electrical research. It is intended as a secure haven that cannot be penetrated by the electromagnetic waves produced by modern electrical appliances. If chairs are a means of defining personal space and provide comfort and privacy, the Faraday Chair invites us to question the form chairs may take.
Given by Dunne & Raby
W.674-2001 [26/10/2001]
FARADAY CHAIR
Designed by Dunne & Raby, 1995
Acrylic, metal, silicon, cotton pillow
Anthony Dunne (British, born 1964) and Fiona Raby (British, born 1963) design experimental products that question our relationship with the modern world. The Faraday Chair is named after Michael Faraday (1791-1867), an early pioneer of electrical research. Of this chair, they wrote;
The Faraday chair provides shelter from the electromagnetic fields invading our homes, It is a utilitarian shelter of minimum dimensions and comfort, it might even be a retreat, a new place to dream away from the constant bombardment by radiation of telecommunications.
[Dune & Raby, Transarchitectures 03 exhibition catalogue, 1998]
Given by Dunne & Raby
W.674-2001 [2001-2001]
Materials
Cotton; Steel; Acrylic; Silicon
Categories
Furniture
Production Type
Unique
Collection code
FWK