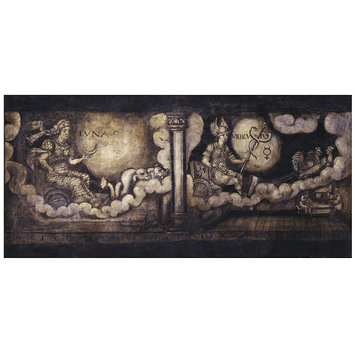 Solis, Virgil, born 1514 - died 1562
Luna and Mercury (plaster panel from Stodmarsh Court, Kent)
Object:
Place of origin:

Stodmarsh Court, United Kingdom (made)

Date:
Artist/Maker:

Solis, Virgil, born 1514 - died 1562 (after, engraver)
Unknown (painter)

Materials and Techniques:
Museum number:
Gallery location:

British Galleries, room 58e, case WN
Object Type
This fragment of painted plaster is painted in grisaille (i.e. monochrome) and depicts Mercury and the Moon. It would have once formed part of a frieze along the top of a room, above the wall panelling or hangings.
Place
This piece of wall decoration was probably painted in situ (on site) for Stodmarsh Court, near Canterbury, Kent. It has been suggested that it belonged to the upper frieze of a long gallery.
Subjects Depicted
Mercury and the Moon are separated by an ornate Doric column. On the left is the inscription LUNA, beneath which the Moon is shown driving a chariot pulled by two dolphins along a bank of cloud. Likewise Mercury, on the right, drives a chariot pulled by cockerels, beneath the inscription MERCURIUS. At the lower right corner of the fragment the astrologer and alchemist, whose job it was to turn base metals to gold, represent these celestial bodies' influence on health and good fortune.
Design & Designing
The fragment was painted by an unknown artist, presumably English, and is based on engravings of the Seven Planets by Virgil Solis.
Physical description
Eight sections of plaster painted in grisaille with figure compositions:
[dimensions from catalogue]
Materials (Greg Howarth, Paintings conservation c.2000)
Auxiliary support: The plaster is supported on wood laths.
Support: The plaster is sand, hair and lime.
Ground: It is two thick layers of gypsum..
Paint: It is not soluble in water, xylene, or acetone, but is slightly soluble in dilute ammonia solution and the medium may be a lime casein, hardened size paint or oil paint.
(Lehfeldt says 'tempera', Croft-Murray says 'Distemper on plaster')
W.28-1913 Two subjects separated by a column. Luna in the clouds driving a chariot drawn by two monsters; below the clouds a water scene; inscription LVNA. On the right of the column Mercury in the clouds driving a chariot drawn by two cocks; below the clouds a scientist's study; inscription MERCVRIUS, mark [half moon above a circule on top of a cross], and the monogram VS
114.3 x 244cm
W.28B-1913 The judgement of Paris.
81.2 x 114.5cm
W.28C-1913 Actaeon attacked by hounds.
83.8 x 117.8cm
W.28D-1913 Portion of a hunting scene: three hounds in the chase.
85.7 x 58.4cm
W.28E-1913 Portion of hunting scene above, with man running and hound; bold floral ornament with roses below.
167.7 x 60.3cm
W.28F-1913 Standing figure of a woman in Elizabethan costume holding a broom, on a ground of bold foliage.
161.9 x 57.5cm
W.28G-1913 Standing figure of a woman in Elizabethan costume, on a ground of bold foliage with a rose and grapes.
175.2 x 67.3cm
Conservation history:
Technical report on W.28 and W.28A by P. Young (4/11/1981); conserved by Krystyna Barakan RP 82/23
Place of Origin
Stodmarsh Court, United Kingdom (made)
Date
1590-1610 (made)
Artist/maker
Solis, Virgil, born 1514 - died 1562 (after, engraver)
Unknown (painter)
Materials and Techniques
Possibly oil on plaster
Marks and inscriptions
Inscribed 'LUNA' (left) and 'MERCURIUS' (right)
Dimensions
Height: 115 cm without frame, Width: 245.4 cm without frame, Depth: 11 cm without frame
Object history note
Purchased for £70- from Ernest Collard, 4 Cromwell Road, Hove, Sussex. Condition: "portions missing, painted rubbed, slightly damaged. Plaster repainted in Art workshops"
By an unidentified artist, after engravings of the Seven Planets by Virgil Solis (born in 1514, died in Nuremburg, Germany, 1562); painted at Stodmarsh Court, near Canterbury, Kent.
Lehfeldt suggests that the Planets sequence originally included at least one additional section with Mars and Saturn, probably in chariots moving to the left. Venus and Jupiter probably formed the central portion of the scheme which would be no less than 24' in length. 'It is not improbable then that this series formed the decoration, or at any rate a considerable portion of it,on one wall of a room of the house, probably of the Long Gallery, that very usual and very charming feature of earlier mansions.' The total width of the Actaeon panels as they now appear in the Museum is 11' 7". 'It is scarcely possible to determine what length this painting originally occupied, though it may be conjectured that it was not much longer. No doubt the fine scrollwork which is seen under one of the panels was repeated also under the other portions of the picture, which would thus be raised some 3' or so from the floor at an agreeable height to be seen. ' He notes that similar scrollowork appears on another V&A fragment, from an old house in Ipswich, W.9-1913. He suggests that all eight panels were produced at the same period 'and probably' for the decoration of the same house, whether the one in which they were found or some other. He notes Falstaff's advice to Mine Hostess in King Henry IV pt. II, act ii, scene i, line 155 "...and for thy walls a pretty slight drollery, or the story of the Prodigal, or the German hunting in waterwork...'
Notes survival of fragments of a modelled and tempera-painted freize with hunting scene at Hardwick Old Hall. Notes resemblence of Actaeon scenes to Solis designs for Ovid's Metamorphoses.
Notes late 16th century style of dress worn by two standing female figures, and possibility that they are portraits.
Notes uncertain significance of the besom (broom) held by one woman.
Notes from R.P. 12/4849M [made at instruction of Tessa Murdoch]
18 September 1912
Ernest Collard offers the "old Frescoes done in plaster - of the 16th & 17th Century", from an old manor house, Stodmarsh Court, that he is dismantling near Canterbury.
26 September 1912
Collard writes again enclosing a photo (on the file)
30 September 1912 Minute paper by B S Long
reports on Collard's offer. Judging from a photograph he is of the view that there are unimportant as fine art but of "some interest as an example of English house decoration of about 1600".
1 October 1912 Cecil Smith
recommends inspection in view of the "rarity and interest of such work".
6 November 1912 Oppe
reports on his inspection of the frescoes at Stodmarsh. He describes the decoration on wood and mud partitions in two rooms. The partitions had been removed from the house and stored in an outhouse. He presumes that the end walls of the two rooms were also decorated in scrollwork but all appear to have been obliterated. The remaining portions were not cut away from the walls but removed as partitions.
The frescoes are in black on white plaster and the material used for colouring is so dry that "it rubs off like powder". Oppe brought a specimen from a rubbish heap but was unable to ascertain the method of painting. The decorations that survived had been protected by some later decoration which was nailed onto the partitions, defacing the preserved portions with large nail marks in a few places. He finds them otherwise "in a remarkable state of preservation considering the nature of the material used".
Oppe describes the images depicted on the eight panels: 1. An Elizabethan woman holding a broom; 2. Another female figure; 3. Along with 6,7 & 8 show four scenes from the legend on Actaeon; and 4 & 5 form a series of four planets. Oppe dates this "the latter half of the 16th century based on the Elizabethan costume of the two women". He notes some possibility of foreign influence. In two or three places in the planet series the monogram "V.S." occurs. These are clearly copies from engravings by Virgil Solis (Barbach 163-169).
Oppe recommends purchase of at least panel 1. if not all panels and discusses the difficulty of negotiating a price and of transporting the fragile panels.
6 December 1912 Brackett Minute paper reports to Lehfeldt
that these "monochrome paintings appear to be executed on plaster with a brush in watercolour". The technique is not "of a high order of merit" but they are of sufficient interest and rarity to form important acquisitions for the Museum. He discusses the difficulty of establishing market value for a sale. He suggests purchasing the set as despite their fragmentary condition they "belong to one another". He notes that the piece with the woman holding a broom (1) is said to have come from another room but "is surprisingly similar to another piece painted with the standing figure of a woman (2)".
6 December 1912 Lehfeldt Minute to the Director
recommends securing the paintings as a whole "as they form part of one scheme of decoration".
11 December 1912 Cecil Smith Minute
agrees to try to secure the paintings.
16 December 1912 Lehfeldt Minute
suggests asking Seymour Lucas, R.A. or Reginald Blomfield for an opinion; Smith agrees and an opinion is requested of Blomfield.
6 February 1913 Opinion by Reginald Blomfield
on inspection of the painted plaster at the Museum.
With the exception of the panel of Actaeon & Drama & her nymphs & the woman holding a broom, he finds the pieces in bad condition but
"of considerable historical interest as illustrating English methods of domestic decoration in manor houses at the end of the 16th century".
Blomfield notes that a fine piece of s graffito wall decoration in black and white of about the same date existed at Mystole (CM note from Pevsner - a 1590 house built by Prebendary Bungy and rebuilt by Sir R Blomfield in 1895), near Canterbury but was destroyed about 12 years ago. He recommends purchase of this work which is now rare and difficult to get hold of. He suggests offering £60 for the lot.
1 March 1913 Lehfeldt Minute to Brackett
informs him that the price of £70 was arranged with the Director.
20 May 1914 letter, Collard to Strange
informs the Museum that he has now photographs of the decorations before they were taken down (does have them after they were taken down). He explains that Stodmarsh Court was built in 1609 (the stone lost during rebuilding). Collard's uncle leased the property from William Hugessen in 1815 and he believes Hugessen's family came into posssession through marrying into the (Consthope?) family. Collard bought the property in 1901.
1919 memos
note the inclusion of photographs of engravings by Virgil Solis upon which the Stodmarsh paintings are based.
(These are not in the R.P. file)
Descriptive line
Painted plaster panel depicting Luna and Mercury, after
Bibliographic References (Citation, Note/Abstract, NAL no)
John Newman, The Buildings of England: North East and East Kent (2nd ed. 1976)
Francis W. Reader. Tudor Domestic Wall paintings II. Archaeological Journal XCII part II (1936), pp. 220-62
CROFT-MURRAY, Edward: Decorative Painting in England 1537 - 1837, Vol. 1. Early Tudor to Sir James Thornhill. (London, 1970), p.184, no.13
'Unspecified room. Walls: main decoration, antique work, incorporating large figures in contemporary dress; freize, the story of Diana and Actaeon. Another Room (?). Walls: main decoration, antique work (?); freize panels, (1) Venus, (2) Jupiter, (3) 'Luna', (4) Mercury, all after engravings by Virgil Solis (B., [Bartsch] IX, p. 265, Nos. 163-9). Early 17th century. Removed in fragments to the Victoria and Albert Museum. Distemper on plaster.
Perhaps by the same hand as the Grand Staircase at Knole, (no. 6)
T.A.Lehfeldt, The Stodmarsh Court Plaster Panels, in Archaeologia Cantiana, XXXI, (1915), pp. 54-60
WELLS-COLE, Anthony: Art and Decoration in Elizabethan and Jacobean England. (New Haven, London, 1997), p. 25 & n.7 (p.304)
Margaret Jourdain, English Decoration and Furniture of the early renaissance (London, 1924), p.95, fig. 120
Labels and date
Luna and Mercury
English; about 1600
Painted plaster
This panel and its companion (W.28A-1913), shown nearby, come from Stodmarsh Court, near Canterbury. They are based on prints of hte Planets by Virgil Solis of Neremberg (1514-1562), whose monogram VS has been reproduced by the painter.
British Galleries:
This was once part of a frieze along the upper walls of a room, perhaps above panelling or hangings. Its colouring and the contrast between simple cloud forms and detailed figures are taken directly from a set of engravings. The astrologer and alchemist at the bottom right represent the common belief that the planets could influence health and good fortune. [27/03/2003]
Production Note
Kent
Materials
Plaster
Subjects depicted
Mercury; Luna
Categories
British Galleries; Paintings; Wall coverings
Collection code
FWK