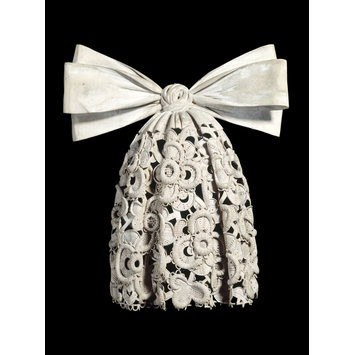 Gibbons, Grinling, born 1648 - died 1721
Carving
Place of origin:
Date:
Artist/Maker:

Gibbons, Grinling, born 1648 - died 1721 (maker)

Materials and Techniques:

Limewood, with raised and openwork carving

Credit Line:

Given by The Hon. Mrs Walter Levy

Museum number:
Gallery location:

British Galleries, Room 118a, case 6
Object Type
This wooden cravat is carved in imitation of Venetian needlepoint lace and is life size. It was made to demonstrate the carver's skill. Similar cravats appear in architectural decorative schemes associated with Gibbons. This piece was probably made to show and impress potential patrons.

People
The cravat belonged to Horace Walpole (1717-1797) who thought highly of Gibbons' work as a woodcarver. His family home, Houghton, Norfolk, included a room decorated with Gibbons' carving. Walpole thought that one of the ivory reliefs on his cabinet (W.52:1-1925) - that representing Judith with the head of Holofernes - was also carved by Gibbons although this attribution is not accepted today.

Place
Gibbons' cravat was displayed in the Tribune Room at Strawberry Hill with the Walpole Cabinet. It formed part of Horace Walpole's collection of special small objects. In 1769 Walpole wore the cravat to receive some distinguished French, Spanish and Portuguese visitors at his Twickenham home, Strawberry Hill.
Physical description
Carving with raised and openwork in the form of a tied lace cravat tied using contemporary Venetian needle lace with a bow of plain linen. The reverse is unfinished.
Supplied with the carving is an early 20th century wooden box (HWD: 9.3 x 27.4 x 24.2cm) with hinged and locking glazed lid (without the key), lined with red velvet which has faded to the outline of the carving, contains a paper with handwriting, probably 19th century (black ink): 'From Horace Walpole, Lord Orford's/ collection, sold at Strawberry Hill / 1842 / Carved Bow in Oak / by the famous Gibbon
Place of Origin
London (made)
Date
ca. 1690 (made)
Artist/maker
Gibbons, Grinling, born 1648 - died 1721 (maker)
Materials and Techniques
Limewood, with raised and openwork carving
Dimensions
Height: 24.1 cm, Width: 20.9 cm, Depth: 5.1 cm
Object history note
Sold in the Strawberry Hill sale, 1842, day 15, lot 99, when it was bought by Miss Burdett Coutts for 9 guineas. Sold from the collection of the late Baroness Burdett-Coutts on 11 May 1922 by Christies (lot 345a). Bought by Read for £26.5. Given to the Victoria and Albert Museum in 1928 by the Hon. Mrs Walter Levy.
In the Description of Strawberry Hill, 1774, the cravat was in the Tribune and was identified as by Gibbons. It was in one of two glazed cabinets containing Walpole's 'principal curiosities' which flanked the altar. In the 1784 edition the cravat is described as 'a present from Mr. Grosvenor Bedford' (Walpole's deputy at the Exchequer), who had given the cravat to Walpole by 1769.
Featured in the BBC TV series Handmade in Britain (2013), 'CARVED WITH LOVE: The glorious Grinling Gibbons'
Lent to the exhibition 'The Genius of Grinling Gibbons - From Journeyman to King's Carver' at Fairfax House, York, April 14th - 14th September 2018.
Shown at Strawberry Hill for the exhibition 'Lost Treasures of Strawberry Hill: Masterpieces from Horace Walpole's Collection', 20 October 2018 - 24 February 2019. See below for reference to catalogue.
An example of the type of lace Gibbons has depicted is V&A T.41-1947. The lace represented would be a piece measuring 32 x 16.5 cm if it were laid flat.
Comparable carvings
The cravat is similar to those represented in other schemes of carved decoration by or associated with Gibbons such as the Cosimo Panel, 1682 given by Charles II to the Grand Duke of Tuscany, Cosimo III de' Medici 1642-1723), for which Gibbons was paid £150, his highest payment for a woodcarvng (Esterly, p.131-3)
Chatsworth House, Derbyshire, Panel of small carvings with a point lace cravat, songbird, a medallion and foliage (possibly by Gibbons (See Esterly, p.104)
Historical context note
Further Reading
David Esterly, Grinling Gibbons and the Art of Carving, (London, V & A Publications, 1998)
Tony Webb, Master Carver, St Paul's Cathedral; '50 Years of Following In Grinling Gibbons' Tool Cuts' in V&A Conservation Journal, October 1998 Issue 29
http://www.vam.ac.uk/content/journals/conservation-journal/issue-29/50-years-of-following-in-grinling-gibbons-tool-cuts/
Descriptive line
Cravat, made of limewood with raised and openwork carving, by Grinling Gibbons, ca. 1690
Bibliographic References (Citation, Note/Abstract, NAL no)
Baker, Malcolm, and Brenda Richardson (eds.), A Grand Design: The Art of the Victoria and Albert Museum, London: V&A Publications, 1999.
Snodin, Michael, ed., with the assistance of Cynthia Roman. Horace Walpole's Strawberry Hill. New Haven and London: The Lewis Walpole Library, Yale University, Yale Center for British Art and the Victoria and Albert Museum, in association with Yale University Press. ISBN 978-0-300-12574-0. Catalogue of the exhibition held at the The Yale Center for British Art, 2009 and the Victoria and Albert Museum, 2010, cat.167, fig. 116, pp. 86ff (Chapter 5, by Alicia Weisberg-Roberts 'Singular objects and multiple meanings'; 316
Chapter 5 discusses the cravat and considers Walpole's interest in Gibbons as carver and collector
This object features in 'Out on Display: A selection of LGBTQ-related objects on display in the V&A', a booklet created by the V&A's LGBTQ Working Group. First developed and distributed to coincide with the 2014 Pride in London Parade, the guide was then expanded for the Queer and Now Friday Late that took place in February 2015.
Victoria & Albert Museum: Fifty Masterpieces of Woodwork (London, 1955), no. 30.
Davoli, Sylvia, Lost Treasures of Strawberry Hill. Masterpieces from Horace Walpole's Collection. London: Scala Arts & Heritage Publishers Ltd., 2018. ISBN: 978-1-785541-180-6, p.85 [The Tribune]
David Esterly, Grinling Gibbons and the Art of Carving. (London, V & A Publications, 1998), pl.113, p.136
'Finely-detailed cravats and collars were a well-established arena for technical competition among marble carvers in the 17th century. [n.6] Gibbons was the first and remained virtually the only carver to extend the virtuoso treatment of this subject to wood, most famously in the full cravat later owned by Horace Walpole.'
Note 6, p.216 'A bust of Maria Barberini Dublioli (the original now lost) by Bernini's one-time assistant Giuliano Finelli included a famously delicate collar. Elaborate lacework is also seen, for example in two busts by Bernini himself: those of Thomas Baker (1638, V&A, London; although the collar here is probably by an assistant) and Louis XIV (1665, Versailles).'
Léon Lock, 'Il Merletto veneziano scolpito alle corti d'Europa: Bernini, Gibbons, Foggini, Quellinus, in Angela Negro (ed.) Storie di Abiti e Merletti - incontri al museo sul'arte e il restauro del pizzo (Rome, Fondazione Paoloa Droghetti 2014), pp. 41-51

Labels and date
"Out on Display" (V&A LGBTQ trail leaflet)
Cravat
Grinling Gibbons
England, carved limewood, c.1690
W.181-1928
On display in room 118A
Horace Walpole (1717 – 97), another collector of importance, also had a notable private life. He never married, wrote affectionate letters to male friends, and contemporaries often commented on his effeminacy. This has encouraged biographers to speculate that he was gay or asexual. This wooden cravat was part of Walpole's collection and worn by him to play a joke on a French visitor. The 18th century was a period of relative sexual tolerance among the aristocracy. However, fear of 'effeminacy' became a major concern, expressed in 'Macaroni' stereotypes of extravagant men, fond of foreign art, with implied homosexual tendencies.
[2015]
Such cravats, carved in imitation of Venetian needle-point lace, appear in several architectural schemes of carved decoration associated with Gibbons, notably at Petworth and Hackwood, but the virtuosity of this example makes it a unique survival. It belonged to Horace Walpole and was normally kept in the Tribune Room at Strawberry Hill. On 11 May 1769, he received some distinguished foreign visitors wearing the cravat and a pair of gloves which had belonged to James I: 'the French servants stared and firmly believed that this was the dress of an English country gentleman'. [pre May 2001]
British Galleries:
Walpole greatly admired the skilled carving of this cravat as a fine example of the work of the 17th century wood carver Grinling Gibbons. However, he was not above using it for a joke. In 1769 he described how he had received some distinguished foreign guests while wearing it: 'The French servants stared and firmly believed that this was the dress of an English country gentleman.' [27/03/2003]
Materials
Limewood
Techniques
Carving
Subjects depicted
Lace; Cravat
Categories
Fashion; Clothing; Woodwork; British Galleries
Collection
Furniture and Woodwork Collection