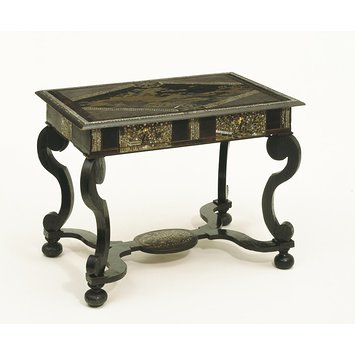 Table
Place of origin:

England, Great Britain (made)

Date:
Artist/Maker:
Materials and Techniques:

Pine, veneered with pieces of Japanese lacquer including mother-of-pearl, and painted black and gold

Credit Line:

Purchased with the assistance of the Brigadier Clark Fund through The Art Fund

Museum number:
Gallery location:

British Galleries, room 54b, case 1
Object Type
This table, dating from about 1680, is veneered with pieces of Japanese lacquer. They probably came from a Japanese chest of of around 1620-1640.
Materials & Making
The table top is partly made up from a drawer of a Japanese cabinet. The front of the table apron includes pieces of mother-of-pearl Namban lacquer, decorated with flowers and birds. (Namban, an export lacquer produced up until the 1620s, is characterised by its exotic manner of decoration that combines elements of Chinese, Korean and Gujurati work from India. It made extensive use of inlaid mother-of-pearl with gold and black lacquer.) The scroll legs and reinforcing stretchers are japanned (painted in imitation of oriental lacquer), and would have been made in England.
Time
By about 1660 Japanese cabinets were much prized by the English nobility, as was any piece of furniture from a workshop in Western Europe that incorporated parts that originally came from Japanese furniture.
Place
This was almost certainly made for Robert Spencer, 2nd Earl of Sunderland (1641-1702), for his seat at Althorp, Northamptonshire. It is referred to in an inventory of 1746.
Physical description
Pine veneered with pieces of Japanese lacquer with mother of pearl (probably originally from a chest, about 1620-1640), and painted black and gold
Place of Origin
England, Great Britain (made)
Date
ca. 1680 (made)
Artist/maker
Unknown (production)
Materials and Techniques
Pine, veneered with pieces of Japanese lacquer including mother-of-pearl, and painted black and gold
Dimensions
Height: 79 cm, Width: 108 cm, Depth: 73 cm
Object history note
Almost certainly commissioned by Robert Spencer, 2nd Earl of Sunderland (born in Paris, 1641, and died at Althorp, Northamptonshire, 1702) for Althorp, Northamptonshire
Made in England.
Notes from R.P. 81/2380
Partridge offers
"the Black Japanned table, mirror and candlestand with panels of Japanese lacquer cut from imported cabinets or screens".
Staff report (Craig …?)
looked at all three pieces "from a lacquer point of view" and noted that "they contqain lacquer from at least three (disparate?) objects and three separate periods. The stretcher base of the table is fitted with a panel of very early export lacquer c.1600, and the main panels of the table….date from 1630.
….The 1630 pieces…carry the device of eight feathers in a ring, which we think is the mon, the heraldic deice, of the Inone family of Shimasa Province, near Tokyo. This would add evidence to the suggestion that not all 'export' lacquers were made for export initially".
Report, Thornton to the Director
that "such suites were par excellence the grand decorative ensemble of the period. This one is most splendidly veneered with japanese lacquer that seems to me to be of the very highest quality…short of raiding Ham….we cannot represent this important class of furniture from our own collection and I would therefore like to buy this, which must come from the Earl of Sunderland's period at Althorp.
Most of the correspondence relates to negotiating a price, determining tax status and arranging for the reproduction of a 2nd candlestand to complete the set.
Handwritten notes (Thornton?)
"it has probably been at Althorp since it was new, in which case it will have formed part of the furnishing of this house when it belonged to the Earl of Sunderland. An inventory of 1746 refers to an " (?) table" which may well be the actual piece. At that time and perhaps from the outset, it had a "crimson damask toilet"…and one can imagine it perhaps standing as a very splendid feature of his countess' apartment".
Descriptive line
From Althorp pier set
Labels and date
W.75-1981 [sic.]
DRESSING TABLE
ENGLISH; about 1680
Pine japanned (painted) black and gold and veneered with Japanese lacquer.
Ensuite with mirror (W.74-1981) and stand (W.76-1981) [sic.]
Part of Robert, 2nd Earl of Sunderland's furnishings of Althorp, Northamptonshire.
Bought with the aid of the Brigadier Clark Fund.
N.B. Museum numbers incorrect on label [pre October 2000]
TABLE, MIRROR AND TWO CANDLESTANDS
Pine veneered with Japanese lacquer and painted black and gold
ENGLISH; about 1680 (one of the stands is a modern replica)
From Althorp, Northamptonshire. Groups of table, mirror and two candlestands were freqeuntly placed against the window piers of state apartments at this date. This group was probably acquired by Robert, second Earl of Sunderland, and seems originally to have served as a dressing table. Several high quality Japanese cabinets or screens have been cannibalised to supply the veneer: the mon or crest of a Japanese noble family can be seen on the table, showing that not only lacquer made for export was used in this way. [pre July 2001]
Categories
Furniture; British Galleries
Collection code
FWK