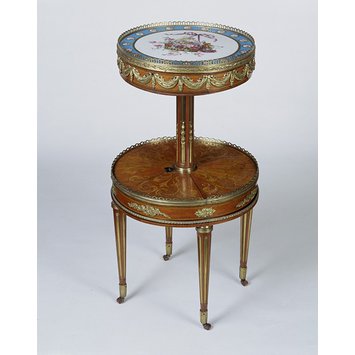 Work table
Place of origin:
Date:

ca. 1775 (made)
1786-1794 (repaired)

Artist/Maker:

Carlin, Martin (maker)
Pafrat, Jean-Jacques (repairer)
Pierre, Jean-Jacques (painter)
Vandé, Jean-Baptiste-Emmanuel pére (gilder)

Materials and Techniques:

Veneered in tulipwood, purplewood, sycamore and boxwood on a carcase of oak; gilt-bronze mounts; the top set with a porcelain plaque

Credit Line:
Museum number:
Gallery location:

Europe 1600-1815, Room 3, case CA8
Family tradition tells that this elegant, small work table was given to Mrs William Eden (later Lady Auckland) in 1786 by Queen Marie-Antoinette of France. Mrs Eden's husband was in France in that year to negotiate a trade treaty, the Treaty of Navigation and Commerce, between the French and English governments, so the story is likely to be correct. From the 1760s onwards, the French cabinetmaker Martin Carlin, whose stamp appears on this piece, had made a speciality of producing small-scale luxury furniture set with painted porcelain plaques.
Physical description
A round, two-tiered table standing on four legs, the rotating upper tier supported on a pedestal and fitted with a porcelain plaque and a drawer for writing materials, the lower tier fitted with four compartments enclosed beneath two hinged leaves decorated with scrolling foliate marquetry. Both tiers are mounted with gilt bronze galleries around their top edges as well as gilt bronze mounts screwed in around their sides. The legs and pedestal are fluted, the flutes gilt and those on the pedestal also mounted with gilt bronze husks. The legs terminate in tiny castors.
Place of Origin
Paris (made)
Date
ca. 1775 (made)
1786-1794 (repaired)
Artist/maker
Carlin, Martin (maker)
Pafrat, Jean-Jacques (repairer)
Pierre, Jean-Jacques (painter)
Vandé, Jean-Baptiste-Emmanuel pére (gilder)
Materials and Techniques
Veneered in tulipwood, purplewood, sycamore and boxwood on a carcase of oak; gilt-bronze mounts; the top set with a porcelain plaque
Marks and inscriptions
M. CARLIN
Stamped twice underneath top section
JME
Stamped once under top section
J.PAFRAT
Stamped twice underneath lower section, close to centre
Seve China Table / the Gift of/ Queen Marie Antoinette / to Mrs Eden afterwards / Lady Auckland / in 1786- E. Eden/ 1852
Label in one of the compartments of the lower section, inscribed in ink.
X within crossed double L's
Painted in blue on the back of the porcelain plaque. Sèvres date letter for 1775
P and a crescent
Marked in blue on underside of porcelain plaque. Sèvres decorator's mark of Jean-Jacques Pierre the younger
V D
Mark in gold, for the gilder Jean-Baptiste-Emmanuel Vandé
'Meuble tournant'
Marked in black on underside of porcelain plaque
'216'
Marked in black on the underside of the porcelain plaque. The price in French 'livres'.
Dimensions
Height: 77 cm, Diameter: 42 cm, Diameter: 36.8 cm plaque, Thickness: 1 cm plaque
Object history note
The table, together with an accompanying reading, writing and music stand (1057-1882), was reputedly given to Eleanor Eden by Marie Antoinette in 1786. Eleanor Eden, later Lady Auckland, was married to the diplomat William Eden. The Edens visited Paris in 1786 to negotiate a trade agreement between Britain and France. William Eden's correspondence during the visit noted that Marie Antoinette was very attentive to Eleanor, supporting the family's account of a gift. Emily Eden, Eleanor's daughter, later attached a paper label to 1057-1882, stating: 'Sèvres China Table / the gift of / Queen Marie Antoinette / to my mother - afterwards / Lady Auckland / in 1786 / Emily Eden / 1852'.
The table was probably acquired from the Eden family by John Jones between 1862 and 1869. In 1882 it was bequeathed by John Jones to the Museum, with the rest of his collection of French decorative arts.

Historical context note
This worktable is designed with two purposes. The drawer in the upper tier was used to hold writing materials and is fitted with an ink well, sponge, and pounce pot (pounce was a powder used to dry ink). The lower tier, with its four divided compartments, was a sewing box. The porcelain plaque would have functioned as either a writing or sewing surface.
Small, multi-purpose furniture was highly fashionable in Paris in the second half of the 18th-century. Light and moveable, objects such as this were positioned against the wall when not in use. They could then move around the room depending on light, company or time of day. Designed to be in the latest taste, this kind of writing table was not a major investment in relation to other furniture. It could be refashioned or replaced when styles changed.
The Sèvres factory began supplying plaques for use on furniture in the 1750s. These plaques were usually sold to Paris' marchands merciers (dealers in luxury goods). The marchands merciers commissioned both the plaques and the furniture onto which they were set, acting as influential middle men between the luxury trades and fashionable patrons.
The plaque on this table is labelled on its underside with a price of 216 livres. This makes it a relatively expensive plaque, its price equivalent to the annual salary of an unskilled worker. Martin Carlin died in 1785 but the table was certainly made by him. Jean-Jacques Pafrat only became a master cabinet-maker in September of that year; the presence of his stamp suggests that he completed the piece.

Fashionable writing desks were personal furniture. Bought by both women and men, they were kept in bedrooms or cabinets. Within these personal spaces, the writing desk allowed its user, in this case a woman, a space for private business and relationships.

Descriptive line
A round, two-tiered work table on four legs, veneered in tulipwood and other woods on oak, the top set with a Sèvres porcelain plaque
Bibliographic References (Citation, Note/Abstract, NAL no)
Elizabeth Miller and Hilary Young, eds., The Arts of Living. Europe 1600-1815. V&A Publishing, 2015. ISBN: 978 1 85177 807 2, illustrated p. 130.
Champeaux, Alfred de: Le Meuble. II. XVIIe, XVIIIe et XIXe Siècles. Paris: Société Française d'Editions d'Art, 1885, pp. 245-4 and fig. 78 on p. 250.
Emilia, Lady Dilke, French Furniture and Decoration in the XVIIIth Century. London: George Bell & Sons, 1901, illustrated opp. p. 178

Labels and date
Circular work table
About 1775
The cabinet-maker Martin Carlin specialised in delicate furniture mounted with porcelain. He probably commissioned this porcelain plaque directly from the Sèvres factory. It retains its original price label: at 216 livres, it cost the equivalent of an unskilled labourer's annual salary. The table, which would have housed writing and needlework materials, was a gift from Queen Marie-Antoinette to the wife of an English diplomat.
France (Paris)
By Martin Carlin
Porcelain plaque made at the Sèvres factory
Oak veneered with tulipwood, purpleheart, sycamore and boxwood; gilded copper alloy mounts; porcelain plaque
Bequeathed by John Jones
[09/12/2015]
WORK-TABLE
FRENCH (Paris); about 1775
Veneered with tulipwood and purplewood; and with marquetry of various woods; with gilt bronze mounts and set with a Sèvres porcelain plaque painted by Jean-Jaques Peierre and bearing the date-letter "X" for 1775 and the mark of the painter J.J. Pierre.
Carcass stamped M Carlin and J Pafrat.
Temporary label
1058-1882 [01/01/2001]
[Label text by Peter Thornton]
Work table
French (Paris); about 1785
Tulipwood inlaid with sycamore (?). Gilt bronze mounts. Set with a Sèvres porcelain plaque bearing the date-letter "X" for 1775 and the mark of the painter Jean-Jacques Pierre
A label inside informs us that this table, like the reading-stand shown with it, was given by Marie Antoinette to Mrs Eden in 1786 (see label above)
Jones Collection
Museum No. 1058-1882 [1971]
Work table
About 1775
Martin Carlin (1730–85)
France (Paris)
Carcase: oak
Veneer: tulipwood, purplewood, sycamore (?) and boxwood
Castors: lignum vitae.
Plaque: painted soft-paste porcelain
Mounts: gilded brass
Lining: silk velvet with gold braid
Probably commissioned and sold by S.-P. Poirier or D. Daguerre. Plaque painted by J.-P. Pierre, gilded by J.-B.-E. Vandé.
Probably cleaned or repaired 1786–94 by J.-P. Pafrat
Bequeathed by John Jones
Museum no. 1058-1882
Porcelain plaques for mounting on furniture were made by the Sèvres factory from the 1750s. Most were commissioned for specific pieces, sometimes for a client, sometimes for retail. The specialist dealers (marchands-merciers) who created this luxury furniture would order gilded brass mounts from other specialists and superb woodwork from the cabinet-maker, who then assembled and stamped the piece.
[01/12/2012]
Production Note
The two stamps suggest that the table was made by Carlin and repaired or cleaned by Pafrat
Materials
Oak; Tulipwood; Purplewood; Sycamore; Boxwood; Porcelain; Gilt bronze; Velvet; Marble; Silk; Lignum vitae
Techniques
Cabinet-making; Veneered
Subjects depicted
Flowers
Categories
Furniture
Collection
Furniture and Woodwork Collection