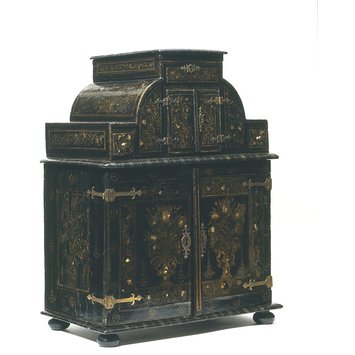 Cabinet
Place of origin:

London, England (probably, made)

Date:
Artist/Maker:
Materials and Techniques:

Painted pine, inlaid with mother-of-pearl; the drawers lined with marbled paper

Museum number:
Gallery location:

British Galleries, room 56e, case 7
Object Type
Small cabinets for jewellery were first made in France in the early 16th century. They were first recorded in England in 1540 in the reign of Edward VI. A description of the King's 'secrete Juelhouse' mentioned 'three cabinets set in the wall covered with crimson velvet and garnished with golde and silver'.
Design & Designing
The upper section has a mirrored lid. Beneath two doors enclose a compartment containing four drawers. These pull out to reveal another mirrored compartment, its floor covered with later paper printed with a chequer pattern. The lower section has further drawer, their fronts painted with arabesques.
The main doors and sides are painted with vases of flowers in gold and silver, inset with mother-of-pearl, on a black ground. The stemmed circular motifs that appear on both the exterior and interior resemble enamelled fan holders of the period.
Materials & Making
The use of mother-of-pearl is characteristic of Japanese exports and of Indian and Islamic craftsmanship. The cabinet is dated 1620 by comparison with a japanned ballot box made in 1619 for the English East India Company. This belongs to the Saddlers' Company in the City of London.
Physical description
Cabinet, with mother-of-pearl inlay, and painted decoration in gold and silver on a black ground. The cabinet is in two stages, each being fitted with a number of small drawers. In the upper stage the doors enclose a case containing four drawers; when this is removed another receptacle is disclosed, which is fitted at the back with looking-glass and has a floor covered with paper printed in a chequer pattern. The drawers are lined with marbled paper, these linings with the looking-glass being, probably, of later date than the cabinet. The decoration consists mainly of gold and silver floral arabesques, with flowers in vases on the large doors and the sides, the effect being heightened by mother-of-pearl inlay. On their inner sides the doors bear the initials E.W. and a shield of arms--three lozenges conjoined erm - an achievement borne by two families - Gifford of County Devon, and Harrison of Goudhurst, Kent. The doors have trefoil-headed brass hinges and foliated lock-plates.
Place of Origin
London, England (probably, made)
Date
ca. 1620 (made)
Artist/maker
Unknown (production)
Materials and Techniques
Painted pine, inlaid with mother-of-pearl; the drawers lined with marbled paper
Dimensions
Height: 61 cm, Width: 47 cm doors closed, Depth: 30 cm doors closed
Object history note
Made for a specific patron identified by the coat of arms and initials E.W. inside the cabinet; possibly a member of the Harrison family of Goudhurst, Kent or the Gifford family of Devon
Probably made in London
Early 17th Century cabinet, purchased from Gilbert Walter Esq, The Tudor Gallery, London W1
Notes from R.P. 27/3600 & 27/4600
13/6/27 Objects submitted on Approval for Purchase
listed as: 1 Cabinet painted (English early 17th century) (with 2 keys) Price £125
8/6/27 Letter Walter to Brackett
encloses photographs of the cabinet (not files) and refers to it as a "Lacquered Cabinet". He notes he has sent a copy of the coat of arms to the College of Arms to have it traced.
25/6/27, 27/4600 Minute paper notes by H Clifford Smith
"This is probably the earliest type of cabinet proper made in this country and is certainly one of the earliest existing examples…It (s) great interest lies in its painted decoration". Smith compared this cabinet to a similar one "in private possession" in an article Vol. XXXI of the Burlington Magazine and states "its date can be placed with practical certainty in the reign of James I". The privately owned cabinet is painted on the inside only but on this cabinet "the whole of the outside is not only decorated in gold and silver but is also inlaid with mother-of-pearl. The inner sides of the doors bear amongst other decoration the initials E.W., and the shield of arms 'three lozenges cojoined erm' - an achievement bourne by two families:
Gifford, of Co. Devon and
Harrison, of Gouhurst, Kent
Smith supports purchase on the basis of "its rarity, importance and decorative qualities" and notes that the price is "distinctly moderate"
27/6/27Further minute notes of Oliver Brackett
State "Apart from the similar cabinet to which (Smith) refers; it bears a considerable resemblance in decoration to a historic ballot box dated 1619 belonging to the Saddlers Company and bearing the arms of James I and the East India Company". The cabinet is important as 1) "a rare type of English Furniture which would unquestionably fill a gap in the Museum collections and 2) technically …as an example…useful to students and craftsmen".
Bibliographic References (Citation, Note/Abstract, NAL no)
Cabinet, with mother-of-pearl inlay, and painted decoration in gold and silver on a black ground. The cabinet is in two stages, each being fitted with a number of small drawers. In the upper stage the doors enclose a case containing four drawers; when this is removed another receptacle is disclosed, which is fitted at the back with looking-glass and has a floor covered with paper printed in a chequer pattern. The drawers are lined with marbled paper, these linings with the looking-glass being, probably, of later date than the cabinet. The decoration consists mainly of gold and silver floral arabesques, with flowers in vases on the large doors and the sides, the effect being heightened by mother-of-pearl inlay. On their inner sides the doors bear the initials E.W. and a shield of arms--three lozenges conjoined erm - an achievement borne by two families - Gifford of County Devon, and Harrison of Goudhurst, Kent. The doors have trefoil-headed brass hinges and foliated lock-plates. Early 17th century. Plate 26. From catalogue H. 2 ft., W. 1 ft. 7 in., D. 10 ¾ in. (H. 61 cm, W. 48.3 cm, D. 27.3 cm) This is probably the earliest type of cabinet made in England, and closely resembles an example formerly in the Judges' Lodgings, Oxford (see 'The Dictionary of English Furniture,' Vol. I, Cabinets, p. 150, fig. 2, and the 'Burlington Magazine,' Vol. XXXI.) The decoration is very similar in style to that of a box and a set of roundels in the Museum (W. 30-1912, Catalogue N. 633), also a ballot box, dated 1619, belonging to the Saddler's Company and bearing the arms of James I and the East India Company. From: H. Clifford Smith, Catalogue of English Furniture & Woodwork (London 1930), 594
Exhibition History
Masterpieces from the British Galleries at the V&A (British Antique Dealer's Association Fair 21/03/2001-27/03/2001)
Labels and date
British Galleries:
This is a very early surviving example of a cabinet made in England. The wood is English but the decoration copies that on lacquer cabinets made in Asia. It combines the naturalistic look of Japanese ornament with the geometry of Indian and Islamic work. Such small cabinets were designed to hold jewels or small, precious objects. [27/03/2003]
Categories
Furniture; British Galleries
Collection code
FWK